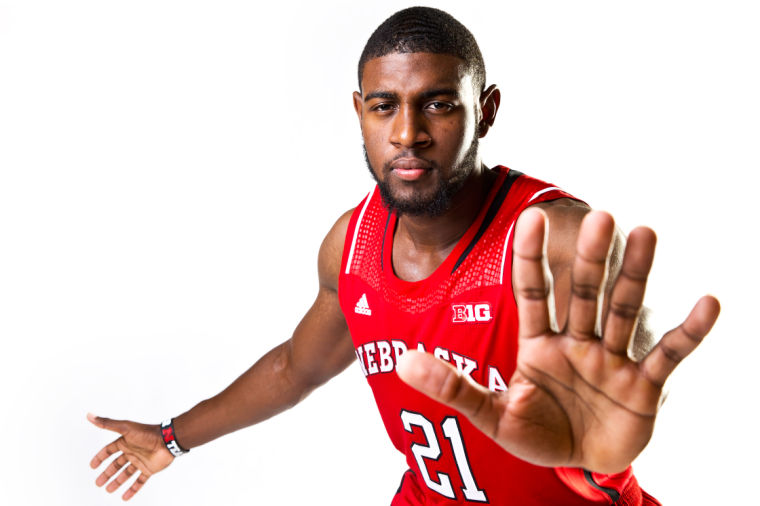 LINCOLN — The Nebraska men's basketball team has a trailblazer in its midst.
Junior Leslee Smith, a transfer from Seward County (Kan.) Community College, is believed to be the only player from the British Virgin Islands on a roster at a power conference school.
The BVI consists of about 50 islands in the Caribbean Sea east of Puerto Rico. Fifteen islands are occupied, with a total population of 28,000.
Basketball as an athletic endeavor on the islands was far behind baseball in Smith's formative years. So like most, he played baseball first.
Had Smith stuck with it, he might have become the world's largest center fielder at 6-foot-8 and 255 pounds.
"But at the recreational ground we played at, the baseball field and the basketball court were right next to each other," Smith said. "We started playing more basketball, and I fell in love with it.
"In baseball, I stood around a lot. I liked basketball because it was more active."
Smith previously played at SMU. Another island native is at Southern Mississippi, and some have played in lower divisions. But none has advanced to a league such as the Big Ten until now.
Smith's rise has sparked basketball interest at home.
"Seeing me and my progress, more people want to follow in my footsteps," he said. "They are always asking my mom how I'm doing. So basketball is coming along."
Smith, a thoughtful and engaging interviewee, spoke those words not braggingly but with pride in his home territory. At age 23, his maturity is evident, partly from some of the hard knocks he has endured.
Among them: Having world-renowned coach Larry Brown tell him he wasn't good enough to play for him.
Smith spent two seasons at SMU under then-coach Matt Doherty. The school fired Doherty and went for a splash hire — Brown, a Hall of Famer and the only coach to win an NCAA championship (Kansas, 1988) and an NBA title (Detroit Pistons, 2004).
Brown scheduled one-on-one meetings with all players upon his arrival at SMU. Smith was coming off a redshirt freshman year in which he missed the first seven games because of a knee injury and got sporadic playing time.
"So in terms of showing him my real talent," Smith said, "I didn't have a lot going for me at the time."
Brown told Smith and three others to seek a scholarship elsewhere.
"It wasn't easy to hear," Smith said. "I had a lot of friends at SMU, and I really liked the city and the school. It had been great for me. But those are decisions you've got to live with."
The irony is, a few months later, Smith heard through intermediaries that Brown was interested in him returning to SMU.
"But I was over it by then," he said. "I wasn't going to play for a coach who was unsure about me."
Nebraska coach Tim Miles said Smith, who arrived in Lincoln in June, already has become the unofficial Husker team guardian because of his experiences.
"Leslee is such a thoughtful guy with a good sense of self that our guys just like to sit and talk with him about anything," Miles said.
That includes disappointment.
"When you go through something like Leslee did at SMU, that can be difficult on the psyche," Miles said. "But he's a competitive guy, and getting a scholarship to Nebraska is validation for him.
"He has really bought into our vision, and I'm excited and proud to have him on the team."
Smith attended high school in suburban Houston. He committed early to SMU over Western Kentucky. Schools showing later interest included Marquette, USC and TCU.
After transferring from SMU to Seward County CC — one of his coaches there was former Omahan Jason Sautter — Smith picked Nebraska over Saint Louis, West Virginia and Murray State.
The sparkling new basketball facilities in Lincoln sway some recruits, but not Smith.
"My decision to come here was based on how much time I have left to play, and who I wanted to play for and with," he said. "You should have a good relationship with your coaches and teammates.
"Yeah, the facilities are a plus. And you have the Big Ten, which is the best conference. But I've been in college a long time, and I wanted this to be about relationships."
Miles said he is encouraged from watching Smith in early workouts, from his strength to his nimbleness on defense.
"He's a physical guy, and we need that presence," the coach said. "We need him to score some and really rebound well. He can really move, especially on screen-and-roll defense, so he could be a disruptive force there."
Smith has a history of knee problems. He tore an ACL in March 2011 in a pickup game at SMU.
"I dunked and my knee just gave out," he said. "I never expected the results (from the doctor) because I didn't feel any pain."
Miles noted "the challenges with his knee aren't over yet." Smith, though, is optimistic.
"It bothers me a little bit after a real long hard workout, but it's never an issue on the court in a game setting," he said. "I don't even think about it anymore."
If the knee does become an issue, few appear better equipped to deal with it the right way than Smith.
Be the first to know
Get local news delivered to your inbox!