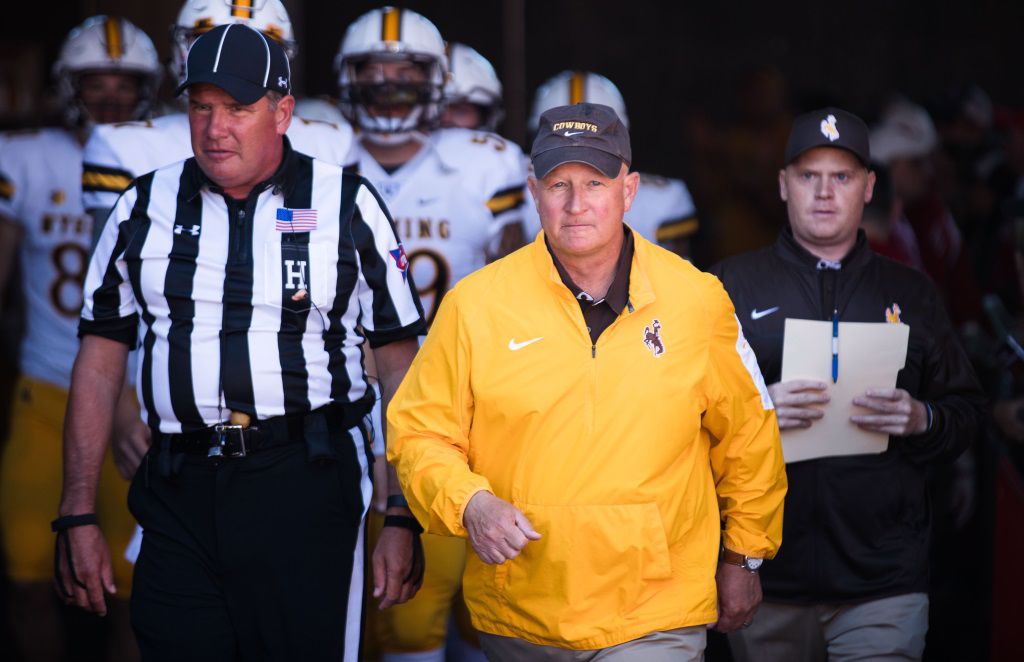 Wyoming coach Craig Bohl, quarterback Josh Allen and safety Andrew Wingard spoke with the media after Nebraska's 52-17 win over the Cowboys on Saturday to discuss the game.
Check out a transcript below, as provided courtesy of the Nebraska athletic department, and click here for video from the Husker postgame press conference. Click here for the full transcript of Husker comments.
Wyoming coach Craig Bohl
"Congratulations to Coach Riley, I thought Nebraska played well. There was a tipping point in the game and sometimes games can get out of hand. This one certainly did. For us to win we were going to need to play error free, create some turnovers and certainly take care of the football. Nebraska did an excellent job of defending our running game, which made us one-dimensional, and when you get that one-dimensional a lot of bad things happen. So we've got some work to do, but I don't want to take anything away from the front. Nebraska established the line and tackled well. Certainly we were concerned about the skill players, typically the wide receivers, and they lived up to their billing and they made some great plays. There was a time when we ran the ball, but it's only a 60-minute ball game. We didn't get it done, and I thought we got whooped today."
On the tipping point of the game:
"First of all, (quarterback) Josh (Allen) is a really competitive guy, and we will look at the tape but I think there was a stretch where we had three out of four series where we had interceptions, and that's tough to start pressing the ball that much. We need to do a better job with that. I don't know when the exact tipping point was, but it was after one of those turnovers. You saw the point spread and the margin begin to be really tough."
On the composure of the players:
"I don't think we lost our composure. It was a competitive game, but Nebraska players played competitively as well."
On the game up to the fourth quarter:
"We will build on that. You know at that time I thought that the game was fairly evenly matched. I know we missed a couple scoring opportunities on field goals and we weren't able to convert as many times on third down and makeable as we would have liked. There were some positive things. Our depth came into play. I want to credit Nebraska too. I thought they responded well."
On Nebraska's defensive technique:
"They played really good technique. I know they lost (Mick) Stoltenberg but I thought their defensive line really established the line of scrimmage. I'm sure they made improvement. We showed we had the ability to run the ball pretty well, so I am sure they worked hard on our running game and they defended it well."
"There is a lot of family here, but I have been asked that question a lot. This is about the University of Wyoming and about our football team. So coaches are typically really good at compartmentalizing. So you look and it was a football team, Coach Riley and I are on the board together and all these other things. We got beat by a good football team, so it really didn't have a lot to do with emotion."
On the running technique being overmatched:
"From the naked eye from the sidelines sometimes that can be misjudging. I thought we had a hard time getting movement on them. We tried some power stuff and outside G several times. Part of the running game that was successful was the jet sweep to Austin. He got some yardage. I'm going to credit Nebraska and also our technique a little bit. I don't thing we got enough movement up front."
Wyoming quarterback Josh Allen
On Nebraska's atmosphere:
"We expected it to be loud. It was that. Obviously (we) played pretty decent in the first three quarters, and it kind of snowballed into the fourth."
"It's kind of hard to explain that one. The first three quarters, the run wasn't happening too well. 17-24 going into the fourth, like I said it kind of snowballed out of our reach, and I cannot allow that to happen. Six turnovers on my part, it's unacceptable. You can't win a football game against anybody that way."
On the fourth quarter turnovers:
"The throws were there, (I've) just got to be smart with the ball. (I) made a few bad decisions that really cost our team eventually. (I) just can't allow it to keep continuing like it did."
On moving forward to next week:
"We'll come in Monday, watch the tape, we'll learn from it. Eventually we'll try to forget about this one, or at least I will. I've just got to play better. I do. Just got to play better."
"I am very confident in this offense. I am very confident in this team. It's a special team. I truly believe that, you know I wish everyone could've saw that today. You know just being able to close out games. We went into the fourth quarter down one touchdown, well within striking reach to win a football game. Obviously it didn't turn out that way, but it was there for the taking."
On the touchdown before halftime:
"It was a big score going in with a touchdown. We hadn't really had much success offensively before that. Great play, great catch, touchdown. You know but that didn't help us win the game."
On adjusting from a running offense to passing:
"It's all about preparation and the week leading up to the game. I felt we did a really good job with that. It sucks right now. Everybody is hurting, I am hurting. I take this one completely on myself. I didn't play well enough to put our team in a position to win."
Wyoming safety Andrew Wingard
On the interception in the first half:
"Actually I wasn't doing the right thing honestly, I just happened to be in the right place at the right time. But we knew (Tommy) Armstrong would make some great plays and some great throws, and obviously he threw them right to me. I haven't played running back in a long time because of the return wasn't very good. It felt good to get a turnover but it still has a sour taste"
"That fourth quarter was not us. That's not Wyoming football. That's not the culture we are trying to implement. I mean it was 24-17 with 12
minutes to go in the fourth quarter. That definitely left a sour taste. We all should have been better. Offense, defense, special teams all could've done better."
On last week's game effect on this week:
"They (Nebraska) had a night game too. They had maybe five more hours of sleep than we did. I mean it really doesn't matter. But like I said, the fourth quarter stings and we need to get better and come out next week hard."
"They executed us out of our coverage. When you send eight guys, someone has to get there, because we're lacking guys in the back. It was just a perfect storm really, we would blitz guys and they would pick it up. There's nothing you can say. We knew their receiving core was probably the best unit on their team. (Tommy) Armstrong could run it and throw it. That's what they did against us. Credit to them, we just have to do better"
On Nebraska seeing the weaknesses:
"They picked it up, sometimes they knew what we were doing on defense. They knew what play to run. They knew when we were weak, right in the gap. It wasn't us busting anything, it was just them out executing us."
"I want to win every game, the first game was a good win. I'd rather be 1-1 than 0-2. I said this was a sour taste in everyone's mouth, and next week will test the character of this team if we really want to change the culture and be a better football team we have to come out like this never happened"
"Executing. Making tackles. Like I said, it wasn't anything out of the ordinary that they did or us busting stuff. It was just them making more plays than us. I was missing some tackles and stuff like that, like I said, gotta come out and practice and rebound."