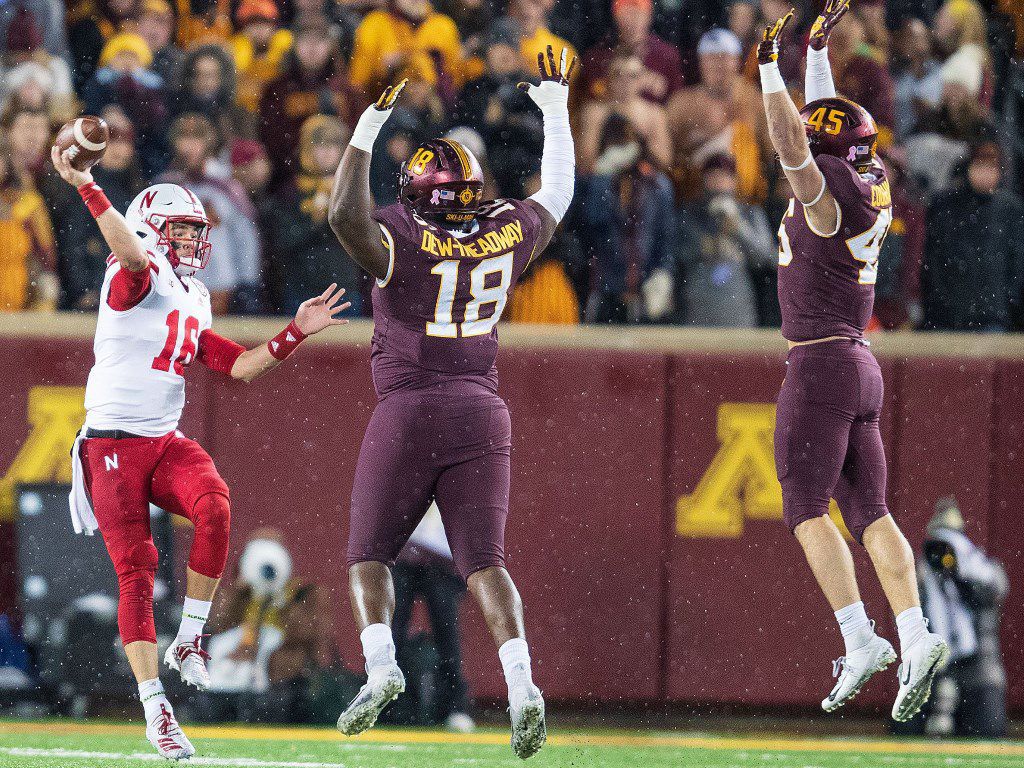 MINNEAPOLIS — Nebraska is getting rolled in the cold, wet snow and trails 14-0 at Minnesota.
And it isn't quite as close as the score shows.
The Gophers are having no issues on the ground, running for 220 yards on 23 carries. Two Gophers have over 70 yards on the ground.
Nebraska, meanwhile, can't find the end zone. Backup quarterback Noah Vedral has completed 9 of 13 passes for 88 yards and leads the team with 35 rushing yards. Wan'Dale Robinson was carted to the locker room in the first half with a foot or ankle injury. He had six carries for 24 yards and two catches for 10 yards.
Minnesota will get the ball after the half.
Vedral took Nebraska down into the red zone on his first drive during his first college start — completed 4 of 7 passes, including an 11-yarder to Robinson on second down. But a 4-yard run on third down from Maurice Washington wasn't enough to move the sticks, and Vedral's fourth-down pass for Washington bounced off the wet turf for a turnover on downs.
Minnesota took over at the 29-yard-line.
Rodney Smith changed course at the line of scrimmage and ran for 35 yards to get the Gophers started. They averaged 14.2 yards per play en route to a 15-yard touchdown pass from Tanner Morgan to Chris Autman-Bell for 7-0 with 7:31 left.
NU's second drive started with a flag — 12 men on the field — but JD Spielman made up for that with a 51-yard catch and run down the sideline. Minnesota then sacked Vedral on two straight plays, and first-and-10 turned into fourth-and-22 quickly, forcing an NU punt.
Nebraska stopped Minnesota on a third-and-9, and escaped disaster after Caleb Tannor jumped on a fumble by Spielman on the punt return. Vedral scurried for 22 on second down to push the Huskers across the 50. A long run by Robinson was negated by a block in the back penalty, and on third-and-20, Vedral was sacked.
Fifteen of Nebraska's first 25 plays were run on Minnesota's side of the field. They produced zero points.
Shannon Brooks took off for 25 yards on first down for the Gophers. Minnesota bullied Nebraska on the drive, with runs of 7, 15, 10 and then another 15 from Mo Ibrahim to the end zone for 14-0. PJ Fleck's squad averaged 12.1 yards per carry on its first 11 touches.
Vedral hit Jack Stoll on third-and-8 to keep the next drive going. Robinson was hit low on an end-around and was helped off with an apparent ankle injury. He was later carted off the field to the locker room.
On third-and-4, Vedral took off early on was trapped at the line of scrimmage, Nebraska's fourth drive that failed to find points.
Ibrahim ran for 11 yards on third-and-9 from the 9-yard line. That jump-started the drive, with a 13-yard run from Brooks followed by a 28-yarder. The Blackshirts forced a punt, and Vedral got the ball with a chance for a 2-minute drill.
The Huskers went three-and-out.
Minnesota ran the clock out and will get the ball again after the break.
Photos: Nebraska travels to Minnesota