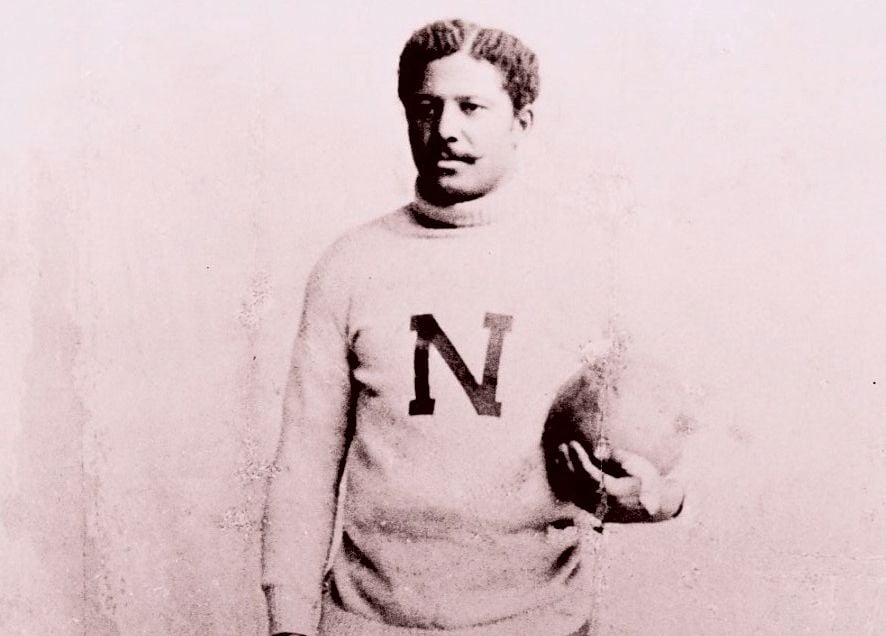 It's Friday! That means Ten Big stories in 10 little bites. We'll cover Steph Curry and Darin Erstad, Turner Gill and Warren Buffett, Bret Bielema and Shawn Watson, Nick Saban, Bubba Starling and a former Husker in Paris.
But first, let's turn back the clock on Iowa-Nebraska. I like to post old stories in the blog. I have access to World-Herald archives that, if I let them, could consume me for days. But I promise I've never posted a sports story this old. 
Nov. 27, 1891. The day after Thanksgiving. In column four on page five of the eight-page Morning World-Herald, there's a headline that stands out among Thanksgiving reports around Omaha.
A Great Game of Foot Ball Between the University Teams of Iowa and Nebraska.
It Was Royal Sport and a Mighty Concourse Enjoyed the Treat — People Who Were There.
1891 was Nebraska's second season of football. It wasn't yet the Cornhuskers (that nickname didn't appear until 1899) and it didn't have a conference. Its four-game schedule looked like this: Doane, Doane, Iowa, Doane.
(Even Nick Saban thinks that's a little soft).
Nebraska took two of three from Doane, but the big game came Thanksgiving Day in Omaha. Here's the top of The World-Herald story:
Between 2,000 and 2,500 lovers of athletic sport took advantage of the opportunity of witnessing the foot ball game between the State University of Iowa and the State University of Nebraska.
Much credit is due the Omaha Athletic club for getting the game played in Omaha, but much censure and criticism should be heaped upon someone or ones for the condition and management of the grounds. The game was delayed three-quarters of an hour and all the spectators kept waiting because the goal posts had not been put up and no umpire was on hand. ...
(Not exactly the prose of Sam McKewon or Tom Shatel, huh).
The play began with Iowa in possession of the ball, in which Full Back Larrabee made a gain of three yards through the assistance of the V trick. The Iowa boys forced the ball up the field by small gains through the center, using with great success the old wedge trick and showing considerable team work. At the ten-yard line the ball was lost to the Nebraska boys on the fourth down.
After several fruitless attempts to force the ball through the center, Captain Johnstone made one of the most beautiful runs of the game around the right end, Skiles, the right end, warding off and interfering for him. At this point there was a chance for another good play through the center for there were several holes there, but Captain Johnstone sent White around the left end, but he was downed and gained no ground.
On the fourth down the ball went to the Iowa boys, who, after several futile attempts to gain ground through the center and around the ends lost the ball to the Nebraska boys, who could make no headway in Iowa's territory. Iowa got the ball and by several fine rushes of Pierce and German a touchdown was made by the latter. Score 4 to 0, from which Larrabee kicked a goal, 6 to 0. 
That's not a misprint. In 1891, touchdowns were four points. Extra points were two. 
It went on like this for a few more paragraphs and included praise for George Flippin, Nebraska's first black player — "He followed the ball better than any man in either team and if he had had proper support when he ran with the ball the score would have been different." It wasn't. Final score: Iowa 22, Nebraska 0.
Following the game story was a column (just as long as the game story) about who was in attendance. 
"Mr. Robert W. Patrick, a Yale graduate, and manager of the Omaha Athletic Foot Ball teams, and Mr. Howard H. Baldridge, assistant United States attorney, were seated in a fine carriage explaining the nice points of the game to Miss Neisie Hughes and Miss Yost."
"General Cowin and his partner, Mr. William D. Mettugh, were discussing the merits of the game as they would some knotty points of law, while close beside them Judge Frank Irvine said that he had rather be out of the fray than 'in it.'
"Dr. Wilcox forgot in the excitement that there ever was a coroner in Omaha, while M.V. Gannon seemed this time to be in it, and Frank R. Moores was singing gently about "the hole in rush line" and not "in the sea."
We've come a long way, in 124 years, huh. 
Next week the Iowa football team will cross the Missouri River for Thanksgiving again. This time, touchdowns will be six points and extra points one, 90,000 fans will be watching in the stadium and another couple million on television sets across the country. The story of the game, I promise, will not be relegated to a single column in The World-Herald. 
Can Nebraska make it a game this time? We'll see. Full Back Larrabee is long gone. But the Huskers better watch out for the V trick.
>> Darin Erstad saved Shawn Eichorst one heckuva headache this winter.
If Erstad would've left for the Los Angeles Dodgers — we don't know if he would've gotten the job or not, but clearly he impressed Dodgers management — Nebraska would've had to replace a popular coach and famous alum. And it would've had to do so 2-3 months before the season opener. Surely that limits your ability to find a top-notch coach.
There's another element that's important here. Husker men's athletics is really struggling right now. Fans are worried about the direction of the athletic department.
Losing Erstad, who believes in the Nebraska brand as much as anyone, would've been a huge blow to morale. He hasn't yet turned around Husker baseball like so many predicted, but Erstad still represents Nebraska. You really don't want to lose people like that, especially when your AD and football coach are outsiders.
"We've bought a lot of businesses over the last 60 years. I don't give guys an IQ test or look at their grades. I look for passion, there's nothing like it. You want someone ready to bite the ass off a bear. You can't put that into people. Guys like Joe who have that passion come out winning."
Liberty finishes the season 6-5. Coastal is 9-2 and headed for the playoffs. With so many FBS coaching openings across the country, I think there's a good chance that Moglia lands one. Rutgers would be a fascinating possibility.
>> Let's say you're the head coach at Alabama. Why would you schedule an FCS team in November? Answer: Because the SEC schedule is difficult and you're looking for a break. A relatively easy victory. That's the only reason.
>> Bret Bielema pitched a Big Ten-SEC football challenge. Not a new idea, nor a realistic one. But fun. With the SEC depth weaker than usual, I actually think the Big Ten would've performed well this year. Not quite .500, but close.
>> What a huge weekend for college football. Look at the 2:30 p.m. window on Saturday:
Northwestern-Wisconsin (I like the Wildcats to keep it close)
Michigan State-Ohio State
How am I possibly to keep track of all those games!?! Spartans-Buckeyes is the game of the day, but the night games will be interesting, too. Can TCU or Baylor throw a wrench in the Oklahoma-Oklahoma State storyline?
>> Good story about Mark Dantonio and Tom Izzo, two Spartan coaches who share a bond.
>> I gotta admit, I was surprised Creighton got blown out at Indiana. The Jays were out of sync offensively. They put up no resistance defensively.
Assembly Hall is a tough place to play, especially for a bunch of guys who haven't experienced the big stage. But Creighton's fundamentals, basketball IQ and attention to detail were sorely lacking last night. That's a long-term concern.
How quickly can Greg McDermott's team mature?
They're chasing an NBA record for most consecutive wins to start a season (two more to tie) and they were on the brink against their rivals, the Clippers. Then Luke Walton went to the small lineup and Golden State torched Doc Rivers' team. (Man, I love watching a Clippers meltdown).
>> I understand the NFL's desire to claim Thursday night. But the product on short rest is so, so bad.
Wouldn't it make more sense to do Monday night doubleheaders each week? I guarantee the 9 p.m. kickoff (7 p.m. on the West Coast) would produce big ratings. If nothing else, cut a preseason game and give teams a double-bye, ensuring that Thursday night participants have 10 or 11 days rest. Or institute the double-bye by starting the season on Labor Day weekend. 
The NFL has done a lot of good things for fans (nothing better than RedZone Channel, of course). But the Thursday night experiment isn't fair to teams. And watching Jags-Titans, it's not fair to viewers, either.
>> Major-League Baseball constructed its 2016 schedule before the World Series. But coincidentally, the Royals will open against the New York Mets. And Thursday it became official that game one will be on Sunday Night Baseball.
>> Finally, in the fall of 2004, a few months before I started full-time at The World-Herald, a group of University of Nebraska-Lincoln journalists (myself included) traveled to Paris for 10 days to examine the relationship between America and France.
That doesn't sound terribly interesting in a sports blog, but I profiled former Husker basketball standout Leroy Chalk, who was living and working in Saint-Denis, a suburb north of Paris. 
In December 2004, The World-Herald published my profile of Chalk, which carries even more weight now than 11 years ago. I haven't heard from Leroy since about 2005, but I thought of him this past week. Paris was attacked and Saint-Denis, where Chalk built relationships with kids, was the focus of the investigation. Police raided a Saint-Denis apartment building and killed the ringleader of the attacks.
I don't question Leroy's safety, but I'd love to track him down again. If you can help, let me know.
>> Thanks for reading. Have a great weekend.