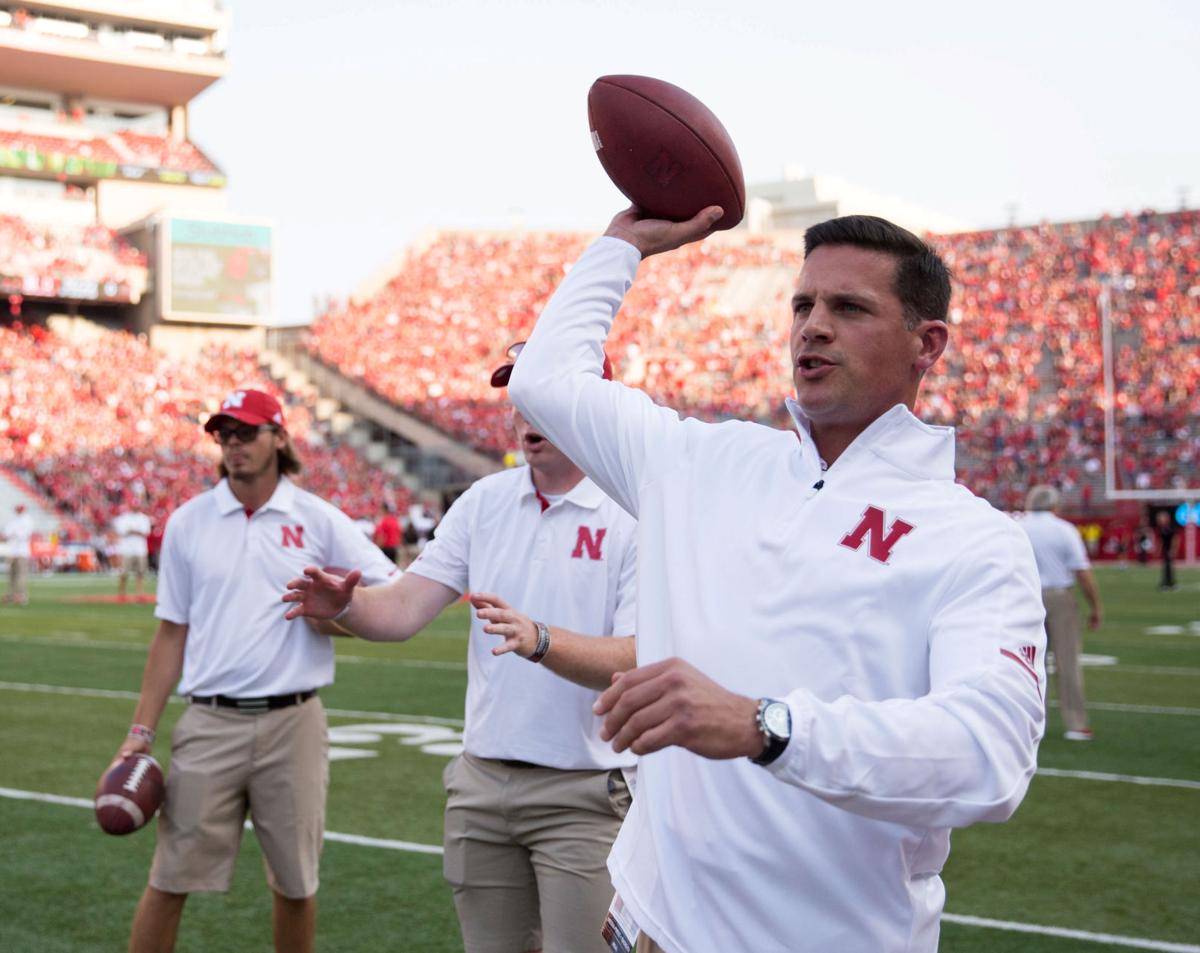 LINCOLN — After each game, Nebraska coaches select plays to be made into video cutups. What they show defenders falls into one of two categories: Plays that Cause Losing or The Fight for Every Inch.
Defensive coordinator Bob Diaco chuckled a bit following Tuesday's practice recounting the moment when he realized almost all the highlights divided neatly into the two halves against Oregon. Yes, most of the 42-point first half fell into the former category while the shutout second half landed in the latter.
But then Diaco paused. He wanted to acknowledge that the process of turning the defense into a consistently good unit is no laughing matter to him.
"There is a gravity and a weight to this that I totally understand," Diaco said. "I'm respectful of that and honor that opportunity. And it doesn't look like it should look and the points don't look like they should look. And that doesn't make it any more or less real that we're getting better.
"So unfortunately, that's true. We are getting better and the games have gone the way they've gone. And it got better. And it will continue to get better. And the staff improves and the players improve."
Northern Illinois presents Nebraska's defense a challenge similar to both Arkansas State and Oregon, Diaco said. NIU operates a run-pass offense that thrives on misdirection and confusion.
That prompted the coordinator to discuss the NCAA rule that allows offensive linemen to block 3 yards downfield as opposed to 1 in the NFL.
"The most inequitable rule in the history of college football was activated," Diaco said. "And the offensive line can run off the line of scrimmage and be with their back foot 3 yards downfield. So now all the plays look like runs. But, hey, America loves points."
Diaco pointed to the rule as a key reason NU has one sack through two games.
Confidence for the Blackshirts
Confidence comes from preparation, Diaco said. The defense found some of the former in the second half against Oregon and continues to work on the latter in practice.
During the first 30 minutes Saturday, the Ducks converted a pair of third-and-8s and a third-and-17 play on drives that led to touchdowns. Diaco said those moments — which could have turned the game — offer optimism for a turnaround. After intermission, the Huskers began reacting more than pondering.
"You had an opportunity to see it," Diaco said. "The players, at times, were playing and thinking that they should be doing X, Y, Z rather than falling back to their training. We had a chance to settle down and play one play at a time, get the call, execute your job — nothing more, nothing less — and just see what happens. And sure enough, the plays looked better, drives were put together, stops were put together."
Safety Aaron Williams said a few "brain farts here and there" and individuals out of position led to Oregon's video-game numbers in the first half. But the final stretch showed what happens when the unit gives a complete effort.
"Sometimes we're not all the way focused on every play and it costs us," Williams said. "But when we are dialed in and focused, we're able to do what we have to do."
Green jerseys and injuries
Safety Antonio Reed and Williams wore green no-contact jerseys Tuesday but otherwise participated fully in practice. Diaco said Reed had a procedure that wouldn't allow him to absorb contact, and the junior was seen with a brace wrapped around his left hand.
Senior safety Joshua Kalu, who injured his hamstring Saturday, did not practice. Coach Mike Riley on Monday called the regular starter "doubtful" to play this weekend.
Williams said his donning of the green jersey was Riley's idea, adding that he feels healthy.
"Nothing's wrong," Williams said. "So I'm good."
Also on the injury front, right tackle David Knevel (ankle) remained in a walking boot and running back Tre Bryant (knee) sat out of practice, wearing a red jersey over a long-sleeved T-shirt and shorts. Riley has called Knevel "doubtful" for the weekend, while running backs coach Reggie Davis said Monday that Bryant will play Saturday.
Ducks left CBs 'shellshocked'
Nebraska cornerbacks coach Donte Williams said his players were "a little bit shellshocked" by Oregon's receivers and quarterback Justin Herbert.
"You're playing against some receivers who have been playing and starting football for a while, their quarterback was on point and they were in it from the beginning," Williams said. "So you had guys out there who were playing fast and they had little guys who were feisty and physical."
Williams said his corners "weren't ready." He said he learned not only about his players, but about himself as a coach in the second half.
"We will be ready from now on," he said. "I promise you."
Confidence in return game
Riley expressed frustration with the punt return game on Monday. Without naming names, he implied senior returner De'Mornay Pierson-El should've let a punt at the 5-yard line go instead of catching it, and Pierson-El should've returned the final punt of the game instead of calling for a fair catch.
Safeties coach Scott Booker, who also oversees the special teams, agreed that Pierson-El made mistakes against Oregon. But Booker also gave him a strong vote of confidence.
"De'Mornay has done a great job for the University of Nebraska even before I've been here," said Booker, who was hired in the spring. "There are going to be plays where everybody looks at and says, 'Ah, man, I wish we had that back, I wish we had this back.' But I have the ultimate confidence in De'Mornay that he's going to make the right decision for us and he's going to make the correct play."
"Obviously when we're inside the 8-yard line we'd like the ball to bounce. Again, we look at film and we think, 'Ah, we wish we would have done that here, done that here.' I think that's fair to say about offense, defense and special teams. But to say I have lost any confidence in De'Mornay would be the furthest thing from the truth. He has been doing this for a long time and we have confidence that he's going to make plays back there, and make the right plays and right choices for us."
Quick hits
» Quarterback Tanner Lee said the NU offense showed flashes against Oregon, as when it scored consecutive touchdowns in the first and second halves. The next step is to do that with more regularity. "Just after two games, I think we gotta play consistently," Lee said. "I think we've shown it in spurts, what we're capable of, and how quickly and explosive we can score and how good we can be. I think we're just focused on that now."
» Diaco said regardless of which NIU quarterback plays Saturday, "it's really more of the same." Junior Ryan Graham started the team's opener, but an injury paved the way for Daniel Santacaterina to begin the second game.
Photos: Nebraska takes on Oregon Ducks in Eugene
Nebraska faced Oregon in a road non-conference game. 
Be the first to know
Get local news delivered to your inbox!