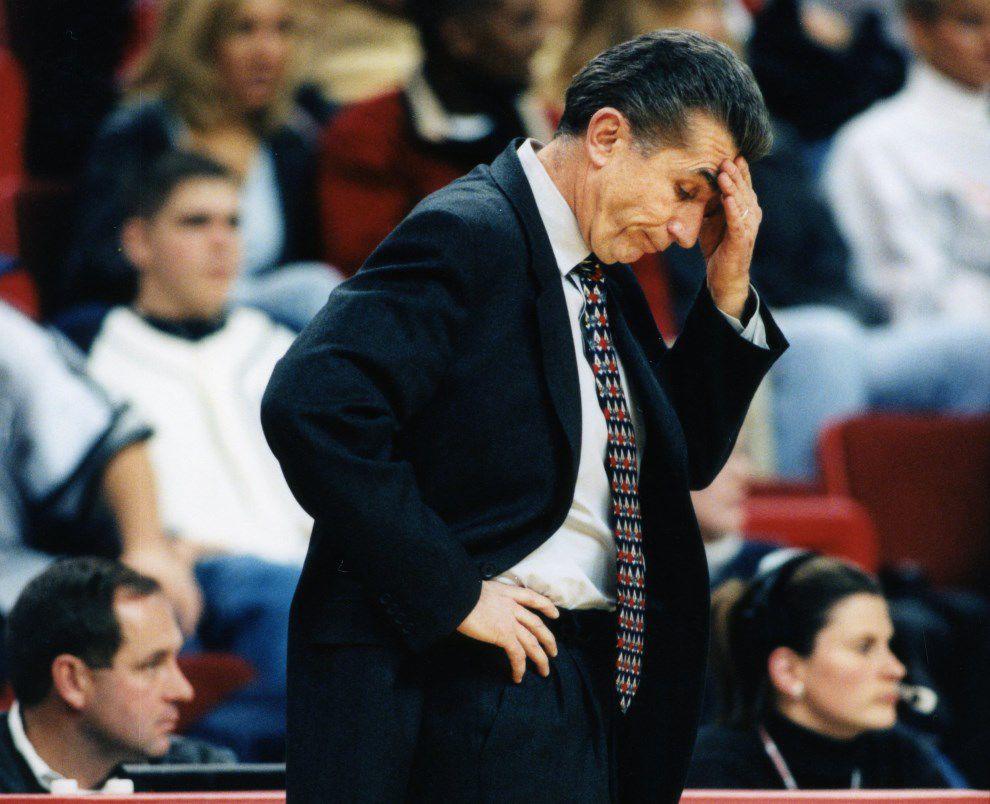 They met at a quaint booster dinner at Omaha's Happy Hollow Country Club. A welcome party for the new Nebraska basketball coach.
The bridge builder from Wahoo walked in wearing a red sport coat and Danny Nee loved it. I'm gonna have to get one, he said.
Don't look, Mert Oden cracked. There's a hole in the back.
"From then on," Oden said, "we were inseparable. Almost like brothers."
Nee needed family in 1986. He'd just remarried and moved to Lincoln. His parents were dead. He wasn't close to his brother. Most of his relatives were still in Ireland. He didn't surround himself with coaching friends. Oden, eight years older, became a mentor.
The Odens hosted Danny and new bride Janet in Wahoo. Over the years, they babysat Nee's children. Oden employed Nee's players in the summer and made frequent trips to the Devaney Center, including one day in February 1996 when the walls were caving in.
What drew a cautious businessman to a flamboyant coach? Curiosity. Energy. Fun.
"He is just interesting," Oden said. "He was a very good person."
Nee understood people, but he was impulsive. Oden tried to keep his feet on the ground. Encourage discipline and patience. It wasn't easy. He often wondered what Nee was running from. Why couldn't he ever live in the moment?
"He was always in a hurry," Oden said. "If you ever noticed when you sat down to talk to him, pretty soon he'd be up and moving around. Or he might be shuffling in his chair. He just wasn't totally satisfied living within his skin. …
"You've run into those people. … They're usually in a high position or they have a lot of responsibility. They're under pressure all the time.
"You want to say to them, 'Well, what's the rest of the story?' You're being powered by something. Either success or past failure or you're in over your head or you got too much stuff. …
"They don't stand in one spot too long because they don't want to find out what's there. That was Danny."
Was it the streets of Brooklyn? Was it the jungles of Vietnam? Oden wasn't sure. But friends are supposed to reach out like bridges. Everyone in Nebraska knew who Danny Nee was. No one in Nebraska knew him.
"I think maybe Danny felt that he's all alone out there and fighting this great big giant known as the world," Oden said.
After the 1994 Big Eight tournament, the world started winning.
* * *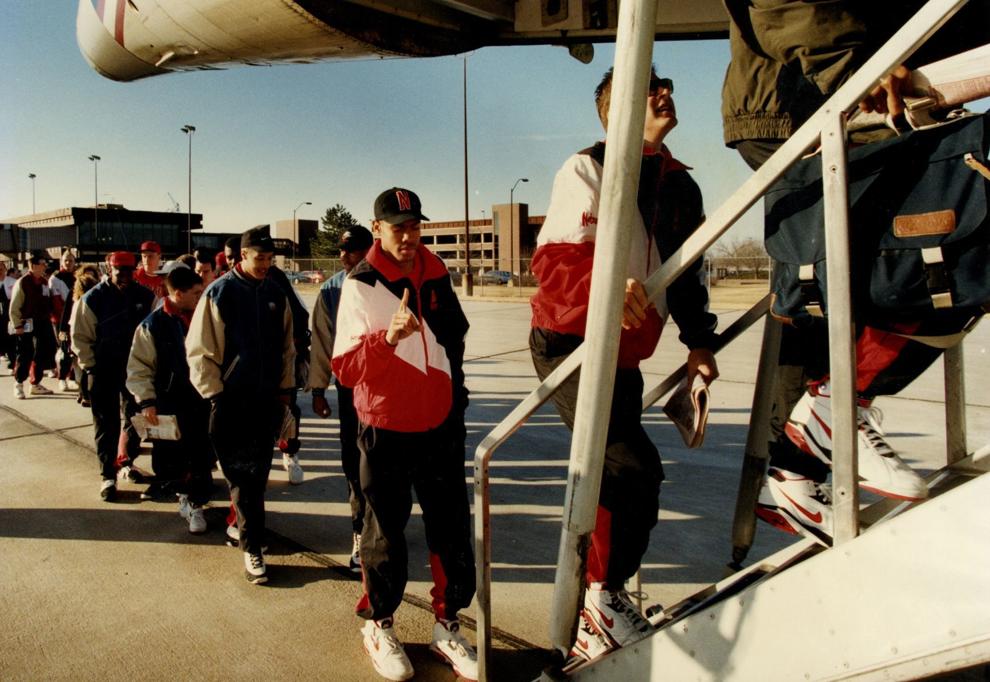 The golden era of Nebraska basketball ended 1,300 miles from Lincoln in an old hockey arena.
Friday the Huskers had beaten Oklahoma. Saturday Missouri. Sunday Oklahoma State. They grabbed their first Big Eight tournament title and celebrated with fans at the Devaney Center, absorbing cheers and making promises.
"We're not going to the NCAA tournament this year just to play one game," said Eric Piatkowski, the Big Eight tournament MVP. "We're going to play a lot of games."
Three days later they boarded a plane for Long Island, New York — 35 miles from Nee's old neighborhood — and prepared to meet Ivy League champion Penn in the first round of the NCAA tournament.
"Not Penn State. Not Pittsburgh. We pull Pennsylvania," Jamar Johnson said. "Of course, we're thinking, who are these guys? They're just the Quakers. They can't play with us."
Said Kent Pavelka: "I expected them to have players with pocket protectors."
Overconfidence was one problem. The bigger problem was fatigue. Nebraska had been pushing the pedal to the floor for weeks. At practice 24 hours before tip-off, Piatkowski walked off the Nassau Coliseum floor and confessed to assistant coach Jeff Smith: I don't have my legs yet.
"Oh crap," Smith thought.
Penn had zero scholarships, but it boasted the nation's best record — 23-2 — and standout guards Barry Pierce, Jerome Allen and future Houston Rocket Matt Maloney. The Quakers jumped ahead 13-2 and recorded 25 assists on 35 baskets — "They ran the damn Princeton offense and they kept back-dooring us. They just picked up apart," Smith said.
Meanwhile, the Huskers — 10th nationally in scoring — settled for jumper after jumper. They finished 3 for 20 from 3-point range.
"We had no legs, we had no fight, we had no passion," Erick Strickland said. "It wasn't the moment, we were just worn out."
Nebraska didn't get within six points after halftime, losing 90-80. In the locker room, players barely said a word. Too shocked and depressed.
The Huskers returned home and prepared for a leadership overhaul. Piatkowski was headed for the NBA, Bruce Chubick overseas, Johnson the coaching world, Tom Best for a job in Chicago selling medical devices.
There was no panic. Fans assumed the program would get even better.
* * *
On Dec. 29, 1995 — four days before Nebraska football blasted Florida in the Fiesta Bowl — Jaron Boone lit up the Rose Garden.
The Huskers were in Portland for a holiday tournament. So were a handful of NBA scouts. The first night, they watched Boone go for 25 against Oregon. He was developing into a star.
Danny Nee never expected to get Boone out of high school. How was Nebraska going to beat out North Carolina and Kansas for the son of a professional basketball star?
But Boone signed, grew to 6-foot-6 and became arguably the best player in the best recruiting class in school history. During the Kansas win his freshman year, Dick Vitale proclaimed, "Jaron Boone! Remember the name!"
One year later, Boone made the Big Eight all-tournament team, playing point guard at critical moments, draining clutch shots.
"That's when I thought Jaron Boone could've been a lottery pick," Terrance Badgett said.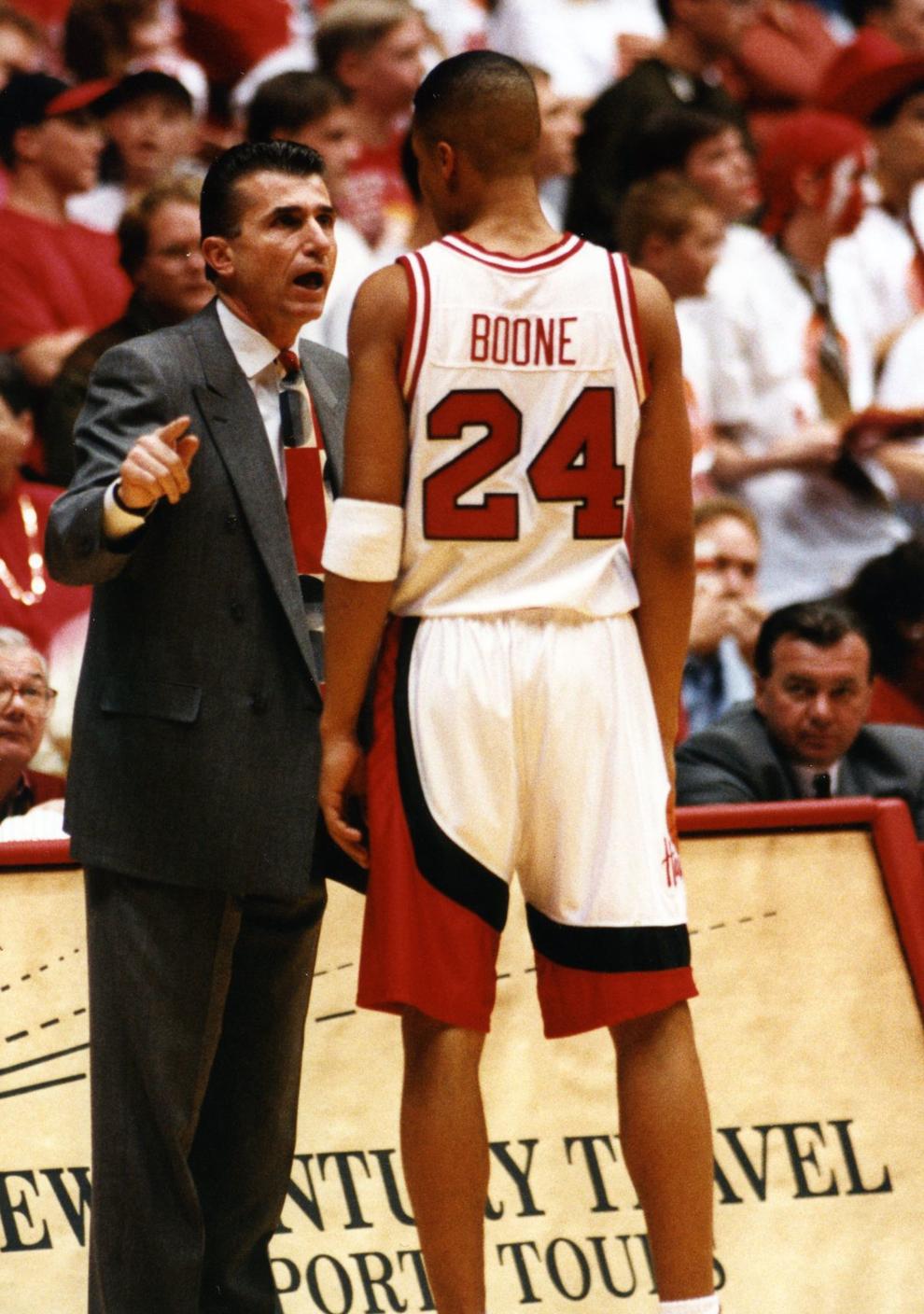 But by January 1996, Boone began to represent Nee's demise. You didn't need a front-row seat at the Devaney Center to see bad shot selection, bad body language, bad leadership. All eyes — internally and externally — focused on No. 24. Fans booed Boone.
"Probably the greatest fall of an athlete that I've ever been around," teammate Andy Markowski said.
"Jaron really could've been a great pro," Strickland said. "He really had everything it took. I think J in some ways got distracted. As a small example, most of us had our own apartments. Senior year, he moved in with six guys. They had a big house. One of them is a football player (Clinton Childs) and the others just go to school. You can't rest."
Others in the program backed up Strickland's account, but Boone tells a different story. He was as serious as ever, he said.
"They don't tell you that I moved away from Childs and those guys on X Street and got my own place. It wasn't a party house."
Nee entered '95-96 with arguably his most talented roster: Strickland and Boone were joined on the perimeter by freshman Tyronn Lue, who scored 30 in his second college game.
"I used to talk to him after the game, 'Look, you scored too many points,'" Nee said. "He's looking at me like I'm Daffy Duck. I've got Strickland we have to get the ball to, we got Boone. ... We didn't have enough balls to go around. I said, 'Lue, you have to be a set-up guard. You have to show your greatness on playing defense and running the fast break and distributing the ball.'"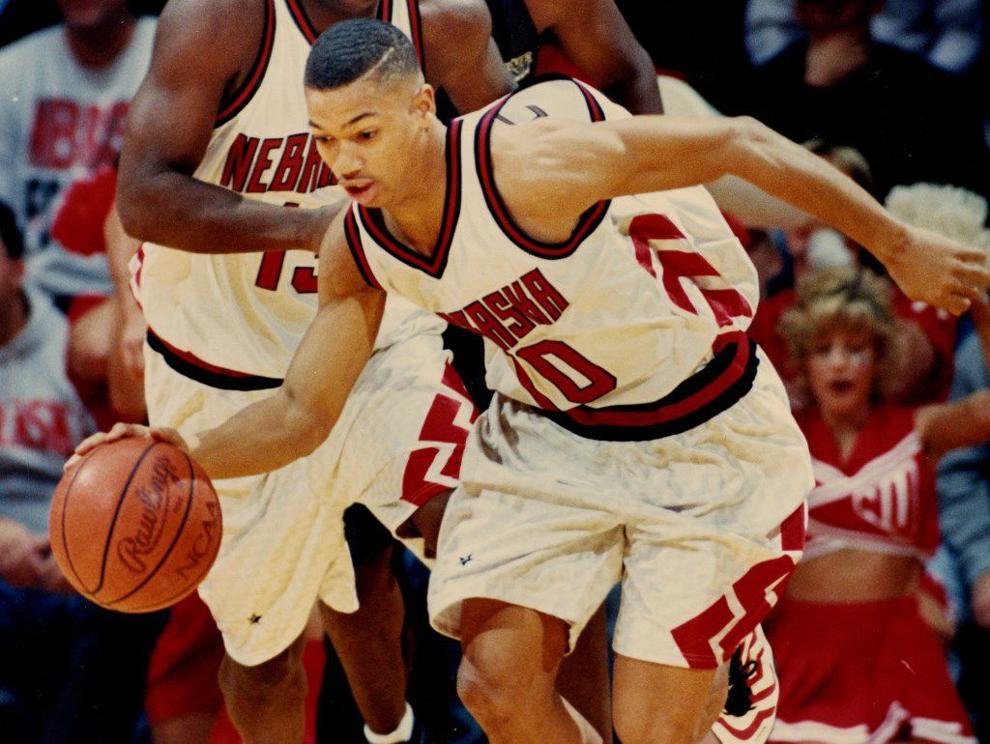 The front court featured Badgett, Bernard Garner and Mikki Moore. Freshman Venson Hamilton came off the bench. Three future NBA players — and one more who got drafted — should've been enough.
But Nee entered that season with two glaring holes. His long-time assistants were gone.
Gary Bargen, in the summer of '95, moved into the compliance office. The relationship between Nee and Bargen had weakened over nine years. Now Bargen wanted more freedom to see his son, Mike, who was headed to Marquette on a scholarship.
Jeff Smith, meanwhile, left for Eastern Washington. Back then, only two assistants could recruit off campus and Smith — Nee's No. 3 man — wanted recruiting experience.
"Jeff was my guy," Boone said.
Bargen and Smith functioned as antibiotics. Without them, there was nobody to soothe egos and solve conflicts, especially when Nee lost his cool and attacked players personally.
Seniors started worrying about pro ball. Underclassmen prioritized playing time. The culture devolved into every man for himself.
"Charlie McBride on the practice field would grab your face mask, he would kick you, he would hit you, he would spit Copenhagen on you," said Paul Koch, Nebraska basketball's strength coach from 1987-96. "But you know what? Five minutes later in the locker room, he had his arm around you and he's telling you he loved you.
"Danny is kinda like Charlie, except I didn't see Danny with his arm around a kid afterward. Sooner or later, it turns kids off. They kind of emotionally shut down."
Talent was enough to start the season 15-4, including blowout wins over Texas and Missouri and a win at Oklahoma State, where NU hadn't won since 1987. Then Nee-brasketball collapsed.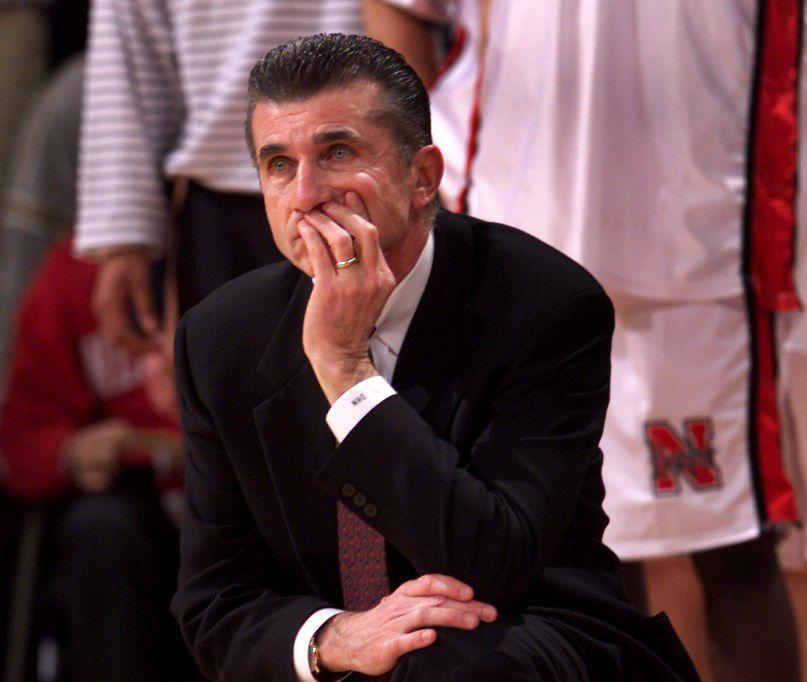 * * *
It started when Kansas rocked the Huskers in Lincoln. Loss No. 1. At Kansas State, Nee and Boone exchanged heated words at halftime and the senior was benched. Loss No. 2. Nee suspended him the next game, Iowa State. Loss No. 3.
At Missouri, Strickland was ejected after two technicals. Loss No. 4. Rock bottom came in Ames.
The marker board in the Hilton Coliseum visitors locker room listed three orders:
Teamwork. Hustle. Listen to Coaches.
Even the basics had become too much to ask. Players bickered during timeouts and ignored instructions from the bench. Loss No. 5.
Most of his life, Nee had teetered on the edge of chaos. Finally, he'd lost control.
Afterward, in the locker room, coaches and players met for 10 minutes, shouting so loud they could be heard in the hallway. Then something extraordinary happened.
Nee walked out to fulfill media obligations as players stayed inside. They moved to the shower room — as far from the locker-room door as possible — and discussed the unthinkable: staging a coup.
Who initiated the conversation? How did a losing streak turn into a mutiny? After 22 years, details are fuzzy. Interviews with more than 10 sources close to the '96 Huskers reveal a wide range of answers.
But it's fact that Sunday night they re-grouped at a player's house — perhaps the first time they'd hung out as a team all season — and went over their plan to meet with the athletic director and prompt a coaching change. One problem: Bill Byrne wasn't in town until Tuesday.
Only two players showed up for Monday practice: Lue and Garner.
On Tuesday, Nee drove to Anthony's in Omaha and told the luncheon crowd that he saw no dissension on the team. But boosters knew something was wrong — Nee was reading from a script. He didn't mention what was happening back in Lincoln.
Nine players met that morning with Byrne in the Hewit Center. They sat around a long table and, one by one, complained about playing time. About double standards. About Nee's dishonesty. The coach had made so many promises to so many people. And he wasn't keeping them.
Byrne listened to every grievance. Then he told the players that Nebraska would field a team with or without them. And if they continued to boycott, NU would yank their scholarships. The players backed down.
The next day, practice started on time with Nee calling the shots — he didn't say a word about the boycott. His authority was crippled, his image stained.
He wasn't the only one who paid a price. Boone wasted his potential and wrecked team chemistry, but he didn't lead the walkout.
"I got blamed for s--- I didn't even know was happening," Boone said. "I was the last one to know."
When Boone interviewed with the Bucks and Bulls at NBA draft camp that spring, their first questions were about being the "ringleader" of the boycott, he said.
"That's the most shocked I've ever been."
Nebraska lost four more games — nine consecutive — then exited the Big Eight tournament with a 62-60 loss to eventual champion Iowa State. At 16-14, they squeezed into the NIT.
Then a surge. A win at Colorado State. Another over Washington State in Lincoln. Seniors like Boone, Strickland and Badgett, who'd come to Lincoln with so much hype as freshmen, decided this was their chance to make amends.
The final step to Madison Square Garden was a road trip to Fresno State, where Jerry Tarkanian was waiting.
Nebraska rallied from a 13-point first-half deficit and won going away. Afterward, Garner took off his shoe and had Tark the Shark autograph it.
The Huskers finished the run in New York City, knocking out Tulane and Saint Joseph's.
Nee watched his players cut down the nets in the same borough where he won a high school championship with Kareem Abdul-Jabbar, on the same floor where — exactly one year earlier — Michael Jordan hung 55 on the Knicks.
"I feel like Lazarus raised from the dead," Nee said.
Even Lazarus eventually went to his grave.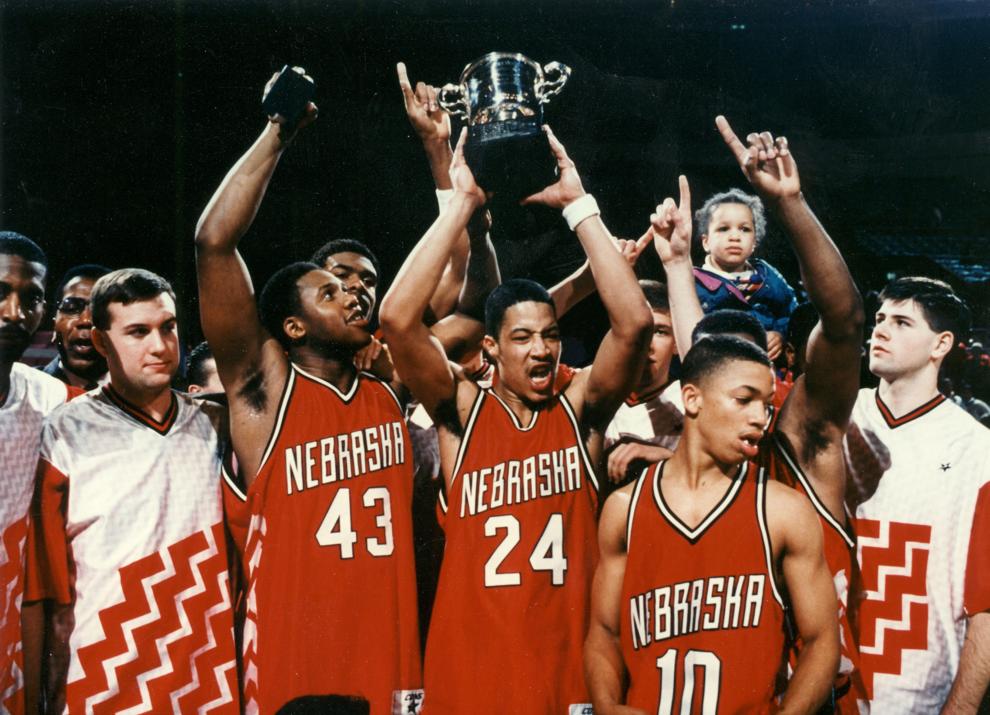 * * *
Piatkowski was in Los Angeles playing for the Clippers when he heard about the walkout. He was stunned.
He hadn't stayed in close contact with Nee. But he remembered a conversation they had. Nee was telling him about players acting up.
"I was like, 'You let them do that?'" Piatkowski said. 'You would've never let us get away with something like that.'
"He said, 'You know it's different now. You gotta coach these players differently than the way I coached you guys.' I think that might've been a big mistake. He was a hard-ass and he would bust our balls. He would ride us, ride us, ride us and I think there was a respect level there.
"When you start saying, 'I gotta coach you guys differently and I'm gonna let you guys get away with whatever,' then you start to lose some of the respect. I can tell you from the NBA, once you lose a guy's respect, it's bad. It's really, really bad. You don't really earn it back after that."
Another former Husker, Carl Hayes, saw the boycott through a different lens. Nee's mistreatment of players had finally caught up with him.
"It went on for years and years until Erick Strickland and Jaron Boone were like, enough is enough," Hayes said. "This has got to stop."
But there may have been something else going on. According to multiple sources, several players had taken money under the table, compromising Nee's authority. How could he discipline players — or throw someone off the team — knowing they might expose him? Nee, according to sources, lived in fear of losing his reputation and way of life.
"No one ever got paid," Nee said. "That's not true."
He kept his popularity with the fan base until April Fool's Day 1997.
That's when his insecurity derailed him. Since Byrne's arrival in '93, Nee and the A.D. had haggled over money, support and respect. Nee never thought he got enough appreciation, a feeling reinforced at home by Janet. He felt the A.D. was constantly watching him.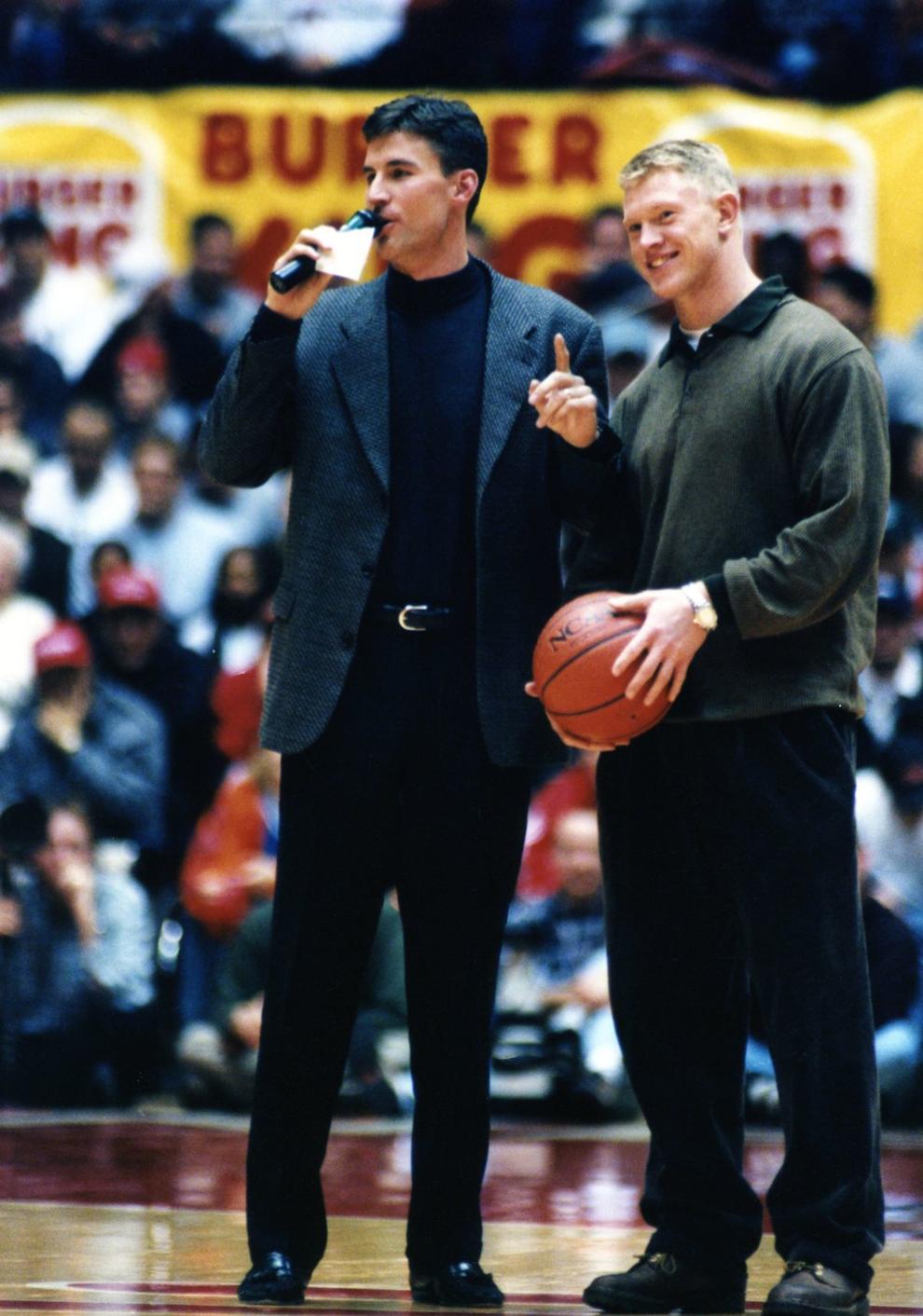 In the early '90s, Husker hoops was fresh and fun; the football program was stale and predictable. By '96 and '97, football was on top of the world. And Nee's antics — and perceived underachievement — were growing tired.
At the '97 Final Four, he met with the Rutgers athletic director, who was looking for a head coach. Nee was a great fit. Closer to his roots on the East Coast and to his oldest son, Patrick, who was in college in New Jersey.
Nee returned to Lincoln and, during his weekly radio show, essentially told a statewide audience he was leaving.
"I love Nebraska. I love coaching at Nebraska. But when you're 51, you don't know how many pages you have left. You have to start thinking about where you want to be in five or 10 years."
Now imagine hearing your basketball coach of 11 years — the man who delivered the greatest moments in program history — say those words. Nee even recommended his successor: assistant Jimmy Williams.
"He would hold the ship together," Nee said. "If the whole staff leaves Nebraska, I think players will leave and it will set it back years."
The next day, Rutgers announced its new head coach. It wasn't Danny Nee.
"If he would've got that job, that would've been about the right time for him to leave," Jeff Smith said. "Things hadn't fallen apart fully yet."
Nee once told Pavelka that coaches can stay too long at a school. You have to know when to get out.
"He didn't do it," Pavelka said.
* * *
After the Rutgers incident, Piatkowski said, "it went to s---."
Slowly, yes. But not right away. Lue carried the Huskers back to the NCAA tournament in 1998, riding the bubble again before earning an 11 seed. Nebraska led Arkansas 54-47 with 10 minutes to go, but wore down. The Hogs slapped a zone on NU, face-guarded Lue and pulled away, 74-65.
"I knew I kinda jumped into the coffin when we lost the lead to Arkansas," Nee said. "I knew I was in trouble. I knew we had to win a game."
Nee was scheduled to return a loaded roster, but Lue declared early for the NBA draft.
"In my heart," Nee said, "I just didn't believe he was gonna leave early. I didn't think he would. I totally misread that. We couldn't recruit a guard of any caliber as long as Tyronn was there because they knew they weren't beating out Tyronn."
Without Bargen coordinating behind the scenes, Nee's recruiting became dysfunctional and desperate. He wanted a quick fix and took too many chances on players with shady backgrounds and shaky skills. He abandoned in-state prospects during an era when Nebraska produced good ones.
"He kind of lost what the crowd identified with, that Nebraska working-class attitude," Beau Reid said. "We're gonna outwork you, we're gonna play clean, we're gonna play hard. Not afraid to bust you in your mouth, but we're not gonna be running our mouth and talking all this trash. Toward the end, it seemed like we had a lot of guys that wanted to talk more than they wanted to do."
In 1999, the Huskers went 10-6 in Big 12 play, sweeping Kansas in the regular season. But the Jayhawks hammered NU at the Big Eight tournament and Nebraska got snubbed on Selection Sunday. Another missed opportunity.
"The fact that none of those teams could win a tournament game is a travesty," Markowski said. "There was immense talent up and down in the '90s."
More was coming. Nee signed the league's highest-rated recruiting class — he called it the best in Husker history. But Kimani Ffriend and Co. had flaws that didn't show up in a highlight tape.
"I'd rather have a talented team with problems than an untalented team with a bunch of nice guys," Nee said in 2000. "Some of these guys are high-maintenance. But with talent, at least you have a win."
Not without a solid support system. The team crumbled. Attendance tanked — 7,341 fans per home game. In February, Nee returned to Anthony's in Omaha for his regular booster luncheon. He passed out letters detailing his accomplishments over 14 years and opened with this proclamation:
"I'm not quitting. I'm not even thinking about giving up. So all you sons of bitches who want me out of here, I'm not leaving."
On Feb. 26, 2000, the Huskers broke a six-game losing streak with a Senior Day win over Colorado. It also nudged Nee past Joe Cipriano for most wins in NU history — 254. His first win came in Lincoln on Dec. 1, 1986 against Oregon, whose athletic director was Bill Byrne.
After his final win, Nee received a game ball from his seniors and handshakes from Cipriano's son and from Byrne. Only about 2,000 fans stuck around for the ceremony, which lasted all of one minute. Then the dean of Big 12 coaches went to the interview room.
There aren't many coaches who stay in one place long enough to win 254 games, Nee said.
"I pity the next son of a bitch."
* * *
Mert Oden had another good friend in the Nebraska athletic department in 2000. A person with whom he frequently shared lunch tables and secrets.
Shortly after Senior Day, the athletic director spilled the most obvious secret in town. He was going to fire Danny Nee.
"I looked him right back in the eye and said, 'You are making the biggest mistake of your life.'"
What makes you think that? Byrne said.
"I said, 'Well, there's ups and downs in the sports world … it's just nature. I'm not going to bang on doors and tell people you made a mistake. But I don't think it's right.
"Sometime you're going to be sorry."
Nee arrived in Lincoln like a string of flashing Christmas lights. On Thanksgiving weekend, you can't take your eyes off of them. But your senses adjust, your eyes get tired, your head aches. By New Year's, you can't bear to turn them on.
The same New York R-rated straight talk that people loved in 1991 they hated in 2000. Nee's strengths became his weaknesses. Even his best metaphors couldn't save him.
He could tell himself that he belonged in Nebraska, but he was always going to be a Brooklyn street fighter. He couldn't change the place any more than the place could change him.
In March 2000, Byrne chased Bill Self and settled for a coach from the Moe Iba mold — Barry Collier. Byrne left for Texas A&M two years later. He wasn't around to see the dog days of Collier and Doc Sadler.
"It didn't take Nebraska fans very long — or me, for that matter — to take Danny's years for granted," Pavelka said.
In 18 seasons since Nee's departure, Nebraska hasn't produced a single NBA draft pick. Only once have the Huskers made the NCAA tournament. Their cumulative record: 277 wins, 276 losses.
The program's struggles are well-documented. Nee's are not.
What happened to him after 2000 is largely a mystery to Nebraskans. Almost all of his old friends and players have lost contact. From Reid to Piatkowski, Digger Phelps to Dick Vitale, they all ask the same question: What's he doing now?
Oden doesn't know the full story, but he knows enough about Nee's road.
"It's almost like there's a black flag following him."
Danny's Miracle is an eight-day series about Nebraska basketball in the 1990s. Each day offers a main story covering essential characters, themes and events, but the narrative can't possibly encompass everything. These are the bite-sized nuggets and insights that shed greater light on Danny Nee's program.
---
Part Eight: Making Peace
Where is Danny Nee now? The winningest coach in Nebraska men's basketball history is a far cry from sold-out nights in the Devaney Center. Click here for the final chapter of Danny's Miracle.