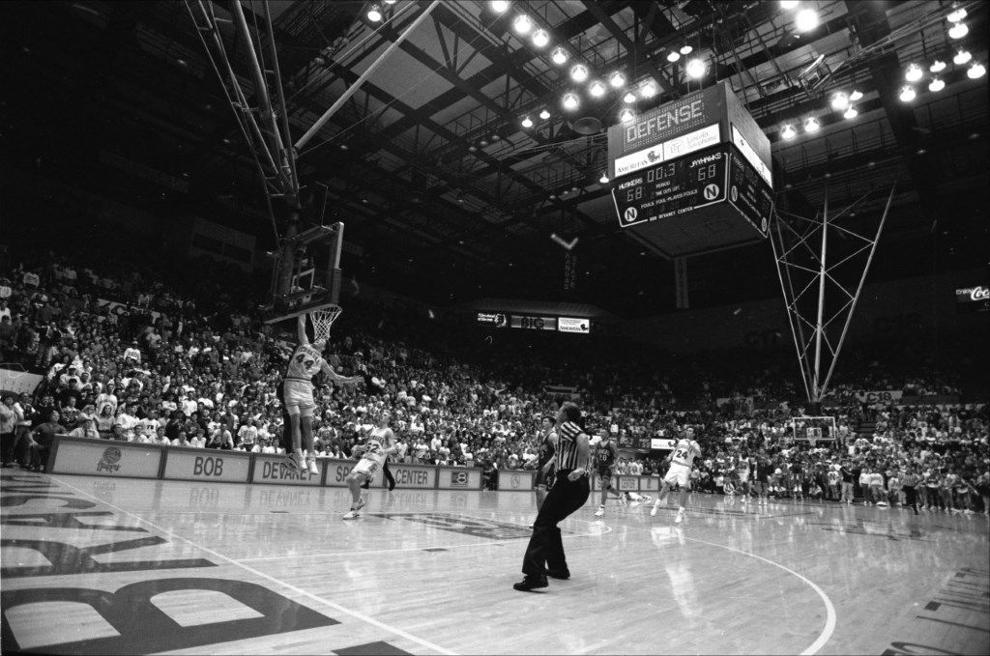 Had he come along 20 years later, the whole sports world would've known Harold Miner's nickname.
His YouTube clips would've attracted millions. His SportsCenter highlights would've been appointment viewing. Twitter would've been abuzz.
But back in November 1991, Carl Hayes had never heard of USC's 6-foot-5 left-handed, head-shaven, tongue-wagging, No. 23. And then the game started.
"He showed me why he was Baby Jordan," Hayes said.
Before a packed house at the Devaney Center, Miner scored 22 first-half points on a bruised left foot. USC coach George Raveling was going to hold him out the second half, but Miner wouldn't have it.
At the scorer's table, Steve Johnsen was starting his fourth year as public-address announcer. One year earlier, he'd announced Beau Reid's 3-pointer to beat Michigan State. Now he sounded like a broken record.
"Basket by Harold Miner."
"Basket by Harold Miner."
"Basket by Harold Miner."
"He shot a 3-pointer, it came off the rim and he tip-dunked it," Husker forward Terrance Badgett said. "His own miss!"
Eventually the Trojans would earn a No. 2 seed in the NCAA tournament and Miner would be the Pac-10 player of the year, an NBA lottery pick and a slam-dunk champion. But Nebraska dominated that night, giving fans the best of both worlds: a victory and a spectacle.
In the final minute, Johnsen had a "classy" idea. He looked at Tom Simons, NU's sports information director, and got approval.
"Ladies and gentlemen, as Harold Miner leaves the floor, he has just broken the Devaney Center scoring record with 43 points."
The crowd applauded. Nebraska's head coach did not.
"Danny Nee comes over in front of me. He's literally three feet from me, bending over and he says, 'Who in the f--- cares?' He's just screaming at me.
"I look at Tom and I said, 'Tom, what do I do?' He said, 'Just ignore him. Don't look at him.' ... I really thought I was going to lose my job after that.
"He was kinda like Bo Pelini on steroids."
* * *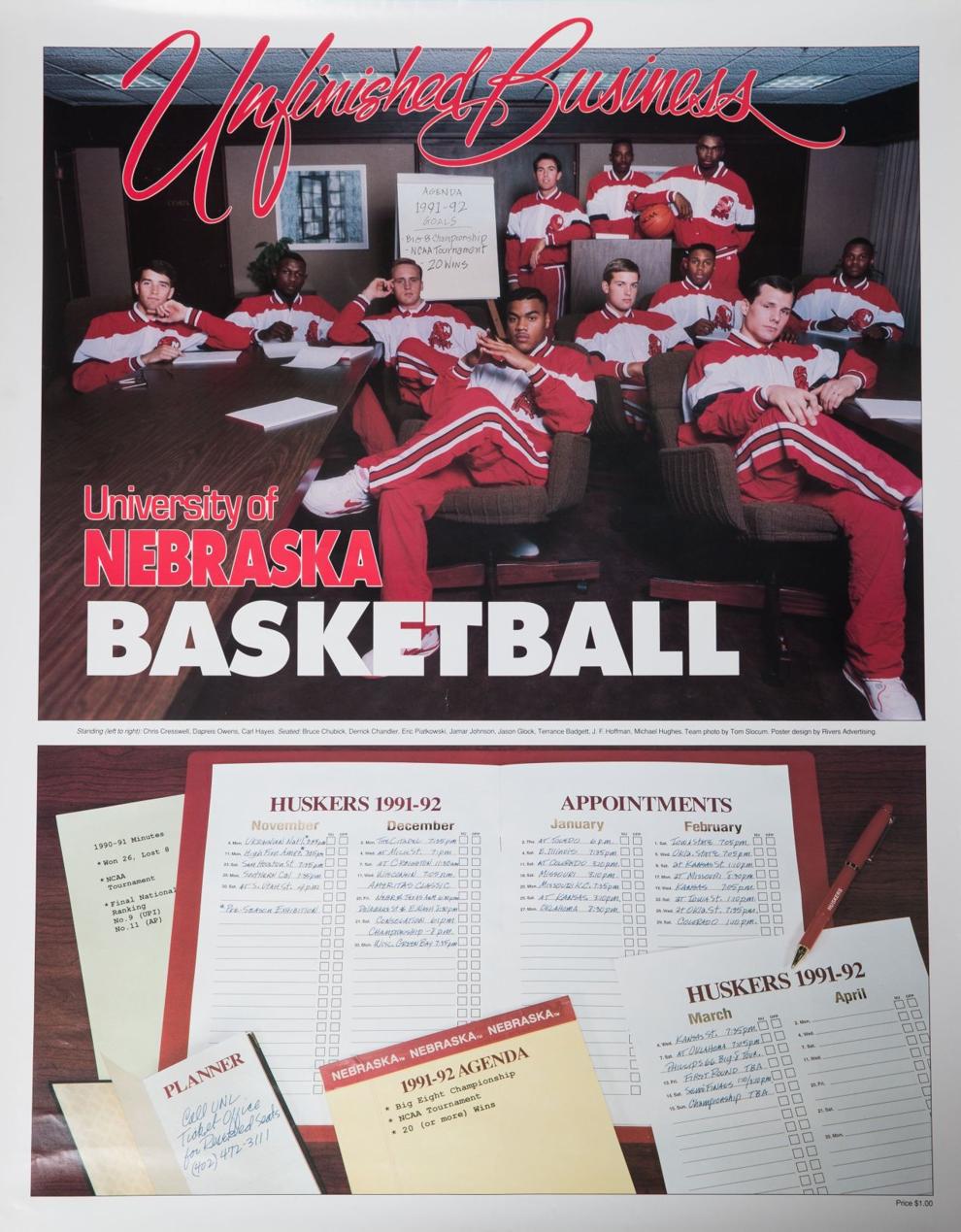 Nee should've been thrilled that night. After the upset loss to Xavier in the NCAA tournament eight months earlier, Nebraska lost six of 10 rotation players, including four seniors.
Gone was Rich King, the first first-round draft pick in school history. And Reid, the Huskers' heart and soul. And Cliff Scales, Nee's best guard. And Keith Moody, his spark plug. Tony Farmer and Jose Ramos — the two juniors in the Ray Peery scandal — were gone, too.
"You had a lot of people thinking we were gonna go right back to the outhouse," Bruce Chubick said.
They were wrong. Year Two of the NCAA tournament streak would be just as wild as the 26-8 season. It would see the emergence of new leaders and produce the most amazing shot in NU history — and that wasn't even the play of the game! It would produce epic rants and notorious taunts, a savvy defensive move, a buzzer-beater, an ejection. And it would come mostly unexpected.
Nee's core blended experience and talent: seniors Hayes, Dapreis Owens and Chris Cresswell. Sophomores Eric Piatkowski and Chubick. A junior-college transfer center, Derrick Chandler. And a point guard from basketball heaven, who'd been honing his game in basketball hell — the campus rec intramural league.
Jamar Johnson grew up at Concord High School in northern Indiana, the soft-spoken teammate of phenom Shawn Kemp.
"Everybody considered him a man child," Johnson said. "He'd catch an alley-oop from anywhere. He did a good job making me look good."
Kemp got drafted 17th overall the summer before Jamar Johnson's senior year. Concord didn't miss him much.
In March 1990, Johnson led his unbeaten team to the one and only Indiana state championship game. The opponent: the most decorated player in Indiana high school history, Damon Bailey. The crowd at the Hoosier Dome: 41,046, a national record.
Concord led 58-52 with 2:38 left before Bailey scored seven straight. Johnson's pull-up jumper with 45 seconds left gave Concord the lead again. But Bailey made four more free throws. On the final possession, Johnson missed a game-tying 3.
Johnson had the pedigree to play at Kansas or Purdue, but the big schools backed off when they saw his test scores. Concord's coach was the brother of Nee's best man, Billy Hahn, who assisted him at Ohio. Nebraska took a chance.
"We just stayed there like an old dog," Nee said. "I told him we'd Prop 48 him."
Johnson arrived in Lincoln in '90 and sat out the 26-8 season. As a non-qualifier, he couldn't attend practices, so he joined football trainer Doak Ostergard's intramural team. "Kenny Walker was a beast," Johnson said.
Johnson got a real uniform in the fall of '91, infusing Nee's young team with poise. "Indiana swag," he called it. Unlike most freshmen, Nee didn't intimidate him.
"You gotta understand, I grew up going to Indiana basketball camp," Johnson said. "I grew up in a state where every coach thought he was the second coming of Bobby Knight. ... I think some other guys who were coddled through high school were taken aback by his style."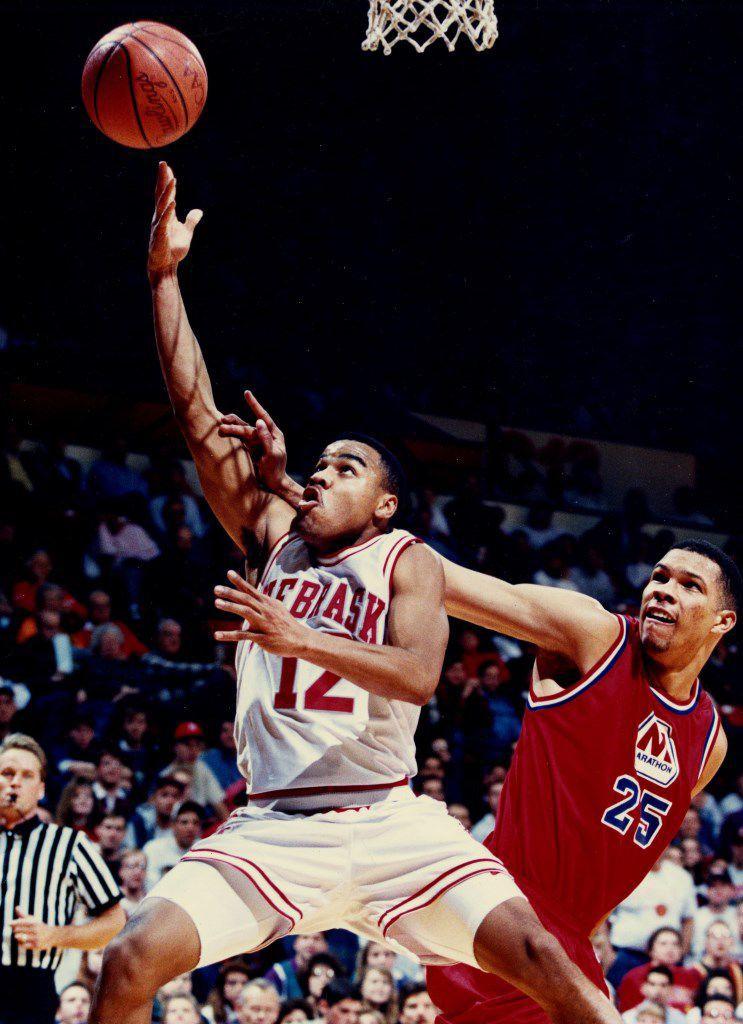 There was one exception: One week after the USC win, the Huskers went to the Breslin Center to face No. 22 Michigan State, hungry for revenge following Reid's 3 the year before.
At halftime, NU had recorded 13 turnovers and trailed 33-28. Nee went nuts.
"I had family in the stands," Johnson said, "and I was like, I just want to sneak out and go home with my mom. I don't even wanna go back to Lincoln."
Then it got worse. Michigan State got a halftime pep talk from a 36-year-old assistant named Tom Izzo and scored 68 points in the second half. During one (of many) runs, Nee called timeout.
"We start to walk over," Chubick said, "and he goes, 'No, no, no! Stop right there, f---ers.' He goes, 'Listen to this f---ing crowd!'"
Let Chris Cresswell take it from there. "'This crowd is so loud because you f---ers are playing like s---. We are just gonna stand here and listen to the crowd.' That's the only timeout I can ever remember at Nebraska where we literally just stood there and didn't say a word."
That's not quite true. Just as the horn blared to resume play, Nee barked an order.
"Alright, we're going back to f---ing zone, let's go."
* * *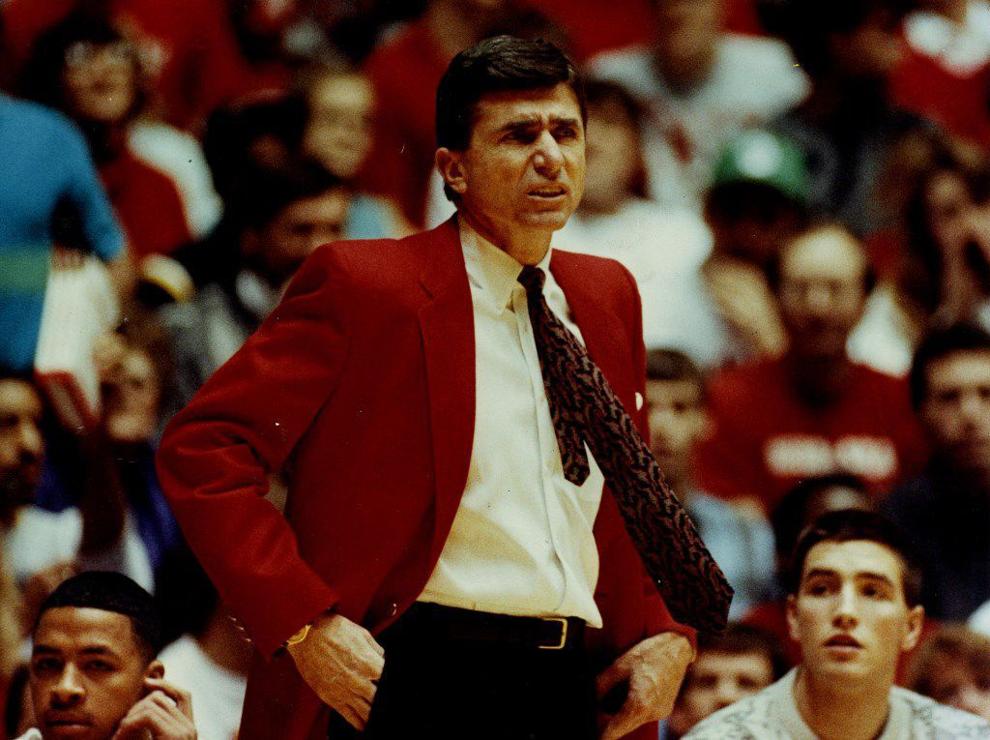 Sometimes the tantrums made players laugh. Like the day Nee entered the locker room and ordered players to sit down. He'd just received grade reports. One player had a 1.2 GPA, one had a 0.8.
"What the f--- are you guys doing?" Nee said, according to Chubick. "This isn't a f---ing game. You're gonna get down the road, you're gonna be balls-ass naked on some f---ing corner wondering what happened to your life. You're pissing your lives away."
According to Chubick, that's when Nee made a motion like he was, you know, peeing.
"I hear Cresswell go 'Pfft.' I'm like, you f---er, I can't look at you. If I look over I'm gonna bust out and then s---'s really gonna hit the fan."
That was comically angry Danny Nee. But too often Nee crossed the line and wasn't funny at all. How many times did he stand in front of a player and call him a disgrace to his family? How many times did he say, "You motherf---ers are gonna run until I get tired." He pointed them to the stairs of the Devaney Center. Go until I stop you.
Then Nee left his assistants in charge and went to his office.
"He just didn't treat people the way you need to be treated," Tom Best said. "If he did that these days, he wouldn't be coaching anywhere. But he'd call me p---- if I said that now, so whatever."
"We respected him because he could coach and recruit," Owens said. "But he was a crazy f---er, too, so it was a strain."
Said Cresswell: "You never really felt like there was effort to get to know you. I'm sure Danny Nee didn't know the name of my hometown or the name of my mom. Maybe that was just part of the coach/player barrier, like, hey, we're not buddies. But that was definitely the part that in hindsight I thought was missing."
Players all had days they wanted to quit. Why didn't they? Because Nee had stabilizers. Assistant coaches who buffered Nee, complementing his strengths and covering his weaknesses.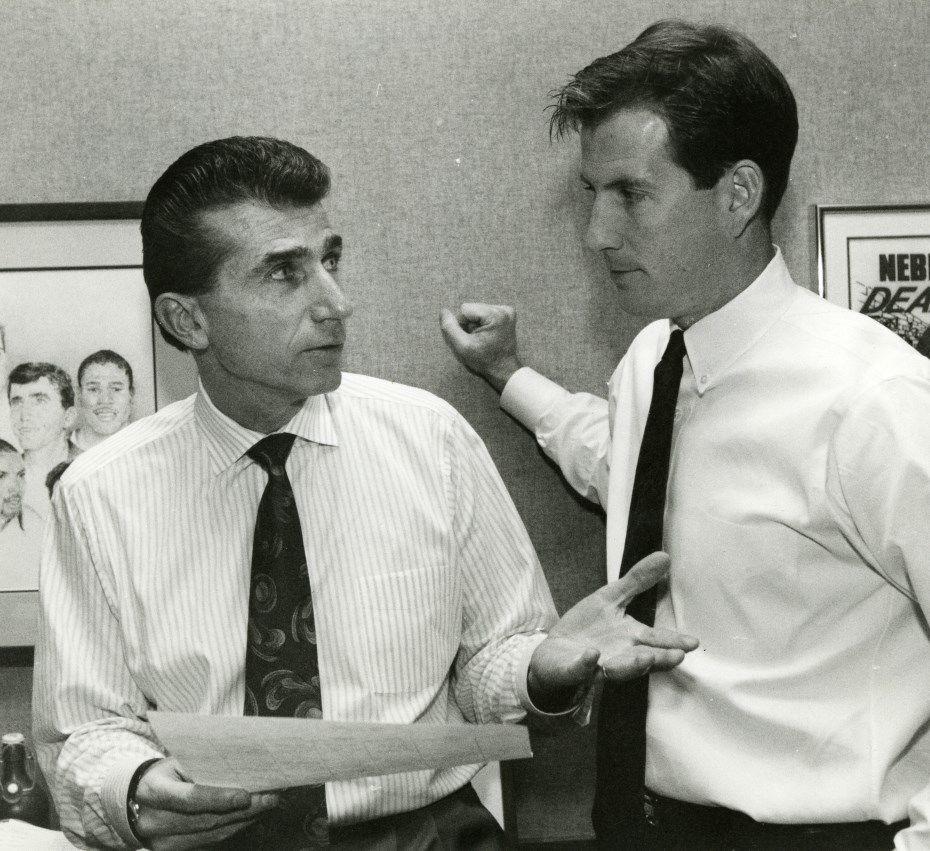 Lynn Mitchem was warm and easy — he buddied up to prospects on the recruiting trail. Jeff Smith ran the defense in practice, but his greatest value was building relationships with players.
Most important was Nee's right-hand man.
"Gary Bargen was probably the most natural, instinctive X and O guy I've ever been around," J.F. Hoffman said. "He could freelance and draw up inbounds plays in the heat of the battle. Three minutes to go, we're up three, he could read the game and put a play on the board."
Sometimes players wondered why their head coach didn't hold the marker. Why did Nee's assistants have a better grasp of details than he did? But the arrangement worked. Nee delegated responsibility while he was the face of the program and chief motivator. That was his greatest strength: pushing kids to compete beyond their abilities, even if it took a little fire and brimstone.
"He lived for the lights and the popcorn and the crowd," Reid said. "He wanted you to turn loose and play. When we were good, it was really fun to be good with him."
Danny Nee doesn't succeed at Nebraska without Gary Bargen. And Gary Bargen doesn't come to Nebraska if Fran Fraschilla doesn't bail on Danny Nee.
* * *
Nee needed all the help he could find because the Big Eight was a gantlet. Oklahoma's run-and-gun style in the mid-'80s had raised the standard. The 1988 national championship match-up — Kansas vs. Oklahoma — had given the Big Eight a banner to wave. Suddenly coaches were pulling recruits who'd previously gone to the Big Ten.
Then in '92 came the ESPN Big Monday contract. The Big Eight replaced the Big Ten in the 8:30 p.m. window — Bob Knight didn't want to play late on school nights. It also became the best league in the country, packed with brilliant, colorful coaches.
Roy Williams. Eddie Sutton. Billy Tubbs. Norm Stewart. Johnny Orr. Dana Altman (more brilliant than colorful, of course).
Six teams would go to the Big Dance in '92. Five were ranked in the Top 25. Nebraska wasn't one of them, despite a 12-1 start. The Huskers had to meet the challenge.
During a span of five and a half weeks, they played eight games against ranked teams (including four top-10 foes), the wildest stretch of basketball in the Nee era:
Jan. 18: It began with a home loss to 13th-ranked Missouri, 83-73.
Jan. 25: Nebraska committed 29 turnovers at Allen Fieldhouse. No. 5 Kansas 103-78.
Jan. 27: NU's first Big Monday appearance ever, against No. 18 Oklahoma. The Huskers blow a seven-point lead in the final 1:20. 
Feb. 5: Desperation day. Here comes 20-0 Oklahoma State, ranked No. 2 in the country.
If you woke up that morning and flipped through Billboard Magazine, you would've seen a new No. 1 music album in America: "Nevermind" by Nirvana. The same band that played Duffy's Tavern in Lincoln just two years earlier.
The Devaney Center was developing a similar college bar vibe. Husker football was the quintessential rock'n'roll stadium show, choreographed for the masses. Basketball was more improvised and intimate. You knew the bouncers (ushers who made sure you didn't stand in a doorway) and the bartenders (concession workers selling plastic cups of pop with those sticky seals).
You knew the screen-printed T-shirts — DC's Swat Team and Dead Dog Alley. And the chants when a referee messed up — "IBM presents… You f---ed up the call!'
You knew the pep band's opening notes of "25 or 6 to 4" and "Purple Haze" — the latter for Hayes, of course. And during "Rock and Roll Part II," look to the first row of the B section, where the old guy in the white turtleneck was pumping his fist so hard — "Hey!" — he almost fell over.
"We're gonna beat the hell out of you … and you ... and you and you and you."
Devaney was one of few Big Eight arenas where students surrounded the court — in shaky wooden bleachers. When the Huskers went on a run, said Nathan Meisgeier, the maestro of the student section in the early '90s, you could feel the "cacophony of sound."
"It felt like Memorial Stadium on a big third down against Colorado," Meisgeier said. "It got so loud you couldn't hear yourself think."
Feb. 5, 1992 might be the most underrated day in NU athletic history. That afternoon, Tom Osborne signed an option quarterback out of Florida. That night, Eddie Sutton and Oklahoma State faced a sell-out crowd at Devaney. Tommie Frazier would've endorsed Nee's bravado.
Before tip-off, he told Sutton that Nebraska couldn't beat the Cowboys playing man-to-man. But 2-3 zone gave Nee a chance.
"I looked straight into his eyes like a poker player and said, 'You're gonna be so sick of f---ing zone when you leave here. ... I know you don't like it.'"
The Huskers were flawless, frustrating All-American Byron Houston into a 6-for-16 night. Johnson had a career-high 25 points. Afterward, the coaches shook hands as Husker fans rushed the court. Sutton hadn't forgotten Nee's pre-game pledge.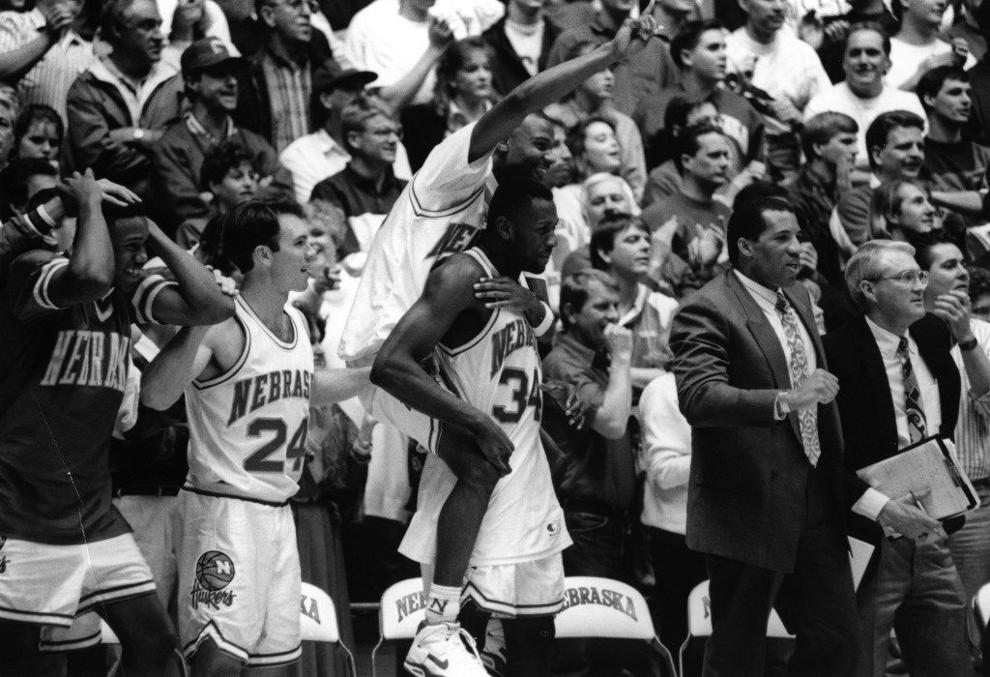 * * *
Life wasn't so blessed on the road.
At Gallagher-Iba, Oklahoma State fans were close enough to splatter you with ice or chew spit. At Allen Fieldhouse, Kansas fans camped outside the night before in tents. Two or three hours before tip-off, they were inside watching NU's shootaround.
"Eric or Jamar told me, 'Hey, whatever you do, don't shoot an airball in warmups,'" Best said. "I'm like, 'Why?' 'Just don't.' Somebody chucked up one — just farting around — and they saw it. Every time he touched the ball, it was 'Air ball!' This was two hours before the game."
But nowhere compared to the Hearnes Center. Danny Nee loathed Stewart, but he hated Norm's acolytes even more.
One trip to Mizzou, the Huskers landed late at night and boarded a bus for the hotel. Suddenly they were surrounded by a convoy of hecklers, forcing the bus to a crawl.
"Nee was at the front of the bus losing his mind," Cresswell said. "If he could've gone Jason Bourne through a window onto their rooftop, those guys would've regretted every second of it."
"All the Antlers are hanging out the back of their trucks," Piatkowski said, "and they're pounding on our bus, screaming obscenities and waving signs and mooning us. I'm like, is this an old-fashioned lynching?"
The shenanigans were just getting started. At the hotel, the Antlers engaged in late-night games of search-and-destroy. If they found your room, they'd call your number or bang on the door, whatever necessary to keep you awake.
"We were pretty easy to spot, too," Cresswell said. "They used to make us wear these white snowsuits, like the track suits that were super loud nylon. It was a guaranteed you'll-never-get-laid-on-the-road suit."
If the Huskers managed a few hours of sleep, a few thousand more hooligans waited at the Hearnes Center — it was like Mos Eisley on Star Wars.
"They put us in that fricking crackerbox of a locker room," assistant coach Jeff Smith said. "We're walking out on the floor and a kid comes up, real nice looking kid, he has this poster he wants Danny to sign. It's kinda folded up and Danny says, 'Get the f--- outta here.'
"I'm like, god dang, that's kinda rude. So later, I look across the way and the kid's holding up the sign — it's unfolded — and it's a devil picture of Danny. He was trying to get Danny to sign his own devil picture. Danny had a little more savvy than I did back then."
Hoffman preferred the life-sized poster with Nee's face on the head of a donkey.
"Even Danny thought that was funny," Hoffman said.
The Antlers were notorious for researching opposing players and crossing lines of civility. When Iowa State's Jeff Grayer came to Hearnes in '88, his mother was in poor health. The Antlers pounced, insulting her. Grayer had to be restrained.
"I remember the coaches prepping us," Johnson said. "I'm like, yeah, yeah, I'm from Indiana. I've seen it all. I've had bananas thrown at me. I'm ready. But I got out there and it was like, 'Oh my god, really?' You're ready to go in the stands after somebody and that's exactly when they know they got you."
On Feb. 17, 1992, the Antlers picked on Nebraska's rookie point guard relentlessly and mercilessly, attacking his academic record.
"Two plus two equals Prop 48"
"Hooked on phonics really works"
Johnson played the worst game of his career. The Huskers committed 25 turnovers. No. 9 Missouri led 78-40 and coasted to a 26-point win.
* * *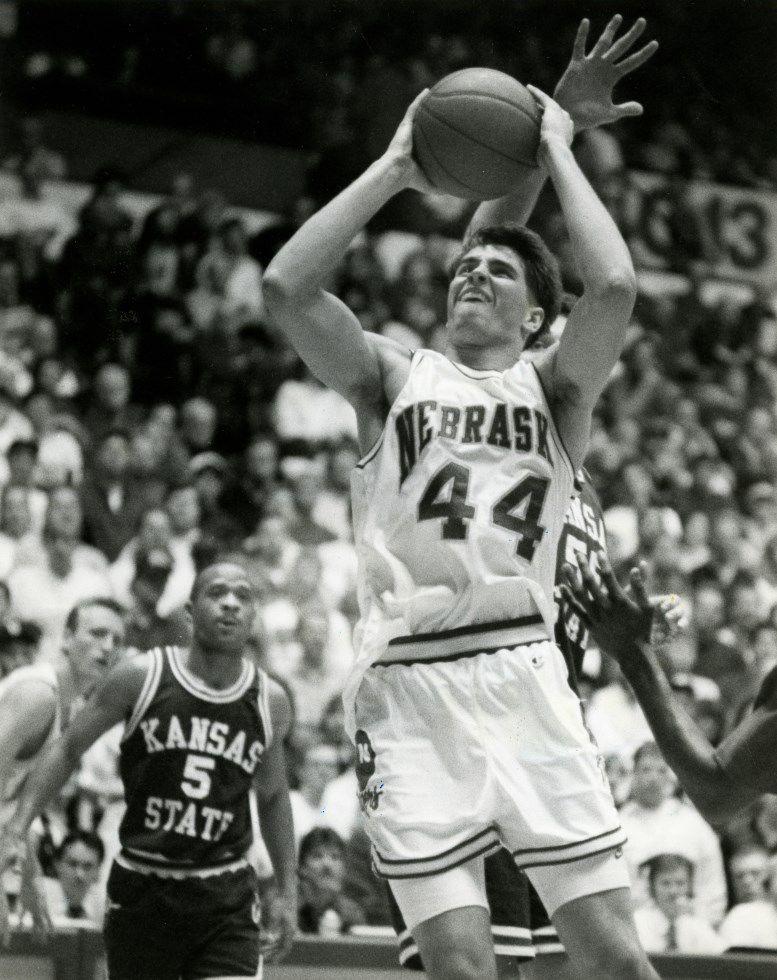 Two sophomores — Piatkowski and Johnson — weren't enough to save the season. So with a Rock Chalk invasion coming 48 hours later, Danny Nee called on a third.
Bruce Chubick was a mountain of a man whose strength wasn't skill, but will. That went back to his dad.
Bruce Sr. was 19 years old when his first son was born — Dianne was just 18. Mother and baby followed dad to Creston, Iowa, where Bruce Sr. played two years of junior college, then Sioux City, where he played two more at Briar Cliff.
They came home to Council Bluffs and Bruce Sr. started a coaching career. He kept playing, too, toting his son to city-rec leagues and town-team tournaments.
"Hey, you wanna go with me?" dad said.
"Sure, you can run through warmups with us."
When games started, Bruce Jr. grabbed a seat on the bench and dad showed him that you didn't just win by scoring points, you won by doing everything else. Screening. Rebounding. Diving on the floor.
The kid was tough. Then he got tougher. In the summer of 1982, his family was reeling from his little brother's brain cancer scare when Bruce Sr. decided he needed to get away. He packed up the family and moved to Montana, where he built a log cabin in the mountains. No electricity. Throw firewood in the wood stove and eat what you hunt.
Bruce Jr. was young for his class — a July birthday — so dad held him out for a year. "Grayshirting," he called it. The plan was homeschool, but the outdoors were more educational.
Bruce shoveled snow off a little concrete pad to shoot basketball in the winter (and spring). He climbed snowbanks and jumped toward the rim.
"Those were my first dunks."
In '83, he started school again. Every morning, he rode his dirt bike six miles down the mountain to the bus stop, wearing a jumpsuit over his school clothes. Then winter came and the snowmobile went kaput and the cross country skis weren't safe.
"There's bears and s--- up there," Bruce Jr. said. "They'll tear your ass up."
So mom and dad moved him to Grandma's house in Illinois, where little Bruce completed seventh grade. In the summer of '84, the whole family moved to Atkinson, Nebraska, where Bruce Sr. became head basketball coach at West Holt High.
Bruce Jr. averaged 33 points a game as a junior and West Holt won the Class C-1 state championship in 1988. People in Ainsworth and O'Neill thought he'd never make it in Division I.
"My thing was, 'F--- you guys. I'm gonna show you you're wrong.'"
Sounds like a perfect fit for Danny Nee, right? Not exactly. Remember, Chubick grew up in Council Bluffs. His heroes were B.J. Armstrong, Roy Marble and Brad Lohaus.
"He kept telling me in recruiting, 'I'm not a Nebraska fan, I'm an Iowa fan,'" Nee said. "I'm looking at him like, 'You big dumb son-of-a-bitch, why you telling me that?' All you are doing was pissing me off, you know what I mean? I always talked to his father and said, 'You sure Bruce wants to go to Nebraska?' ... I don't think he ever really, really warmed up to me like most of the players did."
In Lincoln, Chubick tolerated Nee, found a role model in Reid and overcame his height deficit — he was 6-7 — with a middle linebacker's heart.
"He was like a Nebraska football player in a basketball uniform," Nee said.
Forty-eight hours after being mauled at Missouri, with another slobber-knocker on the schedule, Nee changed his starting lineup. He sent Owens to the bench.
He gave Chubick his first career start.
* * *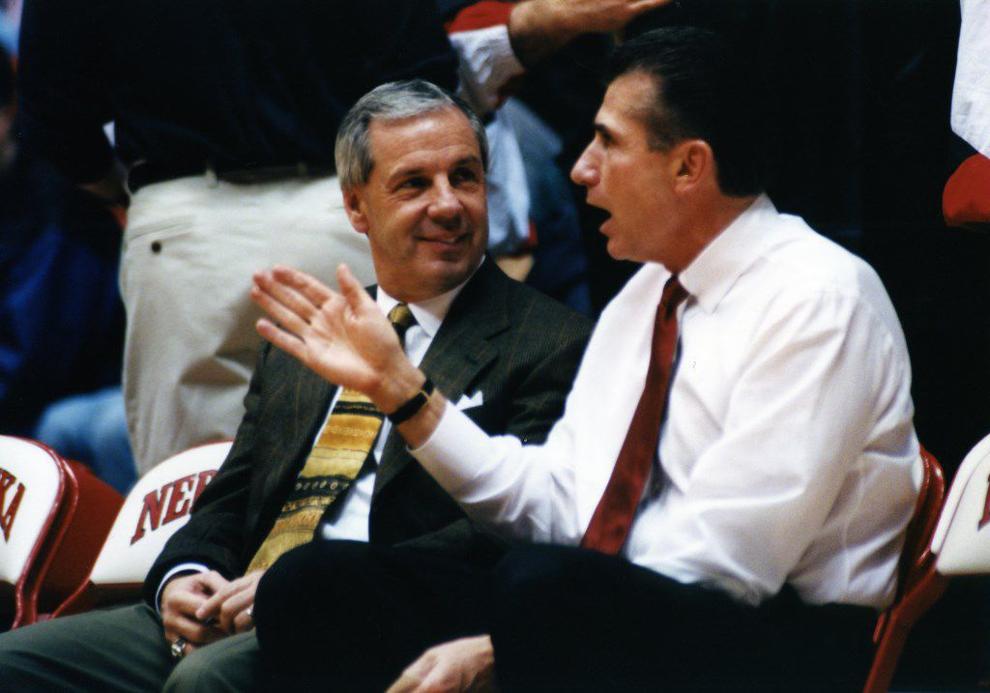 From the moment he walked on campus in March 1986 and saw Kansas in the Final Four, Nee drew a big, fat target on the Jayhawks. Nebraska didn't dream of winning at Allen Fieldhouse. But Lincoln was another story.
"I thought we could beat the Chicago Bulls in the Devaney Center," Nee said.
Nee upset KU in '87, his first year, on a last-second layup by Derrick Vick. In '88, Reid buried a baseline jumper to upset the eventual national champions. Nebraska beat them in '89, too. And '91.
"Going up and playing them at Nebraska was a load every year," Roy Williams said.
But Nee needed this one the most.
The Huskers were 3-5 in the Big Eight (15-6 overall) and squarely on the NCAA tournament bubble. There was no time to recruit players or teach fundamentals. Nee opted for a fiery pep talk, taking a line out of his Marine training: Carpe Diem.
Nebraska jumped on KU 27-12 thanks to a stingy zone defense. Another run after halftime produced a 13-point lead with 4:37 left. It was gonna happen again. Nebraska was going to beat Kansas.
Then the nerves kicked in. Six missed free throws. Five turnovers. Four missed shots. Johnson, the best foul shooter in the Big Eight, missed two freebies with 25 seconds left. And Kansas tied the game on Alonzo Jamison's lay-up with 15 seconds left.
The Huskers have the last possession. Hold for one, right? Johnson makes another mistake. He attacks too soon and his 17-foot leaner gets blocked by Rex Walters. Loose ball. 
Jamison grabs it 50 feet from the Kansas basket with 3.3 seconds left. One dribble. Two dribbles. He's racing the clock. He's racing someone else. Over his left shoulder, No. 44 in white is sprinting to the rim.
"Here comes Chubick out of nowhere like the Lone Ranger on a stallion," Nee said.
Said Chubick: "I'm like, s---, the game's gonna end on a dunk. I'm chasing this sucker down. If nothing else, I'm gonna foul him hard." 
Jamison doesn't see him. He takes an indirect path to the rim, like a high-jumper measuring his steps, giving Chubick just enough time to close the gap. They leave the floor simultaneously with 0.8 left, the crowd holding its collective breath. Jamison reaches to hammer the dunk. Chubick pins it against the glass, crashing out of bounds as the horn echoes.
Everyone looks at the official. Foul? No! Overtime.
"The most spectacular play I ever coached," Nee said.
Said Johnson: "Bruce Chubick saved my ass."
In OT, Kansas scored the first two buckets and led 79-75 with 26 seconds left. Chubick looked into the stands and saw fans leaving. Where are you going, he thought. This isn't over.
Cresswell dribbled down and drilled a pull-up 25-footer. 79-78.
Nebraska fouled. Adonis Jordan missed both free throws, but Jamison got the rebound and drew another foul. He missed both free throws, too. The Jayhawks finished 14-for-36 from the line, "a little bit better than a dead man," Williams said afterward. Nebraska rebounded, scrambled up the floor and, after a series of loose balls and timeouts, ended up inbounding under its basket — one second left.
"We're trying to get a shot for Pike," Chubick said. "Of course, they know it's going to Pike. Everybody in the gym knows it's going to Pike. They weren't letting it go to Pike."
That's when Jamar Johnson saw an opening in the corner.
Kansas 7-footer Eric Pauley lunged at him with arm extended, blocking the 5-foot-11 guard's view. Johnson didn't have time to look at the hoop anyway. He fired.
The "A" section emptied the bleachers and rushed the court so quickly that Jordan, the KU guard, nearly got trampled. Dapreis Owens bolted to the locker room, fearful of the mob. Nee jumped on the scorer's table, right in front of Steve Johnsen, who was shouting as loud as he could.
Jamar Johnson, the hero, got swallowed in hugs. First Piatkowski and Chubick. Then hundreds of students.
Forty-eight hours earlier, he'd played the worst game of the season at Missouri. Now he did what he couldn't do against Damon Bailey. He made the shot.
He went back to his apartment and answered a phone call from Indiana. Then another. Then another.
"We had call waiting," Johnson said. "I just kept clicking over and clicking over all night long."
* * *
One week later, in a 72-51 loss at Oklahoma State, Johnson exchanged words with Darwyn Alexander and got sucker-punched; both players were ejected.
Then Oklahoma beat the Huskers twice in six days, avenging the Big Eight tournament quarterfinal loss in '91. On Selection Sunday, Nebraska received a No. 8 seed and a match-up against UConn.
"I'll never forget," Cresswell said. "I stood up to cheer for the tip-off and basically every player on Connecticut's team was bigger than our biggest guy. I was like, 'I don't think this is gonna go very well.'"
Said Chubick: "UConn gave us an ass-kicking."
But the goal of 1991-92 had been achieved. Without King and Reid, without Farmer and Ramos, the Huskers followed up a 26-8 season with another NCAA tournament bid. They upset No. 2 and No. 3 in the country. They expanded the bandwagon.
Now reinforcements were coming.
Back in Lincoln, the day after the Big Eight tournament loss, Johnson and a few teammates took a seat on the old Devaney Center bleachers and saw a glimpse of the future. They'd heard the stories. They'd read the headlines.
Now they watched Andre Woolridge torch Hastings in the Class A state championship game for 50 points.
For better or worse, Nebraska basketball was growing up.
Danny's Miracle is an eight-day series about Nebraska basketball in the 1990s. Each day offers a main story covering essential characters, themes and events, but the narrative can't possibly encompass everything. These are the bite-sized nuggets and insights that shed greater light on Danny Nee's program.
---
Part Five: Fab Four
A group of talented, homegrown freshmen arrived at Nebraska before the 1992-93 season, but navigating that winter proved more treacherous than anyone could've foreseen.
Click here
to read the fifth part of Danny's Miracle.