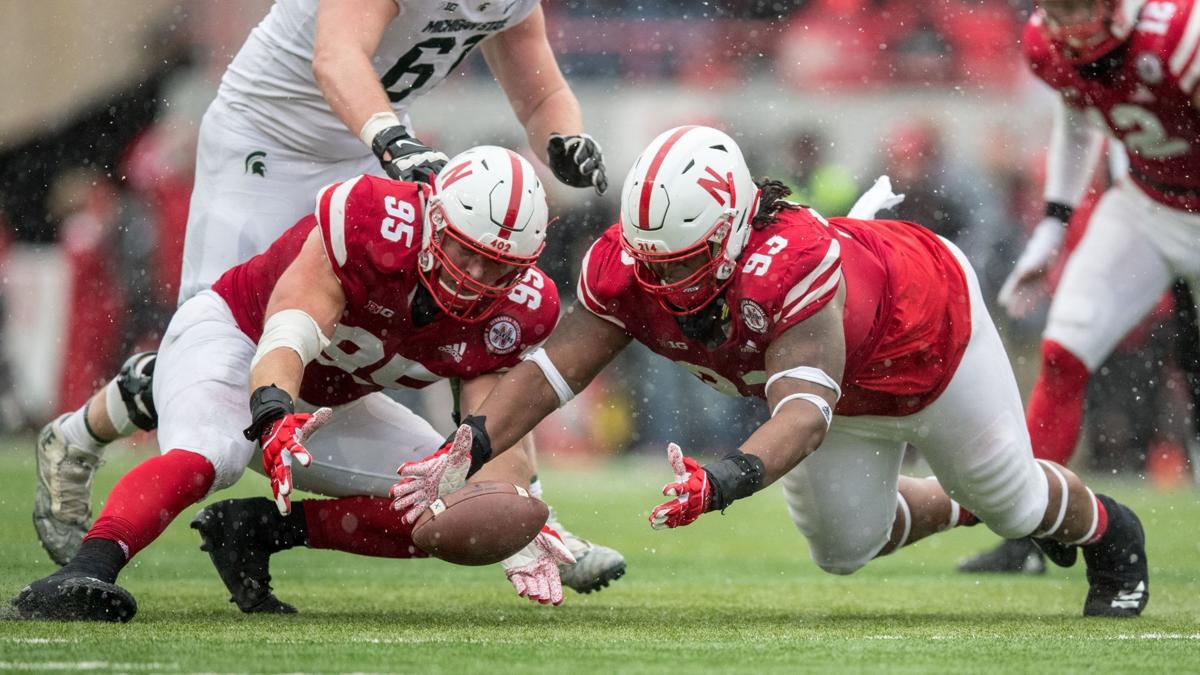 LINCOLN — Tony Tuioti wasn't surprised. C'mon. Nebraska's defensive line coach might have spent only one year with Carlos and Khalil Davis, but their performances at the NFL combine — when both blazed fast 40-yard dash times and Khalil ran the fastest 40, well, ever, for a man over 300 pounds — were precisely what Tuioti expected.
"I knew once the twins, they get in the combine, they were going to blow the roof off in terms of what they can do physically," Tuioti said. "Those kids, they're fast, they're tough, they're strong."
And they're gone, too. After five years in the program, the twins won't practice again in a Husker uniform. Along with nose tackle Darrion Daniels — who's also looking toward an NFL future — they combined for 111 tackles, 19 tackles for loss and 13½ sacks. That dwarfs the returning production and prompts the obvious questions about depth, young players stepping up and leadership.
Sign up for Big Red Today news alerts
Get a daily Husker news roundup, recruiting updates and breaking news in your inbox.
Senior defensive end Ben Stille is the answer to that last question, by the way. He spoke to the media March 9 — "I definitely feel a lot of responsibility to bring a lot of those young guys along," Stille said and, more importantly to Tuioti, stayed late after practice with a teammate who needed him for accountability.
Before NU's practices were halted by the coronavirus, nose tackle Damion Daniels, you see, was trying to lose weight.
"Snacks knows he's got to get himself in shape, and after practice, everybody's going in and he's running extra gassers," Tuioti said, referring to 340-pound Daniels by his nickname. "And the guy with him is Ben Stille, making sure he's not cutting corners on the runs."
Daniels, it should be noted, is Nebraska's lone true nose tackle in spring camp. Playing behind his older brother, he averaged fewer than 20 snaps per game last season.
"The 16 snaps he'd give you are really good," said defensive coordinator Erik Chinander, who's being a little charitable, but let's roll with it. "Some of those snaps, he's throwing people around, but he burns gas really fast. He's got to get his stamina up so he can give us upwards of 30-40 snaps per game."
That'd be half of a game. The other half, Chinander said, would be filled right now by "job swappers" — guys who can play nose, defensive tackle and defensive end. Chinander uses all three in his defense.
Junior college signee Jordon Riley — all 6-foot-6 and 327 pounds of him — is one candidate. Chinander is going to hold off effusive praise for a while — NU has had two practices — but Riley's work ethic since he arrived two months ago has turned some Husker heads.
"I really like his foot speed — he can collapse the pocket — and he's got long levers," Tuioti said. "Between him and Damion Daniels, I think that's a good starting point for us at nose."
And then there's Ty Robinson, the 6-foot-6, 315-pound redshirt freshman who arrived as a blue-chip recruit and played two games last season. His name bounced around the sixth floor March 9 as someone coaches and teammates expect to be a major contributor in 2020. Robinson has a better grasp, Chinander said, of the kind of consistency it takes to play football against developed college linemen as big as he is.
Add in ends Deontre Thomas and Casey Rogers, Tuioti said, and that's the six he feels comfortable playing in a game right now. One true nose, two guys who can move around like Carlos Davis did last season, and three ends.
"I'd like to build that and get to eight," Tuioti said. Junior college transfer Keem Green — who frankly struggled last season after he showed up midway through training camp and had to cut bad weight — has made strides and got more repetitions March 9, Tuioti said, than any other lineman. Tuioti added sophomore Tate Wildeman and redshirt freshman Mosai Newsom to the list of players he's watching closely. Freshmen Nash Hutmacher and Marquis Black, plus junior college signee Pheldarius Payne, arrive this summer.
The talent, size and length, Chinander said, are there. Yes, the athletic profile is different from that of the Davis twins, who tended to play closer to 300 pounds and stood 6-2 (Carlos) and 6-1 (Khalil), respectively. The twins' athleticism, Chinander said, helped them to narrow the gap created by their lack of prototypical size for a 3-4 defense.
But Chinander pointed to the majority of defensive linemen at the combine being the size of the players Nebraska currently has.
"This next crew we have coming is long, they're all 300-pound kids, lot of length and a lot of athletic ability. And the thing about a lot of length and a lot of athletic ability is, when your playing radius increases, the chance for error decreases. When you're not as long it's hard to make up things when you're cut out of a gap or you get a bad jump (on the snap). When you're longer, you can get away with some stuff."
The better the guys up front can manage their gaps, the freer the inside linebackers behind them can be to make tackles. Flip on the 2019 tape, and you'll see a lot of humanity around the feet of Will Honas, Mohamed Barry and Collin Miller. Nebraska's line, agile as it may have been, didn't always hold its gaps.
So Chinander won't concede that NU's defensive line is taking a dip in 2020.
"Eh, I dunno," Chinander said. "You listen to the fans and you talk like a fan, you become a fan, right? I don't know about the drop-off. I know we've got kids that we like that we've recruited who've done a great job since they've been here. Could there be a drop-off? Sure. Could there be improvement? Sure. Could it be the same? Sure. But I like the group we've got. I'm very encouraged by watching them so far."
---
The 2020 Nebraska football schedule