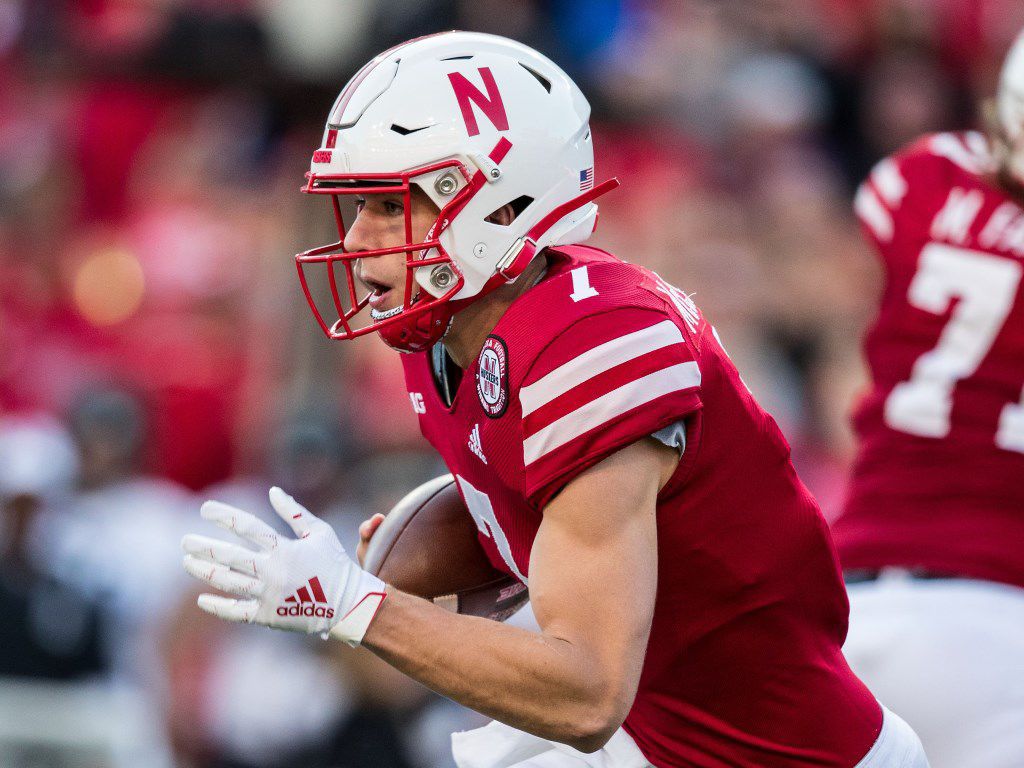 Cam Taylor-Britt stepped to the podium on March 9, the first Nebraska football player to speak publicly in months, and set the tone before he said a word.
Humble Over Hype. The words, written in white across the chest of the defensive back's black hoodie, represented the mindset the Huskers had for their 15 planned spring practices. No bold declarations. No big talk.
"We're not trying to throw high expectations everywhere and we're just focusing on the now and getting better right now," Taylor-Britt said right after NU's first team workout. "Our motto was 'Day by day.' That's what we're going to stick to."
But the Huskers got only one more unpadded practice before measures to slow the coronavirus pandemic halted all organized team activities. Instead of repetitions and development, it's been social distancing and online classes for the roster of nearly 160.
Nebraska may be able to recoup some of those missed practices this summer, as Athletic Director Bill Moos has suggested. An extended fall camp could happen. Maybe the season will be altered or — in a worst-case scenario — canceled.
No matter what happens, the Huskers won't have a chance this spring to address the uncertainties that surrounded them for months. We have compiled our five big questions that will go unanswered as time without football marches on indefinitely.
1. What kind of move could Luke McCaffrey have made at quarterback?
This was supposed to be McCaffrey's big chance.
Yes, Adrian Martinez was still the established No. 1 as a two-year starter. But coach Scott Frost said last year's backup, Noah Vedral, and the redshirt freshman McCaffrey also would get reps with the top offense. Martinez would have been "a little limited" after offseason surgery on his nonthrowing shoulder.
This spring void could alter a position battle and change a career. Frost mentioned last month that the 19-year-old McCaffrey — whom Nebraska recruited as a quarterback when few other schools did — could play elsewhere if not at quarterback.
"We talked to Luke about his role," Frost said. "I think there may be a time to talk about something else for him for down the road, but right now he is competing to be the quarterback. That's where he is in our eyes, so we want to give him every chance in the spring to do that. Come fall, if he is not the guy, then I'm sure there are some ways we can use him."
McCaffrey didn't play quarterback full-time until his senior year of high school but showed flashes of his electric ability in limited action last year. He even appeared at receiver and caught a pass against Maryland. He's from a family of gifted athletes including his brother, Christian, one of the best running backs in the NFL.
Instead of a full spring audition, Nebraska could offer McCaffrey a condensed one in fall camp or rethink how it uses him. Neither option is ideal.
2. Would the incumbents on the offensive line have all kept their jobs into the fall?
One of the most compelling parts of the offensive line battle this spring was that almost everyone was there and healthy.
Sixteen scholarship players were ready to go, including top 2020 recruit and early enrollee Turner Corcoran from Lawrence, Kansas. All five starters were back. Everyone in the room this spring had been in the system previously except for Corcoran, Colorado State walk-on transfer Nouredin Nouili from Norris and freshman walk-on Xavier Trevino from Lincoln Southeast.
Parts of the line were set. Three-year starter Brenden Jaimes was likely entrenched at left tackle, as was sophomore Cameron Jurgens at center. But senior Matt Farniok was getting reps at left guard after 24 straight starts as a right tackle. He could have displaced junior Trent Hixson, who would have competed with senior Boe Wilson, the returning right guard, along with redshirt freshman Ethan Piper.
Right tackle, then, would have been open for the likes of touted redshirt freshman Bryce Benhart or sixth-year senior Christian Gaylord, who's coming off a knee injury that kept him out for all of 2019.
"We are going to get the best five on the field," Frost said. "The depth there is going to be better than we have had in a long time assuming we stay healthy. Anxious to watch that competition."
It also was a prove-it spring for juniors Broc Bando and Matt Sichterman, both of whom have mostly appeared on special teams. Redshirt freshmen included Matthew Anderson, Jimmy Fritzsche, Michael Lynn and Brant Banks along with Piper and Benhart.
Offensive line coach Greg Austin said there would be a "transition phase" into the summer. Now that all gets pushed back.
3. Who would have earned trust on special teams?
No group at Nebraska needed a spring to sort through things more than special teams.
The third phase was a liability for the Huskers last year — Frost has said it cost the team at least three games — and was earmarked for an overhaul. NU in February hired senior special teams analyst Jonathan Rutledge, who in turn was to coach the assistants on how to share an on-field role filled the past two seasons by departed assistant Jovan Dewitt.
Specialist jobs remain wide open. NU lost incumbents at punter, long snapper, kicker and kick returner. This was supposed to be when coaches figured out who they could count on, including Iowa Western transfer kicker Chase Contreraz and punter William Przystup.
"We are going to give the guys who are on campus a real good look and a great chance this spring and see if we need to make any changes from there," Frost said before practices shut down.
Roughly half of each kickoff and punt unit has vacancies, as well. Many other spots were filled last year by former or current walk-ons. Battles between returners and 2019 recruits coming off redshirts would have played out for weeks.
It's all a lost chance for players and coaches to coalesce and start over. How much time will NU be able to dedicate to special teams when football resumes?
4. What do the Huskers and Matt Lubick miss without a spring together?
The spring without practice hurt all the new coaches and their players. Rutledge and special teams. Mike Dawson and outside linebackers.
But the biggest what-if in that category revolves around Lubick, the new offensive coordinator and receivers coach who came aboard in January. Reports from Frost after the first practice were encouraging, with the head coach saying he saw receivers do some things better in one workout than in his first two seasons in Lincoln.
"The level of organization on our offensive side of the ball is already substantially better," Frost said. "(Lubick) is already making an impact."
The detail-oriented coordinator had a list of ways he was ready to help develop players this spring. A receiver getting depth in where he lines up. An offensive lineman putting his hands in the correct place. A quarterback having his eyes right.
"It wasn't just one position," Lubick said. "Every position has its own specific things to get better. That's what spring ball is about, is addressing those things."
With only four scholarship receivers set to be on campus this spring, Lubick didn't necessarily miss a huge opportunity with his own position group. But his mark on the operation of the offense won't be as significant right away as it could have been.
5. How much would the spring game have helped recruiting?
With a unique offseason recruiting asset no longer an option, Nebraska will never know what inroads it could have made with future prospects.
The Husker spring game is more than a scrimmage, it's a chance to show off unmatched fan support to prospects from all over the country. Nebraska led the nation in spring game attendance last year (85,946) and in 2018 (86,818).
Frost has landed talent on the strength of these showcases the last two years. The team's top 2020 recruit, Corcoran, committed on Red-White weekend last year. Others in attendance who later pledged and signed were Blaise Gunnerson and juco lineman Keem Green.
Among those at the 2018 exhibition who eventually committed were defensive lineman Mosai Newsom, offensive lineman Michael Lynn and running back Dedrick Mills.
The ability to host early official visitors also helped NU land prized D-line prospect Nash Hutmacher, who visited last April. June visitors who later signed were running backs Marvin Scott and Sevion Morrison, defensive back Tamon Lynum and juco wideout Omar Manning.
Many of Nebraska's top 2021 priorities have been on campus multiple times — think Iowa natives like tight end Thomas Fidone of Council Bluffs Lewis Central, linebacker Seth Malcom of Fremont-Mills and defensive lineman TJ Bollers of Clear Creek Amana. Cornerback Avante Dickerson of Omaha Westside and receiver Keagan Johnson of Bellevue West are others.
But the Huskers have also aggressively recruited into the Southeast. They won't have a chance to make an early in-person impression on their targets for the 2021 class, which stands at four commits.