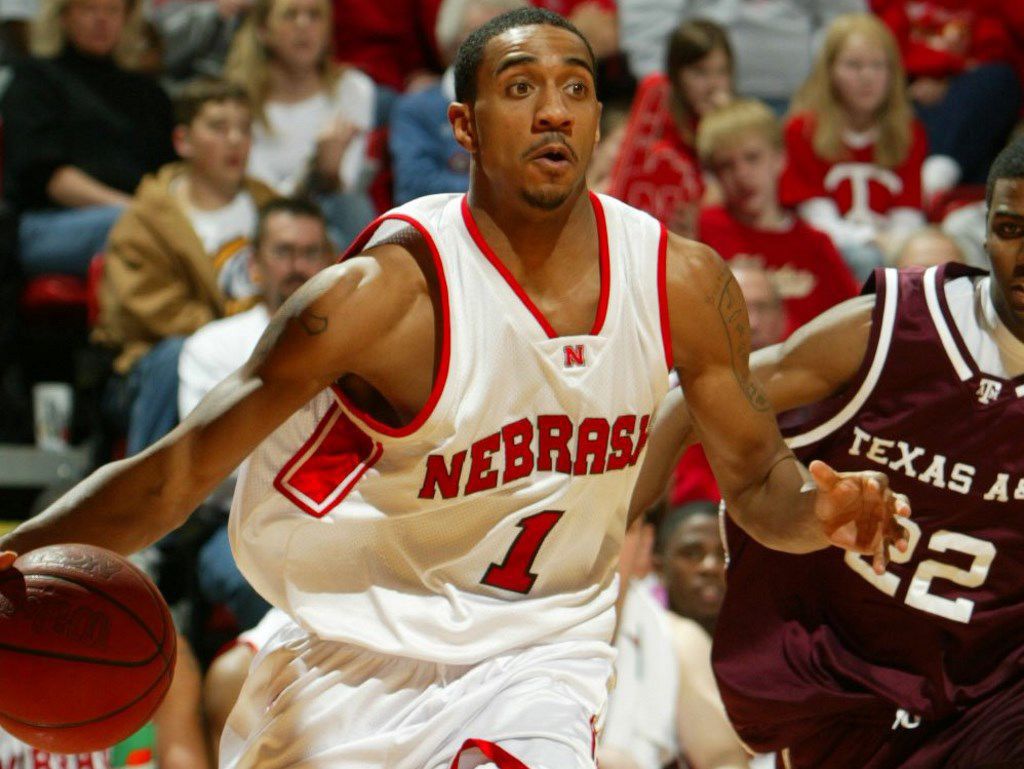 Sitting on the balcony of his loft in Groningen, Netherlands, his children making faces behind him on the screen door as the sun sets over the city of canals and streams, Jason Dourisseau shakes his head.
"Never in a million years did I picture what my life is now," says the former Husker who grew up in Omaha.
But like every kid with a ball and a driveway, Dourisseau did picture what a Game 7 would look like. And in 2014, he met the moment.
The Dutch Basketball League defensive player of the year that season, Dourisseau couldn't miss in that final game. He scored 26 on his way to a second title.
"The game was over by halftime,"  he said. "To finally get back to that mountain top was sweet."
Game 7 was more than 4,000 miles away from home. He celebrated the win holding flowers at midcourt standing with his European wife, conversing with teammates in a language he'd never thought of learning and solidifying himself as a sports hero in a small town 30 minutes from the North Sea.
"Never in a million years," he says.
Dourisseau is now 36 and, for the first time in a long time, looking at a winter without a jersey. This week Donar Groningen, his professional team for 10 seasons, cut ties with the 6-foot-5 guard. His contract was up, and a new coach came to town and wanted to change the roster.
Now Dourisseau is on his balcony, trying to picture what's next. He's thinking about still playing. Maybe he'll teach. Maybe he'll coach.
But first, there's the outpouring that comes when a staple of a community steps away.
Though Dourisseau didn't experience great success in a Husker uniform, he's a legend in the Netherlands. He went on to win three more championships with Donar Groningen. He averaged about what he did in college, 10.9 points, 4.8 rebounds and 2.1 assists per game.
After he announced his departure with the club, flowers showed up at his door. Praise spread in the papers and on social media. Fellow former Husker Lance Jeter — who did three stints with Donar Groningen and earned two Dutch Basketball League MVP awards — said Dourisseau's jersey should be retired.
"I believe no one should wear No. 8 there no more. I truly believe he should get a statue there because that's how much he meant to not just me and the teammates, but just the whole city," Jeter said in a video released on Twitter. "They embraced Jason. He's one of them. He is Groningen."
A bit bashfully, Dourisseau says he didn't expect all of this. But he understands some of it.
The club has won seven titles overall, and he's been on five of those teams. In Europe, it's common for a player to stay with a club for one season, then bounce somewhere else, maybe even try the NBA. But Dourisseau settled down and started a family. He ran a basketball camp in the summers and produced a podcast to talk about the Dutch Basketball League.
"Man, the outpouring of love and respect is something that I was not expecting," he said. "I mean, I like being here and I've been here a long time, but the type of reaction I got was so great."
Dourisseau played for Omaha Burke before NU, where he and teammate Wes Wilkinson of Grand Island became the Huskers' last multiyear starters from in-state high schools. From 2002 to 2006, Dourisseau started 57 games in 117 appearances, averaging 21.6 minutes and 7.8 points for coach Barry Collier. As a senior, he scored 11.3 a game on a 19-14 team that finished sixth in the Big 12 and was bumped out of the first round in the NIT. Collier resigned after that season with an 89-91 record in six years.
After graduating, Dourisseau spent two seasons in Germany, then was picked up by Donar Groningen in 2010. That first season, the team won a title.
"The people in the city I'm in, it's very similar to Nebraska," Dourisseau said. "Humble, hard-working, keep your head down just work-type mentality. So they just kind of embraced me from the jump.
"And then I had a family and then, yeah, it became harder and harder to leave."
His two best seasons came in the mid-2010s, when he averaged about 12.5 points and five rebounds a game. He credits his growth to Adam Barnes, who runs Going Vertical in Omaha.
Every summer, Dourisseau flew back to the States to work out at the gym in an industrial tract along Interstate 80. There, he focused on his jumper.
In college, he was a 23% 3-point shooter. Overseas, the five-out, pick-and-roll systems that bled into the NBA with the Houston Rockets and Golden State Warriors were the norm. As Dourisseau felt his athleticism slip a bit, he needed something else. He found it in his shot.
His first full season playing professionally, he shot 23% from 3. More than 10 years later, in 2018-19, he shot 34% from 3. This past season, before it was cut short after 15 games, he was hitting 40%.
"It's crazy, because I always tell (Adam), when I met him, my game really changed. He really helped my game," Dourisseau said.
The sudden cut from the club was a shock, he said. It's unsatisfying to walk away without finishing a season.
The plan now is to return to Omaha and work out this summer. He's looking forward to checking in on the Husker basketball team. He's tried to keep up with the program since leaving, but has even more interest now that former Boys Town star Teddy Allen is on the squad.
Allen works out at Going Vertical, too. Dourisseau is a fan.
"He's a dog," Dourisseau said. "I can't wait to watch him play next year."
When there's basketball in Europe again, Dourisseau is thinking he might jump on a team. But he has offers to coach a youth team for Donar Groningen. He's thinking about getting a teaching license and becoming a high school coach there, too.
Turns out the view from his balcony as the Netherlands sun sets, the idea of spending time at home in the evening with his family, is pretty good.
"For the most part, I might take some time and just hang out with the family, do my thing," he said. "Do it until I get bored. If I do get bored."
---
2010s Nebraska basketball all-decade team