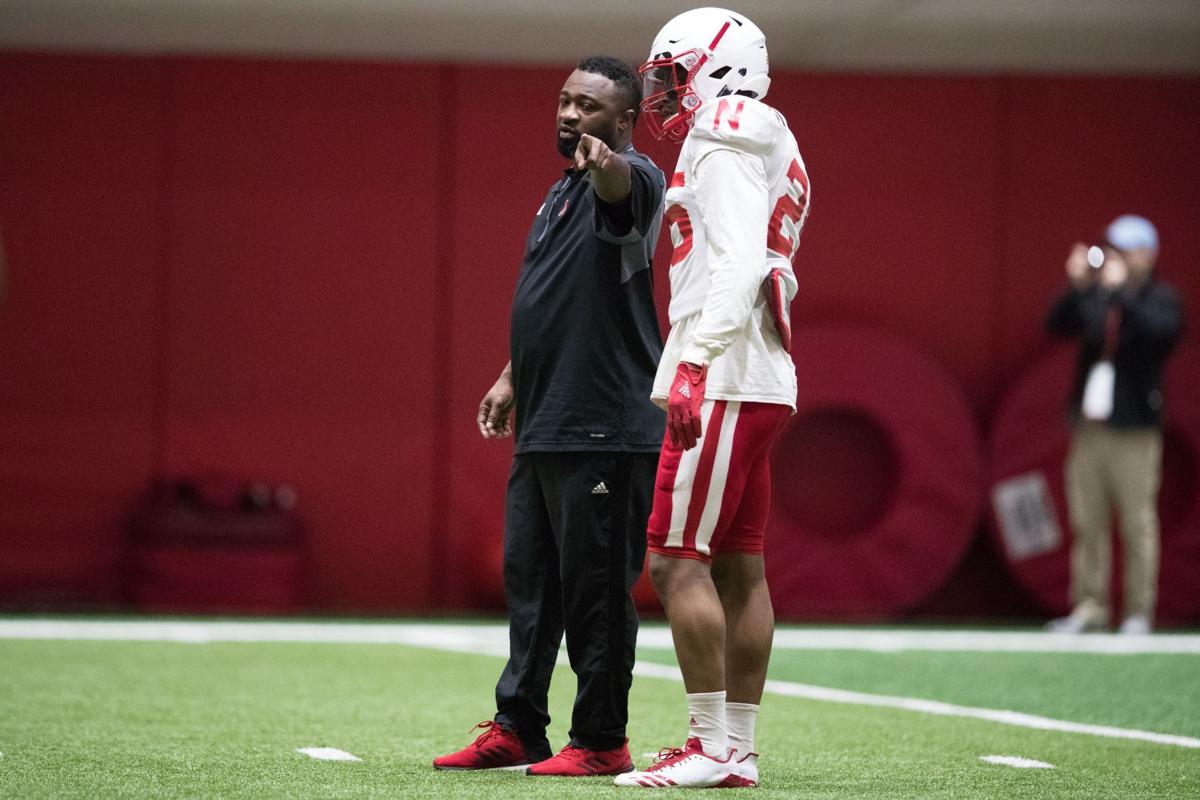 LINCOLN — Travis Fisher settled into a seat around a table with a few reporters inside the Memorial Stadium press box. "Merry Christmas!" he said, drawing laughter.
It had indeed been a while since the Nebraska secondary coach spoke publicly — since the week of the Huskers' final game in late November last season. In the time between, the 40-year-old assistant played a major role in helping NU close a second straight consensus top-25 recruiting class.
Fisher was the central recruiter in landing six 2020 prospects from Florida. Defensive backs Henry Gray, Jaiden Francois, Tamon Lynum and Ronald Delancy. Receiver Marcus Fleming, who is one of the fastest players in the state. Linebacker Keyshawn Greene, a four-star talent who was among NU's biggest gets.
On Monday, the coach explained how he did it. It's all about painting a picture, and painting recruits into that picture.
"It was tough to get those guys from pretty much everyone," Fisher said. "But the one thing that stuck out was (at) Nebraska, we have opportunity. Not only to play or compete because of depth, but you also have the ability to be somewhere where when you're my age or 40 or 50 years old, you can always bring your kids back here and your name will not be forgotten."
Fisher, a former defensive back at Central Florida and in the NFL, has been through countless other football facilities. He reminds high schoolers that almost all of them only display Hall-of-Fame players on their walls. At Nebraska, the hallway inside Memorial Stadium with the most student-athlete traffic between the cafeteria and academic area is lined with portraits of Academic All-Americans going back decades.
"Those pictures are never dusty when you walk through the building," Fisher said. "That's what stuck out to me."
It also helps, Fisher said, having "guys like myself" in Lincoln. He's from north Florida, went to school in the central part of the state and bought a house in south Florida during his pro career. Having relationships with people across the area allows him to relate to anyone considering a move to the Midwest.
Fisher also credits defensive coordinator Erik Chinander and coach Scott Frost for being willing participants in the process. When Francois was misinformed about Fisher leaving Nebraska during an emotional signing-day ceremony in December, Frost spoke with him on the phone. If other head coaches reach out to his recruits, Fisher knows he has a quick counter punch.
"It really helps guys like me out," Fisher said. "… When (Texas A&M coach) Jimbo (Fisher) calls, it's not Travis Fisher that they want to talk to. They want to talk to Scott Frost."
Fisher received a $25,000 raise before the 2019 season, then was awarded a raise of $125,000 this winter, bringing his salary to $450,000. He rebuffed multiple chances to go elsewhere this offseason, including at least one SEC school.
Nebraska defensive backs this week praised their position coach for the culture he's established in the room, which includes 11 scholarship DBs this spring. He also represents stability —​ no coach has stayed with the Husker secondary longer since Marvin Sanders (2008-11).
"Fisher is something else," junior Cam Taylor-Britt said. "I don't know another coach that can really do it like him. He has a lot to work on. One of the top defensive coaches here in the nation, I'd say. He's the best and that was a big reason that I came here. He was genuine, very real. I didn't have to worry about being away from home or anything like that, but he's a great coach."
---
Every Nebraska football spring game since 2000