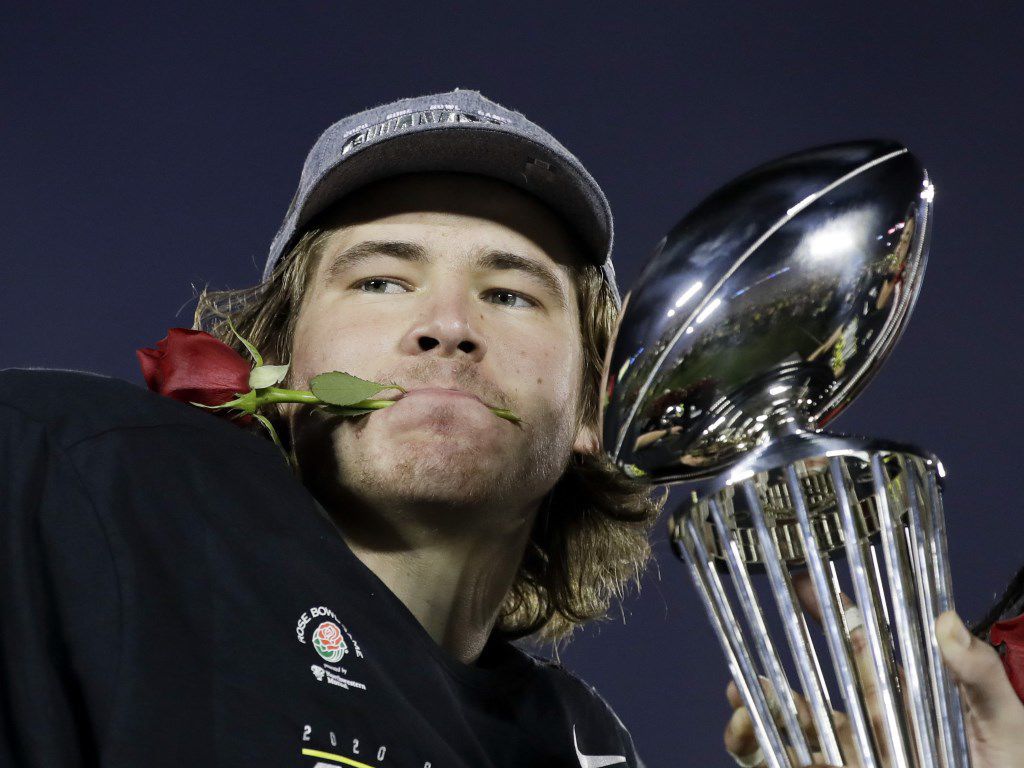 LINCOLN — Matt Lubick landed one of only two five-star prospects in Arizona State history. A quarterback he helped bring to Oregon projects as a first-round NFL draft pick this spring. Other signees of his went on to notable professional careers.
If there's one area where evidence and industry opinion align most about Nebraska's new offensive coordinator/receivers coach, it's recruiting.
Lubick's track record includes numerous recognizable names.
That five-star player he signed was Vontaze Burfict, a linebacker from California who has since completed eight NFL seasons. Quarterback Justin Herbert — once a three-star talent from Oregon recruited by Frost and Lubick to join the Ducks' 2016 class — was MVP of the Rose Bowl. Another 2016 recruit, four-star receiver Dillon Mitchell, went in the seventh round of last year's NFL draft.
Others include Brock Osweiler out of Montana (three-star quarterback to ASU in 2009) and Dexter McCluster out of Florida (three-star athlete to Mississippi in 2006).
Recognition followed Lubick around, too. He was named a top-10 recruiter in the Pac-12 by Rivals every year he was at Arizona State (2007-09). His ability to acquire talent at Duke (2010-12) helped Lubick earn FootballScoop.com's receiver coach of the year award in 2012.
"Matt Lubick — no offense to anyone I've ever worked with — is simply the best recruiter that I've ever worked with," Duke coach David Cutcliffe said at the time.
Lubick, who turns 48 this week, has finished as a top-100 national recruiter at least five times in the past dozen years, according to 247Sports. He's proved to be tireless in that span — multiple times he's helped account for at least a third of his school's recruiting class. Players say Lubick has a genuine care for them and their well-being.
In his last three classes at Arizona State — the 2008-10 hauls — he was a primary or secondary recruiter for a combined 31 signees, according to 247Sports. That group featured a slew of three-star players who eventually spent time in the NFL, including Osweiler, defensive lineman Will Sutton, cornerback LeQuan Lewis, offensive lineman Jamil Douglas and linebacker Carl Bradford.
"He was the most accomplished ASU recruiter in a 20-year period," tweeted Chris Karpman, publisher for Arizona State's 247 site, after Nebraska announced Lubick's hiring Friday. "Got most of the program's best (Southern California) recruits over a long stretch."
In two classes with Washington in 2018 and 2019, Lubick personally helped reel in seven four-star players. Most have yet to thrive with the Huskies, though his 2018 group prompted 247Sports to rank him the No. 34 recruiter that year.
The vast majority of the talent Lubick mines comes from west of the Continental Divide. California, Oregon, Arizona and Nevada are the most common go-to spots for Lubick, whose coaching stops include Cal State Northridge (1996), San Jose State (1997-98), Oregon State (1999-2000), Colorado State (2001-04), Arizona State (2007-09), Oregon (2013-16) and Washington (2017-18).
Lubick also has connections in Florida. His father, Sonny, is well known for coaching elite Miami defenses from 1989-92 before becoming the most successful coach in Colorado State history from 1993-2007.
The West Coast ties should blend well at Nebraska. Quarterbacks coach Mario Verduzco and defensive line coach Tony Tuioti both handle California — previously offensive coordinator Troy Walters did, too — though most of the Huskers' recruiting success under Frost has come in the Southeast.
In an interview on "Sports Nightly" on Monday, Lubick said he's ready to begin work Wednesday, whether that means engaging signed Nebraska recruits or looking ahead at targets two or three years down the line.
"I'm excited to hit the ground running," he said. "I know there's still a week left in recruiting. So I'm kind of leaving it up to them. Wherever they want me to go, I'll be there."
---
Nebraska football's offensive coordinators since 1969
Be the first to know
Get local news delivered to your inbox!