INDIANAPOLIS — Pat Norris knows how to deal with pressure.
Last year, at the Big Ten tournament, James Palmer almost walked onto the court for tipoff without his jersey on. Norris, the basketball equipment manager, sprinted into the locker room, bolted back out and flung the jersey a good 10 feet to Palmer, who slid on the jersey with a smile and wink.
Norris, out of breath, took his spot on the bench. Players and coaches patted him on the back.
So on Tuesday around noon when Norris got the green light that two Husker football players were joining the basketball roster, he sprung back into action.
He insists the story of how those two jerseys were put together in haste isn't that exciting, but when Noah Vedral and Brant Banks walked onto the court on Wednesday night, that proved to be untrue. The spectacle of two football players in basketball gear will be a sight fans will remember for years. Surely, students will try to find knockoffs to wear for the spring game and football season.
In a call to reporters on Wednesday afternoon, NU coach Fred Hoiberg said he called Scott Frost early this week asking for potential names to add. Hoiberg did the same thing years ago at Iowa State with football coach Paul Rhoads. Frost gave him three. Vedral and Banks were game to lace up and join.
"(Charlie) Easley is basically playing on one leg," Hoiberg said. "He's really sore, and if he gets hit in that leg, he's not able to go. That puts us down to six and I'm not gonna mess with Jace (Piatkowski) and Bret (Porter) redshirts."
Hoiberg said he didn't want to mess up the two players' football schedules, but Frost said take them anyway. The final decision to take the two was made around noon, two hours before takeoff for Indianapolis. The pair will be used in emergency-only situations, barring foul trouble or further injury to Easley.
But they couldn't play without jerseys. When Norris heard the news of the additions, he hurried into his workshop at the Devaney Center, which is filled with boxes of old jerseys. Word came down that Vedral, the backup quarterback, wanted to wear No. 2. The 6-foot-7, 300-pound Banks requested No. 32.
Norris found former Husker Dedoch Chan's never-worn No. 2 game jersey and stitched out the last name. Norris found another color of Chan's jersey and stitched that name out, too. Simple enough. He threw those in a bag with shorts.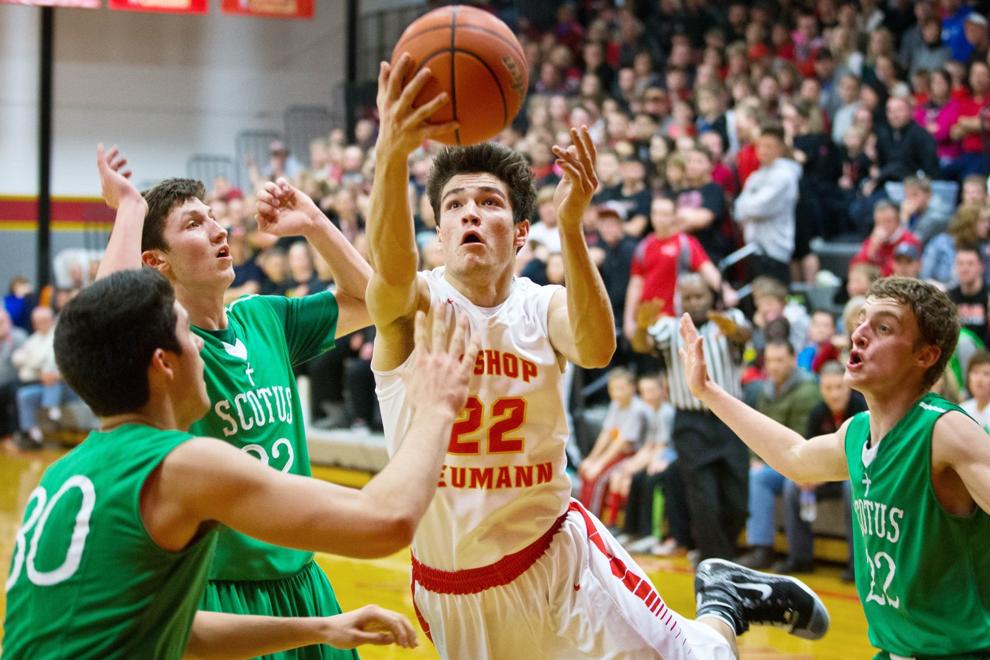 Norris then scoured the boxes for a 3XL No. 32 game jersey for Banks. He found one, and tossed that in a bag.
But he couldn't find another.
Equipment manager protocol is to overprepare and carry the largest bag with the largest optimism. When Norris — or any equipment manager — walks into a tournament, they hold enough gear to last as long as it takes to get to the championship game. And 14-seed and 16-game losing streak be damned, Norris wasn't about to hold that optimism now.
Not only that, he didn't want to change plans on different away jerseys two nights in a row, breaking the season-long plan.
"I've been making sure we don't wear the same uniform two games in a row," Norris said, reached through direct message on Twitter.
So as boarding time inched closer and the second No. 32 remained hidden, Norris placed a call to Adidas. He needed a 3XL red script Husker uniform, No. 32, sent to the Huskers' hotel in Indianapolis by tomorrow.
Adidas said OK, few questions asked. Norris lugged his extra bag onto the bus, and dropped it atop the usual gear. He rode to the flight, chaos managed.
With Banks, Nebraska adds some beef. Hoiberg joked if he comes in, he'll be a screen-setting machine. The 300-pound Banks was heavy enough that Nebraska had to check some carry-on bags in order to get the weight distribution of the plane right. With Vedral, the Huskers add a sharpshooter. Hoiberg said the QB hardly missed in a shootaround in Indianapolis on Wednesday.
"I think they were excited about the opportunity," Hoiberg said. "And they get a free pair of shoes."
Not to mention a nice, crisp jersey, made just in time.
Photos: Fred Hoiberg through the years