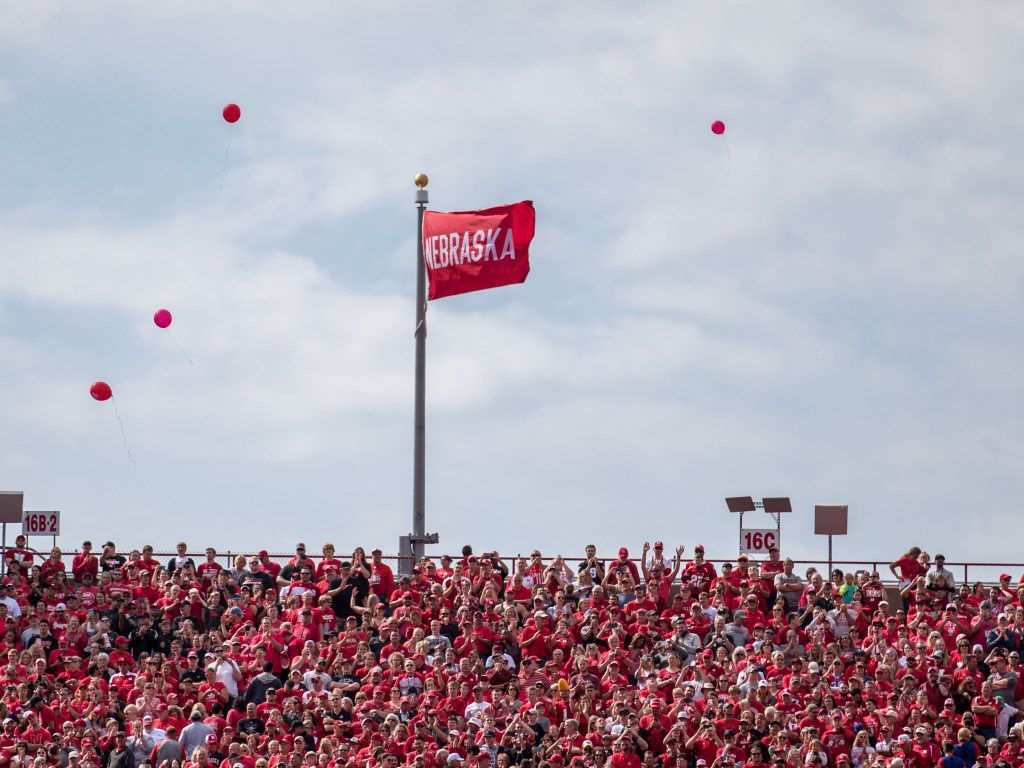 First downs and second guesses, while looking for a column mug with a mask:
» It's my fault (again). It's early May and I brought up the Nebraska football sellout streak. I opened up a can of debate.
I might as well include my two cents:
For me, the spirit of the sellout streak was always about Nebraska fans caring so much about their football team that they bought every available ticket and sat in every available seat for every game.
For most of those years since 1962, that meant sitting in a stadium that held 76,000. And watching at least nine wins every season.
Over the years, Memorial Stadium's capacity went up, prices went up, donations tied to a seat went up — and winning went down.
Eventually, splotches of open seats began showing up during games. It happens.
But the streak lived on. It was based on tickets sold, the athletic department said.
At some point, NU athletic officials let it be known that the several hundred to thousand tickets that were returned by visiting schools or made available to Husker fans before a home game were sometimes purchased by a donor or a local company.
Last week, NU Deputy Athletic Director Garrett Klassy told me that any tickets that are returned are purchased by Nebraska fans who are looking for tickets.
It's hard to know where the ticket brokers fit into this, but, for sure, they factor into tickets being bought.
Nebraska fans now debate this topic. Some still hold tight to this streak. Others say it's time to give it up, that it's not real.
The empty seats don't bother me — as long as tickets are sold.
But when you have a company or one donor buy up a bunch of unused tickets to prop up the streak, that violates the spirit that this iconic piece of Husker history was built upon.
Why bother calling it a sellout?
The athletic department will have to ponder that. Don't expect change. The streak is too important — seen as a last bastion of tradition.
Perhaps the pandemic — and whatever football season we get this fall — is a perfect time to hit a reset.
We don't know how the pandemic will impact Husker fans' willingness to cram into the stadium's tight concourses, bathrooms and benches in the future. As NU Athletic Director Bill Moos said last month, a sizable portion of the fan base are older folks.
Judging from a small sample size I received last week, reaction is mixed. It seems only a vaccine or a nationwide "all clear" sign will get some back.
This could be the right time to reconfigure the stadium.
Give it a good cleansing. Remodel some bathrooms or add more. Tear up the bleachers and put in wide stadium seats. Or widen the number of seats on those bleachers. New bleachers, yes.
In the process, you lose seating, lose capacity. But many college officials think smaller stadium sizes figure into the future of college sports. And now, who knows? After this pandemic, more folks nationwide might settle into a habit of watching games on TV.
I know Husker fans are a source of pride and impressing recruits. But is 80,000, or 75,000, any less passionate? Are they less intimidating?
Getting down to that number won't be easy. It will be controversial. Let's see what the pandemic shakes out.
But a smaller, cleaner, more spacious and fan-friendly stadium might be the way to maintain a healthy new sellout streak.
» Got this from Leo Jablonski of Roca, Nebraska. Call it the "Leo Plan."
Jablonski writes, "My plan for college football season: All season tickets canceled for one year. Holders resume same seats next season.
"This year, issue one-year-only tickets for about 25,000 fans. Skip every other seat and every other row. That way, you can maintain 6-feet distance. Ticket prices can be doubled or tripled to make up for lost revenue. The die-hards will pay. More important, TV revenue still comes in."
Bill Moos, we are here to help.
» The pandemic can't stop Jerry Murtaugh. The former NU linebacker's Nebraska Greats Foundation is rolling toward another year of helping former athletes (from all 16 four-year colleges in Nebraska) in need of medical and financial assistance.
The foundation is asking for help on "Giving Tuesday," May 5, by donating at their website, www.negreats.org. Murtaugh, the toughest old linebacker with the biggest heart, will thank you. Remember, Jerry, no hugs.
» Here in Omaha, we know about the greatness of our own Bob Gibson. Good to know the rest of the nation still does, too.
Major League Baseball's website had a recent contest for fans to vote for the greatest season by a player in baseball history.
Gibson's iconic 1968 season — in which he had a 1.12 ERA and pitched complete games in 28 of 34 appearances for the National League champion St. Louis Cardinals — took first prize. And it wasn't close.
In the final, Gibson went up against Babe Ruth's 1923 season. That year, Ruth hit a career-high .393, 41 home runs and 41 doubles and reached base 379 times, then a league record.
Wouldn't it be great to go back in time and have 1968 Gibby pitch to the 1923 Bambino? In the cyber vote world, Gibson dominated Ruth, 55% to 45%.
Along the way, Gibson beat Ron Guidry's 1978 season, 1985 Dwight Gooden, Pedro Martinez in 2000 and Sandy Koufax in 1965.
I'm sure Gibson took great pride in that last matchup, having faced Koufax many times in his career.
Who is the greatest ballplayer of all time? That's a fun bleacher debate. Greatest season is not. Good to see in today's world of recency bias, the fans still remember.
» False alarm: Last week a report was circulated on Twitter that the 2020 minor league season was canceled. That was quickly squashed by baseball execs, including Omaha Storm Chasers President Martie Cordaro.
Cordaro said he had no idea where the rumor came from. There have been reports out of MLB that it wants to start a season in early July and expand rosters to include minor leaguers in case of injuries.
"We've had multiple conversations with the Royals," Cordaro said. "They have not given any indication to us what is going to happen with the season."
» NCAA honchos picked their poison last week and approved players being able to make money off their name, image and likeness.
They could have gone for the "wild west" daily double and allowed the one-time transfer exception for all athletes. That would have been too much change for an organization and age-old system that has moved methodically through the decades.
The NCAA offered a trade-off, one instead of the other. The athletes made out well last week. The transfer exception will have to wait. Maybe next year.
» One more and I'm outta here: The closest I ever came to Don Shula was eating at his Miami Lakes, Florida, steakhouse during an Orange Bowl trip. There was plenty of great memorabilia and food, but, alas, no Shula.
So let's close with a story from a coach who met the coach: Omaha legend Sandy Buda, who shared this on Monday.
Buda, the first coach of the Omaha Beef, said the team had a layover in Chicago's O'Hare International Airport in 2001. Buda recognized Shula, standing at a newsstand.
Buda went up and introduced himself. Several Beef players saw him and came up to meet the famous coach, too.
"Shula asked what our record was," Buda said. "We were 13-0 at the time.
"Very graciously he said, 'Want to see what an undefeated championship ring looks like?' "
Shula took off his 17-0 ring from the Miami Dolphins' historic 1972 season and let the Beef players try it on.
"He wished us good luck," Buda said. "We finished the season 15-1. I had goose bumps after that meeting."
Photos: Husker fans through the years
Through thick and thin, Husker fans have been there for all of the wins, losses and coaches.