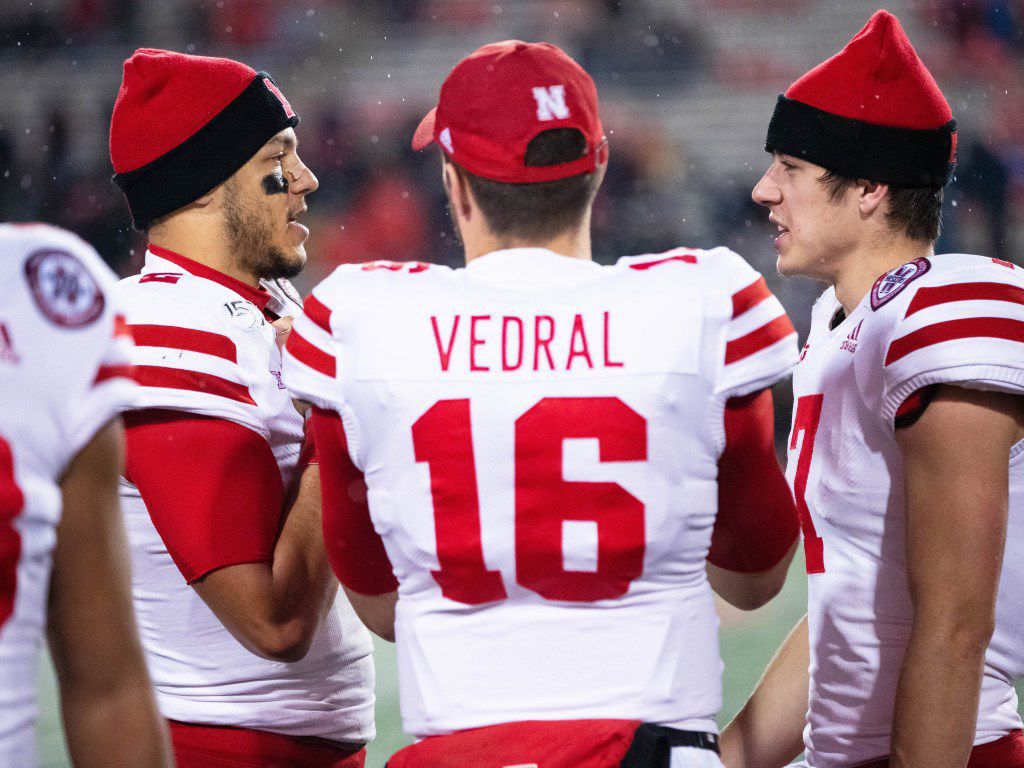 Five position battles to watch this spring. Only five?
Doubling that number might be more appropriate as Nebraska coach Scott Frost leads offseason practices for a third year. Pick a spot anywhere on offense, defense or special teams. Unlike some springs around Memorial Stadium, there is intrigue just about everywhere.
Dedrick Mills might be penciled in as NU's starter at running back, for example, but spring depth behind him is wide open. Same goes for inside linebacker beyond established seniors Collin Miller and Will Honas.
Tight end didn't lose anyone from 2019, but adds Travis Vokolek, a 6-foot-6, 250-pound transfer from Rutgers who sat out last year and looks the part of an NFL prospect. The secondary returns every key member not named Lamar Jackson, and the offensive line brings back its entire starting five — though talented underclassmen appear primed to make runs at top jobs in both units.
Then consider this: All but three of Nebraska's scholarship recruits from its consensus top-25 class of 2019 redshirted last season. Many will be factors right away this month.
"You never know what is going to happen through injury or anything else," Frost said in December. "We're going to play the best guy at every single position."
To be among the most interesting position battles this spring is an especially high standard within Nebraska's roster that is pushing 160 players deep. Here are five competitions to keep a close eye on:
1. Quarterback
Nebraska's quarterback room is perhaps as deep as it's ever been. In the age of the transfer portal, it's hard to stay that way.
That fact alone will make for a compelling competition. Frost insisted in December that the position would be as wide open as any on the team. The incumbent is junior Adrian Martinez, a two-year starter who followed a stirring freshman season with an erratic one last fall. Fellow junior Noah Vedral, who followed Frost from UCF in 2018, was the backup.
Redshirt freshman Luke McCaffrey wowed fans in four games last year, making some electric plays with his legs and arm while even lining up at receiver against Maryland. The fourth scholarship QB is Logan Smothers, who arrives early as a true freshman and former four-star recruit who held interest from many of the nation's top programs.
The job appears to be Martinez's to lose, but he has plenty to prove. How close is he to full health? How much did various injuries affect his 2019 campaign that included a 10-to-9 touchdown-to-interception ratio?
Vedral, meanwhile, doesn't have the elite physical gifts of his position mates but possesses more knowledge of the offense than anyone. McCaffrey is in his second spring at NU and had coaches raving about his quick learning of the playbook, but he has still only played quarterback full time since his senior year of high school. Smothers is likely ticketed for a redshirt season but can establish himself in important intangible ways, much like Tristan Gebbia did in the Red-White scrimmage three years ago.
Nebraska may not anoint any starter until the fall. Frost didn't with Martinez until the week of the 2018 opener. But given the injuries that can follow running quarterbacks — Nebraska has needed multiple starters in both years under Frost — establishing some kind of pecking order is important.
2. Wide receiver
A whirlwind offseason has completely transformed the look of Nebraska's pass catchers. What remains is opportunity. Lots of it.
Only four Nebraska scholarship receivers will take part in spring practices, and only one — sophomore Wan'Dale Robinson — has any meaningful game experience. Redshirt freshmen Jamie Nance and Demariyon Houston join the fray along with true freshman and early enrollee Alante Brown. Omaha Burke grad and redshirt freshman Chris Hickman will likely move outside after starting his career as a tight end.
Who emerges as the group's leader is worth following as top producer JD Spielman takes a leave of absence from the team, and six other wideouts either departed or graduated. Nebraska receivers have a new position coach, Matt Lubick, who also holds the title of offensive coordinator and will evaluate his players on the field for the first time.
From a purely logistical standpoint, Nebraska walk-ons are guaranteed plenty of run in the coming weeks, as well. Junior Kade Warner is second among his peers in career receptions (25). Others are in-state natives in senior Ty Chaffin, junior Christian Banker, sophomores Bennett Folkers and Wyatt Liewer and redshirt freshman Austin Jablonski.
The Huskers will welcome four touted scholarship receivers this fall in Omar Manning, Zavier Betts, Will Nixon and Marcus Fleming. Until then, finding reliable options already on campus will be a top priority.
3. Defensive line
All three starters in the trenches for Nebraska in 2019 just finished workouts at the NFL combine. Now it's prove-it time for their former backups.
The Huskers deployed a steady six-man rotation last year and need to craft another one at least that deep in the coming months. Ben Stille, the lone scholarship senior on the line with 14 career starts and 33 games played overall, is a leading candidate. Juniors Deontre Thomas (26 games, no starts) and Damion Daniels (24 games, one start) own experience but have yet to show the stamina and versatility to stay on the field for long stretches.
Last year's unofficial third-string group saw limited game action in Keem Green, Casey Rogers and Ty Robinson. Green — a junior college transfer who didn't arrive until after fall camp began waiting for his academics to clear — struggled to pick up the defensive schemes right away. Robinson showed flashes as a 6-foot-6, 315-pound true freshman, and Rogers mostly held his own in his debut season. Just how much each has benefited from the offseason remains to be seen.
Joining the mix this spring is junior college transfer Jordon Riley, likely a ready-made contributor. Junior Chris Walker and sophomore Tate Wildeman are two others who could make a move along with redshirt freshman Mosai Newsom.
That's 10 scholarship D-linemen on the roster this spring with three more — Nash Hutmacher, Marquis Black and juco transfer Pheldarius Payne — coming this summer. Lots of bodies and lots of questions for position coach Tony Tuioti to sort through in his second year.
4. Outside linebacker
The search for steady playmakers at this spot hasn't had a happy ending for Nebraska in recent seasons. A position designed to wreak havoc hasn't generated much.
The job now falls to assistant coach Mike Dawson, back after a year coaching the same position for the NFL's New York Giants. And he has some decisions to make.
How exactly the Huskers use JoJo Domann, for one. The senior who played the "cinco" spot because of his versatility as both a pass rusher and in coverage has been among NU's most effective defenders (nine tackles for loss, six pass breakups and two forced fumbles last year). He split starts with Caleb Tannor, a former four-star prospect whose production — four tackles for loss in 24 career games — has yet to match his profile.
Garrett Nelson was one of three 2019 recruits to play consistently last year, trading his redshirt for a Blackshirt and making 15 tackles in 11 outings. His youthful exuberance is obvious, but how he channels it into mistake-free football could elevate his role sooner than later.
Sophomore David Alston and redshirt freshman Jamin Graham received almost no mention from coaches last season, so whether their names bubble up in discussions will be a marker of their progress. And true freshman Blaise Gunnerson is an early enrollee, but how healthy is he coming off surgery to both hips?
NU will also have juco transfer Niko Cooper and true freshman Jimari Butler in the mix by fall camp. In the meantime, watch for a few potential position switches to outside 'backer including 2019 inside linebacker Jackson Hannah.
5. Specialists
So much for incumbents. Every spot on every special teams unit is available.
Kicker? Of the six who attempted a field goal for NU last year, only Lane McCallum is still on the roster, and he's moving back to safety. Of the four who handled kickoffs, only William Przystup — a punter by trade — remains. Field goals will likely start with Chase Contreraz, a former All-American at Iowa Western, with redshirt freshman Gabe Heins the other option. Both could also factor into kickoffs along with Przystup.
Punter? Two-year starter Isaac Armstrong graduated, leaving the sophomore left-footer Przystup, a Michigan State transfer, as the only Husker with college experience. Redshirt freshman Grant Detlefsen is another possibility. Yet another walk-on, Oklahoma native Tyler Crawford, will join the team this summer with a versatile skill set as well.
Returner? JD Spielman handled every meaningful punt return last year and he won't be with the team this spring. Sophomore Wan'Dale Robinson took back 11 kickoffs and joins walk-ons Brody Belt (three) and Zach Weinmaster (three) as early candidates there.
All this falls to special teams analyst Jonathan Rutledge, a new hire who becomes the point man for NU's third phase after former special teams coach Jovan Dewitt departed in the offseason. And that's to say nothing for personnel on each coverage and return unit, many of which included 50-50 mixes of walk-ons and scholarship players last year.
The Huskers clearly won't have set-in-stone plans here by the end of April. But the specialists will either gain the trust of coaches, or they won't. And how much depth the redshirted 2019 class can provide will give early indications about whether special teams will be an asset or hindrance in the fall.
---
The 2020 Nebraska football schedule