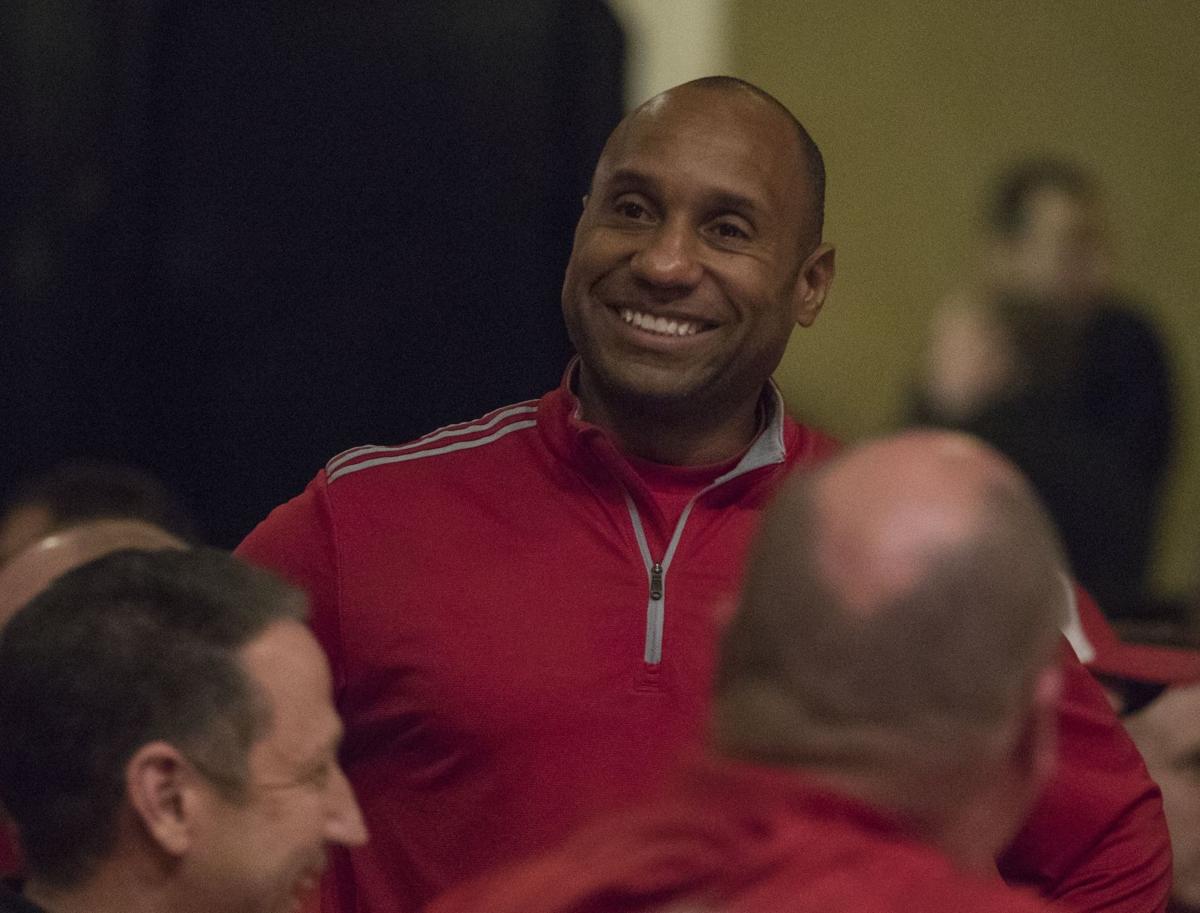 There are certain myths Travis Fisher wants to debunk about recruiting football players in the state of Florida.
For one thing, none cares about Disney World or other tourist attractions. Most of them know the weather can get uncomfortably cold as nearby as Georgia, Arkansas and Tennessee. Many want to be part of a successful program in college and are willing to go wherever that may be.
Fisher, Nebraska's new defensive backs coach, speaks as an authority on the subject as a native Floridian who starred at UCF from 1999-2001 and spent the last three years as an assistant with the Orlando team. It's a firsthand understanding that will benefit the Cornhuskers as they mine for talent in the Sunshine State unlike ever before.
"Most Florida kids want to leave," Fisher said. "To be honest with you, the reason why we got so many kids from down south is because of our staff. Those kids already know about our staff."
Nebraska had never signed more than three Florida natives in one class before getting eight in the 2018 cycle — and all from players wooed by Scott Frost and his assistants in the past two months. Of at least 151 scholarship offers/re-offers to future classes since the staff took over Dec. 2, 36 (24 percent) hail from the state.
NU offensive coordinator Troy Walters said this will become a trend around North Stadium. Yes, the staff wants to work an "inside out" approach by recruiting Nebraska and finding local walk-ons. The 'N' will remain a national brand, with a dozen states represented in the latest class. But staff members also plan to capitalize on their familiarity with Florida players and coaches. Special teams coordinator Jovan Dewitt (Florida Atlantic assistant in 2012-13) and tight ends coach Sean Beckton (former UCF player who worked 17 years at the school as well as time with the AFL's Orlando Predators) join Fisher as the most immersed in the area.
Nebraska's entire staff recruited the state the past two years at UCF. Walters said Beckton will be the primary contact in the Orlando area going forward, while Dewitt will have a similar role around Fort Lauderdale. Fisher is set to work a variety of other communities.
"Florida high schools, they play good football and we have a lot of connections and ties to the state of Florida, so we're going to utilize it," Walters said. "I think once you get five or six guys from Florida, you'll be able to go down and get some more because they want to play with each other. And they want to play top-notch football. I think once they get out and see what Lincoln has to offer and the facilities and the fan support and everything that goes with being a Cornhusker, I think we're going to get a lot more guys from Florida."
Fisher said there's something else about Florida kids, too. He knows so many who have been deceived by schools telling them what they want to hear, only to have circumstances change.
Of NU's signees, cornerback Braxton Clark (Orlando) had his offer from Virginia Tech pulled late in the early signing period when the Hokies landed a player they liked better. Safety C.J. Smith (West Palm Beach) decommitted from Florida last summer because he felt the staff there wasn't being entirely truthful. Safety Deontai Williams (Jacksonville, via Jones County J.C. in Mississippi) reneged on Florida for a second time in December after a coaching change. Receiver Mike Williams spent a year at Georgia Southern, then ended at NU via East Mississippi C.C. because he said he "just felt the love" from Frost and Co.
"They're told, 'Hey, you're going to be the next this,'" Fisher said. "The next day the coach leaves to take a job. That could happen to pretty much every one of those kids. And it's happened so much in college football to these kids (that) they're getting a little smarter and deciding, 'Hey, man, I'm going to go be around great people.'"
Florida players have long been part of Nebraska's football history, though in smaller numbers. Fifty have been on scholarship for the Huskers, according to The World-Herald database. That puts the state 10th on the program's list, one signee ahead of Minnesota.
And there have been some hits. Quarterback Tommie Frazier — from Manatee High School in Palmetto — from the Class of 1992 is most well known. Others include safety Tyrone Williams (1993, Palmetto), corner Fabian Washington (2002, Bradenton), corner Stanley Jean-Baptiste (2010, Miami), defensive tackle Kevin Maurice (2013, Orlando) and corner Chris Jones (2014, Jacksonville).
Nebraska has also had fair success getting Sunshine State natives through junior college routes. Frantz Hardy (2005) and Lavonte David (2010) are from Miami. Steve Octavien (2005) is out of Naples.
But the misses since the mid-1990s have been far more numerous. Players like Latravis Washington, Antonio Bell, Brion Carnes, Tyler Moore, Mauro Bondi, Ernest Suttles and Adrienne Talan either never made a lasting impact or didn't see the field at all.
Other current Huskers from Florida include defensive back Dicaprio Bootle and linebackers Alex Davis, Sedrick King, Guy Thomas and Willie Hampton.
Frost said during his signing-day press conference that it isn't easy for someone from Florida or Georgia or Alabama to pick Nebraska. Those that choose the Big Red over beaches and warmer weather are journeying to work hard and build relationships with good coaches.
"Kids are going to come here if we can get them on campus and let them see what we are building," Frost said. "I think our relationships with the state of Florida are going to continue to help us. We are going to go everywhere and get the right kids."