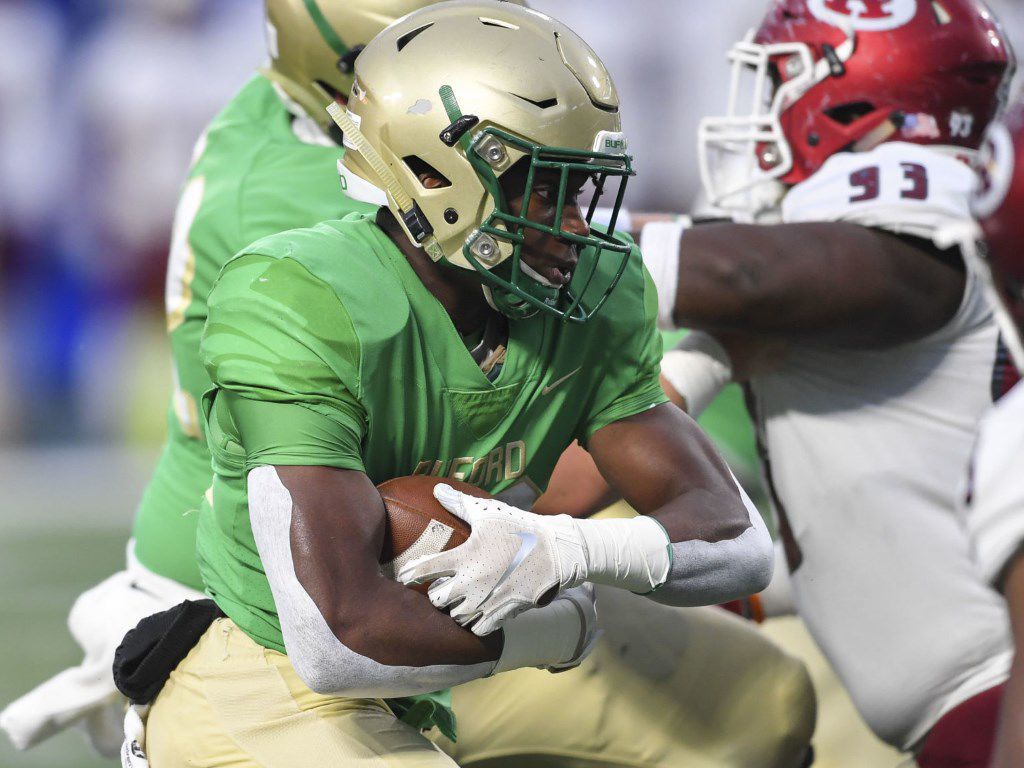 Gabe Ervin did his homework. Nebraska was the answer that kept coming up.
The running back from Buford High School in Georgia held 20-plus scholarship offers and had finally whittled his finalists to five schools. His position coach at Buford, Fyrone Davis, tasked him with learning Husker football history beyond the past few years.
"He was like, 'Coach, you're right. This place is unreal,' " Davis told The World-Herald. "Then we talked about them not having an NFL team. I told him he could be so special there because of that. They love the Cornhuskers and they're going to love you there. That's something that attracted him to Nebraska."
By Tuesday morning, Ervin was ready to commit, and the Huskers landed their first running back of the 2021 class.
The consensus three-star recruit announced his decision on a live stream with Rivals. Sitting at a table with five hats that also included Duke, Georgia, Michigan State and Arizona State, Ervin and family members unzipped their jackets to reveal red Nebraska T-shirts.
"I felt like Nebraska really and truly wanted me and cared about me," Ervin said on the stream.
The 6-foot, 200-pound back ran for about 1,200 yards and double-digit touchdowns in 13 games last year on a team that won a state championship in Georgia's third-largest class. His Hudl highlights show an athlete who hits holes with conviction, someone who isn't afraid to move through a crowd of linemen and punish a defender for a bigger gain.
What the video doesn't necessarily show, Davis said, is how versatile he is. After all, Buford — a prep powerhouse that's won eight state titles since 2007 — featured a stacked roster that didn't require players to do too much.
"He's a great downhill guy. He's a great inside zone guy," Davis said. "He's an elite perimeter guy, and that's what people don't know. He's a big man and very gifted in the passing game. You can do so many things with him, and I think that's what's going to make him get to that level and possibly the next level because he's strong in the mind and his skill set is unreal."
Ervin set the tone last year as one of four "No. 1" Buford running backs. In 15 career varsity games spanning three years, he has just one turnover, Davis said. With his position group thinned by injuries in the 2019 postseason, he took over.
"He's big and strong with feet that are very soft and light," Davis said. "Making a playoff run with him was important because we said, 'Hey, man, we're going to ride you.' "
The speed is also undeniable. Ervin clocked a time of 22.51 seconds in the 200 meters and 48.87 seconds in the 400 a year ago. And while he has the ability to simply outrun many defenders on the edge, he also owns the vision and attitude to cut back inside for bigger chunks of yards.
Nebraska offered Ervin a scholarship in December. He joins receiver Shawn Hardy as NU commits from Georgia in this cycle and is the 10th pledge of the class.
Ervin has yet to see the campus in person, though Zoom calls and virtual visits were enough to leave him impressed by the academics and facilities, he said on the stream.
Davis, who advises his players to commit early in the process, said Buford coaches encourage interest in Nebraska. NU tight ends coach Sean Beckton has long recruited the state, and the Huskers have at least six more offers out to 2022 prospects at the school. Recent NU safety Tre Neal was a Buford grad.
Ervin wrote on social media that his relationship with Husker coaches and their relationship with his family were also key pieces to his decision. On the field, he'll eventually join a group of young Nebraska scholarship backs who will be jockeying for position this fall behind senior Dedrick Mills.
"It just makes sense," Davis said. "They put so much time into him, that phenomenal staff. It was just time to commit. He was like, 'This is it, this is where I'm going and I'm good.' "