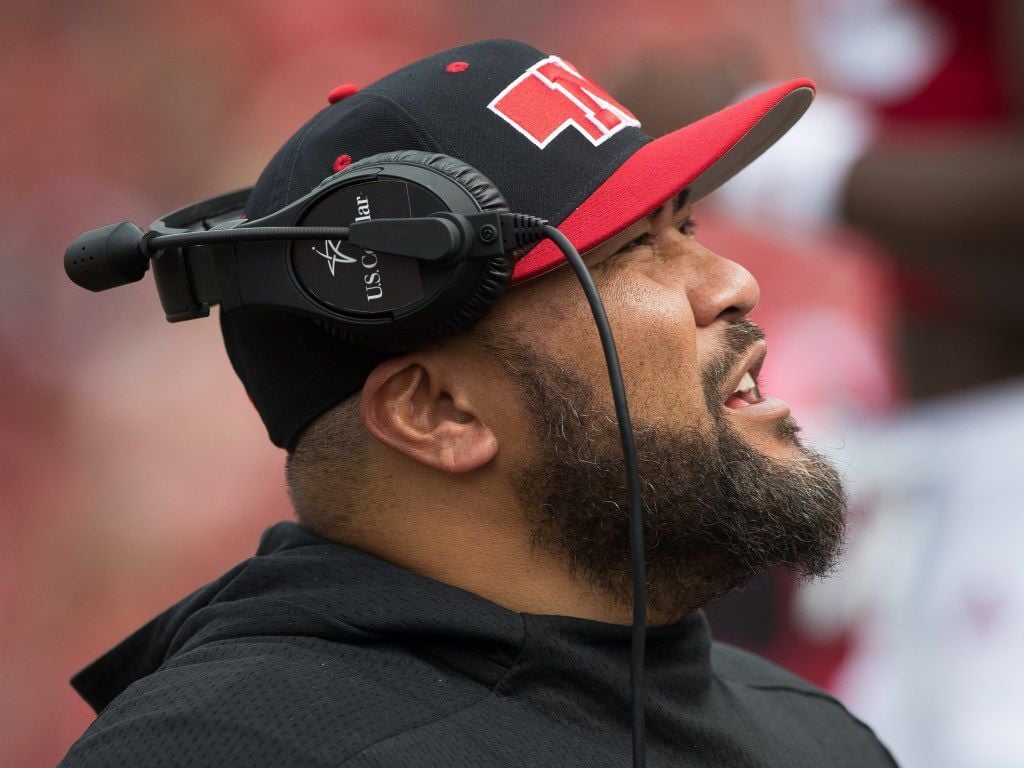 LINCOLN — Nebraska defensive line coach Tony Tuioti has a list of words he uses in recruiting to describe a prospect's game. One of Tuioti's top targets for the 2021 class, Ru'Quan Buckley, is a big fan of the list.
"He says I'm very aggressive and relentless," said the three-star defensive end from Grand Rapids, Michigan. "He's got a whole list of words that he checks off with guys."
The more qualities a player fits, the higher he presumably is on Tuioti's board. Buckley, who has scholarship offers from at least one team in every Power Five conference, is one name to watch as Nebraska continues to work on the second half of its 2021 recruiting class.
Fourteen commits are already in the class, with seven linebackers and defensive backs. Zero have been defensive linemen, and while NU's depth at the position is strong for the next two years — thanks to six juniors — Nebraska will want to add several linemen to this class so depth remains strong starting in 2022.
Buckley, who visited Nebraska in the winter before the pandemic shut down recruiting, is a bit of a late bloomer. His recruitment took off in recent months after his junior-season film showed a dominant two-way lineman who could drive-block on offense and chase quarterbacks on defense.
Nebraska may have another advantage, too: It wants the 6-foot-6, 250-pound Buckley to play defensive end, which is his preferred position. His other two top schools at the moment, Minnesota and Florida State, would allow him to try playing defensive end before most likely placing him at offensive tackle, where he is viewed as an equally strong prospect. Buckley is a defensive end at heart, though, and has picked up some pointers from Tuioti on hand placement, among other things.
"I like how Coach T teaches," Buckley said. "He'd teach me well about techniques."
Buckley is among the many defensive line prospects still out there for Nebraska to land.
According to the 247Sports database, NU has offered 83 defensive tackles and defensive ends in the 2021 class, as of this week, with 49 already committed to other schools. Of the remaining 34 prospects, several have developed long-term relationships with the Husker coaching staff. Buckley is one. Others:
» Robert Jackson, 6-6, 260, Philadelphia, Pennsylvania: Nebraska rarely has luck in Pennsylvania — even less so in Philly — but Jackson placed NU in his top 10 in June. He's a good student with a 7-foot-2 wingspan.
» Mike Leatherdale, 6-3, 310, Wayne, Nebraska: The northeastern Nebraska product doesn't have any choice offers at the moment — Division II, mostly — so perhaps he's a preferred walk-on candidate at NU. He'd be a heck of a pickup in that context, a big, athletic guy who, if he goes to junior college, is probably emerging from it with Power Five offers.
» Michael Mokofisi, 6-3, 300, Woods Cross, Utah: The nose tackle prospect visited Nebraska for the Huskers' loss to Wisconsin last season. Many of the top recruits in Utah have committed to out-of-state schools — including Husker offensive tackle commit Branson Yager of Grantsville — so the home-state Utes and Cougars will likely make a push.
» Tobechi Okoli, 6-5, 250, Kansas City, Missouri: Nebraska hasn't landed a recruit from Missouri since 2017, and nothing in KC since 2016 with Boe Wilson. Okoli is raw, but his potential is similar to that of the Davis twins and Maliek Collins, all of whom came from the KC metro area. He's been offered by USC, Georgia and Auburn for a reason. His high school defensive coordinator is former Husker Michael Rose-Ivey.
» Mandela Tobin, 6-4, 270, San Diego, California: He lives on the West Coast, but Tobin has consistently shown the most interest in Midwestern schools like NU, Kansas and Kansas State. He's on the leaner side, but he's quick and does a nice job of blowing up plays in the backfield. Tobin said he's being recruited for a "hybrid" role that includes him playing defensive end and a 3-technique tackle spot when Nebraska rolls into a 4-3 look.
Tobin has taken a virtual visit with Nebraska — his mom liked NU's academic presentation, Tobin said — and hears almost daily from NU defensive coordinator Erik Chinander. Tuioti calls once a week and Husker recruiting coordinator Ryan Held is part of the conversations, as well.
Tobin hasn't released an official top group yet, but Nebraska is in it with KU, K-State, Fresno State and Colorado State, among others. He plans to make a decision this fall and play his senior year of football, which in California won't likely begin until December or January.
"Nebraska's a top contender, for sure," Tobin said. "You can't go wrong with them. It's the rich history of football and the fan base is just crazy. I've never seen a fan base so passionate. And now, with Scott Frost, they're building back the program to where it has always been. It's exciting."
» Davon Townley, 6-7, 220, Minneapolis, Minnesota: A converted basketball player who averaged 17.5 points and 9.4 rebounds for his team last year, Townley is a little skinny, but as a high three-star he's underrated as a football prospect. Nasty, quick, all over the place. Townley told 247Sports former Gophers receiver Tyler Johnson is his cousin.
» Derek Wilkins, 6-4, 250, Rancho Santa Margarita, California: The Huskers have their work cut out for them trying to pull one of the best defensive ends on the West Coast. But Wilkins put NU in his top six (along with Cal, Stanford, Washington, UCLA and Boston College) so there's a chance for a strong, thick-bodied lineman who'd fit NU's 3-4 scheme. Wilkins had 15 tackles for loss and seven sacks last season.
The Husker Camp Countdown of Nebraska's most important players
Our Husker Camp Countdown highlights the 50 most important players on the Nebraska football team.
Be the first to know
Get local news delivered to your inbox!