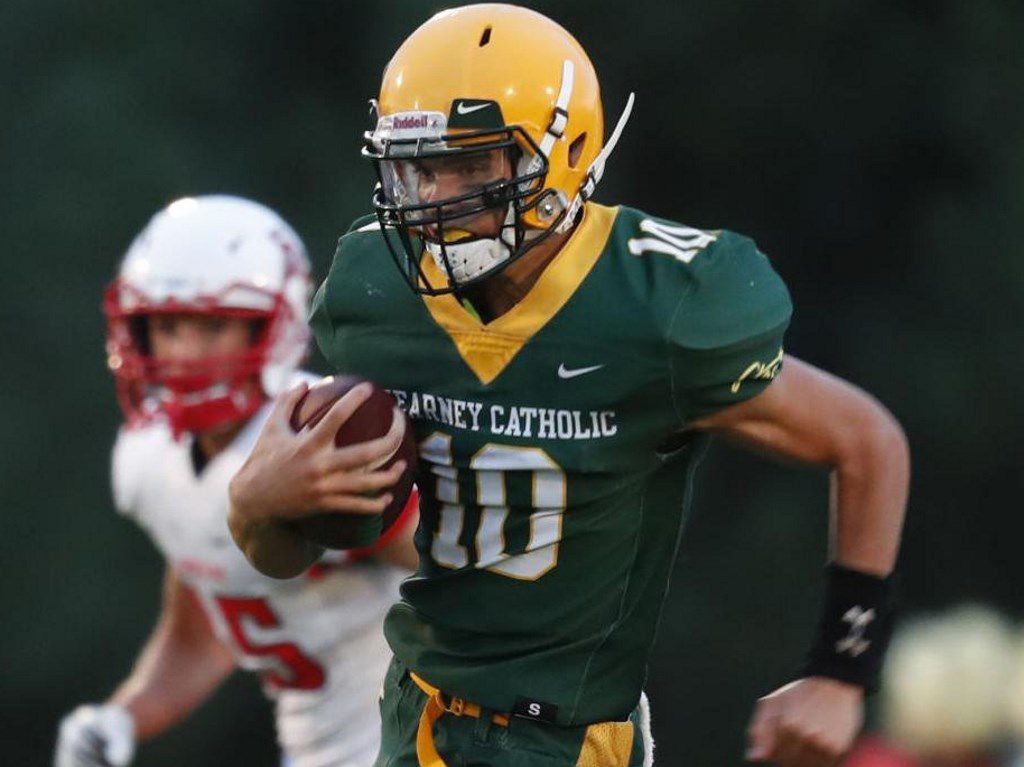 LINCOLN — Heinrich Haarberg received the message request Sunday night. Nebraska coach Scott Frost wanted a phone call Monday.
And anytime Frost wants to talk, Kearney Catholic's rising quarterback prospect wants to listen. He and Frost, a couple of Class C-1 football players from central Nebraska, have a "special relationship."
Now, Haarberg has what few in-state quarterbacks this century have gotten: a scholarship offer from NU.
Frost personally extended the offer to the 6-foot-5, 185-pounder who threw for 1,869 yards and 23 touchdowns last season.
Nebraska's coaches had wanted to see Haarberg throw at one of their Friday Night Lights recruiting camps in June. But there's a chance those camps will either be cut back or eliminated because of the coronavirus pandemic. And Haarberg has garnered enough national attention — he received eight FBS offers before Nebraska's — that he intends to take official visits in June, if he's allowed.
So Frost went with his gut, going on his experience coaching and recruiting elite quarterbacks such as Marcus Mariota, Justin Herbert and McKenzie Milton.
"He just sensed it was time," Haarberg said. "He trusted my film."
Haarberg — whose dad, Rod, played fullback at NU — trusts Frost. They see eye to eye on a lot of things.
"My relationship with Coach Frost is unique in the fact that, we played Wood River this year," Haarberg said of Frost's high school alma mater. "They played Kearney Catholic when he was in school. My math teacher coached against Coach Frost, and that's really cool. I can have that special relationship."
In their conversation, Frost specifically mentioned Herbert, and that was important for Haarberg to hear. Herbert, the No. 6 overall pick in the 2020 NFL draft, was recruited to Oregon by Frost before he left to become Central Florida's head coach. He's Haarberg's favorite player. They both wear No. 10.
"Justin Herbert's the guy I look up to," Haarberg said. "That's really who I want to emulate."
Like Herbert, Haarberg has a strong arm. He said he threw a ball 82 yards last week. Haarberg's highlight film is littered with plays in which he escapes the pocket, locates a target deep downfield and fires away. His accuracy is good, too, and NU coaches like his ability to make plays all over the field.
"I believe I can stand in the pocket and deliver, but I think some of my best throws are on the run," Haarberg said. "I think that's mostly the God-given athletic ability. Being able to turn my body to the way it needs to be, I think that's a huge part."
Nebraska quarterbacks coach Mario Verduzco uses drills that emphasize throwing the ball on the run, from multiple angles and platforms. NU tends to recruit passers who, above all, fit the athletic requirements Frost and Verduzco seek. Adrian Martinez, Luke McCaffrey and Logan Smothers are all dual-threat quarterbacks.
Haarberg said he's enjoyed getting to know Verduzco in recent months as Haarberg's recruiting process has heated up.
"I think he's an awesome guy," Haarberg said. "I think he might be a little bit misunderstood. The first time we really ever met him was last winter. My experience before that with Coach Verdu was as a freshman, wide-eyed, kind of innocent, and he coached intense at Friday Night Lights, and that kind scared the pee out of me. Then my mom kind of thought, 'I don't know who this guy is.' And we saw him with big ol' cigar and corduroy pants, and we weren't entirely sure.
"But he's really just a nice guy who understands football. And I think he can develop players into whatever they want to be."
Nebraska hasn't offered an in-state quarterback since Millard South's Bronson Marsh in the 2010 class, though he was offered as an athlete and began his career at safety. He eventually transferred to UNK and started two seasons at quarterback there.
The last in-state signal-caller Nebraska offered as a quarterback was Papillion-La Vista's Allan Evridge, who committed to NU but later flipped to Kansas State after the dismissal of Frank Solich in 2003.
Haarberg wasn't even born until March 15, 2003. So Nebraska's last true in-state quarterback signee — Mike McLaughlin in 2001 — predates Haarberg's birth.
Haarberg wants to explore his options, though. And Nebraska continues to pursue other quarterbacks in the 2021 class as it offered Riley Leonard out of Fairhope, Alabama, on Monday.
If the NCAA begins to permit in-person recruiting by June, Haarberg would like to visit Boston College, Auburn and Duke. Though the Blue Devils haven't offered yet, he's been impressed by their staff.
"Coach (David) Cutcliffe, he's been known to develop quarterbacks like me," Haarberg said. "The list can go on. It'll be hard to narrow down."
Nebraska is definitely on the upper part of that list, Haarberg said. Frost is a big reason.
"I'd rather not continue this process through the summer, but if that's what happens, it'll be necessary," he said.
Photos: Every season-opening starting Husker quarterback since 2000
With Nebraska in the midst of another quarterback competition, take a look back at photos and statistics from all the passers that started the opening game of the season since 2000.
Be the first to know
Get local news delivered to your inbox!