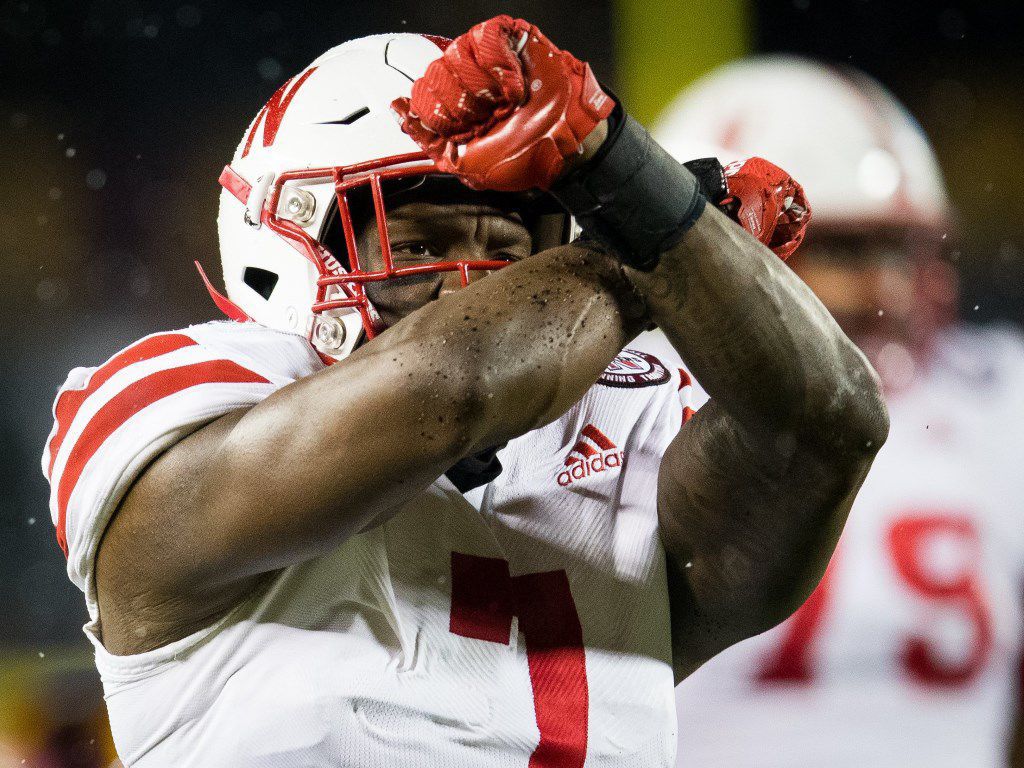 LINCOLN — Mohamed Barry and many of his former Husker teammates finally got their chance to be seen by NFL scouts. And just in time.
As professional sports leagues suspended their seasons nationally and the boys state basketball tournament played out with limited fans locally, Nebraska followed through with its Pro Day as scheduled Thursday afternoon. As NFL teams began pulling evaluators off the road because of the coronavirus pandemic, at least 28 scouts from 22 franchises signed in to observe drills inside the Hawks Center.
Barry, a two-year NU starter at inside linebacker, liked his performance on field drills and change-of-direction exercises. Not so much his 40-yard dash times, unofficially clocked at 4.85 and 4.88 seconds. But all of it paled in comparison to the bigger trial unfolding all over the world.
When a reporter informed Barry that the Big Ten Conference moments earlier had canceled all winter and spring sports, his jaw dropped.
"There's a lot of things happening," Barry said. "But the biggest thing is you'd rather be alive, you'd rather be healthy than anything right now. Life is more precious than the things that we want. Life is a necessity. So at the end of the day, that's what we're fighting for right now, is life."
Still, Barry said, he will continue to pursue his personal goal of playing professional football. He logged 201 tackles the past two seasons and was told by scouts his game film was "faster" than his measurables. He saw websites that considered him snubbed for not receiving an invitation to last month's NFL combine. But he noted that plenty of non-combine players eventually are drafted or catch on with a team.
"It's popularity right now, but I'd rather win later," Barry said.
Many other former Huskers also participated in various drills. Unofficial 40 times included linebacker Alex Davis (4.8 seconds), cornerback Lamar Jackson (4.45), safety Eric Lee (4.6), defensive lineman DaiShon Neal (5.4), receiver Kanawai Noa (4.5), long snapper Chase Urbach (4.7) and receiver Mike Williams (4.4).
Defensive linemen Carlos and Khalil Davis and Darrion Daniels, along with Jackson, all performed at the combine two weeks earlier. Jackson ran slightly faster Thursday than his time of 4.58 seconds in Indianapolis. He and Daniels are considered likely mid-to-late-round draft picks.
Outside linebacker Alex Davis spent recent months near home in Boca Raton, Florida, training for Thursday's opportunity. The 40 was a particular focus, he said, adding that he had never run one before training for Pro Day.
"The harder you try, the slower you run," Davis said. "That was the weirdest thing."
Lee, the top-rated recruit from Nebraska's 2015 class, worked out in Colorado and said Thursday was a sort of "judgment day" for what could be next in life. He aims to complete his master's degree in higher education by this fall and would like to one day be an athletic director after football is over for him.
"It's nice to kind of get it all over with and just showcase what you're able to do out here," Lee said.
The setup was similar to previous years, with past Huskers donning black T-shirts with "Pro Big Red" across the chest while NU coaches and current players watched. Running backs coach Ryan Held informed reporters that he and his wife just welcomed their second son into the world last week. Defensive coordinator Erik Chinander asked with a grin if everyone enjoyed watching "the underwear Olympics."
But the coronavirus scare cast a pall over the proceedings. Carlos Davis said he wasn't worried about it — "If I get sick, I get sick," he said — adding that he was fortunate to perform in front of a full complement of scouts at the combine. The 6-foot-5, 250-pound Alex Davis said he will control what he can control ahead of the NFL draft April 23-25 and ensuing free agent period.
"It's weird. It's crazy," Alex Davis said. "Only thing we can do is hope and pray that everything gets settled and just get back to living a normal life. All I can do is just focus on myself, focus on getting as good as I can. And when I get my chance, I'm just going to try to shine."
---
Every Husker selected in the NFL draft since 2000