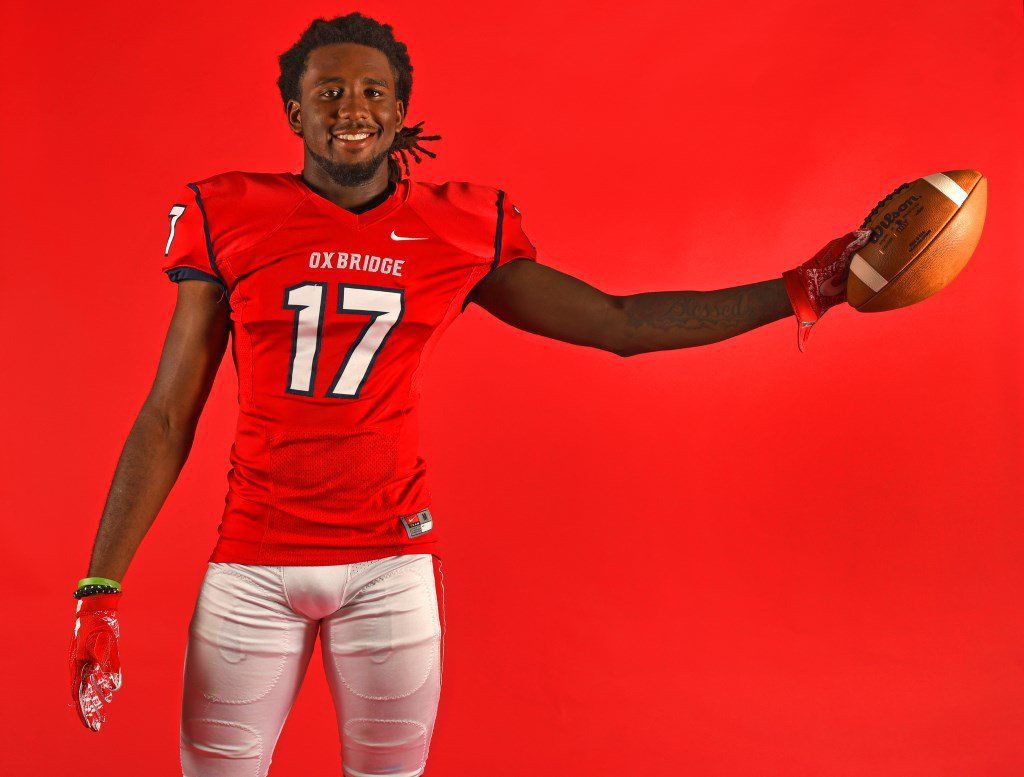 Video evidence still exists of the only time C.J. Smith really went up against his older brother on a football field.
Tre'Quan Smith was the college kid, early in his days as a wide receiver at Central Florida. C.J. was the high-school underclassman with recruiting stars by his name and interest from programs around the nation as a defensive back.
Tape don't lie, says Tre'Quan, who's now training at the Michael Johnson Performance Center in the Dallas area as he prepares for the NFL combine later this month. He gave a lesson that day.
"I'm like, 'Dude, you're my little brother,'" Tre'Quan says. "'You can't guard me. I still see you as the 8-year-old clumsy ol' Cajuan.'"
Cajuan (pronounced Ca-JUAN) is a blend of the names of his parents, Calona Miller-Smith and Juan Smith. But too many people mistake it for "Cajun," so it's always been C.J. for everyone but family.
And Tre'Quan is definitely family. He'd have to be, considering his advice got C.J. thinking about Scott Frost and UCF when schools like Florida, Oklahoma, Alabama and LSU were coming along with scholarship offers. Considering their talks eventually led him to commit to Nebraska — a new, unfamiliar place halfway across the country for a lifelong resident of South Florida — as the first pledge of the Frost era.
Eighteen more signees and two transfers joined the Huskers' 2018 class after Smith, who told NU coaches in person at the end of his official visit Dec. 10. Nebraska's class ranked dipped into the 90s hours before Smith pulled the trigger that day. It finished last week as a consensus top-25 haul.
Smith thinks this is the beginning of something big. And he has his brother to thank.
"I had so much faith in him," Smith says of Tre'Quan. "I knew the outcome was going to be good. These two brothers that came from nothing started something."
A special connection
Jan. 30 marked the 10-year anniversary of when Juan Smith died of a brain tumor at age 33. Suddenly and unexpectedly, C.J. and Tre'Quan had lost their father.
The two had always been close even though — as technical half brothers sharing the same dad — they never lived together growing up. Without an actual football, they made their own to throw around by filling a bottle with just the right amount of dirt and water. They would fish or play or walk around the sun-bleached Riviera Beach community together talking about life.
Once his father passed away, C.J. found a new role model.
And Tre'Quan was a willing subject for C.J. and their seven siblings. Not many high schoolers make daily one-hour round-trip drives to watch their younger brother's football practice.
"Me and Cajuan, we have a connection," Tre'Quan says. "People say we look similar and coaches say we talk alike. I love him to death, and every time I get to see him, I want to spend every minute with him."
By the time C.J. began getting calls from coaches and recruiting reporters, he was telling them all his favorite athlete wasn't any NFL player but the guy who redshirted at UCF in 2014 and earned All-American Athletic Conference rookie-of-the-year honors a year later.
It seemed natural to C.J. to consider UCF as the 2017 season began. While he played out his final prep year at a private school called Oxbridge Academy in West Palm Beach — accounting for 16 tackles and catching eight balls for 142 yards in a seven-game campaign cut short by a broken hand during P.E. basketball — he stayed in regular touch with Tre'Quan.
C.J. visited his brother in Orlando a few times and liked what he saw. The family atmosphere of the team. The aggressive, risk-taking defense. Honesty from the coaches (that last factor, he says, is why he decommitted from Florida last July after a few months pledged to the Gators). He was "most definitely" planning to be part of what the Knights were building.
"I'm telling him Coach Frost is a really awesome coach who cares about the player," Tre'Quan says. "I told him it would be a good fit for him with them. He came to a game and loved it."
But then Frost and the coaches left for Nebraska. What now? A call from big brother made the difference.
"He told me that's his favorite head coach he ever played for," C.J. says. "It caught me by surprise. I took it to my own advantage later. I see great things in Coach Frost."
Says Tre'Quan: "I really wouldn't want to see him with anybody else. I know there are plenty of great coaches and staffs out there, but I know for a fact I don't have to worry about him at Nebraska with Coach Frost there."
C.J. scheduled an official visit to Lincoln sold on the coaches but little else.
Finding dream in Lincoln
The passenger sitting next to Calona Miller-Smith on her flight to the Midwest hadn't spoken a word to her for hours. As they landed, he asked if Nebraska was her home.
No, she told him. She was checking out the Huskers with her son.
"He got instantly excited," Miller-Smith says with a laugh. "He was a big football fan and wanted to meet C.J. when we got off the plane. It helped set the tone for the whole trip."
Miller-Smith isn't the kind of mom who demanded her boy stay close to home. Since he was a 3-year-old who looked like a 5-year-old running through clothing stores, Cajuan told her he wanted to be a football player. Who was she to get in the way of his dream now?
On their visit, she says she almost forgot about the business aspect of college football with so much talk about relationships. And the facilities and academic support was better than they saw anywhere else, including Oklahoma.
Committing to Frost on the spot felt right. So did deciding to wait to sign until February, since much of their family couldn't attend a December celebration so close to Christmas.
Cajuan will graduate from Palm Beach Lakes High School in late May and wants to be in Nebraska a few days later. He's ready for that next step, but it won't be easy leaving behind three younger sisters at home. He's also giving up a five-minute walk to the docks, where he can fish in the intracoastal canals just off the Atlantic Ocean.
Where he's going, there won't be any Mangrove snappers for him to catch, clean and cook all in one afternoon. He's trading in the Florida life for a shot at college football that long seemed a fantasy.
"I actually never thought I'd be in this situation," Smith says. "Not having as much as other kids, not being as privileged as other kids. Just having the opportunity to be great and be surrounded by a whole bunch of people who want to see you do great."
Recruit became recruiter
He might be a few inches and 100 pounds light, but C.J. Smith says he could still play defensive tackle in a pinch. That was his position through middle school, when he was among the biggest boys in his class.
Scouting his brother back then, Tre'Quan recalls a kid who ran like a "baby giraffe" and would trip over himself executing routes on offense.
But he was doing things others couldn't once he reached high school. As a key member of two state runner-up teams, he had become both a playmaking receiver and ball-hawking safety. Weighing in around 190 pounds, Smith knows he needs to add more muscle and size in college.
Yet he already has traits Nebraska and other schools covet with his 6-foot-2 frame and reputation as a downhill tackler. ESPN rates him as the No. 19 safety nationally and No. 272 recruit overall in the 2018 class. He'll begin at that position, but could also excel as a cornerback and even play some offense if asked.
Frost said on signing day he considered Nebraska's haul of Smith, Cam Jones (Mansfield, Texas) and juco signee Deontai Williams to be "as good a class at safety as anyone in the country." Defensive coordinator Erik Chinander remembers Smith being one of the first phone calls the staff made once it was hired.
"I think we may have had a chance with him anywhere we were even though he had the Oklahomas and the Floridas and the Florida States," Chinander says. "Then just (us) coming to Nebraska made it very easy for him to say yes."
And Smith didn't rest once he became a Husker. Other recruits began messaging him on social media asking about Frost and his coaching staff. Among them were fellow Floridians like wideout Dominick Watt (Hollywood) and running back/receiver Miles Jones (Fort Lauderdale).
"I just had to tell them how Nebraska was," Smith says before pausing. "How it's going to be. I have a lot of confidence in Nebraska for the upcoming season. I just told them to jump on board."
Now watching from afar, Tre'Quan is envious of what's coming for Cajuan. The coaches will develop him as a football player, he says. They will care about and invest in him as a person. They will push him to be something better.
Just like he told Cajuan they would.
"He's not afraid to make mistakes and that was a big thing Coach Frost really drilled into us," Tre'Quan says. "He wanted us playing 100 mph — if you make a mistake, so what? Everyone makes mistakes. I know when Cajuan soaks that in, he's going to play so free and comfortable. He's really going to make a name for himself at Nebraska."
Photos: Nebraska's 2018 recruiting class
Check out photos of every member of the Huskers' 2018 football recruiting class.
Be the first to know
Get local news delivered to your inbox!