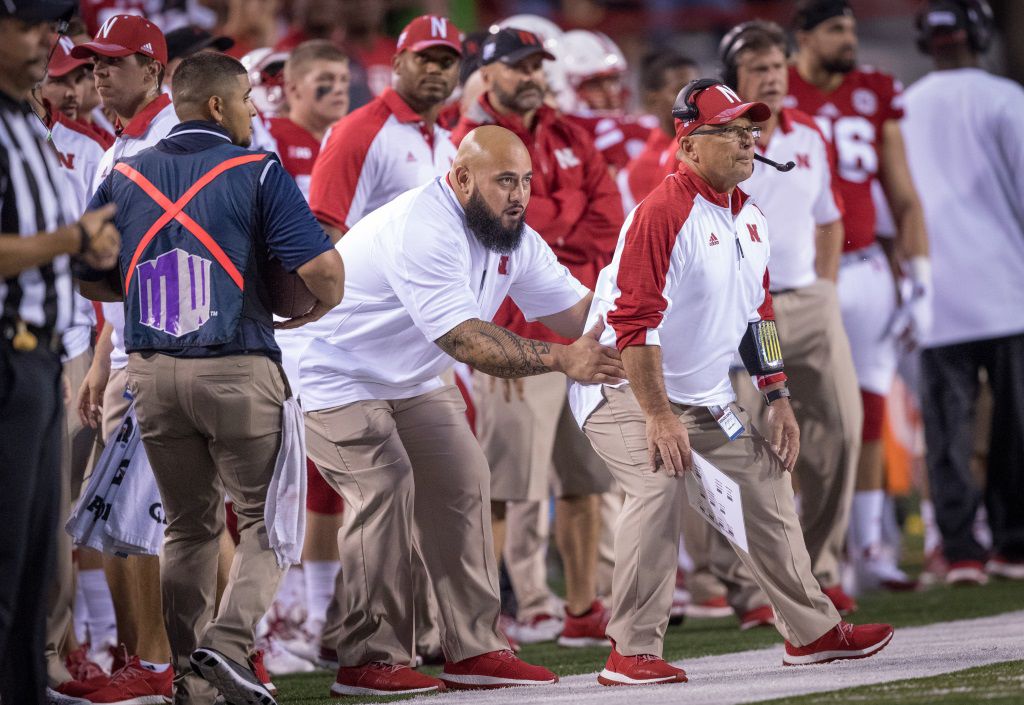 LINCOLN — Mark Banker isn't the kind of guy who remembers numbers. He remembers moments. Like this one:
Thanksgiving weekend 2008.
Oregon at Oregon State. Rose Bowl berth on the line.
"The game started out innocently enough," Banker said. "I think it was the third series, there was a third-and-9, they threw a fade, we knew where the ball was going and a corner — I won't mention his name — but he'd been embarrassed as a freshman by their wide receiver.
"And all he was supposed to do was sit on the outside edge and run with the fade. And he just tried to quick-jam the guy at the line of scrimmage, lost him, they hit the fade route and it just wasn't right from then on."
The dam broke. 65-38, the first of the Ducks' seven straight wins against the Beavers.
Much has been made — especially in Corvallis — about Riley's failures against Oregon. If he wins just one of those games from 2008-14, if he claims one of the Rose Bowl qualifiers in '08 or '09, if he steals the upset in '13, maybe the administration doesn't turn up the heat. Maybe he's still at Oregon State.
But let's be more specific here. Oregon's piñata wasn't Mike Riley, it was Mark Banker. In the seven losses, the Beavers gave up an average of 578 yards and 45.6 points. Time and time again, Oregon humiliated him.
"I can't say there's a lot of love in my heart right there," Banker said.
Now the Nebraska defensive coordinator gets another chance, this time with a better hand, this time with 90,000 fans behind him. Next Saturday will say a ton about Banker's defensive progress in Year 2 — and a little about Banker's future in Lincoln, too.
Following Saturday's excellent performance against Wyoming, Banker didn't shy away from the Oregon talk. Not one bit.
"They're gonna come in here high flying and we're gonna see what we're made out of," he said.
Banker knows Oregon's offense, the brainchild of Chip Kelly, better than just about any coach in America. What's the key to slowing it down, I asked him. He answered with conviction and fury, speaking uninterrupted for almost two minutes.
One key? Banker cited about 20.
"You have to have good cover-down.
"You can't always give them the same perimeter look.
"You gotta be able to get in and out of things as well as disguise.
"It's gonna start with the zone play on the inside.
"You've got to be sound against the quarterback runs.
"At the same time, a run to them is just easily flipping the ball outside on bubbles, on hitch screens.
"Then they'll come back, they'll pump the same look and throw up top.
"When they run the ball on the outside, they want to circle the defense. They're just gonna keep running and circle everybody on defense. You've got to have good leverage.
"In the meantime, it looks like a big spoked wheel. You're gonna be spread out from the bottom of the numbers to the other bottom of the numbers.
"You gotta be able to add back to the inside, at the same time you've got to be able to keep your leverage on the outside.
"You've got to be sound in seam routes and pass coverage and things.
"You gotta know that they're gonna get their yards, but you just want 'em to come slowly. Make them drive the ball. Because they feast — they feast — on big plays. Once you get a big play in the course of a series, they're gonna get back to the line of scrimmage and they're gonna go again.
"They want mayhem. They want mayhem.
"You gotta keep your poise and you've got to communicate well and you've got to finish.
"Guys up front, gonna have to get off blocks so they can go chase the ball. Guys on the perimeter are gonna have to defeat blocks in leverage and tackle well on the outside.
"You know what's critical with these guys? Fourth down. I don't know what they're doing now, but my history with them, you're playing four downs on every series. Count on it."
In 14 years covering Nebraska football, I've never heard a coach go into that kind of detail about an opponent, certainly not a week before kickoff. Banker knows the Ducks. He has the scars to prove it.
He went on to talk about their tempo, their old substitution tricks, their flash cards on the sideline, their sails (like on boats) that cover the flash cards from potential signal stealers.
"They got all the s---," Banker said. "And we're just gonna go out there and play football the best we can."
A year ago, this matchup would've been a bloodbath, a continuation of 2008-14. Nebraska didn't have the experience or discipline necessary at linebacker and defensive back. Oregon would've converted one explosive play after another.
But the first two Saturdays of 2016 offer hope. Banker still lacks difference-makers in the front four, but his cover guys are playing with confidence. They're learning to attack the ball. In Bo Pelini's scheme, corners and safeties didn't cover 1-on-1, he said.
"You've got to know how to play it," Banker said. "You don't win at the line of scrimmage. You win at the top of the route. That's what they've started to figure out."
Are the Blackshirts advanced enough for Oregon? Can they master all the keys this week? Or will Banker's defense be embarrassed again? He'll know the difference. He'll feel it.
After 38 years in coaching, maybe there's a week or two when preparation feels like a professional obligation. Not for Banker. Not now.