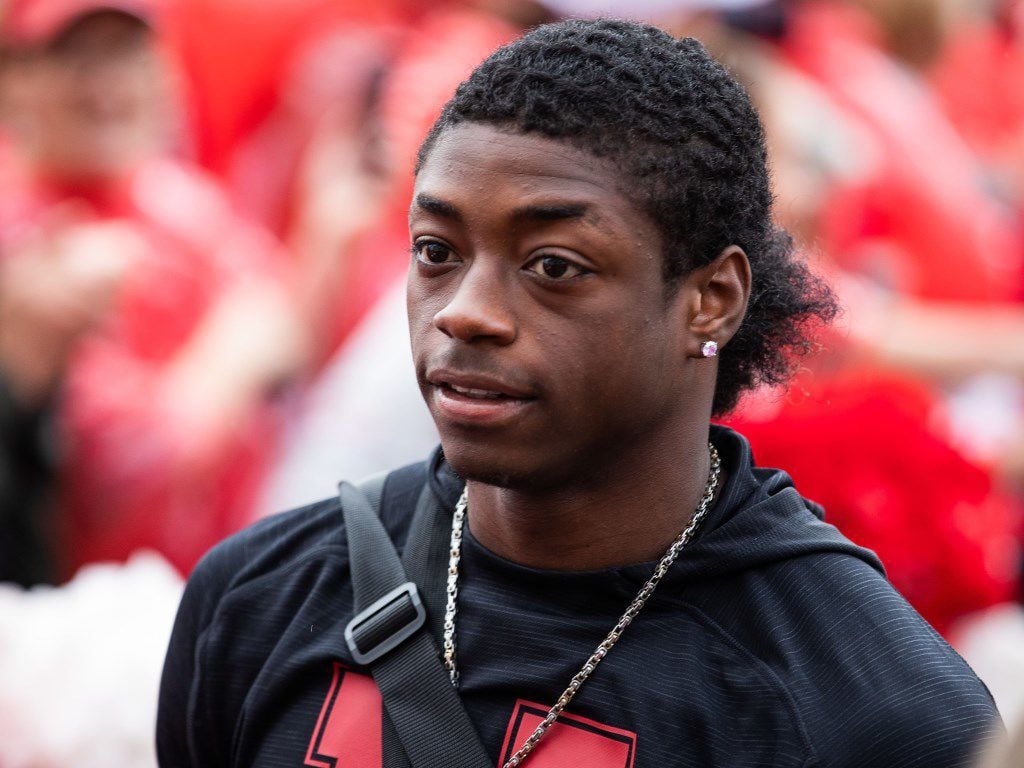 Former Nebraska running back Maurice Washington has been sentenced to 30 days in jail and two years of probation after he pleaded no contest to a misdemeanor in a California court case alleging he sent a 10-second video of a sex act to the girl who was in the video.
In exchange for the no contest plea, prosecutors dropped the felony charge Washington faced.
Washington, 20, was taken into custody Thursday. The Santa Clara County Jail website on Friday showed he was in custody at a minimum security facility. His release date was listed as March 20.
In addition to the probation, Washington was ordered to have no contact with the woman in the video.
The plea deal ends more than a year of delayed hearings — 10 in total — since charges were filed against him in February 2019.
The charges stemmed from a text Washington sent in March 2018 to an ex-girlfriend. Authorities said the text included an old video of the girl, then 15, performing oral sex. Washington did not record the video and was not there when the video was recorded.
In the spring of 2018, Washington, then 18, had begun texting with the girl after he signed to play for the Huskers, according to an affidavit. The conversations turned sexual, but the girl told Washington she wasn't interested in a romantic relationship. He became "angry and mean," the affidavit said.
On March 2, 2018, the girl said, she received a text message from Washington saying, "Remember this hoe," with the 10-second sexual video of the girl attached, according to the affidavit.
The Santa Clara County Sheriff's Office began to investigate after the girl and her family filed a report.
Investigators attempted to contact Washington throughout the fall of 2018 but were unable to reach him. They eventually spoke to Jon Bruning, a former Nebraska attorney general, Husker booster and lawyer whom they said purported to represent the Nebraska athletic department. Bruning later denied that he claimed to represent the athletic department and was only representing Washington. Bruning was put in contact with Washington through football program staff.
Washington was charged with a felony and a misdemeanor. The felony charge was possession of a video of a person under 18 engaging in or simulating sexual conduct. The misdemeanor charge was sharing a recording without the person's consent.
If he had been convicted of both charges, he would have faced up to two years in jail, a $4,500 fine, or both.
Washington sat out the spring game that April. Husker coach Scott Frost said at the preseason Big Ten media days that he would wait and see what happened in the criminal case before making any final determinations about Washington's future with the program.
"(W)e won't make any decisions on (team) status or anything until we know that his legal problems are over," Frost said. "And I don't want to guess on which way we'll land depending on what happens."
Frost did still allow Washington to play in seven games in the 2019 season despite the pending California case, though Washington was suspended for the first half of the season opener as punishment for that case. He also was suspended for the first half of the Northwestern game on Oct. 5 for a separate violation of team rules.
Washington totaled 298 rushing yards and 162 receiving yards during the season with three touchdowns, including a 75-yard reception in the Colorado game.
Frost officially dismissed Washington from the team in early January. Frost suggested the reason was that Washington couldn't mesh with Nebraska's culture. Washington also faced other legal trouble in the offseason. In June, he was cited by University of Nebraska-Lincoln police on suspicion of possessing drug paraphernalia.
"There always comes to a point where you have to throw your hands up and say 'We tried,' but, until then, we want to do what's right for them, because I think that's the right thing to do," Frost said in October. "And we've certainly tried to do everything we can for Mo. And hopefully it works out well."
Days after being dismissed, Washington entered the NCAA transfer portal and will have three years to use two seasons of eligibility if he lands at a new school.