LINCOLN — After five years as a Husker linebacker, Michael Rose-Ivey took inventory.
Twenty game-used jerseys. A stack of cream, scarlet and black uniforms. Away jerseys, bowl jerseys, a few Adidas alternates.
"I mean, there's no reason to keep all 20," Rose-Ivey said.
The university gave him his helmet, a framed jersey and a letterman's jacket. That was more than enough.
So on Jan. 7, 2017, eight days after his final game, at the Music City Bowl, Rose-Ivey posted a photo of 16 jerseys on Twitter.
"Looking to sell some of my jerseys. (Direct message) me if interested." That post put more than $7,500 in his pocket.
Former college athletes are free to cash in on the fame that comes with collegiate athletics — the key is that they must no longer be eligible to play. It's become common in the offseason for a Nebraska football player or two to go public with online offers to sell their game-used jerseys. In 2017, it was Tommy Armstrong and Rose-Ivey. This winter, it was safety Kieron Williams.
Though the sale of game-used gear isn't new, the interest in Nebraska gear might be as high as ever, industry professionals say. And while transactions between fans, memorabilia collectors and former players may raise red flags to some, for players like Rose-Ivey no longer encumbered by NCAA rules, the decision was simple.
"At the end of the day, for any type of student, that transaction from going across the stage and accepting your diploma to, oh (crap), now I'm walking into a job interview, that's tough," Rose-Ivey said.
"It was a way for me to supplement income during the process of figuring out what my next move was."
Rose-Ivey sold publicly. But he knew plenty of teammates who made arrangements to sell to friends or family once their eligibility expired. The extra cash goes a long way for everyone, Rose-Ivey said.
Jamie Vaughn, who heads the Nebraska athletic department's compliance office, said sales of jerseys or bowl gifts is something the department watches year-round. His office brings up Rule 16.1.4 of the NCAA bylaws often to student-athletes. It lays out that the sale or exchange of jerseys or awards could hinder an athlete's eligibility.
The department does not condone the sale of gear after graduation, Vaughn said. But as soon as student-athletes walk across the graduation stage, it's out of NU's hands.
"Once they are no longer here and exhausted eligibility, there's not really anything we can do about it," Vaughn said.
Awaiting the graduates on the other side of eligibility are fans ready to give them money for whatever they're willing to sell.
In July 2017, Armstrong posted a game-worn signed jersey on eBay, with the starting bid at $300. Twenty-four hours later, the highest bid and eventual selling price was $2,025. Armstrong, who did not respond for comment, posted another jersey on Twitter in January. Four fans interested in buying responded in less than 30 minutes.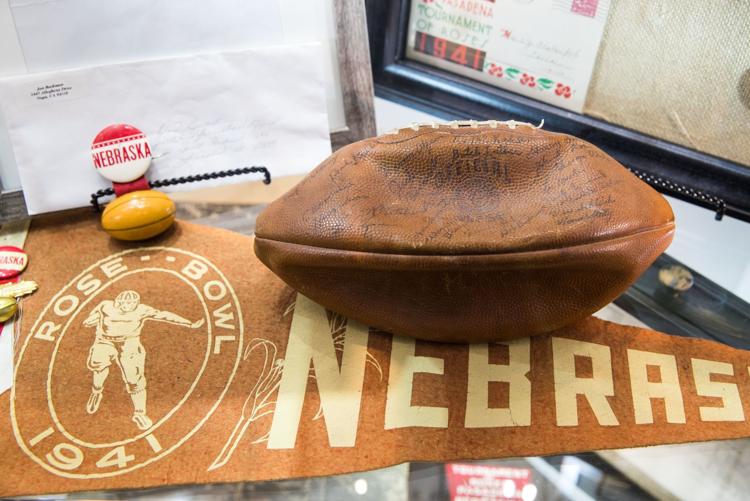 JC Wickstrom, the owner of Vintage Red Sports Gallery in Lincoln, said there wasn't much of a market for game-used gear until about 2000. Before then, he said, "it was basically me and other guys of the extent of Nebraska collectors. Since then, it's picked up a lot."
Now, he said, the demand for game-used gear is as high as he's ever seen in his 40 years around the business.
Social media has enabled easier communication between players and fans, which makes sales easier. Part of the heightened interest could also have to do with the difficulty of buying a specific Husker jersey. In August of 2015, NU announced that it would no longer sell jerseys with players' numbers. Instead, Nebraska sells two numbers a year: 1, and the number of the year. So currently, fans can buy official Nebraska jerseys only with the number 1, 15, 16, 17 and, soon, 18. On Huskers.com, those cost up to $100.
For some fans, paying more for a specific jersey is worth it.
For professional collectors of Nebraska gear, it isn't, according to Wickstrom.
He's been collecting and selling vintage jerseys for more than 40 years and recently opened a shop and memorabilia museum in Lincoln's Haymarket district. He says the jerseys of recently graduated Huskers are overvalued.
"The kids that graduate think their stuff is gold, and they think it's worth way more than it actually is," he said.
Wickstrom said he's had recently graduated players try to sell jerseys to him for $2,000 each. That's about $1,500 more than what Wickstrom — and most other collectors, he says — would be willing to pay.
Typically, he says, he and other collectors wait about six months to reach out to the players and offer a lower price.
"Just in case someone comes in and says, 'Hey my son's favorite player is De'Mornay Pierson-El, do you have a jersey?' And we can say, 'Yeah here's one,' " Wickstrom said.
Nebraska's lack of recent success has devalued the jerseys for collectors, Wickstrom said. But what pushes the price down more than anything is the number of jerseys players end up with after college. Rose-Ivey ended up with 20. It's typical for a player who doesn't even play much to end up with 15 or more.
That's a far cry from the days when players would graduate with one or two jerseys and a helmet. The rare gear from Husker starters in the 1970s can go for more than $6,000.
With the influx of today's alternates and bowl jerseys, supply can outstrip demand.
"The university just gives them so much stuff it's unbelievable," Wickstrom said.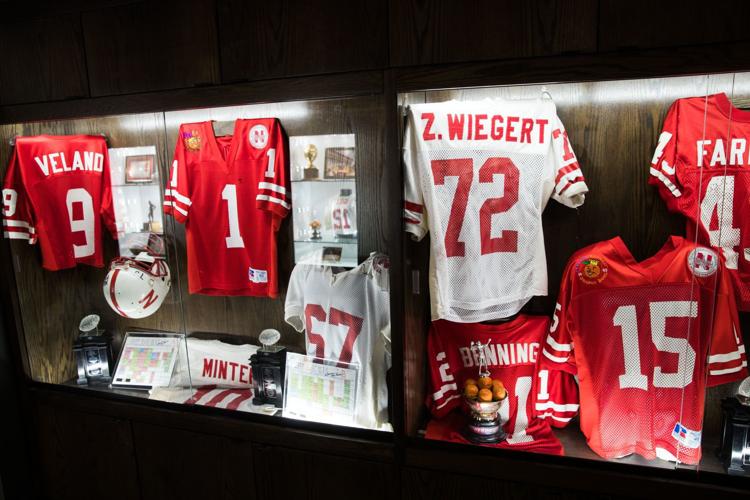 The saturated market has given rise to middlemen such as Travis Harrison. When an ex-player is looking to sell, but can't, Harrison is there to help.
He's been expanding his collection of game-used Nebraska football jerseys for three years. He has six so far. A friend of his, he says, has more than 100, bought from former players and in stores.
A couple of years ago, Harrison saw that former NU running back Imani Cross was having an autograph session. So he drove from his home in Mondamin, Iowa, to Lincoln, and had Cross sign a newly purchased number 32 jersey. He chatted with the former running back for an hour afterward. And on the drive home, Harrison became intrigued with the idea of buying and selling game-used jerseys. It'd be a fun way to meet some of the players, he thought. Help them out during a transition period.
"I've just talked to (players) on social media or go down and meet them, and a couple of them I've gotten to talking with — it wasn't just, 'Hey, it was nice meeting you, thanks for the jersey,' " Harrison said. "We got to talking and kept talking and then they're eventually like, 'Hey so-and-so said you helped them. Could you help me out like you helped them?' And I say, 'Hey, here's my info. Tell them to hit me up.' "
For example, Harrison once met former Huskers Brandon Reilly and Sam Cotton. Through them, he heard their old teammate Alonzo Moore was having little luck selling a few of his jerseys. So Harrison reached out to Moore on Twitter and said he'd be willing to help. Moore sent Harrison a few photos, and Harrison posted them in various Facebook groups and message boards.
"I do that a lot to help the players and it gives me a chance to get to know them more off the field and hear their story," Harrison said. "And it helps protect them from, you know, you can imagine Nebraska would never have crazy fans, but it's hard to know who is coming to their houses to get these jerseys. So they have me help and they know me and my name and they know I've helped people before."
On average, Harrison said players can get $350 for a bowl jersey, $250 for an away jersey and anywhere between $400 and $500 for a home jersey. Harrison said he doesn't take a cut. He knows others who perform a similar service and demand a fee. But Harrison views it as a hobby. Sometimes, he'll get a discount on a jersey, like he did with Rose-Ivey after talking back and forth on Twitter for a few months.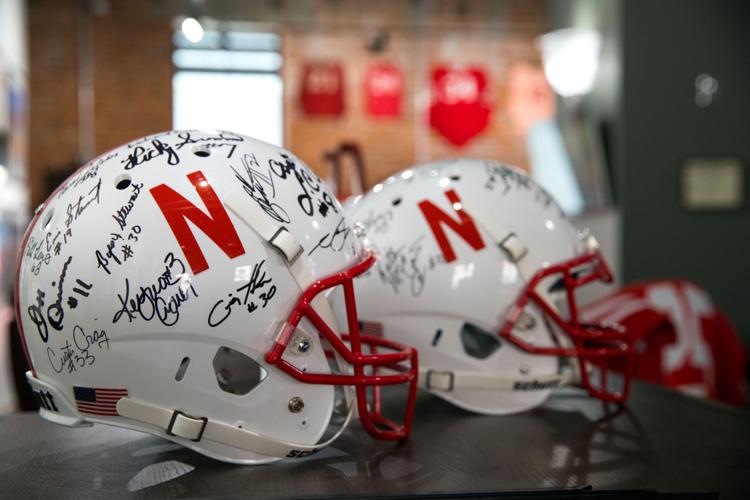 There are those who question the ethics of ex-players selling their Nebraska gear. Even if it doesn't violate any rules.
Wickstrom doesn't like the idea of players selling anything.
"It seems to me with the young guys, the feeling about the program to the players isn't the same," Wickstrom said. "I do not get (selling) at all. They just want to turn that stuff into cash. And there isn't any sentimentality to it. And that does bother me, no doubt about it."
Wickstrom respects when he calls a player from decades ago, asks about a jersey to add to his collection, and gets shut down. And though he understands that some sell because they need the money, the idea still bothers him.
The Nebraska compliance office isn't crazy about the sales, either.
"I mean, hopefully they're going to mean something to you down the road when you have your own children and you have your own stories and show what you accomplished," Vaughn said. "Those are things you'd hope they'd keep from their time."
But Harrison has seen how far the money can go. How much it can help.
"There are some who really need that money, too, to pay rent, some have children," Harrison said. He pointed out one ex-player who had a baby boy right out of college.
"He's gotta pay his rent and has a son to take care of. And where's he going to get that money right after graduating? Some of these guys, they want to get to the next level and that takes training and plane trips and whatever else it takes."
For Rose-Ivey, the money is a small piece of the haul the athletic department makes from football. In 2016, the Nebraska athletic department reported $112 million in total revenue — a majority of which came from football.
"For a lot of guys I know, it's a nice way to make some money off their labor," Rose-Ivey said.
Plus, right out of college is the height of your popularity as a player.
"The market is out there for you," Rose-Ivey said. "And you're just dropping in."