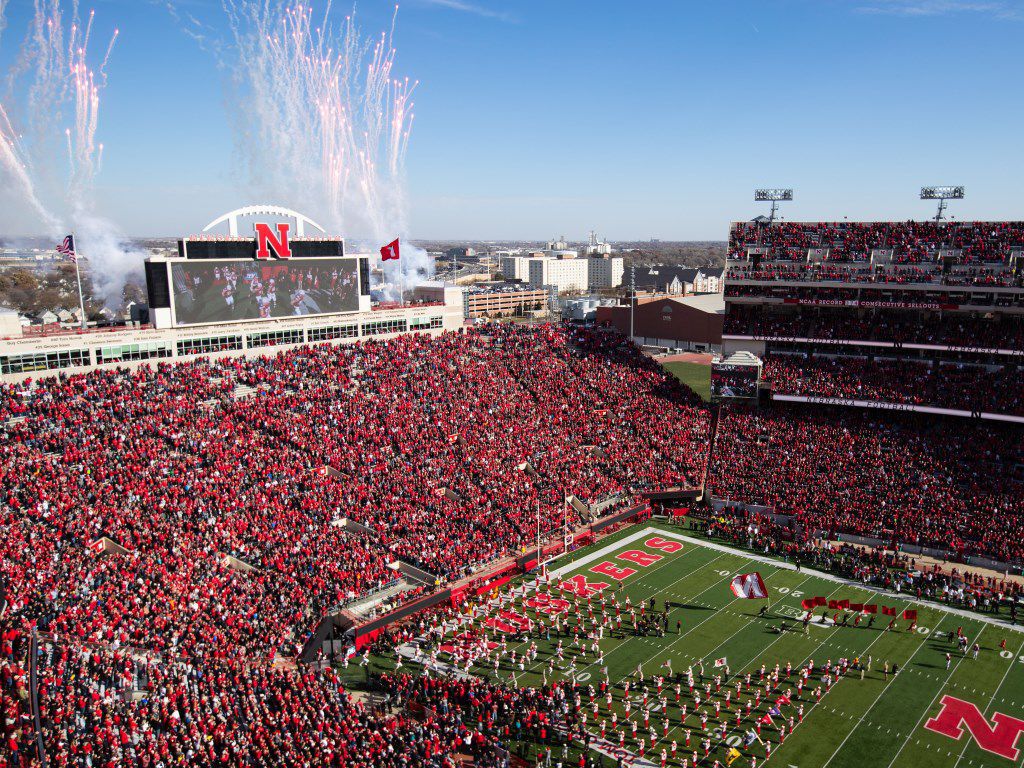 Despite the uncertainty over what college football might look like in the fall, Nebraska's season ticket renewal process remains full steam ahead.
As of June 3, the Huskers' renewal rate was approximately 93.3%, a school spokesman said, slightly lower than a normal offseason. From 2015-19, the renewal rate ranged between 93.9% and 95.9%.
Season tickets and single-game tickets are currently available for purchase.
Last season, the Huskers sold about 67,000 tickets per home game to the general public — not counting tickets for students, faculty/staff, the band or fans of visiting teams — though it's not clear how many of those tickets were season tickets.
College football programs nationwide are still figuring out logistics for the 2020 season, including how many games will be played and how many fans will be allowed in stadiums. Questions remain about how the season can be conducted safely as the coronavirus continues to spread. Some programs have reported double-digit confirmed cases of COVID-19 among football players, and some have shut down voluntary workouts that were allowed to resume this month.
Iowa, which has had 12 student-athletes test positive for COVID-19, announced Monday it was pausing ticket sales for the 2020 season while it evaluates the possibility of having reduced capacity in Kinnick Stadium. Iowa State announced last month it would limit attendance to 30,000 fans a game this season.
Nebraska officials — including system President Ted Carter and Athletic Director Bill Moos — have said they hope to have as many fans in Memorial Stadium as possible. Nebraska has not publicly reported any confirmed COVID-19 cases within its football team.
"We're very concerned about the safety of our fans, but if we feel, and our university and state authorities feel it's safe, then I feel we should go to the max of whatever is allowable," Moos said last month.
Gov. Pete Ricketts continues to ease the state's coronavirus restrictions. The latest phase of reopening went into effect Monday and allows for outdoor gatherings at 75% of capacity, but not to exceed 10,000. Ricketts said last week he looks forward to reaching the fourth phase of reopening, which would allow 100% occupancy at outdoor venues.
Memorial Stadium's official capacity is listed at 85,458. Ricketts said the current easing of restrictions doesn't "green light" a full Memorial Stadium in the fall.
"But we're all hoping to get there," Ricketts said.
On a Lincoln radio show over the weekend, Carter echoed both Ricketts' and Moos' optimism.
"I've had a lot of questions about how many fans we're going to have in Memorial Stadium, I'll tell you, I don't know," Carter said. "I think we're going to be playing football on Labor Day weekend against Purdue, and we're going to have some number of fans in the stadium. How many and how we get them in, we're working on that."
Considering how many season tickets have already been renewed, the Husker athletic department may have to decide which fans are allowed in if capacity is limited. Moos told the Associated Press in June his staff is trying to determine how that process would work, including weighing season-ticket holder donations and how long families have owned season tickets.
"If they haven't been with us for 40 years and given us a generous amount of money, they're still fans and there should be a place for them as well," Moos told the AP.
The athletic department's 2019 financial report shows $35 million in revenue was made from seven home football games.
If Nebraska has to decrease capacity to 50%, or about 42,000 fans, that revenue would drop to about $17 million. If only 20,000 to 30,000 fans are allowed in — as has been suggested by Ohio State Athletic Director Gene Smith — Nebraska could lose up to $27 million in game-day revenue.
The NU athletic department announced last week measures to reduce its budget by 10% for the fiscal year beginning July 1. The cut to the 2020-21 budget could be more than $13 million, based on previous financial filings.
"How do you manage fans? What is the right number? How do you get them in? How do you get them out? Restrooms, concessions, masks, no mask? All these questions have got to have solid answers before we go forward," Moos said last month. "We do need to be patient. We need to fold these things back in the proper manner."