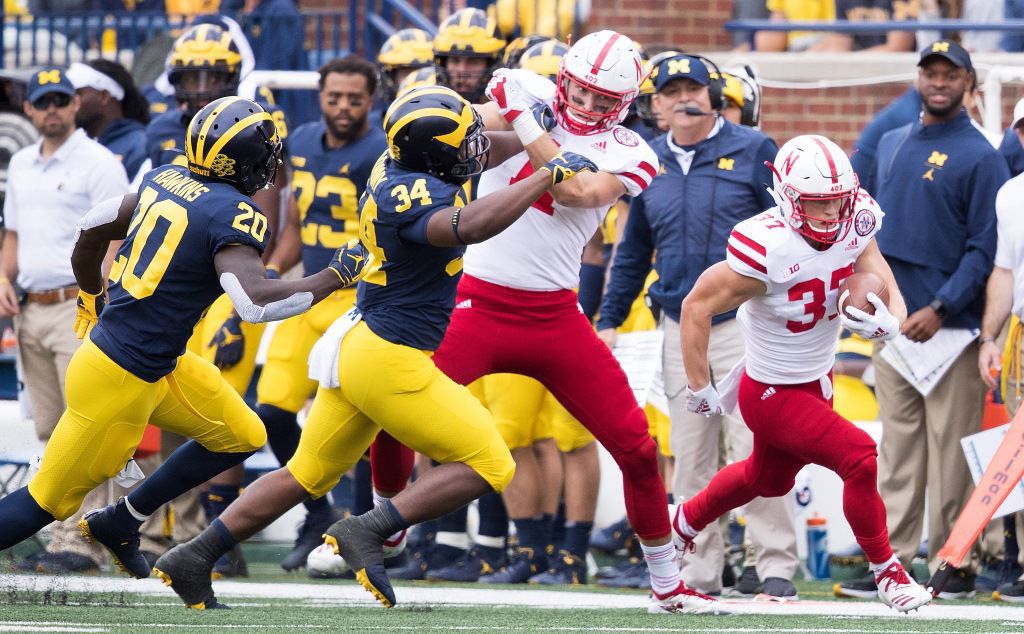 LINCOLN — Greg Bell and Devine Ozigbo will continue to receive carries this weekend against Purdue.
What Nebraska does at the running back position behind them will be different from the first three games.
True freshman Maurice Washington has missed practice all week with a gastrointestinal issue, running backs coach Ryan Held said after Wednesday morning's workout.
Meanwhile, junior Wyatt Mazour, who was put on scholarship this fall, is "definitely in the mix" for more reps. He rushed five times for 18 yards and his first touchdown — and accounted for 39 yards overall — late against Michigan.
Washington has rushed for 128 yards on 25 carries (5.1 average) and has six catches for 26 yards in three games.
Sign up for Big Red Today news alerts
Get a daily Husker news roundup, recruiting updates and breaking news in your inbox.
"(Washington's illness) is kind of going around the country," Held said. "There's a recruit I'm talking to that his whole town has it, so it is what it is. It's one of those things, next-guy-up mentality. ... I don't want him around when you're sick. I don't want to get sick. I got a pregnant wife at home. She wouldn't like that."
Held said "I don't have any qualms" about getting Mazour more carries out of Nebraska's hybrid receiver/runner "Duck-R" position. But every back is being evaluated during the week.
"I'm grading every single guy, and it's based on what you do in practice and your effort and all the little things," Held said. "To be a running back at Nebraska, you're going to have to earn your playing time. And you're going to earn it in practice. But I've liked what I've seen so far. Our guys have bounced back."
Another potential contributor could be freshman Miles Jones, who has yet to appear in a game. Also playing the hybrid position, Jones battled an eye issue earlier this season and is working more at receiver this week.
"We gotta try to find a way to get Miles going," Held said. "He's getting better every week, it just hasn't fit yet to put him in. But I think we'll see this week. He has a chance to get in the mix for sure."
More help at receiver sought
Offensive coordinator Troy Walters knows what his top two receivers, Stanley Morgan and JD Spielman, can do. Through three games, the duo has combined for 26 catches, 317 yards and three touchdowns.
The rest of NU's receivers have a collective six catches for 62 yards. So Walters wiped the slate clean Monday with his backups and told them it's time to compete for playing time.
"Every other position at receiver is open," Walters said. "We're grading every rep and I'm posting it on the receiver door so those guys know their plusses, their minuses, their grades each day. And we're going to play according to those grades each day."
Against Michigan, Jaron Woodyard ran good routes where he got open, Walters said. NU quarterbacks didn't have enough time to get him the ball. Tyjon Lindsey is "growing" and "learning." Walters said he wants more from Mike Williams — "he has to play bigger than he has, and he knows that" — but sees Bryan Reimers and walk-on Kade Warner making a move, as well.
Three settled in at TE
Tight ends coach Sean Beckton said tight ends are working hard on "final aspects" of getting open in the passing game. The position has accounted for four catches for 53 yards so far.
Jack Stoll, Austin Allen and Kurt Rafdal have settled in as Beckton's three-man rotation. The coach said what the group does can set the tone for the entire offense.
"Obviously we hadn't handled (defensive) pressure well in the last game so that's what we focused in on this week," Beckton said. "We tried to clean up some things up front with our protection and whatnot. But it's a good test for us. We haven't won a game, (Purdue) won last week. It's up to us to come out physically and match whatever they give us and play with the passion that we're looking for as a coaching staff."
Quick hits
» Held gave his running backs a "C" for their pass protection through three games, but said their performance against Michigan was the worst he's seen in his three years with coach Scott Frost. He said it was a product of players trying to do too much rather than not giving effort.
» Walters boiled down Nebraska's 56-10 loss at Michigan to the Huskers' offense consistently losing matchups against the Wolverines' defense.
"Across the board they whooped our butts," Walters said. "Up front, O-line/D-line, they were better. Receiver/DB, they were better. (Michigan) linebackers, they played with more passion. So that was the disappointing part, that we didn't play with as much passion and enthusiasm as we should have."
» While offensive line coach Greg Austin didn't like the circumstances under which Nebraska's backup linemen played against Michigan, he did appreciate seeing them get snaps in Ann Arbor. And while it's "too early to tell" whether any of the backups, aside from Boe Wilson, would compete for a starting job "in the fog of the game," Austin liked the work done.
"It was good to get them that game experience so they can understand what it takes as they move forward," Austin said.
» Purdue's defensive linemen are "stout" and move a lot after the snap, Walters said, while Purdue's linebackers are "downhill" players. PU's secondary is a "bend-but-don't-break" bunch that tackles well and tries to limit big plays.