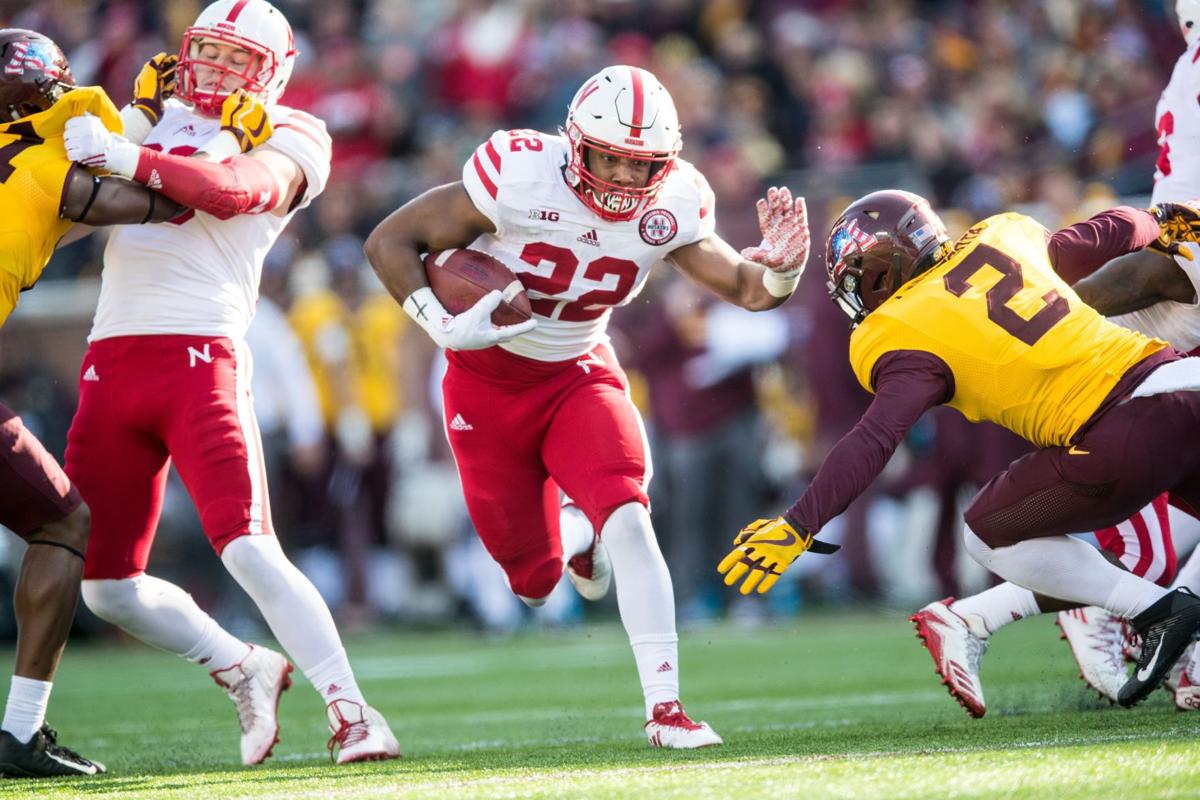 LINCOLN — If there's a general perception that Nebraska will be making wholesale changes to its personnel at running back, Ryan Held would like a moment.
NU's new running backs coach knows the Huskers didn't rush the ball well last year — the yards per game (107.5) and yards per carry (3.51) ranked 120th and 112th nationally, respectively, out of 130 teams. He knows the team added a juco All-American in Greg Bell and has playmaking freshmen like Maurice Washington and Miles Jones on the way in the fall.
But through three spring workouts, the coach said he sees a group that runs hard, plays physical and wants to learn. That includes seniors Devine Ozigbo and Mikale Wilbon along with sophomore Jaylin Bradley. 
"Early on, what I believe in is you give the seniors (first opportunity) since they've earned the right, they've been here," Held said. "Then everybody else kind of works their way up. Now once we get a scrimmage under us, we might look to change it throughout. And I'll mix it up and mix different combinations of stuff. But I think the seniors have earned the right early on to get kind of first cracks at it since they've been in the program the longest."
Ozigbo and Wilbon have trimmed their bodies in the offseason, Held said, while Bradley "just keeps getting better and better." Everyone has shown glimpses of being able to contribute to the offense. The coach added that he didn't know before this week how good of hands all his backs have.
Regarding Bell — whom Scott Frost brought up unsolicited following Tuesday's practice — Held said the 6-foot, 200-pound back "can glide and make it look real easy. It's very natural to him. He's got really good hands. I think when he continues to get better, he can be a dude for us. I really believe that."
But this won't be a case — in spring or fall — of one back dominating all the reps.
"We're never going to be a program that probably one guy gets 60 plays and the rest get 10," Held said. "It's a deal where we'll mix and match and find different roles, which we did at UCF, which they did at Oregon before. But again it comes down to production, obviously. When it's all said and done, we'll go with the hot hand and the guys that are producing. But right now I think they can fit in this offense. I really believe that at this point. Now, there's a lot left. It's open competition. We don't play Akron for a while so we'll keep doing what we're doing and give guys chances."
QBs 'starting from ground floor'
Nebraska does not have a leader in the clubhouse for a starting quarterback just yet.
Quarterbacks coach Mario Verduzco said Thursday that all quarterbacks — Tristan Gebbia, Adrian Martinez, Patrick O'Brien included — are splitting equal reps at practice.
"They're absorbing a lot of information, trying to piece it together," Verduzco said. "But they're doing well."
Verduzco saw pretty much no difference between what he called "pajama" practices (shorts and T-shirts) and the pads. The quarterbacks did throw two interceptions Thursday.
"I didn't notice any movement different from the pajamas," Verduzco said. "We threw two picks today, which I was irritated about, we had two near misses. But up to this point with regard to the practices we've had and as many reps as they've thrown in terms of the pass game, we've been pretty good. But we can't let those things happen in a practice."
Martinez, a true freshman, is keeping up with the group, Verduzco said, after missing his senior year with a shoulder injury.
The key right now is just getting everyone used to the pace of play. Or practice. Verduzco wants the quarterbacks to pick up the speed, even just reps of taking snaps.
"They're all starting from the ground floor, right? And so they're all experiencing the same sort of questions, apprehensions. Now they have to see it in terms of reps. And that's normal."
New duties for tight ends
A tight end for Sean Beckton and the Nebraska offense is tasked with a lot.
"He has to play like a receiver, he has to block in-line on the line of scrimmage, he's gotta be able to catch bubble screens, he's gotta block screens on the perimeter, he's gotta block on the end line, and all the adjustments to go along with it," Beckton said. "Those guys have met my expectations and really exceeded them a little bit."
The biggest adjustment for the tight ends so far, Beckton said, has been getting used to doing all those things. In Mike Riley's previous offense, the tight ends generally were in-line blockers or went out for passes lined up near the tackle.
"The biggest thing for those guys is making that adjustment to playing on the perimeter," Beckton said. "They've been in-line guys, most of them, pretty much all their lives. But really excited where those guys are right now."
Beckton mentioned that he's liked what he's seen from sophomore Jack Stoll.
Defense gets better of Thursday
On Nebraska's first day of practice with pads, Walters said the Husker offense was "sluggish" against NU's defense.
It's not uncommon in most camps for the defense to surge ahead of the offense, especially when both units are installing new schemes. Walters wanted more from his bunch.
"The defense came out, they attacked, we started too slow," Walters said. "I tell the guys all the time: If we start that way in a game, we're down 14-0. In this league, the schedule we play, we've got to attack and be ready to go. We really weren't early on in practice."
Beckton said the defense practiced with more intensity and took the lead of defensive coordinator Erik Chinander's motivational tactics.
"Even if they make a mistake, he wants those guys going fast," Beckton said. "That's the same thing we have to tell our guys on offense: 'Go fast, and even if you make a mistake, go 100 mph and things are going to work out for you in the end.'"
NU coaches gave the offense a lot of new plays to install — "a whole page of stuff," running backs coach Ryan Held said — that left the players working out the kinks.
"We'd rather have them drown now and then we can fix it in the meetings," Held said.
There's a silver lining, too, to the defense doing well.
"Let's be honest: If we're running up and down the field on our defense after Day 3, that's probably not a good thing," Held said.