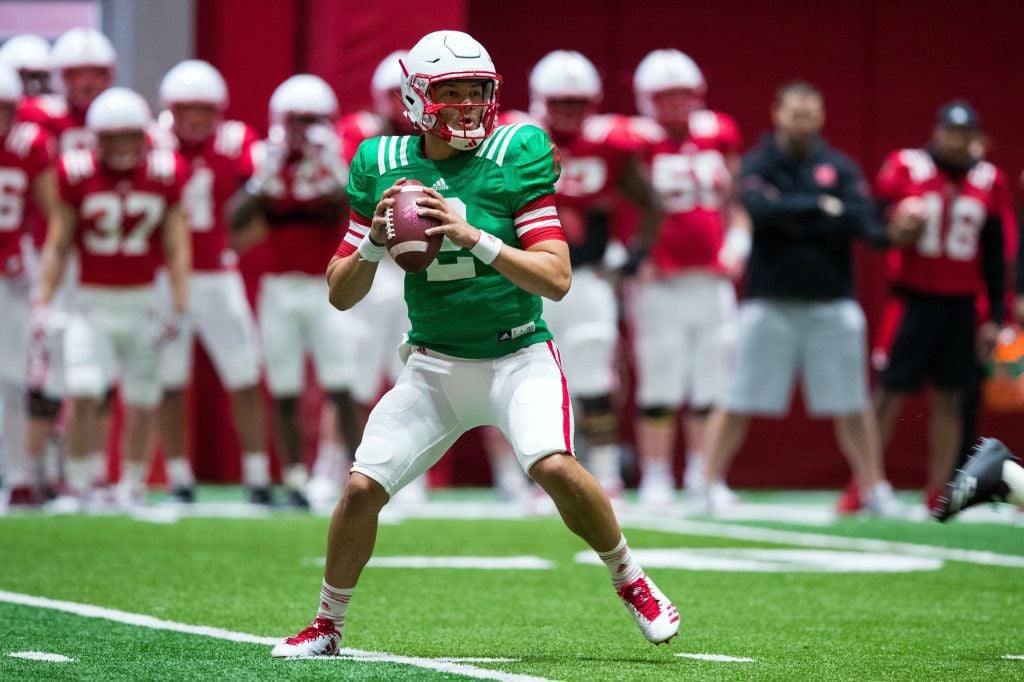 LINCOLN — Adrian Martinez should still be in high school. But there was the quarterback Tuesday morning inside the Hawks Center, holding court with a throng of reporters for 20 minutes with the kind of poise that helped make him Scott Frost's top recruiting priority from the Class of 2018.
Does the freshman and early enrollee sense a pecking order developing at his position? It's not his place to speculate, he said with a smile, and everyone is just competing right now. Has he been recognized around Lincoln yet? Yes, but that's simply a sign of Nebraska fans' devotion. How can the QBs be like family and also battle for the same job? "I think that just comes down to being a good person," he responded while making eye contact with the questioner.
Martinez said he probably learned his mature demeanor from his parents, who always encouraged him to be social with kids and adults alike growing up. He credits his work ethic to his father, who manages a company in California after starting as a truck driver there without a college education.
Martinez wants to live up to that example. To build into something through commitment and passion.
"I'm in a blessed situation," he said. "There's all the resources in the world for me to be as good as I can be. I just gotta work for it."
Frost said the 6-foot-2, 205-pound Fresno product "is showing signs of being really talented," adding that Martinez told him his arm is "about 90 percent" as he goes through spring practice following shoulder surgery that cost the four-star recruit his senior season at Clovis West High School. The accuracy is there. Now the strength needs to be built up as he — along with the rest of Nebraska's quarterback contenders — continue to both learn the playbook and adjust to the tempo of the offense.
That learning curve is challenging, Martinez said, but he's coming along. Quarterbacks in Frost's system must process the signal from the sideline, then the play itself before observing what the defense is doing and deciding how they will adjust. All within about 10 seconds.
"There's a lot of things that kind of run through your mind as that's all taking place — and you gotta go fast," Martinez said, snapping his fingers. "That's the whole 'processing it quickly' because we're trying to go as fast as we can."
Martinez joked that the biggest adjustment of being in college has been the weather. Otherwise he continues to grind, knowing he has as good a chance as anyone of being Nebraska's quarterback in the fall. But first he looks forward to showing a sellout Memorial Stadium crowd what he can do in a couple of weeks.
"I've thought about that a lot of times, actually," Martinez said. "I'd say it's a dream come true. I'm really looking forward to it. It'll give me a little bit of a sneak peek of what's to come."
Vedral back at home
Quarterback Noah Vedral is back in his home state, just down Highway 77 from Wahoo Neumann, where he was a multisport star. That was one of the biggest appeals of transferring back from Central Florida to NU, following new coach Frost.
Frost was another major draw. Vedral said Frost was a "unique" mentor because he could play the role of father or older brother.
"A lot of coaches, they fill almost a father figure role on the team," Vedral said. "Coach Frost is able to do that to really, really, really high standards, but, at the same time, he's able to relate to us as a player, as a college kid, basically as a brother. He expects high things from you, but he's realistic and he understands what it means to be a student-athlete."
Quick hits
» Frost hasn't finalized the format of the spring game but wants to "put on the best show we can" for fans.
» Writers from Sports Illustrated and The Athletic came to practice Tuesday.
» Former Husker receivers, tight ends and running backs coach Ron Brown — who now coaches at Liberty — attended practice Tuesday.
» NU will practice once more after the April 21 spring game to recap the performance and walk captains through how to run summer workouts and 7-on-7 sessions. ​