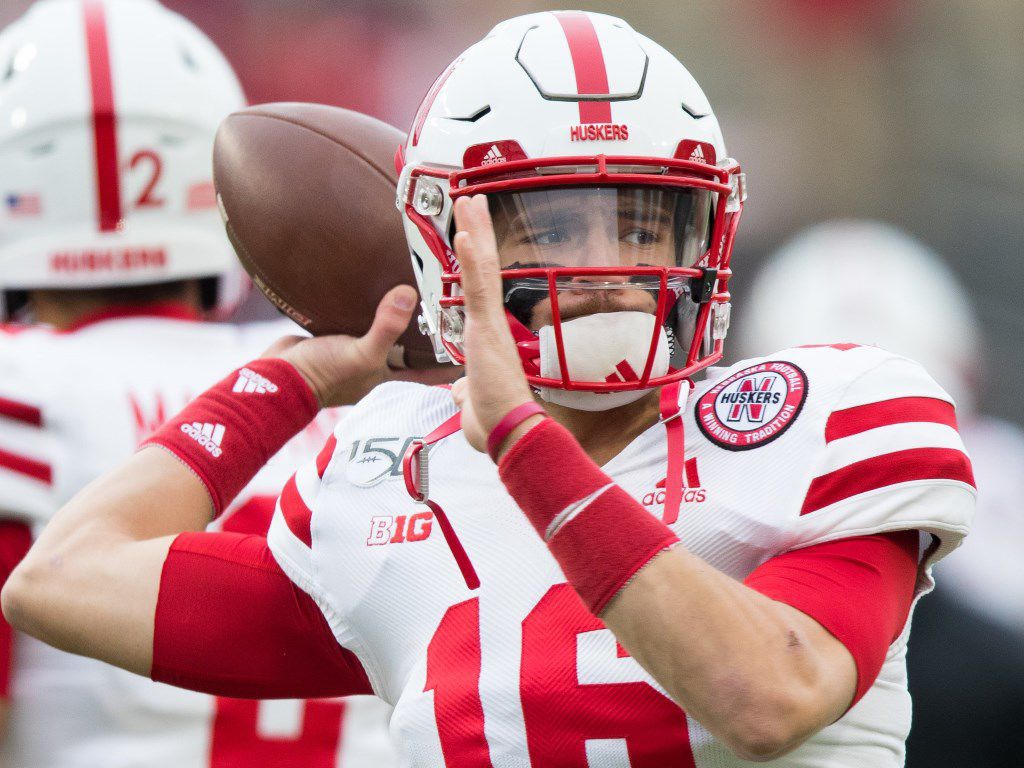 LINCOLN — Whenever Nebraska football is allowed to return to practice, the program will have one less scholarship quarterback on the roster.
Junior and Wahoo Neumann alum Noah Vedral has entered his name in the transfer portal and will play his final two seasons at a different school, the quarterback told The World-Herald on Tuesday. The 6-foot-1, 200-pounder, who threw for 418 yards and rushed for 106 last season, declined an interview until Wednesday. Nebraska also confirmed the departure.
Vedral, the son and nephew of former Huskers, will graduate in May and seek a new spot where, presumably, he has a clear path to start. At NU — the school to which he transferred after one season at Central Florida — Vedral spent two seasons as Adrian Martinez's backup. While Vedral led the winning drive in a 13-10 win over Northwestern and started two games last season while Martinez was hurt — earning praise from coaches for his command of the offense — he was sent back to the bench as soon as Martinez returned.
Further, in a 54-7 win over Maryland, redshirt freshman Luke McCaffrey was the No. 2 quarterback. In the season finale — a 27-24 loss to Iowa — Martinez took the bulk of the snaps while Vedral and McCaffrey each had a package.
"We have three really good quarterbacks," Frost said at the time. "I love all three of those kids."
NU now has three scholarship quarterbacks on its roster: Martinez, McCaffrey and true freshman Logan Smothers of Muscle Shoals, Alabama. Martinez, who has started 21 games in his career, will be the clear No. 1 whenever the team can return to workouts.
Spring football was perhaps canceled — and at the very least postponed — by the coronavirus pandemic, so Vedral didn't get a chance to challenge Martinez in practice. He started two games last year — against Minnesota and Indiana — while Martinez was recovering from a knee injury. He was better against the Hoosiers, completing 14 of 16 passes for 201 yards and running for two touchdowns. Vedral got hurt in the game, though, which opened the door for McCaffrey, who threw for a touchdown and ran for 76 yards.
Martinez returned the following week in a 31-27 loss to Purdue. Outside of the packages for McCaffrey and Vedral in the Iowa game, Martinez was the clear starter.
Vedral knew Frost's offense the best, having played at UCF for one season behind McKenzie Milton. He transferred to NU in the 2018 offseason as a walk-on — he received a scholarship that summer — and tried to become immediately eligible. A snag with the NCAA delayed that eligibility until the Northwestern game. Vedral got his first major action in a 45-9 win over Bethune-Cookman, when he ran for a score.
"Those are the type of kids that I played with. They're the type of guys that make up the fabric of this program," Frost said after that game. "We want more of them. We want more of them contributing. But any time one of those kids is out there, it's a little extra special to me."
Though spring practice had just started for the Huskers in 2020, it seemed that Vedral had an uphill climb to beat Martinez. In an effort to refine its fundamentals and better hone an identity, Nebraska trimmed its playbook for spring despite having the entire offense return. Mastery of the playbook was Vedral's greatest strength.
Because Vedral graduates, he will be immediately eligible at his new school.