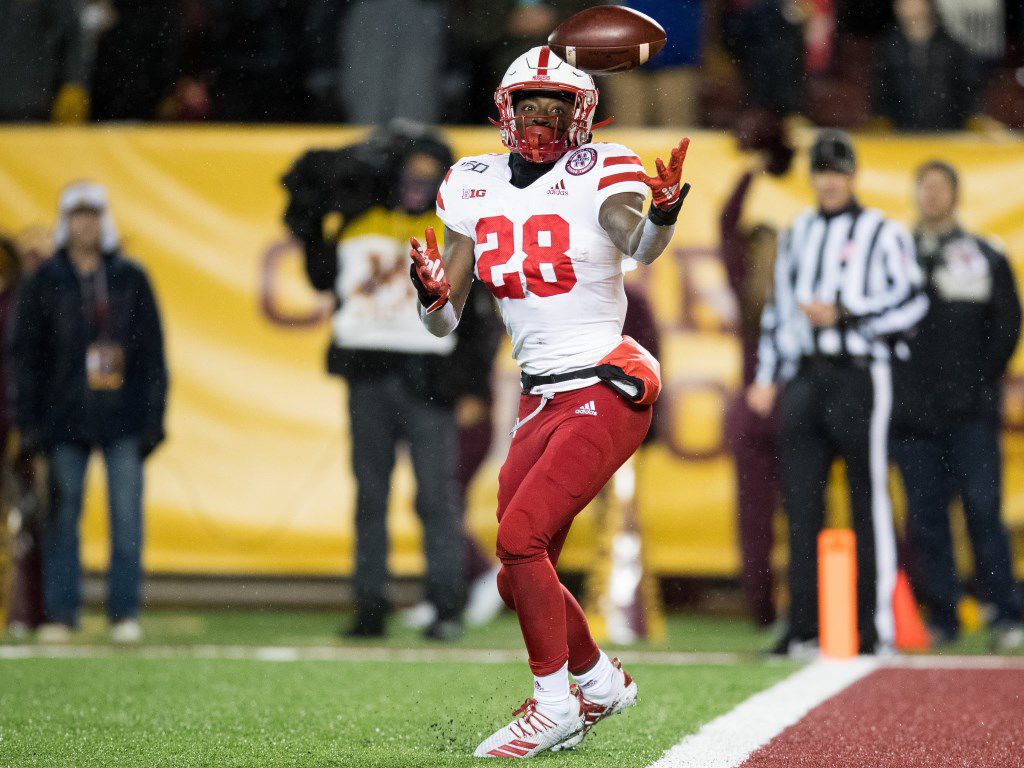 LINCOLN — Nebraska running back Maurice Washington is off the team, and it's not clear when — or if — he'll be back.
NU coach Scott Frost removed Washington — who didn't practice last week and won't this week — from the depth chart Monday. Then he told reporters one hour later that Washington wouldn't play against the Hoosiers and didn't appear to be a part of the Huskers' immediate plans. The "farther-out future," Frost said, will be determined based on some circumstances.
"There are certain standards we ask our players to uphold," Frost said. "When those aren't upheld, doesn't matter who it is, they won't be in our plans for that week or longer."
Nebraska had allowed Washington to play this season — with the exception of two one-half suspensions — despite being charged with a felony in connection with a 10-second sex video of his ex-girlfriend he is accused of sending to her. Washington's current status is not related to his ongoing legal issues, Frost said, and he remains enrolled in classes, "as far as I know," Frost said.
"There always comes to a point where you have to throw your hands up and say 'we tried,' but, until then, we want to do what's right for them, because I think that's the right thing to do," Frost said. "And we've certainly tried to do everything we can for Mo. And hopefully it works out well."
The sophomore was suspended for the first halves of the South Alabama and Northwestern games. He's also battled injuries during Big Ten play.
He remains charged with two crimes, including a felony, in California related to allegedly possessing and sending a video of a minor performing a sex act. Washington's most recent court date was Oct. 17, and his next will be in December.
Junior Dedrick Mills is now Nebraska's No. 1 running back on the depth chart, followed by Wyatt Mazour. Freshman receiver Wan'Dale Robinson has also played running back.
"Depth is getting a little sparse there," Frost said. Mazour missed last week while in concussion protocol, and true freshman running back Rahmir Johnson is on the bubble as to whether he'd burn his redshirt or keep it. He'll lose his redshirt if he plays in three more games.
"We'd like to try and save the year if we can," Frost said of Johnson.
Mills, the first player to talk Monday, said he's ready for any load.
"I just want to carry the ball," Mills said.
Washington's story has been laced with drama — off the field and with his intermittently impressive on-field play — since Nebraska landed his commitment on signing day in February 2018. He came from Trinity Christian Academy in Cedar Hill, Texas, where he starred for a season under offensive coordinator and hall of famer Deion Sanders. Washington transferred there from California, where his eligibility was denied after he switched schools.
Trinity Christian expelled Washington for undisclosed reasons before the end of the 2018 school year, and he finished his academic work at a school in California. NU thought Washington may not be academically eligible in his first year, but the NCAA cleared him that summer. Despite being at a less-than-ideal playing weight — Washington spent that summer working at a Buffalo Wild Wings — Washington played immediately for the Huskers, rushing eight times for 34 yards in NU's season opener.
"It was easy," Washington said on Sept. 10 of transitioning to college football. "I mean, the conditioning and stuff wasn't hard for me. Like the beep test, that wasn't hard. It was just kind of the mental stuff and getting into the playbook because Coach Frost's playbook, it's a big playbook."
By then, a deputy from Santa Clara County in California was six months into an investigation of Washington on allegations that he'd sent that video of his ex-girlfriend, a minor at the time it was recorded, back to her in March 2018. Washington did not record the video and did not appear in it.
On Sept. 10 — the same day Washington had his lone interview with Husker reporters in two years — the Nebraska Attorney General's Office was looped in and an investigator was attempting to contact Washington regarding the case.
By Sept. 14, Washington had a personal lawyer — former Nebraska Attorney General Jon Bruning — representing him. Washington played the entire 2018 season while under investigation, racking up 880 all-purpose yards and four total touchdowns. Washington never gave the Santa Clara County officials an interview prior to being charged Feb. 11 with two crimes.
Washington didn't play in the spring game as Frost and school officials declined to elaborate on Washington's status. In June, Washington was also cited for possession of drug paraphernalia after campus police contacted him in his dorm room.
Frost then suspended Washington for the first half of the season opener against South Alabama. Washington played in the second half, and Frost said the sophomore would be allowed to continue playing until the court case had been resolved.
"We won't consider any conditional discipline for him until the matter is completely adjudicated," Frost said after the South Alabama game. "The plan was to sit him the first half and play him in the second. He'll play going forward, and I won't have any other comment about it until it's adjudicated in California."
Frost then suspended Washington again for the first half of the Northwestern game. That suspension was related to an undisclosed violation of team rules. As Washington sat, he was often on the bench, sitting alone with his helmet off.
"I held him out of the first half because of internal things and rules," Frost said after the Northwestern game. "Mo is such a special player, but we need to be able to rely on him all the time, and that was my decision to hold him out the first half."
After the best game of his career — 19 touches and 195 yards at Colorado, including a 75-yard touchdown reception — Washington has struggled with injuries and productivity since Nebraska started Big Ten play. He has touched the ball 30 times in four games, amassing 152 all-purpose yards. That's down two touches per game since last season in conference play.
Frost said Monday that he had zero regrets about how he handled the Washington investigation, citing his former coach, Tom Osborne, and his handling of players who ran afoul of the law or rules.
"I wouldn't do anything different. I wish things would be a little different," Frost said. "Listen: Coach Osborne was this way. He wasn't quick to crumble kids up and throw them away. Some of those kids who are in some of these situations, if they're gone out of this program, that road doesn't lead to very many good places.
"As long as I'm here, I'm going to try to help these young men as much as I can. That's the promise I make to their parents as I sit in their living room and tell them we're going to try to help them no matter what.
"There's certain things that, they know if they do, I'm not going to help them, and they're on their own, but I want what's best for all these guys. So we're going to continue to try to help them as long they can be helped."
Photos: Husker football walk-ons who've played during 2019 season
Nebraska leans heavily on its walk-on program, and many have seen the field during the 2019 season. Here's a collection of all those who've appeared in at least one game this season, listed alphabetically by last name.