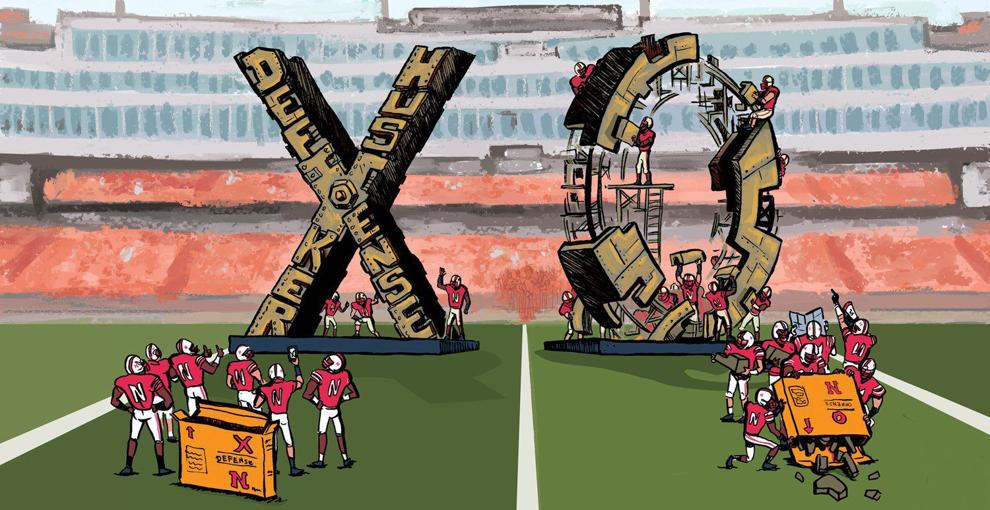 LINCOLN — Think for a moment about the last time you saw Nebraska in Memorial Stadium. Snow danced in the wind as the crowd, chilled but thrilled from the upset of Michigan State, showered love on NU's defense — proud and defiant — playing its best game in a tough season.
The top defense that runs out of the tunnel for Saturday's spring game appears to have bottled up the momentum and energy from that chilly afternoon and taken it into 2019.
Spring games always tend to manufacture points, especially when younger walk-ons populate the field in the second half. But for all the worries NU's defensive struggles kicked up last season, a seasoned bunch — full of fourth- and fifth-year players — has for now answered some of the coaches' questions.
"The defense has been on point," coach Scott Frost said.
Said defensive coordinator Erik Chinander: "I don't think we're ready to go play in the College Football Playoff right now by any stretch of the imagination, but I'm pleased with where we're at."
It doesn't take long to find the source of motivation, either.
"We don't want to go 4-8 again," safety Deontai Williams said.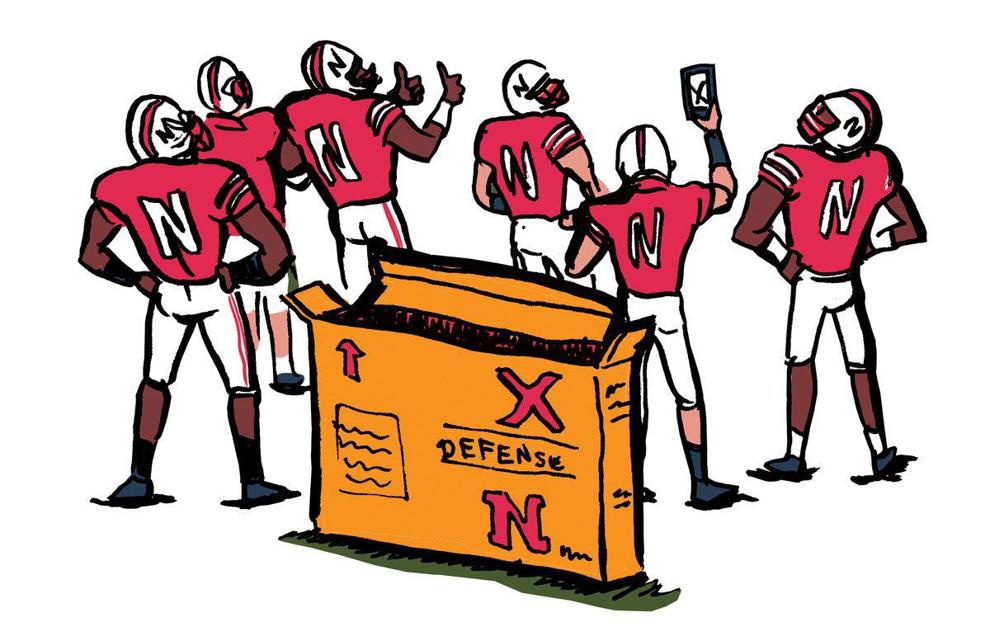 Williams, a fourth-year junior, hasn't been through every one of the defense's low points in the past four years, but he endured last season, which had more than its share of groaners. The former junior college star turned down a buffet of SEC offers to venture north to the Big Ten.
He backed up more experienced safeties last season, waiting his turn as bigger, stronger teams blasted holes through the defensive front or — in a gut-punch loss at Northwestern — threw around and over NU's fatigued secondary.
Williams, almost certain to be one of NU's top three safeties, has watched competition ratchet up this spring as defenders settle into the second year of Chinander's scheme. All but one defensive position coach is the same as last year. The system is the same. The 3-4 alignment is the same. There's no new tackling regimen to learn.
It's almost normal for Nebraska's defense.
Absent change, leaders have emerged, especially on the defensive line. Graduate transfer Darrion Daniels has infused the room with work ethic and humor alongside Carlos and Khalil Davis, Ben Stille and Daniels' younger brother, Damion.
Sign up for Big Red Today news alerts
Get a daily Husker news roundup, recruiting updates and breaking news in your inbox.
That unit, which battled injuries and a few strength and conditioning issues last fall, is bigger, stronger and stouter. In the few bits of practice sessions the media have seen, the defensive linemen have typically pushed back the offensive linemen.
"I thought we were going to be pretty good up front, and when you're good up front, the rest of the team can kind of catch up," Chinander said. "I think that happened. We're good up front."
Chinander talked up "the back end" — corners and safeties — as well.
Williams is there, as is junior Marquel Dismuke at safety with senior Lamar Jackson and junior Dicaprio Bootle at corner. Sophomore Cam Taylor — a leader on the team despite being on campus less than a year — can move between safety and corner, wherever position coach Travis Fisher thinks he's needed.
At inside linebacker, Collin Miller has wrested control of the spot next to returning leading tackler Mohamed Barry, who is almost certainly headed for captaincy in his final season.
Barry and some other defenders helped arrange a player workout the day before NU formally returned from spring break so the Huskers wouldn't miss a beat despite the week vacation.
Frost praised the team's work ethic in the Monday practice after the break. He likes where the culture is. He sees the leaders on defense as a force in the process.
"We've been flying around, running to the ball faster, been more aggressive. The communication's been good. That's a sign of a lot of things, but one thing it's a sign of is that you have good leaders, and we do have a bunch of those guys on defense," Frost said. "We need to keep developing them on offense."
Now, think for a moment about the last time you saw Nebraska's offense at Iowa. The Huskers were erasing a double-digit deficit as Stanley Morgan posted a 1,000-yard receiving season and Devine Ozigbo put up 1,000 yards rushing.
Morgan and Ozigbo now roam Nebraska's football complex preparing for the NFL draft. So do Jerald Foster and Tanner Farmer. Those were four clear leaders NU no longer has at its disposal.
Offensive coordinator Troy Walters said Martinez has the freedom to exhort and encourage as he pleases after he set the school's freshman record for total yards.
"The receivers know it's not acceptable to drop a ball, it's not acceptable to run the wrong route," Walters said. "If they do, then he's the one getting on them, and not me."
Martinez never says a discouraging word about his teammates or the offense to the press. Not his style.
But Husker offensive assistants halfway through spring practices expressed some frustration at a unit that has lacked consistency as NU seeks another receiver to pair with the currently banged-up JD Spielman and a running back who can fill Ozigbo's shoes. Sophomore Maurice Washington, working through legal issues all spring, has been what Frost termed a "limited participant."
Even on the offensive line, where three starters return, coach Greg Austin has been choosy with praise. He'd rather not anoint anyone a "solid" starter at this point. Asked to single out strong performers, Austin on Wednesday stuck to the entire group.
At center, where NU must replace Farmer, no specific player has taken charge yet. Questions abound and will linger into fall.
"Honestly, I'm looking for consistency more than anything," Austin said. "For guys to know the play, know their footwork, know their leverage, know their landmarks, see their cues, see the clues."
Walters desires more "grit" from the offense. With Washington, Spielman and tight end Jack Stoll missing Saturday's game — and Martinez sure to be limited to a handful of series — plenty of young players will have the chance to show off their toughness.
The defense, after years in the wilderness, appears to have it.
"It feels like we're coaching some grown men this year, and I don't think it's age, I think it's attitude of the team, how they're working, how they're going about their business," Chinander said. "I don't know if it's a 180, but at least it's a 90-degree turn from where we were last year."