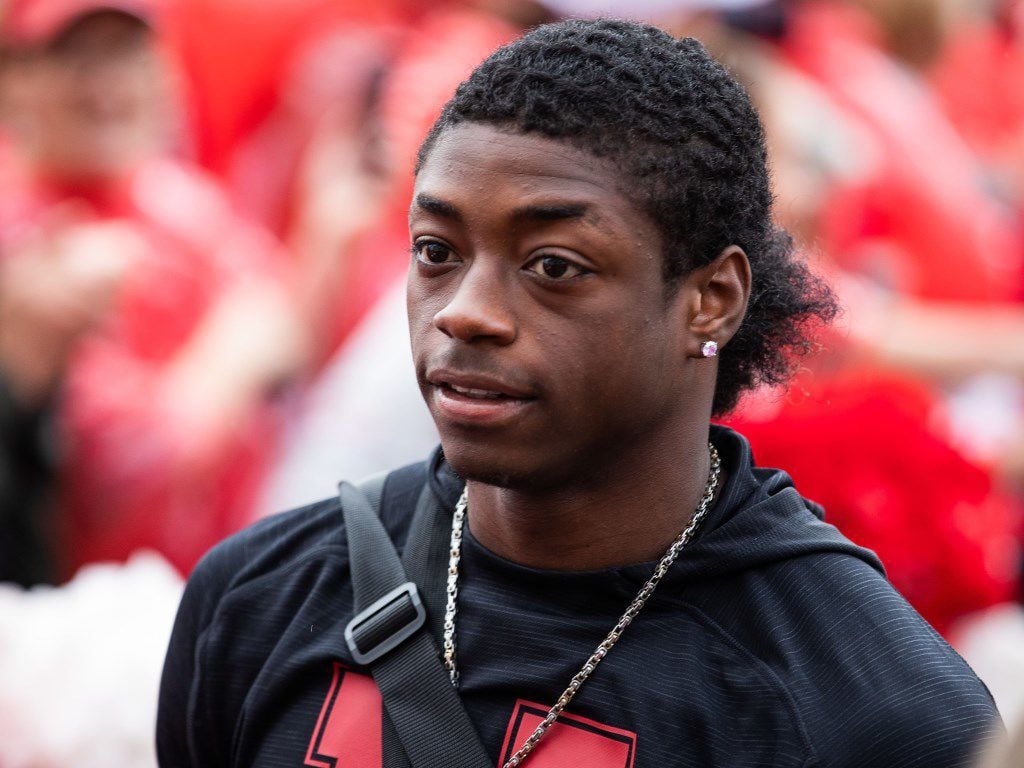 LINCOLN — Maurice Washington's midseason removal from Nebraska's football program became an expulsion Friday when NU announced it had dismissed the sophomore running back from the team.
"Washington is expected to enter the NCAA transfer portal soon," read the second sentence of Nebraska's brief statement about a player whose off-the-field actions created so many headlines and unwanted attention for the Huskers.
But it wasn't the high-profile California court case — in which Washington still stands accused of two crimes, including a felony — that directly precipitated his removal from the team. Rather, coach Scott Frost suggested in October that it was Washington's inability to fully buy in to Nebraska's culture and make necessary changes to be a good teammate.
"There are certain standards we ask our players to uphold," Frost said then. "When those standards aren't upheld, it doesn't matter who it is. They aren't going to be part of our plans that week or potentially longer."
Frost said Nebraska tried to work with Washington, doing so in the spirit of his former coach, Tom Osborne, who practiced a similar regimen with his players.
"We're going to try to continue to help them as long as they can be helped, and there always comes a point where you have to throw your hands up and say, 'We tried,' " Frost said.
At the time, Frost barely left open the possibility of Washington returning to the team.
There was little debating his dynamism on the field. In 177 career touches, he produced 1,360 all-purpose yards and seven touchdowns. His speed and electric running style made him a prime candidate to break big plays as a runner or receiver. His signature moment, at Colorado this season, was a rousing 75-yard touchdown catch-and-run that brought upwards of 30,000 Husker fans to their feet.
But Washington was benched for the first halves of two games for conduct off the field. He gave just one interview in his 18 months on campus. He generally kept his own counsel and had a distinct personality that, during his freshman year, prompted Frost to call him the "space cowboy."
This timeline of events in the Maurice Washington investigation is based on allegations outlined in court documents, investigator reports and officials' statements. 
Washington played the entire 2018 season while under investigation for an incident in California that led to charges in February 2019. He is accused of possessing and sending a 10-second video of a minor performing oral sex — his ex-girlfriend — to her in March 2018, after he'd signed with Nebraska but before he arrived on campus. A Bay Area TV station broke news of the investigation in early February 2019. Washington was charged not long after, and his court hearings have been consistently delayed since then, including a December 2019 court date during which Washington's attorney was unable to contact him. His next hearing is set for Jan. 10, and he's been ordered to appear in person.
The charges did not trigger an automatic suspension within NU's program. Though Washington did not play in the 2019 spring game, he practiced at times as coaches and administrators had him working through off-the-field matters. In June, Washington was cited on suspicion of possessing drug paraphernalia when UNL police were called to his dorm after an in-house security officer smelled marijuana in the hallway.
Frost, when speaking at Big Ten media days in July, did not wave off Washington's potential to play during the 2019 season. Washington then practiced in fall camp and played in NU's first seven games, although he did sit out the first half of the opener against South Alabama.
"We won't consider any additional discipline for him until the matter is completely adjudicated, so the plan was to sit him in the first half and play him the second," Frost said following the opener. "He'll play going forward. I won't have any other comment about it until it's adjudicated in California."
Washington played regularly through the win at Illinois on Sept. 21. He got hurt in that game, went to the locker room and tweeted about his status from there.
He had 15 carries over his final three games against Ohio State, Northwestern and Minnesota before being removed from the team Oct. 21, during the bye week between the Minnesota and Indiana games.
In his absence, Nebraska leaned more heavily on running back Dedrick Mills and running back/receiver Wan'Dale Robinson. Mills returns for his senior season and will be joined by junior Jaylin Bradley, sophomore Brody Belt and redshirt freshmen Rahmir Johnson and Ronald Thompkins. Robinson, now a sophomore, is an option in the backfield, too, but may move back to receiver on a more frequent basis. Nebraska also adds two true freshman backs, Sevion Morrison of Tulsa, Oklahoma, and Marvin Scott of Port Orange, Florida.
Be the first to know
Get local news delivered to your inbox!