LINCOLN — One month after I started working at The World-Herald in 2011, I got a call on Memorial Day. We were at the zoo.
Jim Tressel had just resigned at Ohio State, and I drew the short end of the stick to write about it. Tressel's departure from the sport — after a BCS national title in the 2002 season and two BCS title game appearances in 2006 and 2007 — was notable not only for his success but for the manner in which he left, rocked by an NCAA scandal that involved his players getting, among other things, free tattoos.
Tressel's defensive coordinator for the 2002 Buckeye squad — Mark Dantonio — had a similarly strong coaching career at Michigan State. Don't underrate it. We'll get to that in a moment.
Dantonio's perhaps-not-as-sudden-as-we-think resignation on Tuesday — one day before the February signing period — one-upped Tressel in this way: Dantonio got out before the NCAA violation posse caught up. And it was coming.
Tuesday afternoon, multiple reports out of Detroit detailed alleged NCAA violations attributed to Dantonio by a former MSU staffer suing his old boss and the school for wrongfully terminating him three years ago in the midst of a lengthy sexual assault scandal attached to the football program. That man, Curtis Blackwell, was MSU's director of "college advancement and performance" from 2013 through 2017. Mostly, he was a recruiting magnet. His qualification for the MSU role? Running the Sound Mind, Sound Body satellite camp in Detroit. (And interning with the NCAA!)
Among Blackwell's allegations in September, according to news reports, was that Dantonio ignored warnings from three assistants about a recruit who is now in prison for sexual assault.
Sign up for Big Red Today news alerts
Get a daily Husker news roundup, recruiting updates and breaking news in your inbox.
Michigan State's sausage recipe, so to speak, was out there in open court. Dantonio's chances of surviving the scrutiny to come — especially after back-to-back, lackluster 7-6 seasons — were slim. A $4.3 million retention bonus paid to him Jan. 16 drew heavy criticism .
Potential replacements would include Pittsburgh coach Pat Narduzzi, MSU's defensive coordinator for eight years under Dantonio; Cincinnati coach Luke Fickell; and Jim Tressel's nephew Mike, who has been with Dantonio all 15 seasons at MSU and has coordinated the defense since Narduzzi left.
If it's Mike Tressel, then you'll know Michigan State believed Dantonio had earned the right to name his successor. The sexual assault issue, potential NCAA violations and lawsuit say no, he didn't earn it. The record says he did.
Dantonio was 115-57 in East Lansing. He arrived in 2007, when MSU's long-proud program had finished in the Associated Press Top 25 in just four of the previous 27 seasons. One of those teams was Nick Saban's 1999 squad, but let's not pretend Saban — now recognized as the sport's best coach — figured it out at MSU. He was 34-24-1 there, and he had players, too. Saban's successor, Bobby Williams, led the program into a ditch in a few years. John L. Smith, who came in after that, is best-known for screaming to an ABC reporter, "The kids are playing their tails off and the coaches are screwing it up!" in 2005. He was fired the next season.
In came Dantonio, a buttoned-up, defensive-minded coach from Ohio who seemed wholly incapable of laughing at a joke or knowing his place in the Big Ten. His 13 seasons changed the conversation. After 7-6, 9-4 and 6-7 seasons to start his tenure, he went on a six-year run typically reserved for Ohio State and Michigan.
Starting in 2010, when MSU's green uniforms moved to a darker shade, Dantonio won or shared three Big Ten titles, won at least 11 games five times and won back-to-back major bowls with the Rose Bowl after the 2013 season and the Cotton Bowl after the 2014 campaign. Michigan State won five of six in the Michigan rivalry, too, over that stretch.
The Spartans played an aggressive "quarters" defense that put their cornerbacks and safeties in man-to-man coverage while stuffing the run. Not much — other than mobile quarterbacks like Marcus Mariota, Taylor Martinez and Russell Wilson — could put a dent in it for a while. MSU put quarterbacks (Kirk Cousins, Connor Cook), running backs (Le'Veon Bell) and receivers in the NFL. Dantonio preferred long, physical defensive backs who beat up receivers in coverage, rock-ribbed linebackers and massive, hard-to-move defensive linemen such as Jerel Worthy and Malik McDowell.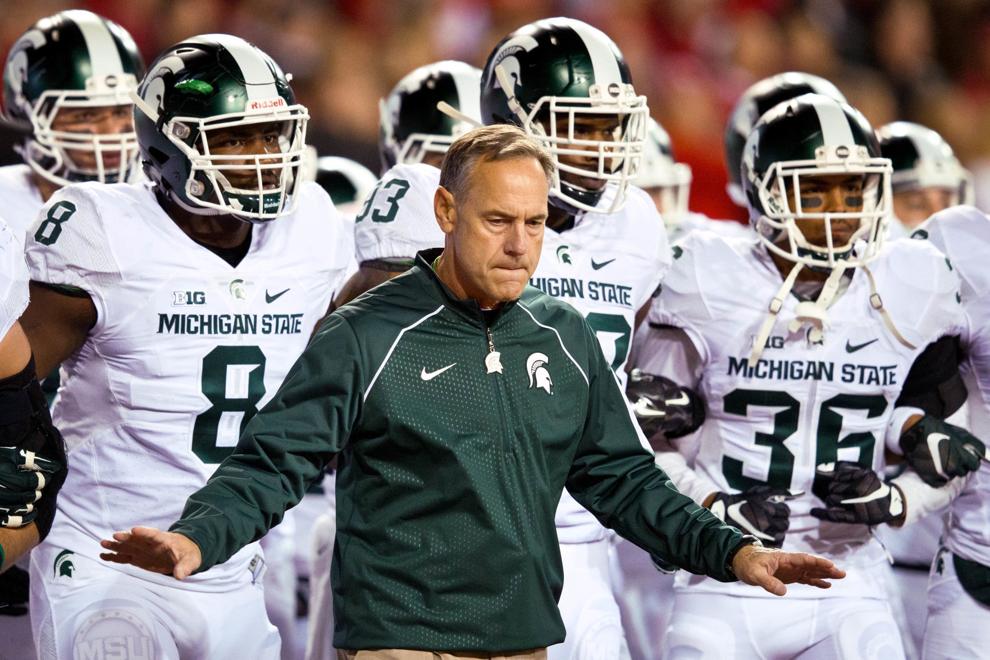 Around the time MSU made the College Football Playoff in 2015 — its lone regular-season loss was to Nebraska — the Dantonio model was the preferred approach for programs just a notch below the superpowers and, for the briefest moment, Michigan State had the best 1-2 combination of football-men's basketball coaches, all while keeping a chip on its shoulder for not being Michigan.
Then Alabama blanked MSU 38-0 in the CFP. It remains the biggest mismatch of any CFP game. And, at that moment — watching that game, Cook's last in an MSU uniform — I thought the run was over. I didn't put Michigan State on my preseason Top 25 ballot for 2016. The Spartans tanked, finishing 3-9. The assault scandal went full tilt in 2017, and Dantonio's tenure has been on the ropes ever since. He could have retired last year and no one would have batted an eye. He chose to stay while making no significant changes to an offensive staff that ran one of college football's most anemic attacks.
MSU averaged 22.4 points per game in 2019. It averaged two turnovers per game. It didn't look good — at all. Coupled with a January that included Dantonio's deposition in the Blackwell lawsuit — and that nifty $4.3 million bonus — the path became clear.
"Every February since 2007, I have reset this program in preparation for the next year's challenges," Dantonio said. "After much reflection and discussion with my family, I feel that it is now time for change as we enter into a new decade of Michigan State football."
He retires as MSU's most accomplished coach since Duffy Daugherty. He won six bowl games and had seven teams finish in the AP Top 25. The 2010-15 run when the Spartans averaged 10.8 wins per season — an 80% overall winning rate — puts Dantonio ahead of names like Barry Alvarez, Kirk Ferentz and Hayden Fry. I doubt he retires with their reputation or glad tidings, in part because we don't know whether, after the past four seasons, Dantonio left the program better than he found it.
But his blue-collar style won games and reset a rivalry. His successor — whoever it is — has big shoes to fill.
---
Nebraska's first road game against every Big Ten team