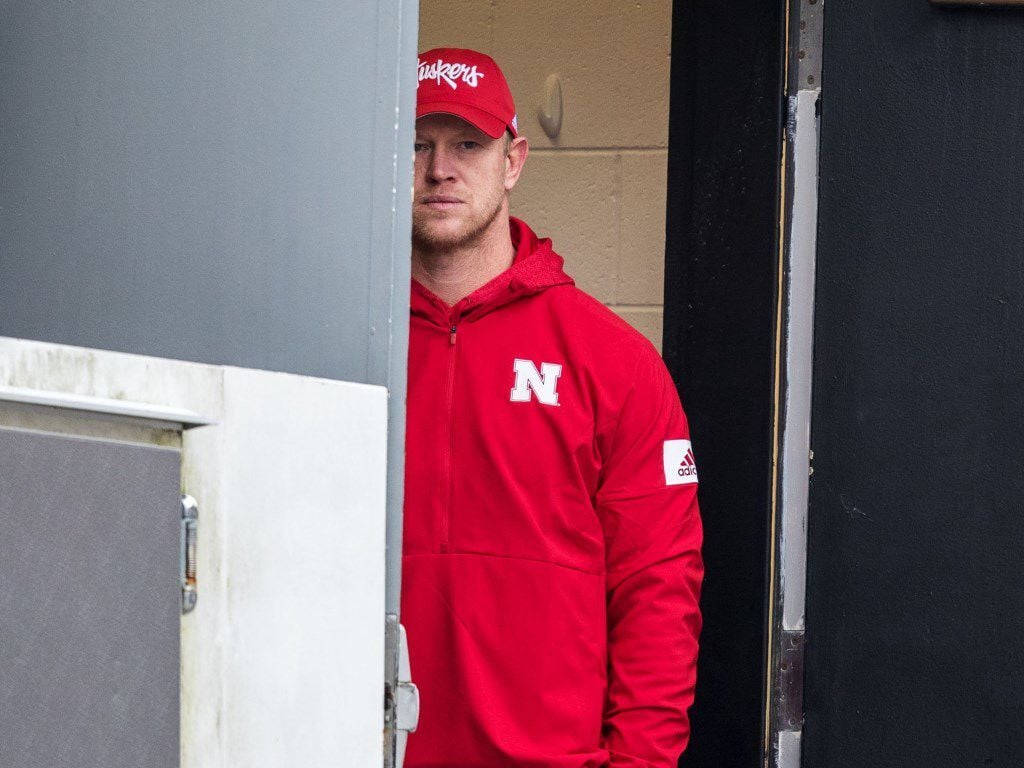 LINCOLN — In the heat of August, Nebraska football exited its palatial home, strode to the end of its driveway and called its shot against the neighborhood homeowners association.
NU made a good case. A few schools ventured out of their houses for a minute. One — from the biggest house at the end of the circle — even walked halfway down its driveway. Others just stood in their living rooms, staring out through picture windows.
By evening, every school had gone back inside. For now.
The Huskers may not forget what it's like to stand out on that driveway alone, getting trash thrown at it by passing cars. NU fans certainly won't.
And as the state of Nebraska openly debated the value of the Big Ten, NU's membership in that league became real.
Nebraska is not leaving the Big Ten right now, and it won't do anything that might get it kicked out. It might raise every academic eyebrow on the planet if it ever did leave.
The Big Ten's academic reputation is a 100-year investment. As valuable and important as Nebraska athletics is, the University of Nebraska Medical Center just set research funding records — again — with $174.2 million in fiscal year 2020. Externally funded research at UNL in 2009-10 was $122.45 million. In 2018-19, it was $144.13 million. UNL's endowment was less than $1 billion in 2009-10. By 2018-19, it was $1.72 billion.
But on the sports side, it's now personal. Wednesday's media criticism felt unusually in lockstep. It seemed designed to defend Big Ten Commissioner Kevin Warren and guard against any residual discontent in the league by isolating and hammering the Huskers.
Consider a writer who wrote this about the Big Ten when Warren was hired: "Rutgers aside, it is a thriving conference."
On Wednesday, the same writer panned the Big Ten for adding Nebraska: "Pack up your John Deere and hit the farm roads out of here."
Old-school Nebraska fans — Scott Frost included — are used to jokes about farms, and many recruits do believe NU is surrounded by cornfields. It's kind of baked into the name.
So it wasn't really the digs that felt irksome. It was the meanness, the lack of amusement, and the speed and ferocity with which they landed on the Huskers that raised red flags. Why?
Perhaps because Frost, Bill Moos and others were onto something by wanting to play their own nonconference games this fall.
Nebraska tried to get a little movement going but didn't have enough allies. This was never about leaving for another league, but getting the Big Ten to understand that several schools — including the big dogs — wanted to schedule their own games and assume their own risks.
If Warren had appreciated the idea behind it, he may have secured more respect from those coaches than he could imagine. He could have met NU and others halfway and offered two or three home games, just to put some joy in the world, with a spring season still in play.
Ohio State was briefly on NU's side Wednesday, or at least coach Ryan Day was. And for that, he and the Buckeyes deserve a little appreciation. They stood in the driveway, at least for a few hours, and in that way they're like Oklahoma. Football matters at Ohio State.
But the Buckeyes had backed down by Wednesday afternoon, and they're also like Oklahoma in that way. Michigan — the Texas of the Big Ten is there ever was one — acted as if it wanted to come out of its house with Jim Harbaugh's letter on Sunday, but ultimately stayed inside. Penn State's James Franklin didn't go as far as Day did, and Iowa's official passion to play evaporated as the Big 12 (and Iowa State) puffed about Wednesday with a schedule release party.
The Huskers were brave enough to stand up for themselves, but it was a hard road to go alone.
We may never know what exactly is in the Big Ten grant of rights for member schools, and the penalty for what happens if you run too far afoul. One league reporter told me you'd have to be "Indiana Jones" to find that out. But it's my educated understanding that the financial cost of leaving is steep.
The Big Ten prints money. It shares it equally. Nebraska has a football palace to build and a giant roster to feed, outfit and manage. The Big Ten's $54 million payment to each full-share school in 2019 was $15 million more than the Big 12's $38.8 million. That's a lot of dough, paid out year over year, to leave on the table for the mere chance at a few games this fall.
Why would the Big 12, ditched by NU a decade ago, be financially kind upon the Huskers' return? The league would be under no obligation to do so and would have a lot of leverage.
Do you think the national press — or what's left of the Big 12 regional press — would be kind if NU returned to the Big 12? What about Big Daddy Texas, in its 10-gallon hat and burnt-orange, big-grilled, extended-cab truck?
And while the Big Ten presidents held sway in the fall, if the ACC, Big 12 and SEC manage seasons in September and October, the coaches will gain sway very soon. We'll see how far the final three leagues get through their seasons without a hospitalization, myocarditis or, heaven forbid, a death. But if they're able to do it, the Big Ten will know it can be done. The pressure on Warren and conference leaders will be considerable.
Purdue coach Jeff Brohm put out a plan Thursday morning as proof that he, and other coaches, will quickly get serious about this.
If ACC, Big 12 and SEC seasons fall apart, Warren looks smart. Though it will have lost a lot by not playing a fall season, at least the Big Ten didn't look ruthless.
Either way, Nebraska eyes many of its league peers differently now. Frost — who wore his emotions on his sleeve Monday, just as he did after the 1998 Orange Bowl — likely spoke for a lot of Big Ten coaches. By Tuesday, they mostly stood behind their picture windows.
Whether you agree with Frost — and some Husker fans don't — imagine the feeling Wednesday as ESPN, Sports Illustrated and others fired away. Imagine how hot your cheeks felt when a group of people made fun of you.
It's not something you forget soon. If ever.