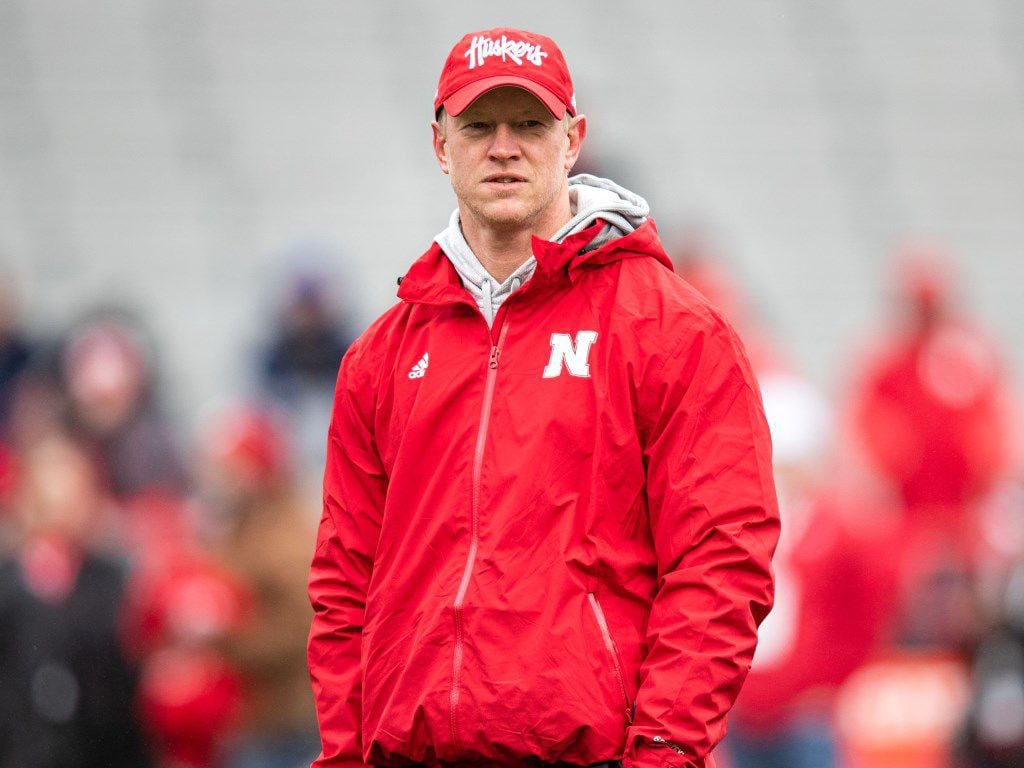 LINCOLN — Scott Frost has rarely talked publicly during the coronavirus pandemic. But in his 10-minute chat last week on Sports Nightly, he said plenty, in just a few sentences, about the politics surrounding the 2020 college football season — and what's at stake.
"There's so many people with a hand in how this is going to look," Frost said. "Every governor in the country, every university president in the country, every A.D. in the country are all going to have a say in whether their institution plays football or not. There's a lot of people with their hands in the cookie jar as far as making the decision."
The impact of those decisions will be broad.
"There's a bunch of businesses around town — I talked to the owners — that probably wouldn't flourish or maybe be able to make it without home football games in Lincoln this fall," Frost said. "A lot of their revenue comes from that."
The same is true of smaller sports that don't generate revenue.
"I'm a little concerned about the other sports at the university and their ability to continue if we take a major budget hit without having home football games," Frost said. "There's a lot at stake and a lot more riding on this than just wanting to play football."
In the week since Frost talked, you've seen the dominoes begin to tilt. Conferences reducing league tournaments, reducing travel, eliminating that hotel stay one night before a home football game. Akron cut three sports. Bowling Green dropped baseball.
These are canaries in the coal mine — whether football season is played or not.
University budgets are generally intact for now. We only have two months of dramatic drops in sales tax receipts.
But wait until it's four months, six months, eight months, a year of under-performing receipts. Wait until the states that thrive on tourism have a cruel, empty summer, when state coffers start to run dry around the nation and the massive allocations to public universities are slashed. And that's on top of whatever enrollment losses there are.
All that trickles across most campuses to the athletic department — though not at Nebraska, which gives money to the academic side of the school.
If football doesn't happen on some level? That's a gut punch so deep to many athletic departments — even some in Power Five conferences — that it's hard to figure how some sports would survive. And given the size of some leagues — like the Big Ten, which stretches more than 1,000 miles — it's hard to see how some football programs might survive if they sit out a season while their conference peers play.
Perhaps that's why Northwestern president Morton Schapiro, head of the Big Ten's council of presidents and chancellors, was so blunt to ESPN on Friday.
"I don't see that we're going to have a Big Ten season with 12 of the 14 schools playing," Schapiro said, according to ESPN's Adam Rittenberg. "I'd be surprised if we play and it's not all 14 of us."
Schapiro added that he does expect all 14 schools to be able to play this fall unless individual state policies prevent that.
It was proof that Penn State coach James Franklin's comments had reached their intended target.
Franklin — an outspoken guy even in a league full of outspoken coaches — ruffled feathers earlier this month when he suggested that one or two schools couldn't hold back the rest of the league from playing football.
"I don't see how you're going to be able to hold up 10 or 12 schools in one conference from two states that are opening up a month later," Franklin said in a Zoom call with reporters.
Which states might that be? Perhaps New Jersey, which is home to Rutgers and has been hit hard by the coronavirus. Perhaps Maryland. Perhaps Michigan, since it has also been hit hard and is one of the nation's flashpoints for friction between the governor and protesters wanting to see the state reopen. The governor of Franklin's state has been cautious, too.
Franklin's point — which more coaches share than probably would admit — is the sport has long existed outside the sociopolitical sphere, and the Big Ten can't start binding a giant league to the decisions of one or two governors.
In a sense, Frost knows this well. He lost multiple home games at Central Florida to weather events. The American Athletic Conference teams didn't cut back their schedules in solidarity to UCF. The big differences between a hurricane and a pandemic don't go unnoticed here.
But I'm not sure this is a moment where the Big Ten forgoes its massive TV payout in deference to Rutgers or even Ohio State.
Especially when the SEC appears headed full-steam toward a season. None of the states in its league are as cautious as those in the Northeast, Mid-Atlantic or West Coast. The SEC votes at the end of the week to return to organized team activities in June. If the SEC votes yes, other leagues will have to consider their own moves.
Oklahoma coach Lincoln Riley, in a Zoom call with reporters last week, said a June 1 benchmark was "ridiculous."
"We've got to be patient," he said. "We'll get one good shot at it. Bring them back at the right time when we're as prepared and know as much about this as we possibly can."
Riley does believe teams will play, so his point was mostly about unnecessarily rushing back into activities three months before the start of the season. The details of when players return to campus can be navigated.
The real key is playing the season — for the fans, TV money and some sense of normalcy. Then it's finding a way to get at least some spectators in the seats.
Spread out seating with masks on each spot? Sounds like a plan. An age limit? Maybe that, too. Big changes to concessions or no concessions at all? Probably.
We built rockets for the moon. We can create a plan for college football.
As Frost's comments underline, livelihoods are at stake.
---
The 2020 Nebraska football schedule
Be the first to know
Get local news delivered to your inbox!