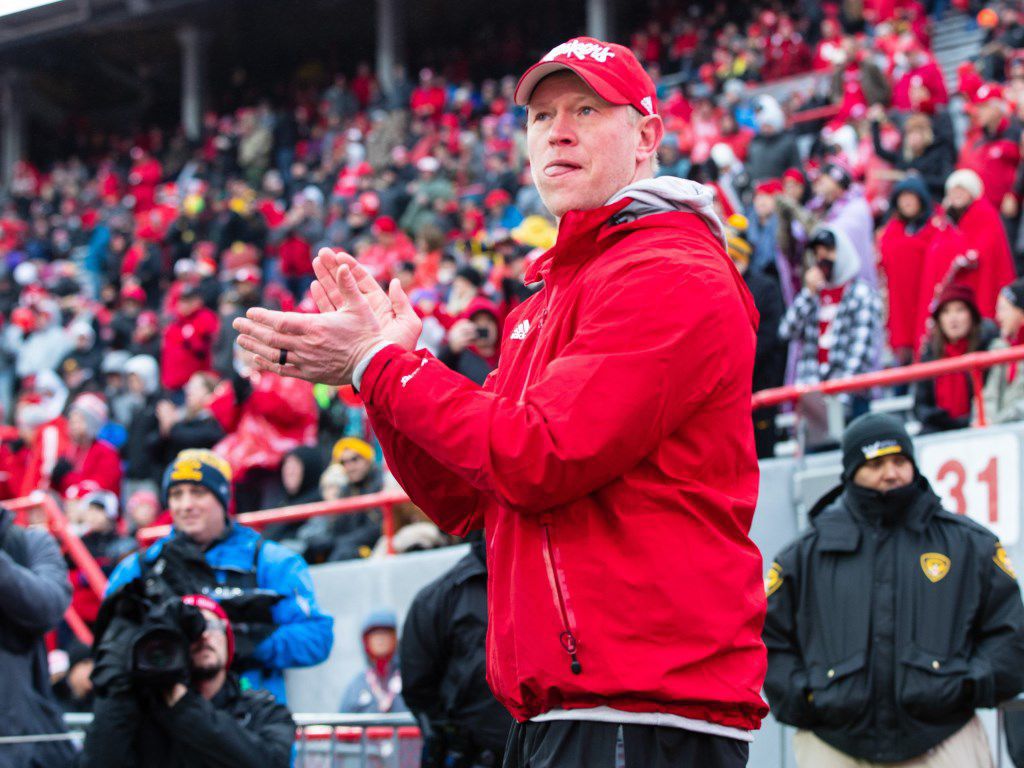 LINCOLN — Offensive line coach Greg Austin's assessment of Cam Jurgens jumps out at you, and the tape from last season says it's true.
"He looks like a different person," Austin said as he compared the Husker center's play against not-very-good South Alabama in the season opener to his work against quite-good Wisconsin months later.
That's because Jurgens had taken the snaps — and the lumps — needed to improve. Practice is one thing. A scrimmage is another. But live game reps are where growth happens, and Jurgens heads into 2020 as one of the better centers in his division and potentially the Big Ten.
As we begin the Camp Countdown in the oddest of football seasons — the coronavirus pandemic may not even allow it to occur as scheduled — Jurgens' development in an otherwise-disappointing 2019 season is on our minds for two reasons:
» First, Nebraska has a whole bunch of redshirt freshmen — signed in 2019, a class Scott Frost loves — ready to compete for starting jobs. Combine them with five junior college players signed in the 2020 class who were brought in to play immediately. And don't forget the new skill players at running back and receiver — two positions lacking production and depth — who have an eye on playing.
» Second, if the coronavirus pandemic allows for a full season, Nebraska's schedule is one heck of a hard test, especially when the calendar hits Halloween. Making a bowl — cue the pandemic disclaimer — would be important in Year 3 of Frost considering NU hasn't played in the postseason since 2016.
If Frost and Austin were proven right on Jurgens, does Nebraska have the latitude to pursue a full-on youth movement with 18- and 19-year-olds dotting the depth chart? Or does NU rely more on the remaining fourth-year juniors and fifth-year seniors while the young pups continue to grow in their claws?
At tight end, it's fair to expect veterans Jack Stoll and Austin Allen, along with Rutgers transfer and fourth-year junior Travis Vokolek, to be the top three. Dicaprio Bootle will start somewhere in the secondary. Ben Stille will start on the defensive line. Dedrick Mills will start at running back.
Everything else? Up for grabs. Even quarterback, where Adrian Martinez will be the clear favorite to start — and probably will start — but has to play well to fend off redshirt freshman Luke McCaffrey, who flashed just enough last season to get you excited.
I'll look most closely at the defensive front seven, which lost starters Khalil and Carlos Davis, Alex Davis, Darrion Daniels and Mohamed Barry. That 2019 squad allowed 4.82 yards per carry — 13th in the Big Ten — and 77 rushes of 10 yards or more. That's not very good, and this new group of run defenders has to improve it.
There are veterans like Stille, Damion Daniels, Deontre Thomas, Collin Miller and JoJo Domann, and there are young guys like Ty Robinson, Mosai Newsom, Garrett Nelson and Luke Reimer. Does Nebraska roll with the former group or lean more toward the latter with an eye on the future?
At wideout, JD Spielman's departure leaves playing time wide open. Wan'Dale Robinson will be a headliner, of course. Junior college transfer Omar Manning almost certainly works right into the rotation, as well. After that, it'll be intriguing to watch if new position coach Matt Lubick leans toward older walk-ons like Kade Warner and Levi Falck, or if young scholarship players like Zavier Betts, Marcus Fleming and Alante Brown wrest control for more playing time.
Also watch Nebraska's secondary, which has been decent, but not great, since Frost returned. Position coach Travis Fisher could roll with senior starters Bootle, Deontai Williams and Marquel Dismuke and junior Cam Taylor-Britt, or he could work in younger players like Myles Farmer, Noa Pola-Gates, Quinton Newsome and Braxton Clark.
Complicating factors a bit is the long run-up to the season, which should help the youngsters acclimate if they can plow through an uninterrupted six-week grind. The season opener against Purdue — a Big Ten West foe that has beaten NU twice in a row — is no game to get anyone's feet wet unless you're sure they're the clear starter.
And so we begin the Camp Countdown, in which myself, Evan Bland and Chris Heady delve into the players we think will most affect NU's 2020 season. It kicks off with a giant honorable mention list. Rarely has this much playing time been up for grabs among this many Huskers.
Honorable mention
Brody Belt: Special teams fixture who will figure into the mix at running back, as well. Rushed for 32 yards and had three tackles last season.
Jared Bubak: The Lincoln Christian grad spent four years at Arizona State before heading to Nebraska for his redshirt senior season. He was primarily a blocker at ASU and may serve a similar role at Nebraska, which can use better edge blocking in short-yardage and goal-line situations.
Turner Corcoran: The highest-rated signee in Nebraska's 2020 class joins a group of offensive linemen with a combined 106 starts. That generally means Corcoran doesn't have to burn a redshirt season to play, but if Matt Farniok moves to right guard, Corcoran could compete for the right tackle job. He's likely one year away from competing to start, though.
Chase Contreraz: Iowa Western transfer figured to be NU's leading candidate to win the kicking job for 2020 until the transfer of LSU kicker Connor Culp. Contreraz will still have a chance to win the job, and he's younger than Culp, so he's a factor for 2021, too.
Niko Cooper: Junior college recruit at outside linebacker who could redshirt if he doesn't figure to make an immediate impact. His big frame — 6-foot-5, 220 pounds — needs a little more weight to it.
Levi Falck: The graduate transfer from South Dakota didn't make a lot of noise when he joined the program, but there's a good chance he plays and makes some kind of impact. At 6-2, 205, he's a bigger guy who can run deep routes. Nebraska's receiver room can use experienced guys.
Will Farniok: Effectively Nebraska's backup center, Farniok lost the starting job to Jurgens last fall camp. The younger brother of Matt Farniok still has a valuable role to play should Jurgens get banged up.
Christian Gaylord: He's returning for a sixth season after tearing up his knee — and losing his father in a car accident — last year. Gaylord had previously been a backup left tackle, but there's a chance he moves over to right tackle to compete with Bryce Benhart and perhaps Corcoran.
Keem Green: Let's be clear, Nebraska coaches would not have been opposed to the junior-college transfer playing more last season. That he only played in three games — logging one tackle — speaks to the jump he has to make in 2020.
Keyshawn Greene: In three years, Greene could be the best recruit in the 2020 class. He's going to have to gain some weight to be a Big Ten inside linebacker, though. He's listed at 6-3, 210 coming into school, and he could redshirt in 2020. Greene has great, natural instincts, though, and could play early.
Demariyon Houston: One of four receiver recruits in the 2019 class, Houston redshirted last season. So did Jamie Nance and Darien Chase. Chase left. Nance and Houston remain. Of those two, we've heard a few more good things about Houston, but without a spring camp, he'll be on close to equal footing with all incoming receivers from the 2020 class.
Sevion Morrison: A home-run hitting back who may be able to help the Huskers right away if he can pick up the playbook. Morrison is an all-around talent who'll have to tighten up his running style, but he has a lot of potential.
Mosai Newsom: He narrowly missed the top-50 cut. The redshirt freshman defensive end will have every chance to compete for playing time on a defensive line that has only one seasoned standout (Stille) you can pencil in for 50 or more snaps.
Will Nixon: Freshman Duck-R running back/receiver who comes from a football family — his dad, Jeff, is a Carolina Panthers assistant coach. Durable player. Not the flashiest member of the 2020 class, but he'll be solid.
Nouredin Nouili: German exchange student had a quick rise at Norris High School that led to signing a scholarship at Colorado State. He started as a freshman at guard, then chose to transfer to NU when former CSU coach Mike Bobo was fired. Nouili is a walk-on for now, and he may not be eligible for 2020. He's a factor going forward, though.
Noa Pola-Gates: One of NU's top 2019 recruits had a quiet first year as he recovered from an injury. This year, he'll be competing for playing time in a stacked secondary. Pola-Gates packs a punch as a tackler.
William Przystup: Until the commitment of punter Daniel Cerni, Przystup figured to be NU's starting punter. Now, he'll be the backup and will get a crack at kickoff specialist, too.
Logan Smothers: The upside on Nebraska's No. 3 quarterback is high. Smothers is a more explosive runner than either Martinez or McCaffrey and he's roughly as tall as both. Barring injury to Martinez or McCaffrey, he's headed for a redshirt year. Watch out in 2021.
Eli Sullivan: A seasoned veteran in the secondary, this walk-on from Longmont, Colorado, knows the defense as well as anyone and will be a factor on special teams. Sullivan was a No. 2 safety last season but he'll be pushed by guys like Myles Farmer and Pola-Gates this season.
Ronald Thompkins: Is he healthy? That's the big question for Thompkins, who hasn't played a football game in nearly two years after several knee surgeries. If he's healthy, he could be Nebraska's most complete young running back. It's just hard to know.
---
The 2020 Nebraska football schedule
Be the first to know
Get local news delivered to your inbox!