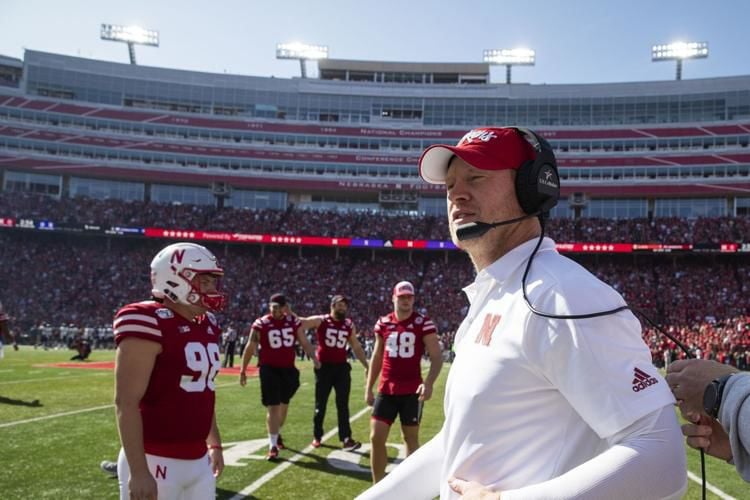 LINCOLN — Scott Frost has a degree in finance, and at this point, he could teach a 400-level class on how to shift on the fly as CEO of a major organization.
In his four seasons as a head coach, Frost has had three games canceled by hurricanes and thunderstorms. And just as the spring camp of a fifth season had started, the coronavirus ended it.
The last three months have Frost and Co. "light on our feet," Frost said Tuesday in a Zoom interview with media.
Adjusting every few days to new information. Doing contact tracing on football players before they arrived for voluntary workouts in early June. Then making sure, when they got back to Lincoln, that they were properly quarantined. Trying, through diligent preparation and university administrators allowing them "to push the envelope a little bit," to be on the safest end of a pandemic that has taken more than 115,000 lives nationwide.
A million little things. Hours on end devoted to them.
"I'm confident we've handled this as well or better than anyone else in the country," Frost said, crediting chief of staff Gerrod Lambrecht and his operations team. "Hopefully we've given ourselves a little bit of an advantage through our ability to adapt to these difficult times."
The Husker football program has followed every best-practice protocol. That won't change as preparation for the 2020 season ramps up with a preseason calendar the NCAA is set to approve Wednesday.
"We're going to follow whatever protocols they suggest," Frost said. "It does seem like some of the opinions and the facts on that seem to be evolving constantly."
He mentioned, as an example, some of the conflicting World Health Organization information surrounding whether asymptomatic carriers of COVID-19 can transmit it easily to others. If NU tested every athlete every two to three days, "that's a lot testing," Frost said.
Frost would like more guidance — which he expects to be coming — on what college football programs need to do when a football player is symptomatic or tests positive, since contact tracing in the middle of a football practice will be a challenge.
"When you're talking about a contact sport like football, when somebody does test positive, it's going to be next to impossible to go back and watch every rep of practice to see who they've touched during practice," Frost said.
"I will say this through it: Our kids are not scared of this. I know there's a lot of people who are, and rightfully so, but our kids just want to be out lifting and running and getting ready for a football season. I think some of the directive on how we handle those situations is going to be important as we get into the season, but I know our kids want to play."
Frost doesn't plan on having his players sign a waiver acknowledging the risk or a pledge promising certain behaviors. He expects players to understand what compliance and adherence to best safety practices look like.
"I'd be shocked if there was a team or organization in sports that has been more careful or followed protocol more strictly than we have," Frost said. "But I don't think I need to get our kids to sign anything. They understand what's at stake and they're doing a good job of following all the regulations."
Most of those players are back on campus. Frost said the number of those who aren't could be counted on one hand, but he didn't want to name them. None of NU's workouts at the moment are mandatory. Newcomers who hadn't enrolled prior to the summer are still not able to lift and work out. Frost said NU is looking for guidance from the NCAA football oversight committee on when they might be able to do so.
The NCAA on Wednesday is set to approve a calendar that creates a uniform approach for college football teams to prepare for the season. It requires voluntary workouts through July 12, then a period between July 13-23 where coaches can work with athletes roughly eight hours a week on supervised lifting and film review. Then there would be a two-week minicamp that gives coaches 20 hours of work with their players, six of which can be walkthroughs. By Aug. 7, teams can begin training camp.
NU conducted two spring practices before things shut down. Other Big Ten schools got more, though some, like Iowa, didn't get any.
But Nebraska's brisk return to campus put it in position to have an even longer ramp-up to the season. 
"Missing the amount of spring practice that we did just sets you back as far as knowing Xs and Os and being able to operate as a team," Frost said. "Having a little extra time before camp starts with walkthroughs and getting some of that done will definitely, I think, benefit everybody that missed spring ball."
For all its adversity, Frost said the pandemic has brought the team closer together and prompted players to lead more. NU put together a broad leadership group — Frost compared it to the Huskers' old Unity Council — that has stepped up. Frost especially appreciated the leadership of Husker defensive backs Dicaprio Bootle and Deontai Williams.
And the George Floyd killing — and subsequent nationwide protests — created some good conversations among the team, Frost said. Football teams like Nebraska's, with players from all over the country, can be a model for other organizations on how to handle racial issues, Frost said, because there's already a natural dialogue about it. Frost has had a lot of individual conversations with players and coaches.
The last three months have been difficult and strange. It hasn't all played to Nebraska's advantage, either. But Frost seems settled about the mindset and readiness of his team.
"I feel really good about where our team is from a psychological standpoint and a team standpoint," Frost said. "I know there's a lot of strong opinions about a lot of things that have been going on. But just as it relates to our team, our guys are getting along really well and feel like they're in a safe environment being around their brothers on the team."
---
The 2020 Nebraska football schedule