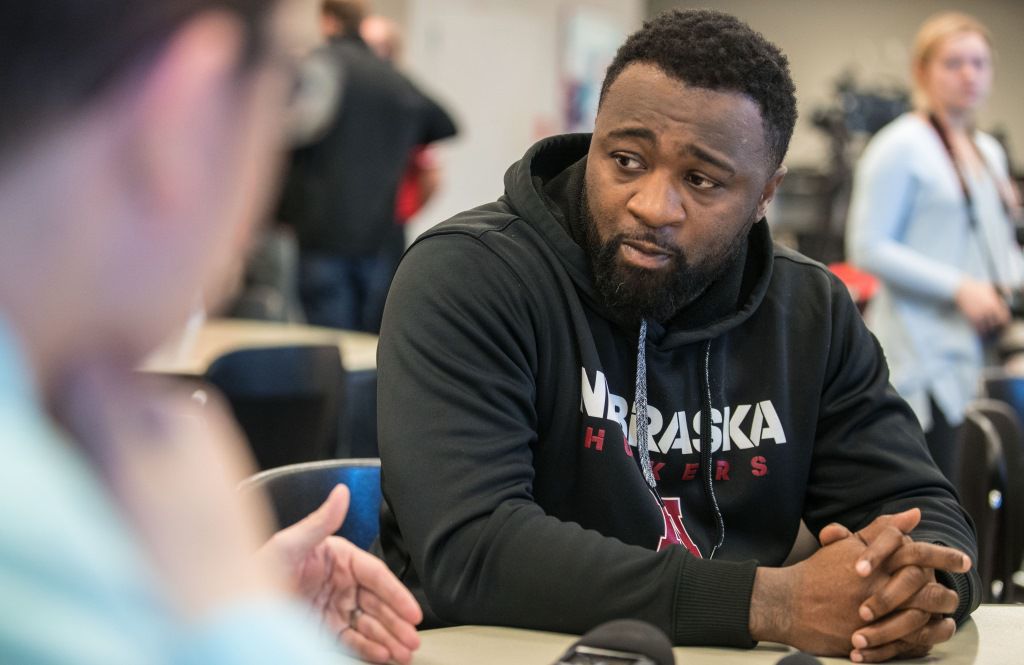 A busy Monday in Nebraska football recruiting. Let's get to it: 
NU secondary coach Travis Fisher tweeted from the recruiting road over the weekend that he and the staff "would get some of the best to Lincoln." He hadn't tweeted in nearly two months.
Monday, Lakeland (Fla.) cornerback Kendall Dennis announced on Twitter that he was taking an official visit this weekend to Nebraska. He gave a two-word answer as to why. 
"Coach Fisher," said Dennis, a four-star prospect according to ESPN and 247Sports. "He keeps it real. He talks to me like my dad." 
Fisher and Dennis have talked for awhile, even if the 6-foot, 176-pounder hasn't been on the radar much. He plans on visiting Nebraska this weekend, Tennessee on Nov. 23 and potentially Florida State — presuming it names a new head coach — in December. 
The Huskers already have three defensive backs — Henry Gray, Tamon Lynum and Ronald Delancy — in the 2020 class. All three are from Florida; Gray and Delancy are from the Miami area while Lynum is from Orlando. Lakeland, one of the top 5A teams in the state, is near Tampa.
Dennis said Gray — the top 100 prospect — is recruiting him hardest among the current NU recruits. Dennis said Fisher wants him at cornerback. 
"I've got good footwork, good speed, I can put hands on people, I know how to tackle," Dennis said of his strengths. 
More junior college offers poured out the doors for Nebraska on Monday: 
» Trinity Valley (Texas) Community College linebacker Joren Dickey, a 6-foot-4, 230-pounder who had four sacks and eight tackles for loss this season. Dickey played inside 'backer for Trinity Valley; with NU losing Mohammed Barry headed into 2020 — leaving no experience behind Collin Miller and Will Honas — an inside 'backer option is possible. Dickey could play outside, too. He played high school football in Albuquerque. 
» East Mississippi Community College outside linebacker Kevontae' Ruggs, the younger brother of Alabama receiver Henry Ruggs. The 6-foot-4, 210-pound Kevontae' Ruggs had 16 tackles at Mississippi as a true freshman, got suspended from the team for some unspecified violation of team rules, and left for East Mississippi, where he had 26 tackles and a tackle for loss in reserve play, which is not uncommon when a player arrives late to JUCO. NU is his first offer of the cycle, but it may not be the last. 
» Tyler (Texas) Junior College outside linebacker Maureese Wren, a 6-foot-4, 220-pounder who had four sacks and nine tackles for loss this season. He's teammates with another recent Husker offer, DeVere Levelston, who just took a visit to Minnesota over the weekend. Wren took a summer visit to Missouri and has an upcoming visit to Louisville. He's a three-star prospect according to 247 Sports and Rivals and was a four-star prospect coming out of Mesquite (Texas) Horn High School. 
» Hutchinson (Kansas) cinco back Lavar Gardner was offered over the weekend. He becomes the third Hutch defender to grab an offer after cornerbacks Ronald Williams and Jakorian Bennett. The 5-foot-11, 210-pound Gardner — who had 65 tackles, nine tackles for loss, four sacks and two forced fumbles, was offered by Illinois and Nebraska within a day of each other. 
Add this trio to the glut of JUCO offers made during the bye week, and it's clear NU is willing to consider immediate help at nearly every defensive position. 
» Rodney Groce, the Pleasant Grove (Alabama) inside linebacker who was committed to NU for a few weeks before decommitting, is announcing his second commitment decision Tuesday. It may not be the last; Groce had a high-volume senior season and may get offers beyond the Mississippi State one that seems to be in favor right now. 
» A receiver to watch: Hollywood (Florida) X receiver Damien Alford, who received a scholarship offer over the weekend. The 6-foot-5, 210-pound three-star prospect just visited Virginia and is slated to look at Kentucky and Syracuse in December. Alford is originally from Canada. 
Photos: Husker recruits attend Nebraska vs. Indiana