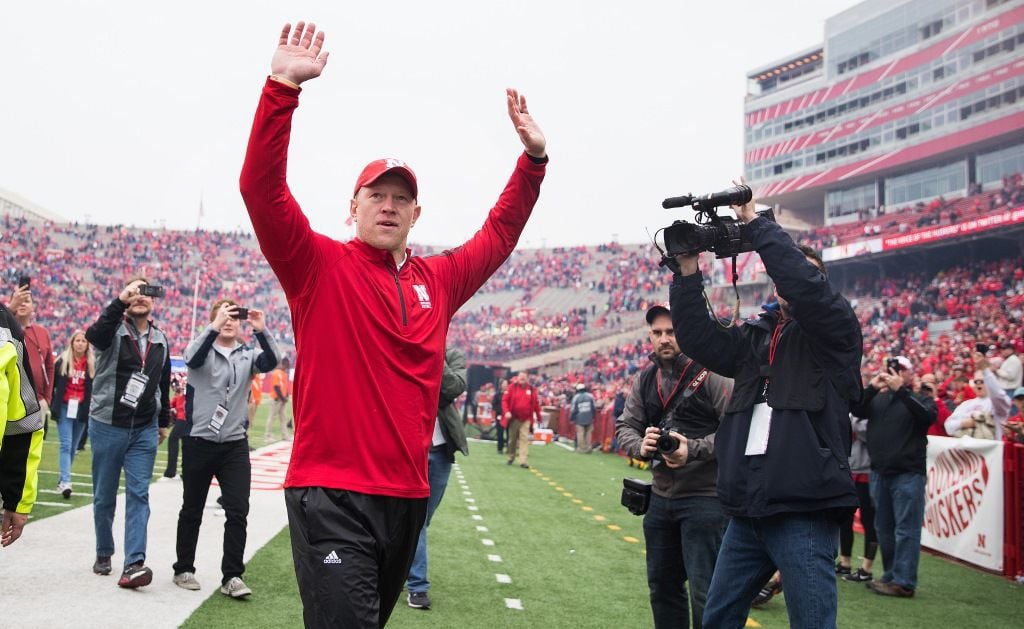 LINCOLN — It started with a few cheers, but the applause grew as Nebraska coach Scott Frost briskly walked off the field after his first spring game. As he bounded toward the northwest tunnel of Memorial Stadium, many Husker fans stood and clapped. The cheers grew louder. Frost tipped the bill of his cap. Louder. He gave a thumbs up. Louder. A one-hand wave. Louder. Finally, just as he disappeared into the tunnel, Frost put up both hands in a wave. Louder still.
The star of the Red team's 49-9 win over the White team didn't play or call one snap. Instead, Frost stood behind the action, part coach, part spectator. He remembered the smell of the stadium — all the food he ate growing up. He shook the hands of many former Huskers around the field. He came home and a spring game record crowd of 86,818 welcomed him.
"It was a special day for me," Frost said.
Frost had the spotlight. But the kid? The kid took it for a moment.
In a quarterback race still far from over, true freshman Adrian Martinez — the player Frost once flew in the middle of the night to recruit — arguably took the lead. He ran for 60 yards, threw for 114 and, most important, amassed four touchdowns.
Yes, Martinez wore a green jersey that told defenders "hands off." He threw one bad pass that could have been intercepted. He moved the ball against backups. But he also didn't look or sound like a guy who could have been going to prom.
"After the first snap, I think all the jitters kind of go away and you just go out and play," Martinez said.
Said Frost: "The one thing that impresses me is his composure as an 18-year-old that could still be in high school to come out and do some good things."
Frost didn't tip his hand in the slightest on whether Martinez was ahead of Tristan Gebbia (125 passing yards, two touchdowns), Andrew Bunch (89 passing yards, one touchdown) or Noah Vedral (53 passing yards), but know this: Gebbia, Bunch and Vedral carried 14 times for a total of minus-9 yards. Martinez ran for more yards than any other Husker on Saturday.
The media and fans got their first glimpse of the 6-foot-2, 205-pound quarterback, who missed his senior season of high school football with a shoulder injury. Husker defenders already knew what he could do.
"He is fast," said linebacker Mohamed Barry, who led all players with eight tackles. "Oh. My. God. He's a fast man. That's what y'all seen. I've seen it firsthand. You can be right there and he starts bending back — he'll cut back and go back forward — and oh my God, he's running like 4.3."
"That's been him all camp," defensive tackle Carlos Davis said. "I hate chasing him."
It's safe to say freshman inside linebacker Andrew Ward didn't enjoy that task either Saturday.
Ward was put in a bind on Martinez's 23-yard touchdown run in the fourth quarter. Martinez pulled the ball on a fake, ran to his right and stopped for split second. Ward had Martinez in a one-on-one tackling situation. In fact, all Ward had to do was touch Martinez and the play would have been called dead. Martinez bolted right past Ward and down the sideline, leaping to the end zone with the ball hitting the pylon.
"There's an option for me to give the ball or keep it," Martinez said. "I decided to keep the ball and then, from there, it was just kind of playing ball."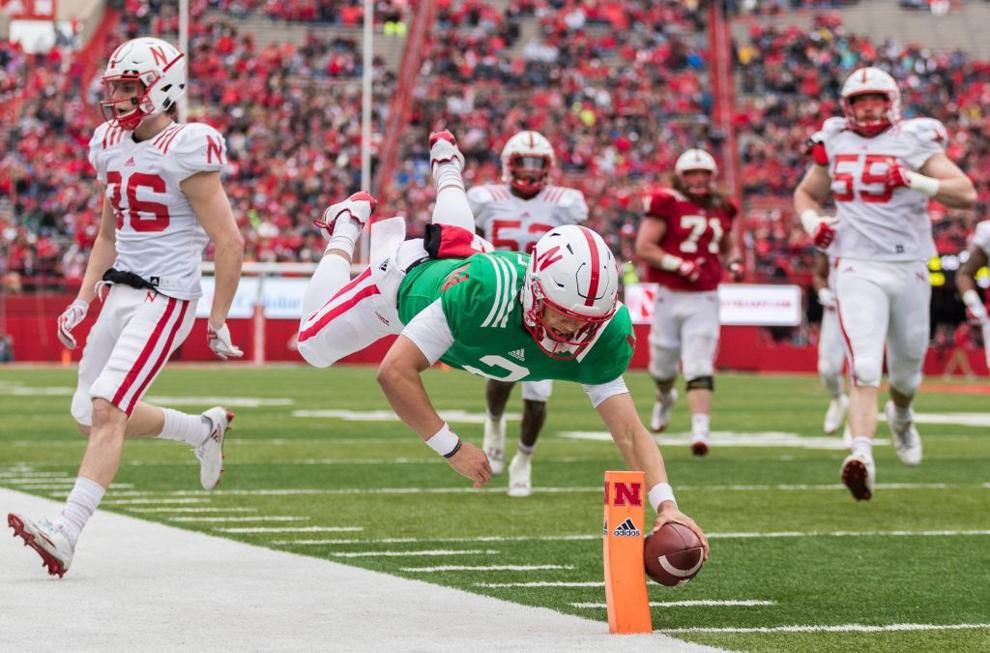 Martinez also scored touchdowns on a 15-yard read option, a 6-yard quarterback draw and, after he had progressed through his first two reads, a 25-yard pass to a wide open Jaevon McQuitty. Martinez's deft ball-handling — getting outside linebackers to bite hard on fakes before taking the ball out of a back's belly — and sense of urgency with the play clock made coaches happy. NU's offense frequently took snaps with 25 to 30 seconds still left on the 40-second play clock.
"(Martinez) made some great decisions on when to keep the ball," offensive coordinator Troy Walters said. "When he gets out in space, man, he's tough to bring down."
Gebbia, a redshirt freshman, threw touchdown passes to Mike Williams (3 yards) and walk-on Kade Warner, who caught a short pass in the flat, eluded cornerback Tony Butler and ran for a 57-yard touchdown. It was the game's longest play. Running back Wyatt Mazour had a 43-yard touchdown with the springing block being provided by left tackle Brenden Jaimes, who pancaked his defender.
Bunch, a walk-on junior, threw a 24-yard touchdown to Kurt Rafdal for the White team's only touchdown and the game's first score. Bunch also led a drive that ended in a second-quarter field goal, but the White team struggled afterward, committing three turnovers and gaining just 112 yards on its final 10 drives against the Red team, which featured more first- and second-team defenders. Outside linebacker Alex Davis notched three sacks and an interception.
"I feel like we gained a lot of ground," Davis said of the defense. "You can see the energy of the team and everybody was bonding. It's a beautiful thing."
Unity has been one theme of Nebraska's spring practice. The word even showed up in Nebraska's Tunnel Walk video, which shed its usual "Sirius" theme song for a cover of the Beatles' "Come Together." It was an unmistakable reference to Frost, the former Husker quarterback who's come home to resurrect a program that has suffered two losing seasons in its past three.
Frost inherited a winless Central Florida program and rescued that team — 0-12 to 13-0 — in just two seasons. Fans wouldn't mind him pulling a similar magic act in Lincoln.
"Nothing happens overnight, or at a flip of a switch, but you can just feel it coalesce and coming together," Frost said. "And I think it'll happen faster here from a culture standpoint — because the guys are so hungry to do it — but the rest of it is still going to take time and we'll see when it all comes together and pops."
The entire operation needs a quarterback. Frost has a reputation for developing them — McKenzie Milton at UCF and Marcus Mariota at Oregon. Martinez, who flipped from Tennessee to Nebraska before the early signing period, seems built in their mold.
"I think we've made a lot of strides in a lot of different areas — in the weight room, obviously on the field, and then just coming together a little bit more as a team," Martinez said. "And for me personally, the guys getting to know me and kind of forming that bond. I think it's been a solid spring."
A few minutes later, the 18-year-old side of Martinez came out as he rode a scooter through the postgame media scrum. He was moving quickly — though maybe not as quickly as on some of his runs.
"He's explosive, man," said Barry, who was happy to gush. "He's going to be something nice to watch when he gets his chance."
Photos: Husker fans ready for first spring game of Frost era
A sold out crowd is ready to watch the Nebraska spring game on April 21, 2018.