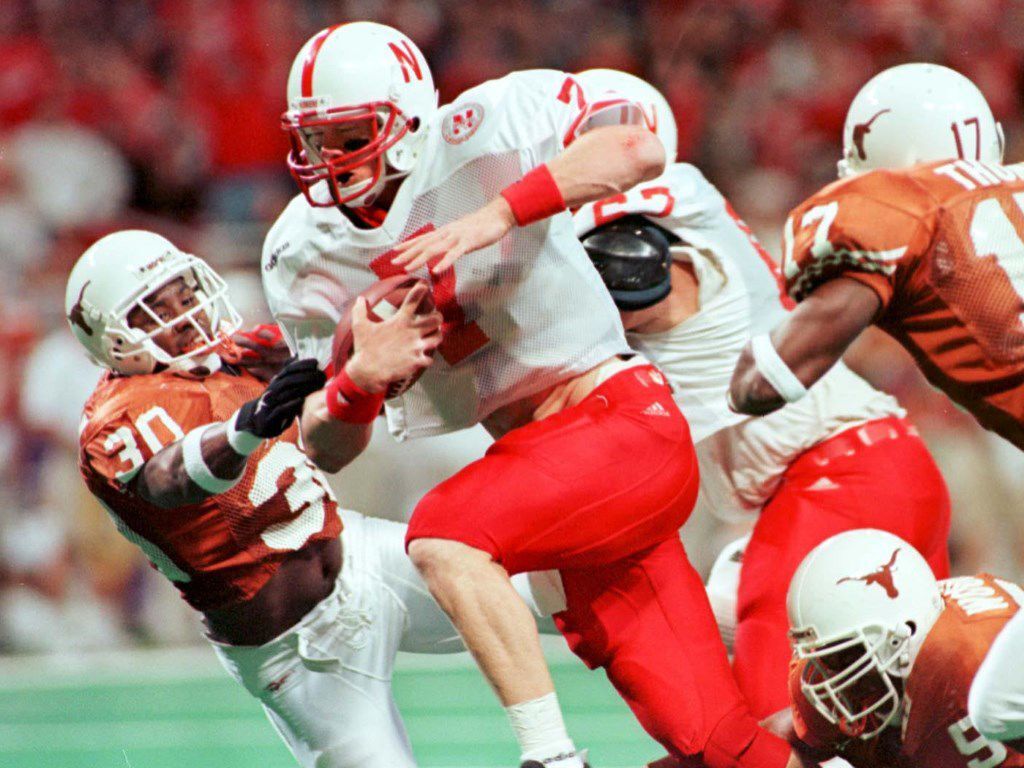 First downs and second guesses on what felt like Hail Mary Monday:
» Might we get that Oklahoma-Nebraska reunion a year early?
An old Big Eight goat can dream, can't he? On Monday, Nebraska football coach Scott Frost opened the door on the idea of a Nebraska-Big 12 reunion this season — if there is a season.
Yes, Frost pledged his loyalty to the Big Ten, saying NU is a proud member of the league. But just as quickly Frost said if the Big Ten does not play this season, Nebraska would have to consider all options.
This just in: the Big Ten is not going to play. No high-placed anonymous sources needed. The league's presidents and athletic directors are extremely close to shutting down the season. It's just a matter of time.
Every league might do the same. The long-term health effects of COVID-19 are weighing heavily on administrators.
But man did Frost give them something to chew on in the Big Ten meeting room.
By saying the Huskers would pursue other options, Frost meant for the 2020 schedule — not a full-time conference home. But Twitter soon became alive with conspiracy theories.
There were even a few polls of Big 12 fans taken. Would you take Nebraska back? By God, yes, the majority said. Come home, Big Red.
This old Big Eight fan would approve. But it's not about me. And I have my doubts NU would make the trade, having had a taste of the academic prowess, grant monies and, yes, that annual $51 million dividend check for belonging to Big Ten, Inc.
If things get as tough financially as Frost says, that $51 million is going to be needed next year.
Here's the question of the day: Would the Big Ten allow such a thing as a one-year free agency?
Big Ten people love the Big Ten. There is no other way. I can imagine the horror on faces in the Big Ten board room when they heard Frost say NU might not fall in line and try to play elsewhere.
I imagine some bow ties got a little tight.
You wonder if that caused some conversation about how to handle the football season.
Here's the thing: Nebraska is not alone. On Monday, we also heard from Ohio State coach Ryan Day, Penn State's James Franklin and Michigan Man Jim Harbaugh — all casting vociferous support for playing football in 2020.
We're just a bunch of friendly folks here on the outskirts of the conference. Those three are the power axis. Plenty of oomph in that triumphant.
What kind of mood will they be in if the Big Ten poobahs call off football? Would they go looking for independent status as well? The financial and mental stakes are that high.
And how would that look on the Big Ten optics board?
There was a report going around Monday that the SEC is sitting back and waiting to see who's in and out. And then will invite select teams to join a super conference this year.
How do you like your grits, Nebraska?
On Message Monday, Frost's little tidbit gave every Power Five league something to think about. Bill Moos' cell phone might be barraged by area codes he's never seen before.
Now, I still can't see a 10-game season being played this fall. Who knows? But six or seven games where Nebraska gets reacquainted with Kansas, Kansas State, OU and, ahem, Texas?
Commissioner COVID is in charge, of course. And COVID might have other plans for this collective football season. But on Aug. 10, the men of Nebraska just want to try.
There was something else to consider, however, while folks on twitter were making "Realignment 2.0" jokes.
What if the financial damage of a barren landscape this fall hits the networks hard? What if plummeting advertising dollars mean there isn't as much money in a few years when the Big Ten goes to re-up?
And what if athletic departments need to seriously cut back travel in all sports?
Could this fall lead to another round of realignment where schools stay closer to home? Could a return to the Big 12 — where the annual payout is over $40 million per school — be in the cards for your friendly neighborhood football school?
Probably not. But just in case, I still have a bar stool in Aggieville with my name on it.
» My colleague Dirk Chatelain raised a good point, and it's one I've had as a parent of a college freshman.
If you're going to clamp down on COVID, why go halfway?
If you're going to cancel football season, why are major universities still going to be open to all students?
I get that it's a liability issue. But does a school's liability extend only to the athletic arena? If a student gets COVID in a cafeteria, library, dorm, campus function, frat house or party, is the school not liable?
Where is the concern for student safety there?
If campuses are open, it's about the money. There are millions at stake. I get that. Bring back the students. Cash our checks. Then send them home in a month if it's not working.
But if safety is the issue, why aren't presidents banning campus activities and social events too?
We are taking our daughter to college this week. We were on a Zoom call with Mizzou administrators and campus leaders and they have a very good plan.
But in the pandemic, there's always something you didn't plan for.
All you can do is hope your student makes safe and smart decisions. But if a school can have a smart protocol for COVID, why can't its football coach?
To me, the answer is optics. Football brings more attention to schools than academics. But football players go to class and hang out at campus functions. Just because they aren't on the football field doesn't mean they are safe.
» The idea of a college players union is intriguing and seems like the right thing to do. The players should have a voice.
But it comes with its own hurdle. For one, the turnover rate.
Some players turn pro after three years. They occasionally get cut or quit. At the most, they are around four years. Every year, there's a new wave of incoming high school recruits. Are they on board with the issues?
Nevertheless, it feels like what Clemson quarterback Trevor Lawrence is headlining has some real momentum and a chance to happen.
Too bad Lawrence may have played his last college game.
» One more and I'm outta here: A final quote from Bellevue West football coach Mike Huffman, from the bottom of my notebook.
"These decisions these superintendents have to make — can you imagine how tough that is? I have a hard enough time deciding whether to go for it on fourth down. And you know how much I love going for fourth down."
Omaha World-Herald: Big Red
Don't miss a moment of Nebraska athletics.