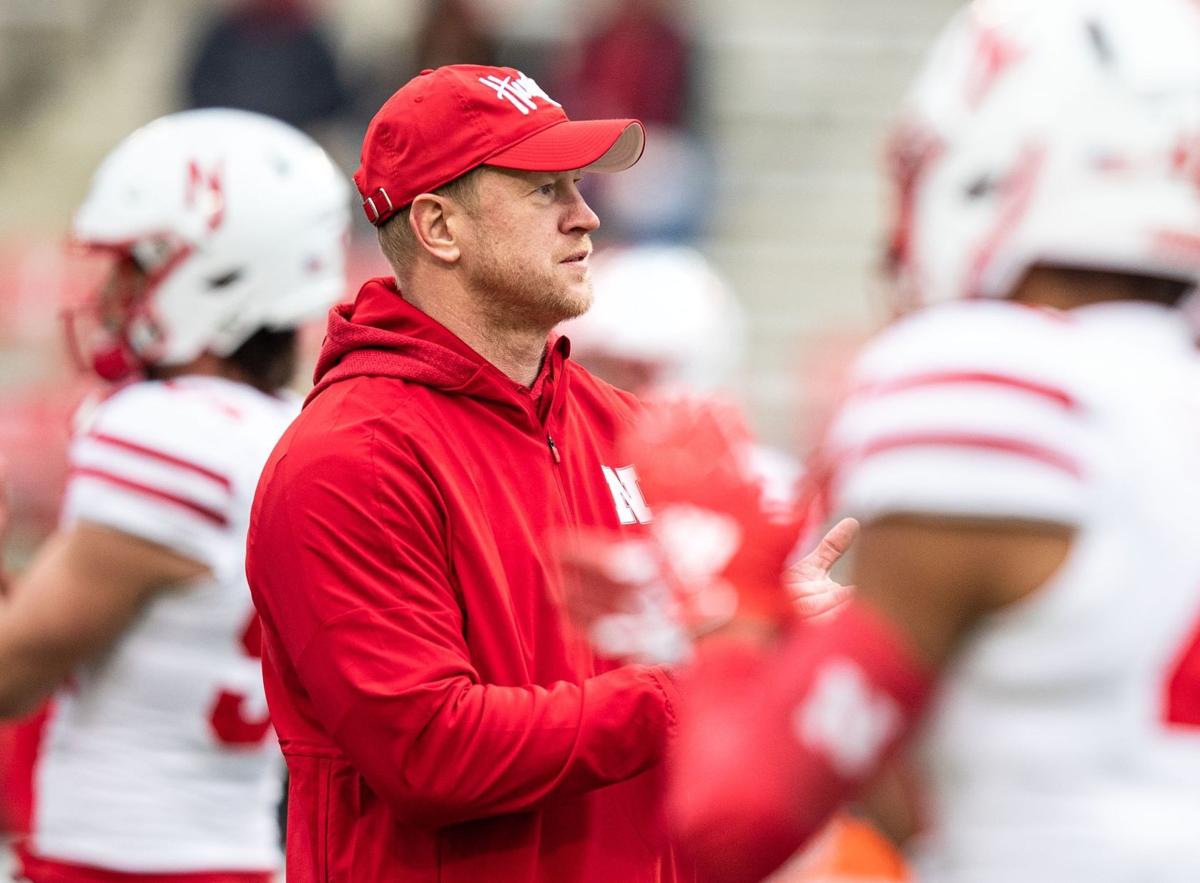 Well, well, well. That was a week, wasn't it?
It began with Scott Frost saying that Nebraska would like to play football games this fall — even if the Big Ten decided not to play.
That's all. No one, including Frost, ever said anything about leaving the Big Ten. Not one word.
Blame it on this scribe, who speculated — if not suggested — that idea, which was based in part by a rant on ESPN by Michael Wilbon, who said that if Nebraska didn't want to be in the Big Ten, it could get the hell out.
More talking heads joined in. Desmond Howard, the former Michigan star. Paul Finebaum, Mr. SEC. National scribes gathered. There was a tractor joke. The horror.
And a whole bunch of our friends around the Big Ten stopped by social media to tell the Huskers to pound sand. Friends Nebraska didn't even know it had.
Busy week. But it was early.
At one point, one national scribe reached out to me. Did I not understand what a conference was all about?
Let me talk to Ohio State, Iowa and Wisconsin and get back to you on that one.
Ohio State coach Ryan Day took up with Frost, suggesting that the Buckeyes would also seek games outside the league, if possible.
Meanwhile, Urban Meyer, Day's predecessor, praised Day and Frost for fighting for their players. They did the right thing, the Urbanator said.
Lo and behold, here came the Iowa football parents, penning a letter to Kevin Warren that demanded football games this season and an explanation from the Big Ten office.
Then the Ohio State football parents wrote a letter. Nebraska football parents were reportedly mobilizing on Saturday. Anybody got stamps?
More. Venk Murthy, a University of Michigan cardiologist, said the Big Ten presidents used "bad statistics" and medical information that "made no sense" in making their decision.
The story about Murthy also quoted Darrel Francis, a professor of cardiology in London, England, saying, "I have no idea what a Big Ten is, but it is getting taken in by nonsensical numbers."
We understand, professor. Sometimes we don't know what a Big Ten is, either.
Then there was this bit of news on Saturday: The FDA authorized the public use of "SalivaDirect," a saliva-based test for coronavirus developed at Yale University that could change and expedite the testing process.
According to ESPN, there is also a saliva test developed at Rutgers University. You know, the Big Ten school.
What a week. And it's not over yet.
Nebraska went from allegedly going "rogue" and being Darth Vader and outcast of the Big Ten ... to having more and more of the force on its side.
Who's to say how many other parent groups will speak up? Or how many other players will join the Wisconsin kids who spoke up against the Big Ten decision?
It's early. This story changes by the hour. For those in a hurry to be on the right side of history, good luck. History is a fast-moving target.
There was a parade of emotions, anger, words and views to digest this week. For this observer, the week comes back to one important message.
Don't go changing, Nebraska.
Don't lose your voice or your opinion, your nerve or your right to question the decisions that come out of the Big Ten board room in Chicago (a room where Nebraska has a seat).
Nebraska pushed back against a decision that it didn't agree with, a decision that was not communicated or explained well.
And when first asked if NU was allowed to pursue other options this fall, Warren did not answer the question.
Later that day, Warren made himself clear.
I'm not sure how far Nebraska would have pushed this fight. At the very least, this was Frost having the back of his players, program, school and state.
If that's what passes for controversy in the Big Ten, what in the wide world of sports would they do with Steve Spurrier or Mike Leach?
One national sports writer called Nebraska "the villain" of the Big Ten. Shouldn't the bad guy at least have to make a bowl game?
The same writer said that Ohio State could push back on the league office because it was Ohio State, and "at least Maryland and Rutgers know their place." But having convictions is not related to your spot in the standings.
Nobody puts Herbie in a corner.
Earlier this week, NU President Ted Carter released a statement pledging Nebraska's loyalty to the Big Ten. Athletic Director Bill Moos said the school would comply with Big Ten rules.
See, the Big Ten cackled, the Huskers fell in line. As predicted.
This was not a fight worth waging, especially when optional games against other Power Five teams was not a guaranteed option by any means.
But it won't be the last time Nebraska and the Big Ten do this dance. This was a marriage between two entities that didn't know nearly enough about each other and didn't do enough research.
If they had, would it have mattered? Probably not. But this is a marriage that will always have bumps, always need some give and take.
At their core, Nebraska and the Big Ten are two different animals, who see the world through two different prisms.
The Big Ten is a brotherhood of old money and old school ways, a one-for-all, all-for-one approach that has thrived for decades. The partners are all equal. They all uphold and protect the Big Ten code.
Nebraska brought a spirit of independence to the league. The Huskers want to be a good partner. But Nebraska's priority will always be to do what's best for Nebraska football.
They learned that philosophy for years in the Big Eight and Big 12, which promoted an entrepreneur style. It served NU well over the years. It also led to them joining the Big Ten.
This week, we saw those two worlds collide.
We also saw the mother bear nature of Big Ten fans, jumping to protect the league from the evils of the school that wanted to play football.
This is a league that has had scandals and issues at various Big Ten schools the past several years. Really rotten, horrible stuff. And Nebraska is the one they want to kick out for wanting to play football?
Now it needs to be pointed out that the Big Ten has been good, very neighborly to Nebraska. The weekly embrace the Big Ten gave NU after losing Sam Foltz during the 2016 season should never be forgotten. It was touching.
But too often the Big Ten resembles a collection of clones. And Nebraska won't be stripped of its independence or attitude, no matter what the league thinks of it.
Now consider the face of Nebraska is Frost, a native son taught to think for himself and speak his mind.
One scribe this week chided Frost for speaking irrationally. Think again. Frost never speaks irrationally. He went to that Zoom press conference last Monday knowing exactly what he was going to say.
You may not like what he has to say, but that's never bothered him before. And won't now.
This is where I was going to write that the Big Ten was trying to drag Nebraska into its Clone Chamber and Nebraska would always resist.
But after seeing the pushback grow around the league, I'm starting to wonder if that stereotype is wrong. Or changing.
Would the pushback be there with Jim Delany? This might be the result of a first-year commissioner being tested. Or perhaps the winds of self-empowerment that are blowing around this country are coming through the Midwest.
I know this: If the parents and players can get Warren to hear them out and include them in the discussion, and if the league can show some transparency and talk specifically about the medical data, and possibly consider pushing back this decision, maybe this will have been a worthwhile week.
And if Nebraska is that conference villain or wild card going forward, fine. Big Ten football can be a pretty mundane place. It could use a little spice.
Did I say villain? Stick around. Nebraska might end up being a trendsetter.