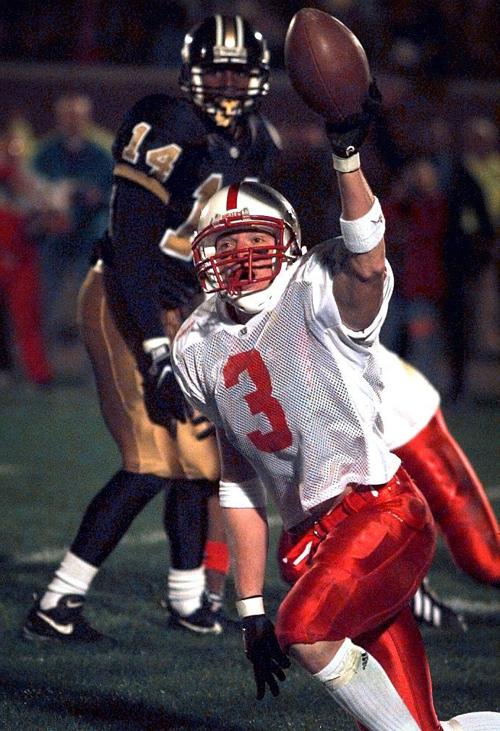 LINCOLN — Corn cobs and little shooter bottles.
It's funny what athletes keep in the scrapbook in their minds about the classic moments. All these years later, you ask Matt Davison about the signature moment of his career, a season and a generation, and he remembers ducking.
"Nate Wells was the equipment manager — he's the football coach at Ord High School now," Davison said. "I remember he and I talking on the sidelines, saying if we lose this game, we better get off the field quickly.
"The Missouri fans were throwing corn cobs and little shooter bottles at us the whole game. We had to wear our helmets. Nate had bruises on him from getting hit by these corn cobs. I was telling him to get a helmet."
The No. 1 Huskers were down 38-31 at the end of a frantic, breathless game at Faurot Field in Columbia, Missouri. Everything was on the line, and at the time, nobody knew just how much: Tom Osborne's last season.
What happened was the greatest, wackiest play you ever saw, or didn't see because of all the bodies near the end zone. Scott Frost's pass hitting Shevin Wiggins' foot and getting kicked up in the air to Davison, who just happened to be close enough to catch his destiny.
Twenty years later, it still doesn't make sense. How it happened, how Davison was going left-to-right on a slant, kept running and ended up being in that area. And that's still the best part of the story.
"I can still see it," Davison says. "It's one of those weird moments in your life. I remember seeing it in the air, the ball floating through the air. What was I thinking? Oh (bleep).
"I don't know how the ball got there, don't know what it hit, but there it was."
The 1997 Nebraska national champs gather in Lincoln this weekend. They were the Boys of Swagger. The Last Legends. And they were so much more than a hell of a catch by a wide-eyed freshman from Tecumseh.
For those of us who witnessed that season, it was a collage of greatness and history.
I remember interviewing Nancy Osborne in her press box suite during the game, and asking her how much longer her hubby planned to coach. She never let on. Great poker face.
Another thing about that OU game I found out later on: Offensive line coach Milt Tenopir stopped by the Sooners' coaches box at halftime to give them a quick cheat sheet on how to stop the option. Amazing.
Mostly, the names on jerseys. A Hall of Fame come to life. Wistrom. Peter. Taylor. Frost. Makovicka. Green. Brown. On and on.
We honor them as champions, but that seems a little misguided. Sure, the '97 Huskers earned that championship. But sometimes you need help. They had some.
If that ball hits the ground at Missouri, there's no national championship.
And, you could argue if Osborne doesn't retire, the coaches poll might swing to Michigan.
Osborne's third national title was anything but a given. It came after Frost gave a passionate speech to the Orange Bowl TV viewers — mostly the voters in the coaches poll. It arrived at about 2 a.m. Eastern time, hours after Osborne's last game had ended, like the early morning of an election with the Huskers staying up and waiting nervously for the poll results.
We remember that '97 team because of that title. But they sure as heck weren't defined by it.
"When people say bring back the '90s, I think that means bring back the option to a lot of people," Davison said. "But that's not what the '90s means."
Davison played three more years, including on NU's last conference champion in 1999. He's the color analyst for the Husker Network and he's seen a lot of upside-down history, coaching changes, turmoil, all that, in the last two decades.
He speaks now to a generation that doesn't remember that autumn of '97, how it felt to mow down every team, the attitudes, the characters and personalities. What fun it was to be a Husker fan. It was so different that it's hard to believe if you weren't there.
"The '90s means everybody moving in the same direction," Davison said. "A united fan base. A united athletic department. United locker room. And everyone working toward the same goal.
"I think about that '99 team, probably should have won the national title. The '97 team was different. It had such a uniqueness to it, with its camaraderie in the locker room, the leadership.
"It's something that every player hopes to live one day, to have that togetherness. That feeling. It's something every coach wants to find.
"And the coaches can only lead so far. The players have to have this thing that brings them together. There's a fine line between wanting to win and refusing to lose. We were a group that refused to lose."
For Davison, that difference was embodied by Grant Wistrom and Jason Peter.
"Grant and Jason gave us an edge that was never replicated," Davison said. "When they led us out of the tunnel, it felt pretty good.
"There were fights almost every day. The competitiveness was there all the time because the guy behind you wanted to play.
"I don't remember those guys ever getting hit. Jason threw a few haymakers now and then. But those guys would get mad if the scout team wasn't going hard enough. You're a walk-on offensive lineman and you have to bring an edge or you're going to get beat up."
These kinds of special teams become a band of brothers. Teammates forever. Friends for life.
The freshman receiver who wore No. 3 found a best friend in a somewhat unusual place: the guy who threw him the ball.
Unusual, because Davison was a freshman and Frost was a senior. They became close friends as that season closed. As Frost went on to play in the NFL, they kept in touch. Davison went to visit Frost when he could.
"The catch at Missouri kind of bonded us together," Davison said. "We just hit it off. Pretty soon we're in each other's weddings."
Next thing you know, Frost is head coach at Central Florida and Davison is on the ... Knights' sideline?
It happened last Saturday. And, yes, it's a little awkward. Maybe a lot awkward.
As Davison says, "I've rooted for Nebraska my whole life. I want Nebraska to win. I think people listening understand I want us to win.
"Scott doesn't like that it's out there. It's not fun for Mike and his staff to hear all these things. I hate to see our program going through this."
"I know my pal is a great coach," Davison said. "I know that. I've been telling people for over a decade that Scott Frost was going to be the head coach at Nebraska one day. I've been giving speeches all over the state. When Scott was 30, I was saying it."
Davison is careful to draw the line at "one day." But he's not going to shy away from talking about his friend the coach, if people see him on the Central Florida sideline while NU is 3-2.
"The older I get, I worry a little bit less about what people think," Davison said. "My friendships and the people close to me, I'm not going to be influenced by some outside force.
"It (UCF game last Saturday) happened to be on the day after Nebraska played on a Friday. If Nebraska was 5-0, I would have gone. My friendship isn't determined by how many games Mike Riley wins."
No, it was forged 20 years ago, a lifetime of Nebraska football ago, it seems.
This weekend we celebrate that historic time, the last national champs. The last of a breed. The title doesn't define them, but it makes for a heck of an excuse to see them again.
"It (national title) doesn't define us," Davison said. "But it makes it that much sweeter. There are very few times in your life you can say you were the best. We were the best."
They have the trophy and bruises to prove it.
Which of Tom Osborne's three national championship teams was the best?
The Huskers went undefeated in 1994, 1995 and 1997 en route to national championship seasons under Tom Osborne. Which was the best?
You voted:
Photos: Nebraska's 1997 national championship run
A collection of photos and front pages from Nebraska's 1997 season.