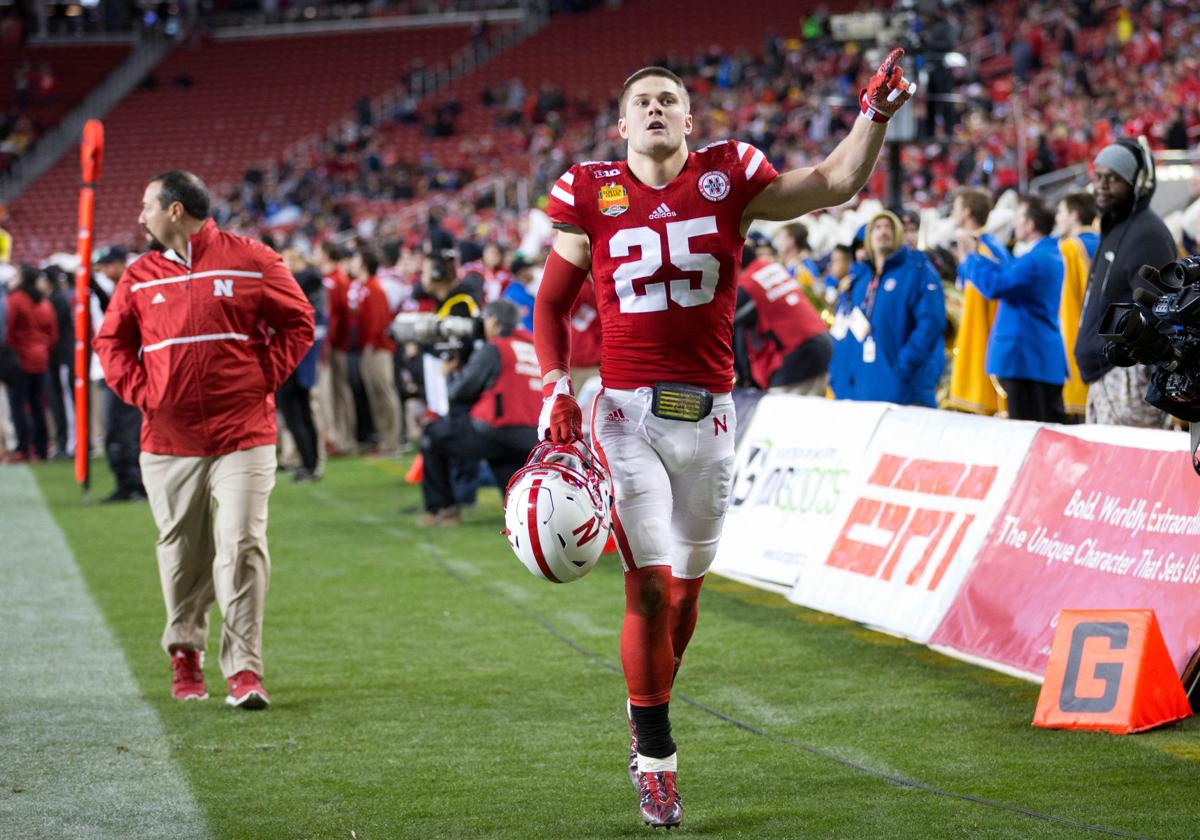 I came here today to take aim at the "targeting" rule and all its inconsistencies.
And then I watched Cam Newton down on all fours, then stumbling back to the huddle, his eyes rolling around in his head.
The brutal images of the Carolina Panthers quarterback were the talk — and tweet — of the football world on Thursday night and into Friday. How could the NFL allow its MVP to remain in the game as a punching bag?
In the end, it was an example that football at its highest levels is a ruthless enterprise, with entertainment and money as the top priorities. And, of course, we kept watching.
And we'll watch again today.
But the conversation was needed. And maybe it took seeing an NFL superstar being knocked around like a piñata to put the focus of targeting where it belongs.
There's been a lot of discussion and debate in Nebraska, and some angst, about the targeting rule. Safety Nate Gerry was ejected from games twice last year for targeting, and last week linebacker Luke Gifford was ejected from the Fresno State game.
You hear that the rule is not fair, how it's ruining football, softening the game and all that.
The problem with "targeting" is not the rule, but how it's interpreted and enforced. It's a good intention but needs definition.
This week, I talked to a football official who works in a Power Five league. I asked him for a definition of the targeting rule, what it's really all about.
"It's about the head," he said.
He said in college football, targeting does not have to involve two helmets. Targeting can come if a hand, arm, knee or other body parts make contact with a player's head.
Also, he said, intent has nothing to do with whether a penalty is called. Contact can be incidental, but if there's contact with the head, it's technically a violation.
The problem, my official says, is that there is not one uniform interpretation of the rule. There should be, but each conference has its own definition, and in some cases that goes game to game.
For instance, the Texas-Notre Dame game Sunday. Replays showed a Texas defender knocking helmets with an Irish receiver, who was slow to get up. But there was no flag. The officials were a crew from the ACC.
The same league that ejected Gerry from the Foster Farms Bowl last December for a less violent hit.
My guy says the rule is a major emphasis in college football, but most refs are trying to figure out how to call it — and whether to, if in doubt, throw the flag and let the replay booth overturn it.
"It's a good rule," the ref said. "We've got to figure out how to get everyone on the same page and make it work for everyone. Brain injuries and CTE are a serious matter."
Caught in the middle are the players, who aren't always able to change course in midair. On one of the plays where Newton's helmet was rocked, he was being sacked and was tossed into the path of a defender's helmet.
"It's too bang-bang," Nebraska linebacker Josh Banderas said this week. "If they throw the flag, they throw the flag. We've just got to be working to be lower."
Defenders used to be taught to tackle around the waist. But if you insert helmet in stomach, you're still leading with the head. Now, the rugby style is catching on. That's a byproduct of the targeting rule.
"They've got to figure it out, but we've got to adjust, too," Banderas said. "We've got to lower our target zone. The rugby style should help.
"Hopefully the new generation coming up — with this new tackling — will learn to move that strike zone lower. For us, it's hard because we've been doing it our whole life."
Until new habits are formed, the conferences need to find a uniform way to call this. There are too many replays in a game, but this is one case where it should be required.
Meanwhile, ejection is too stern a penalty in a game that moves so fast. Unless officials and replay officials are convinced the act was intentional, ejection doesn't make sense.
These things won't happen soon, and until then, we'll shake our heads at the inconsistencies and wonder where our great game is headed.
Maybe, too, we can stop to wonder how the kid who got hit is doing.
» Mike Riley played for Bear Bryant. This isn't the Bear's game anymore.
To get his team ready for today's 11 a.m. kickoff, Riley had the Huskers wearing special glasses — almost like sunglasses — on Friday night for the few hours before they had lights out.
Kind of a hip look? Not exactly. Riley said a study shows the blue rays from looking at smartphones and tablets make it hard to fall asleep.
I'm thinking like a dad here, so I asked Riley why he couldn't just take the phones away on Friday night. He said the technology is necessary; the players are studying the game plan on the tablets.
We'll see if it works today.
And we'll see if my daughters figure this out and claim they're studying on their phones all night.
» This is the third and final game in the current contract with Wyoming. But it was almost five games: Nebraska proposed three games in Lincoln, one in Laramie and one at Sports Authority Field in Denver.
I like this series. It's fun. But with competition for players and walk-ons with the Cowboys, I also get why NU would not want to play it every year.
» Player Under the Lamp today: DeMornay Pierson-El.
He's a game-changer, as he showed when he came back briefly last year at Minnesota. Can he get his punt return groove back? Time to find out.
» Game I'd Like to Watch Today: UCF(rost) at Michigan. We can't bring back 1997. But 2016 is good enough. Scott Frost is seen as the Next Big Thing in college coaching. Jim Harbaugh is the Current Big Thing. They meet in the Big House. It's big.
» Wild prediction: Iowa State upsets Iowa.
» Nebraska pick: Huskers 42, Wyoming 24. And Pierson-El returns a punt for a touchdown.