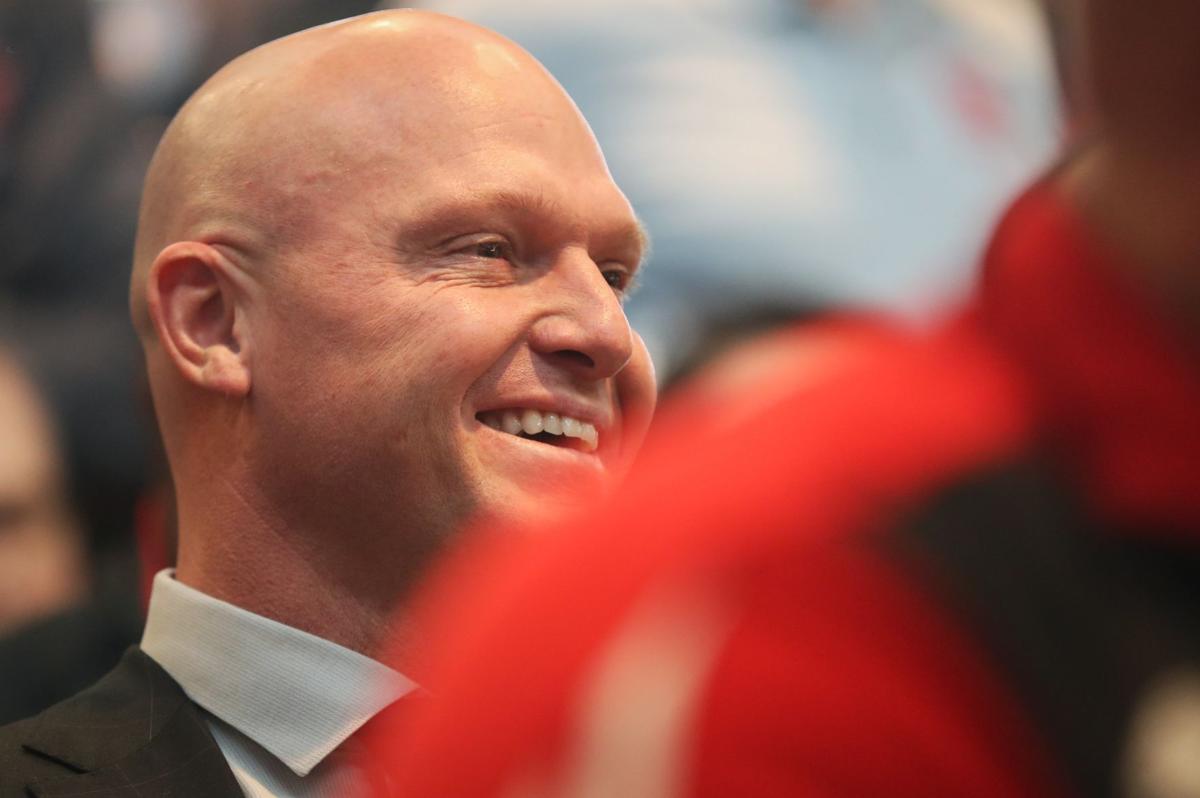 "I thought man, this football team right now, they have some issues," Davison said in a speech to the Lincoln Chamber of Commerce on Wednesday. "The roster wasn't managed well. There were some gaps in certain positions. I knew we were in trouble going into the season."
It didn't get better. Particularly after the Northern Illinois loss two weeks later. Athletic Director Shawn Eichorst was fired following the 21-17 loss, and the program began a tailspin. That's when Davison called Scott Frost and gave him the first of many pitches to come back to Nebraska from Central Florida.
"He didn't want to hear it," Davison said. "He was focused on UCF as he should've been."
But from that phone call on, Davison, a former Husker receiver, played a key part in bringing Frost to Nebraska. Davison previously called Nebraska football and men's basketball games on the radio but since the hiring of Frost has been promoted to associate athletic director for football. And in Davison's talk on Wednesday, he not only outlined how NU landed Frost but how  the Nebraska football program seemed under Mike Riley and the previous staff. And how that has changed under Frost.
"This is the first time in a long, long time at this university we have all the leadership in place and everyone is on the same page and the vision is there and everyone is moving in the same direction from the president to the chancellor and athletic director and finally the football coach," Davison said.
Three years ago, after the firing of Bo Pelini, Davison said he tried to start a movement to bring Frost back to Nebraska. That didn't happen. Eichorst ran a one-person search committee and hired Riley from Oregon State.
"Three years ago I put a little bit of an effort in and it didn't happen," Davison said. "But I think it was God's plan that it worked out this way."
After Eichorst was fired, and as Nebraska's 2017 season grew worse, Davison began to push harder and harder for Frost.
"I don't want to say they quit," Davison said on Wednesday, "but that was a football team that didn't look like they wanted to be out there."
At that point, Nebraska was 4-6. And though he might not have seen 4-8 coming — Nebraska's worst season since 1961 — the program wasn't as good as it maybe seemed the year prior, when Nebraska finished 9-4, Davison said.
"I think 4-8 is a tough year, and the year before they won nine games, and it was kind of a season where we snuck by some average teams, but they won nine games," Davison said. "And so maybe you didn't see 4-8 coming but if you really looked at the film from two years ago, there were some problems that were kind of covered up by smoke and mirrors by the final score. There were problems. Last year all those problems came out 4-8."
That 4-8 season showed just how many problems Nebraska had internally, Davison said. Most notably, the culture inside the program was off. Wrong for Nebraska.
"To see some of the things that have happened over the past 15 years or so have been really painful and it's been hard to watch, and being as close to it as I am it's been very difficult to see it happen because I know what made Nebraska great for a long time," Davison said. "The leadership we had in our program and university and department and it all started with the people, great people, special people that know how to lead young men. And we got away from that a little bit. Some poor decisions were made around the program and it took us to a place we want to forget about."
Part of the problem was recruiting, Davison said. The last staff got caught up in star rankings, something Frost and his new staff don't care as much about, he said.
"I don't think character was something that was looked at enough. I don't think fit in Nebraska was looked at enough," Davison said.
Frost's staff is placing an emphasis on character on the recruiting trail, Davison said. If they like a kid's film, but not the kid, they won't offer. They don't just watch the highlight film, they watch entire games of recruits. They want guys who compete every play, Davison said.
Other problems that added to the culture the past few years, according to Davison, were issues in the weight program and overall accountability.
"We need better players and we need guys that are willing to go do things that we ask them to do," Davison said.
When Davison looks at the team right now, he sees guys who want to win. Guys who had no fun a year ago and want to get better. But the culture needs work.
"I also think we have a ways to go when it comes to discipline and accountability," Davison said. "We're going to ask you to be somewhere, and you better be there. And when you're there, you better do what we ask you to do and you better do it as well as you can possibly do it, and you better do it every day that you're on campus. And I don't think we had that."
With Frost and the staff now in place, the culture rejuvenation has already begun, Davison said, with accountability at the top of the list.
"The coaching staff is going to make sure if players aren't doing what they're supposed to be doing, there will be consequences," he said.
"And they're not going to like it," said Davison.
And not everyone is going to make it with this new staff, Davison said. That was the message from day one under Frost.
"Stood there the first day and said, 'Here's what we're going to ask of you. And it's going to be a heck of a lot of fun for those of you who stay and make it and are a part of this deal. Some of you probably aren't going to make it, and that's OK because we're going to get rid of the guys who can't make it,' " Davison said.
The roster needs to be "flipped" Davison said. It needs guys who are willing to compete.
"We need to teach our guys how to go out and be a competitor every play and every game. We need to get them in the weight room a lot more than they were before. We need to get them bigger, faster and stronger and we need to get dudes. Dudes win games. We need to get some more dudes in here that'll help us win some games."
As a program, Nebraska needs to "ramp it up" in the way everyone approaches the game on a daily basis. And Davison said the players from Nebraska on the roster — mostly walk-ons — are the ones who set that tone.
"We need guys that are willing to be unpopular with their teammates and hold them accountable. And we're starting to see that a little bit," said Davison, who hails from Tecumseh. "And not shockingly, it's Nebraska kids on the roster that are really emerging as leaders."
Frost turned around UCF in two years. From 0-12 in 2015 to 12-0 in 2017. The turnaround at Nebraska won't be that quick, Davison said.
The competition in the Big Ten is different from the competition in the American Athletic Conference. The situation is different from the previous turnaround.
But Davison is confident Nebraska will put a product on the field fans can be proud of.
"Even though it's just a game, and I'm the first one to say winning football games is nowhere near at the top of my priority list," Davison said. "But dang it, let's win if we're going to play."
Some more notes from the event:
» Marc Boehm, NU's executive associate athletic  director, said he has it on pretty good authority that if Nebraska basketball wins its final three games, it will make the NCAA tournament. Boehm, who spoke to the Lincoln Chamber of Commerce on Wednesday, said he spoke to a member of the NCAA selection committee who said three wins at the end of the regular season gives Nebraska a 99 percent chance of making the tournament.
Win two out of those three, Boehm said, and Nebraska's chances drop to 72 percent.
Nebraska (20-8, 11-4) could reach the NCAA tournament for the second time in five years under  coach Tim Miles.
» After last season, Boehm said Tim Miles sat down with Tucker Zeleny, who runs analytics for Nebraska sports.
In that meeting, Zeleny said a good number of Nebraska's issues were because of 3-point shooting, both defending the 3 and shooting the 3.
Boehm said Miles took that advice to heart and began retooling an offense with higher efficiency 3-point shooting. The Huskers are shooting 35 percent from behind the arc this season. They also rank first in the Big Ten in 3-point field goal defense, holding opponents to  31.5 percent .
» Boehm said Frost and Moos have been discussing the possibility of two or three spring games.
"I truly think that could be in the works," Boehm said. "So stay tuned for that."
» Speaking of sellouts, Boehm said Nebraska was in jeopardy of losing the sellout streak the last few seasons.
"We can't let that happen," Boehm said of the losing the longest sellout streak in the country, which dates back to 1962.
The hiring of Scott Frost has changed that significantly, he said.
20 Husker football legends reveal why they're optimistic about Scott Frost's return to Nebraska
The World-Herald reached out to a number of former Nebraska players from several different decades to get their thoughts on Scott Frost returning to Lincoln. Here's what they think the hiring of the former Husker quarterback will mean for the NU program.
Omaha World-Herald: Big Red
Don't miss a moment of Nebraska athletics.