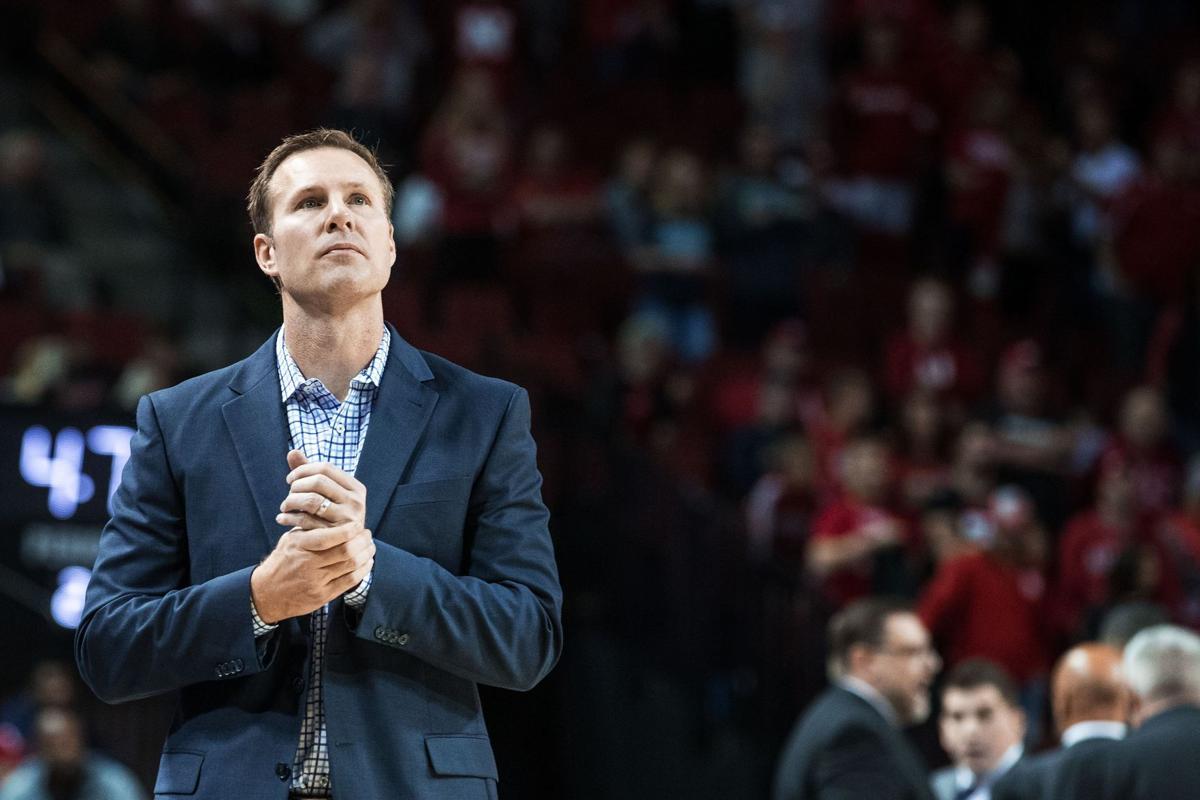 LINCOLN — There's a black chair at Pinnacle Bank Arena just outside the Nebraska men's basketball locker room.
It's black. Metal. Cushy. The only one in the hallway.
On game days, a security guard sits there. On weekday afternoons, it's the only comfy spot to wait before media availability, beating the alternative of a hard, slate gray concrete.
Over the past two years, I've come to know the chair quite well.
The view of the court isn't ideal. At most, you can see one hoop and half of one basket. Sometimes — not often — a black curtain is drawn to hide apparent state secrets.
Still, the picture from that sliver of a view has changed quite a bit the past 24 months. Nearly 20 players have passed me walking off the court in sweaty gray and red jerseys. Six coaches — and countless support staff — have nodded my way while they file through en route to the locker room. The conversations in the hallway have echoed from glee to glum and every word in between.
This is my final dispatch on this beat before moving back to Kansas. Though in the grand arc of history that news is rather small, it's worth taking a moment to take stock of where, frozen in this moment, the basketball program stands.
It's changed before my eyes in two years, and it could change even more in the next two.
The differences go beyond the coach but we'll start there, because with the transition from Tim Miles to Fred Hoiberg, there's been a drastic shift in resources, expectations and internal operations.
Money talks, so we'll listen to it first. Under Miles, Nebraska was often near the bottom of the Big Ten in spending on men's basketball. In Miles' final year, NU ranked 11th in the Big Ten in total expenses, 12th in total revenue and eighth in head coach's salary. And there was a pattern under Miles of failing to put more resources toward the second-highest revenue-generating sport.
From 2014 to 2018, the athletic department's spending almost doubled, increasing 49.1% department-wide in five years, according to financial records. Spending on men's basketball increased by 25.8% in that time, 15th most out of Nebraska's 19 sports. That increase was more than only women's golf, softball, women's basketball and men's tennis. Football, meanwhile, had a five-year spending increase of 100.7%. Rifle increased by 62.4%, women's track 42.5% and volleyball 40.3%.
In talking with sources, Miles and his staff asked for upgrades during those five years and were told no often. That went for hiring assistants, signing recruits and even, once, an Adidas display of throwback jerseys to put outside the basketball offices. The idea of the display was nixed, but eventually approved after weeks of deliberation.
When asked about this 18 months ago, Athletic Director Bill Moos said funding for the men's basketball program and support from the top was "more than adequate."
"The support is good, the facilities are great, the fan base you know all about," Moos said at a conference table inside his office. "There had to be a total makeover at Washington State football. That doesn't need to happen."
Even so, the days of roadblocks and tension appear to be over. Because weeks later, Moos fired Miles, hired Hoiberg and the basketball budget expanded.
Hoiberg's $25 million contract pays him $3.57 million a year, which, according to the most recent available numbers, makes Hoiberg the 11th-highest-paid college basketball coach and third-highest in the Big Ten. Nebraska's assistant coaching salary pool was doubled for Hoiberg's staff, with Matt Abdelmassih as the second-highest-paid assistant in the Big Ten.
Nebraska's 2019 financial report — Miles' final year — listed about $9 million in spending on men's basketball. The 2020 financial report — which includes Hoiberg's first season — is expected to be around $11 million in spending on men's basketball, according to a source with knowledge of the athletic department budget.
The influx of cash symbolizes the trust that has been rebuilt between program and administration. Hoiberg can get into PBA to practice whenever he needs, a luxury not always open to Miles. The new administrative liaison, John Johnson, is hands off, which is what Hoiberg prefers, rather than having Marc Boehm sitting in on practice or in the locker room after games.
Nebraska lets Hoiberg — who has been there and done it twice — do what he needs to do.
The mood inside the program is that of confidence, despite a 7-25 first season. There is an assurance from every member of the staff that this will work because it has worked, which is the second biggest difference: The personalities of Miles and Hoiberg and how they've blended into the programs.
Miles came to Nebraska by way of Colorado State. He was a young, up-and-coming coach, which was the history of Nebraska basketball hires.
Coaches hired at Nebraska dating to the '50s had come from Toledo, Idaho, an assistant at Nebraska, Ohio, Butler, UTEP and Colorado State. When all of them landed in Lincoln, it was the highest-profile job they had ever had, in a bigger, more important conference.
Because of that, there was always a sense that Miles' profile and acumen was growing with the program. He had something to prove, as did his players and the program. Miles was an underdog, and so were the Huskers. It created a bond between fan and coach, and it helped that — every game — Miles wrung himself out on the floor. He threw his arms in the air after 3-pointers, he fell onto the floor to plead for his team to dive on loose balls. Postgame, his tie was often disheveled. His hair, too. His glasses hung at the end of his nose like he'd run stairs in a suit for two hours.
The seven-year Miles experience was exhausting — with the highs and lows — because coach-player-fan seemed interconnected.
It feels different with Hoiberg.
Not that he's disconnected from the school or the state or doesn't have something to prove. He does. The guy was born in Lincoln, he's the grandson of a former coach. Heck, when his family settled in America, it was in a small town in Nebraska.
But Hoiberg is the first divergence from the Nebraska norm since the hiring of Harry Good away from Indiana in 1946. He's actually been where Nebraska wants to go.
You know Hoiberg's résumé. He knows it, too. He was the one on top of the ladder at the Sprint Center with his twin boys cutting down the nets after his second straight Big 12 tournament title. He was the one dancing in the locker room after beating North Carolina in the NCAA tournament. He knows what that blue NCAA logo looks like on an NCAA tournament floor.
Unlike Miles and Nebraska, Hoiberg has climbed that mountain. He knows what the view looks like up there. He has the harness, ropes and ice ax to scale it.
For years, it felt like the weight of Nebraska's failures to win an NCAA tournament game and the constant disappointments of lost seasons weighed heavy on the entire program, from coaches down to the players.
But that anxiety no longer percolates at practice. Instead, there's a calm that the mission is not to blaze a new trail, but to follow a leader who has already been there, who can point at loose rocks to avoid and where to reach next.
Hoiberg keeps most everything inside. His hair is unshaken postgame, his shirts with few wrinkles. At times, he can erupt, but an outward appearance of calm and control makes even a 7-25 season seem less like a plane crash and more like a water landing with cocktails.
The first time I talked with Miles after he was fired, he was driving back from North Dakota. He told me that, days after being fired, he went to see his parents.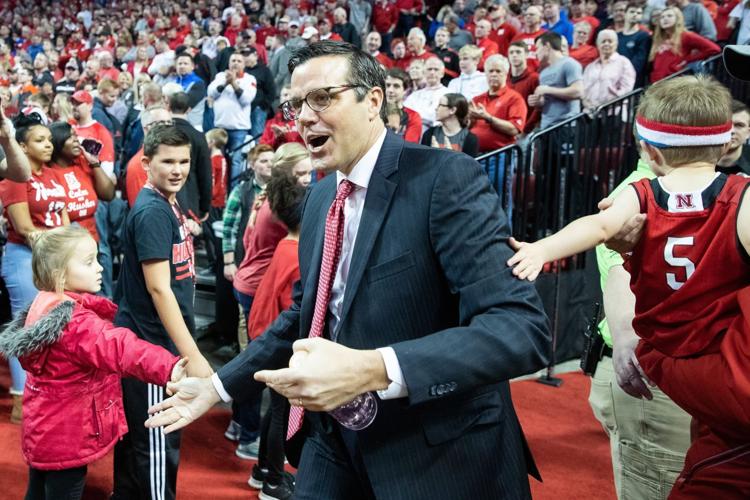 "I told them, 'Mom, Dad, do you know who the Patriots quarterback was before Tom Brady?' " Miles recalled to me. "That's who I am."
And that's the difference. Miles sees himself as Drew Bledsoe. Hoiberg — though bashful — Brady.
And the appeal of Hoiberg — the Bulls years, the Iowa State years — brings in talent. A confident talent. Which brings us to the third major change: roster turnover and roster talent.
For the most part, Miles fell under the camp of most coaches: Bring in high school talent and groom them into stars. Mix in a few transfers, and you've got a heck of a roster. That climaxed with high school recruits Isaiah Roby, Glynn Watson and Thomas Allen with transfers James Palmer and Isaac Copeland.
The risk there, though, is if you get a bad batch of recruits, you're stuck with them unless they transfer. That can lead to bad years — difficult rosters.
Hoiberg and Abdelmassih have shifted hard the other way, and the carousel of players has revolved on.
We saw the con of that philosophy last year. Instead of dealing with the group already on campus, Nebraska overhauled the roster and remade the locker room in 30 days. If you caught the staff in an honest moment, they'd likely admit (to some degree) that was a mistake. Individually, the 2019-20 roster was moderately talented. But together, they were immature, inexperienced, and by the season's end, playing to get into a better school for the next season.
But the pros of Hoiberg's way are that a hard reset is easier in a few summer months, and you can end up with a roster like next season's. Most everyone from last year is gone, and in comes more than 8,500 previous Division I minutes, with former four-stars thirsty for another chance. Now on the roster you have Kobe Webster, who ran Western Illinois' offense for three years. And Teddy Allen, a do-it-all scorer. And Lat Mayen, a true stretch 4-5. And Trey McGowens, who, if eligible, has the talent to completely take over the game and put up 30. Not to mention the three sit-out transfers: Dalano Banton, Shamiel Stevenson and Derrick Walker.
In so many ways, Hoiberg and his staff run the program like an NBA office. They use the transfer portal like a waiver wire. Sometimes, the right guy jumps in and you can snag them, like Hoiberg did with Royce White at Iowa State and with Dwyane Wade with the Bulls. White led Iowa State to an NCAA tournament. Wade had the Bulls up 2-0 on the Boston Celtics in the first round of the NBA playoffs, until Rajon Rondo got hurt and Chicago lost four straight.
The key is getting the right guy — or guys — and building.
That's where you start to see the embers. You put it all together — financial stability, trust, a long leash, a coach with something to prove and a blueprint to follow.
Then practice is over and you're waved from the cushy black chair into the arena. And there you see three players, their gray jerseys dark with sweat stains.
None of them are starters. None are even playing tomorrow. They're the three sit-out transfers: Banton, Stevenson and Walker. The three take turns ramming into managers holding pads, then dunking on a basket that doesn't cease shaking. Hoiberg watches from midcourt, whistle in his mouth, hands on his hips, black sweatpants tucked into a gray T-shirt.
You can almost hear the gears clicking in his head, but you can't, and the arena is quiet, just tweet of shoes and grunts and rattles of the rim. Beneath the surface, there appears to be a bubbling.
It's hard not to look back and see that black chair just outside the tunnel, and wonder what the next person who sits in it will see.
Photos: Fred Hoiberg through the years
Omaha World-Herald: Big Red
Don't miss a moment of Nebraska athletics.