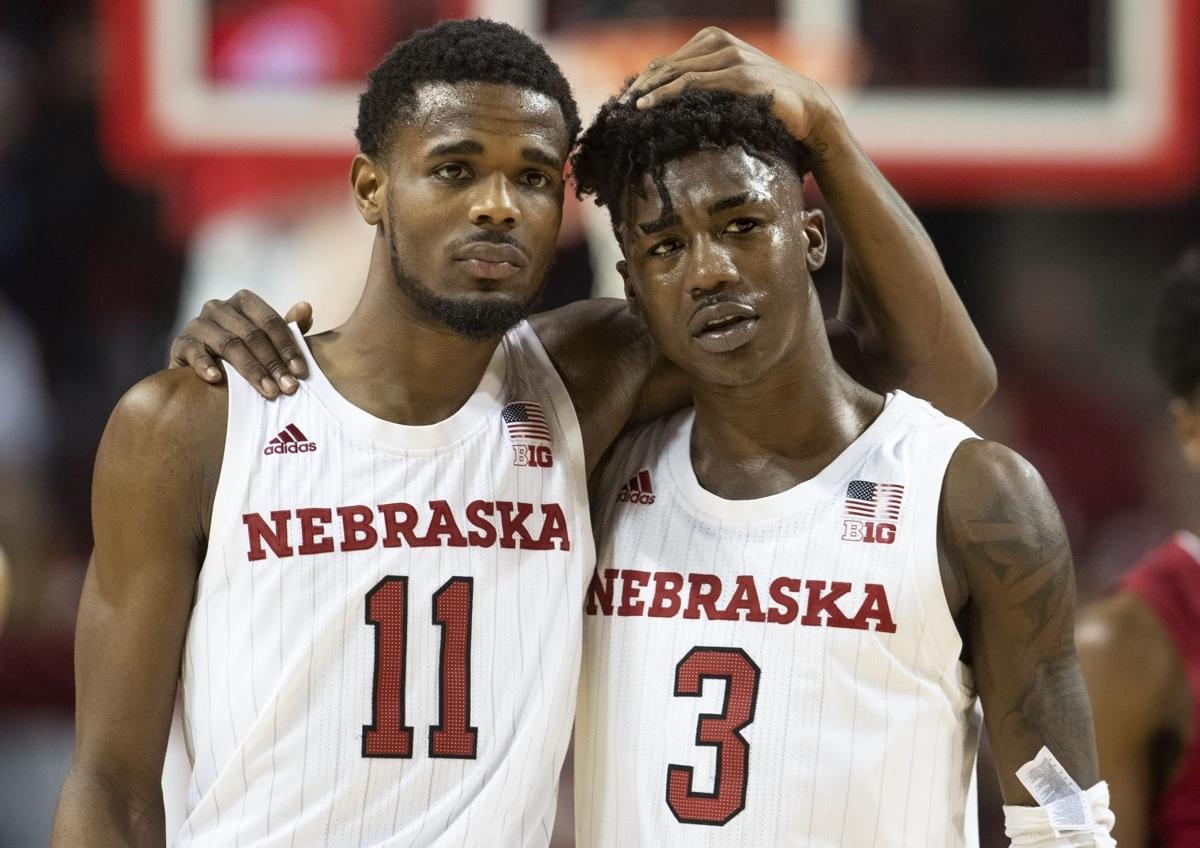 LINCOLN — Nebraska guards Cam Mack and Dachon Burke have been suspended indefinitely, coach Fred Hoiberg announced in a call to reporters Saturday morning. 
Hoiberg called the decision difficult and frustrating, but necessary to build the culture he wants in Lincoln. 
"We're trying to create a culture here that can breed long-term success," Hoiberg said. "If there's some pain in the short term to help with the long term, then those are things that have to happen. I'm very excited about our future, I'm very optimistic about things getting turned around quickly, and sometimes it takes some painful moments to get there."
Burke and Mack traveled to Minnesota for Nebraska's regular season finale on Sunday. Both are now on their way back to Lincoln. 
Hoiberg said the future of both players with the program is unclear. Mack is a sophomore, Burke is a junior. Hoiberg will meet with every player at the end of the season. That's when a decision on if Burke and Mack will remain with the program will be made.  
"There will be a lot to discuss," Hoiberg said.
This is the fifth time this season Mack's been disciplined by the coaching staff. Nebraska's starting point guard did not travel for Thursday night's game at No. 25 Michigan and was suspended for violation of team rules. The Huskers lost their 15th straight game 82-58. 
This is Burke's first suspension. The junior transfer from Robert Morris has appeared in 29 games, starting 27 of those.  
This second straight suspension for Mack comes after a traffic accident Mack was involved in while in Lincoln the day Nebraska traveled to Ann Arbor. Around noon on Wednesday — after Nebraska's morning practice — a woman reported to police she was rear-ended near North 27th street in Lincoln. According to the police report, she slowed while a car in front of her turned, and she was then struck from behind by a car Mack was driving. The woman told police Mack then pulled around her and left the area. She followed Mack to a nearby business where they waited for police to arrive, but before they did, Mack left the scene.
The report states the crash caused $1,200 worth of damage to each car. Police located Mack at an apartment building "a few hours later," where he told police he didn't think he hit anyone, so he continued on his way. Mack was cited by Lincoln police for suspicion of negligent driving and leaving the scene of an accident. 
Mack, a 6-foot-2 sophomore, has appeared in 28 games this season, and averages 11.9 points per game with 4.6 rebounds and 6.3 assists.
Burke averages 12.2 points, 3.4 rebounds and 1.3 assists.
"There is frustration. We've been supported so well by our fans all season. And we want to put a product out on the floor that our fans can be proud of," Hoiberg said. "But with every decision that has been made, it's been made in the best interest of the program, as difficult as these decisions are."
Photos: Nebraska basketball falls to Northwestern
Sign up for Big Red Today news alerts
Get a daily Husker news roundup, recruiting updates and breaking news in your inbox.