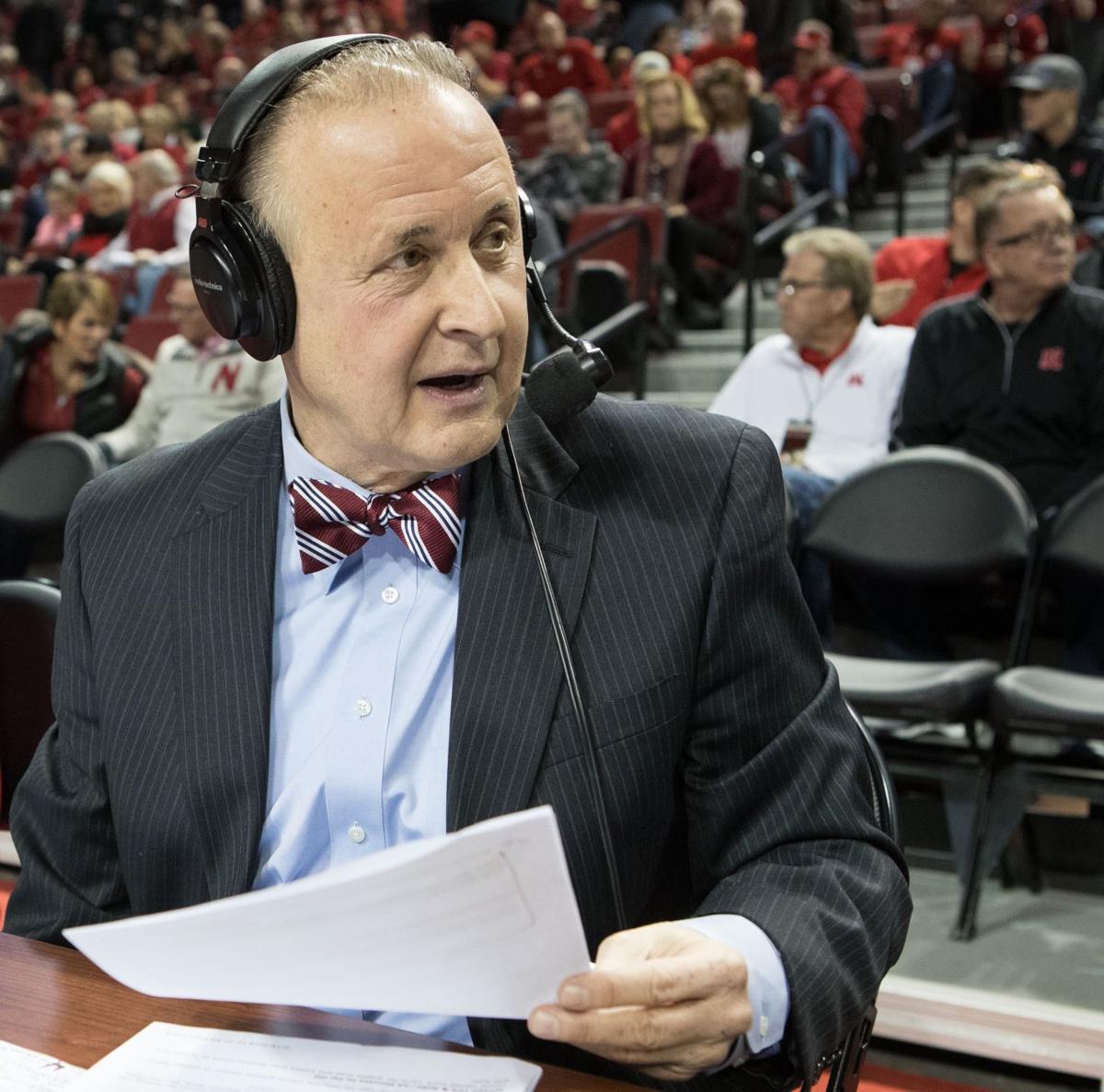 LINCOLN — The journey started back in the old NU Coliseum, when you put the microphone in front of a bleacher seat and stared through the smoke to see if that was Jerry Fort who had the ball.
Kent Pavelka started this life when he was 24. That was 44 years ago, a lot of games, a lot of players, a lot of bus rides in between. Pavelka has told the story of Nebraska basketball for so long that he became part of it.
There's a saying when you get older: The kids keep getting younger.
"When I get on the bus with those guys, sometimes I think, 'I wonder what those guys think about me,'" Pavelka says. "I mean, I'm old enough to be their grandparent."
Last Sunday night, he found out. After Senior Night at Pinnacle Bank Arena was over and Nebraska had dispatched of Penn State, seniors Anton Gill and Evan Taylor went over to the table where Pavelka calls the games. They both gave him a hug.
"I was stunned," Pavelka said. "I teared up."
I've wanted to interview Pavelka for decades now. I could have done it in 1981, when he got into it with one of the "Antlers" at Missouri. Or in 1986, when Moe Iba handed in his resignation after the first NCAA tournament game in Nebraska history.
Or in 1994, when Pavelka called the Huskers' first Big Eight tournament championship game, often standing up during the big plays of the game. Or after the last game at the Devaney Center, the first game at Pinnacle Bank Arena and all the moments in between.
But there may not be a better time than now, as Pavelka travels for the latest chapter of Nebraska basketball history: the Big Ten tournament at Madison Square Garden. And a Husker team making a push for the NCAA tournament.
A Husker team that might be the best since 1994, a team that looks capable of being the first in school history to advance in the NCAAs.
And the last school among the major conferences to win a tourney game.
At this stage of his career, Pavelka makes the trip as more than Husker basketball broadcaster. He's become the program's No. 1 fan. The Voice for not only the team, but The Crusade. The Quest.
"In many ways, I feel stronger about it than ever," Pavelka said. "I think they're closer to winning an NCAA tournament game than they've ever been.
"All of this stuff, all this support, it's like they're on the verge of doing something special for once. My thing has always been to tell that story along with the game story.
"Present Nebraska basketball as this decades-old effort that just hasn't come to fruition. There's a little bit of this when I do the games. It's a long climb up the hill and this guy's been with us."
What's cool about Kent Pavelka in 2018 is that he's become, well, cool. He's gone through a bit of a transformation. As Nebraska basketball has received a resurgence since playing at PBA, so, too, has Pavelka.
He's become a man of the people. Young people.
He's the character in the bow ties, and occasionally red glasses. A regular on Twitter with nearly 16,000 followers. Jay Bilas saluted him as one of the great team broadcasters who was an "ambassador for the game."
He's the broadcaster who threw out the term "bangarang" during one game a few years ago and made it sort of a cult thing. That happened, Pavelka said, when an NU assistant coach came up to him before a game at Michigan State and said, "The word of the day is bangarang," and challenged him to work it into the broadcast.
Challenge accepted. Pavelka's legend expanded.
Earlier this year, he had social media buzzing after he referred to Minnesota coach Richard Pitino as a "jackwagon" during the broadcast. An NU official questioned Pavelka about it but he didn't back down. His fans loved it. It's hip to be square.
Those young fans may not know who Lyell Bremser was, but their parents do. And that's the totally cool thing about Pavelka in 2018: He's connected with two different generations.
"Yeah, it does feel good," he says. "It is cool. I dismissed the accomplishment by saying you don't have to be any good, just be some place long enough, you just have to feel like an old shoe."
My opinion: Pavelka is a great play-by-play man. But that connection with the fans comes from this: He's one of them. Calling the opposing coach a "jackwagon" may not be something you learn in journalism school. But the guy in the stands can relate.
Pavelka cares as much — if not more — than they do. He can't help it. And he's not going to hide it.
"I hope so," Pavelka said of him caring as much as fans. "If I didn't believe that were true, I think I'd have gotten fired a long time ago for being way over the top. Like, 'What is with this guy? Calm down a little bit.'
"People who don't follow Nebraska basketball probably think I'm spastic. But it's real."
It's been that way since Pavelka grew up in Lincoln, playing football in the backyard with the voices of Bob Zenner and Dick Perry describing Husker football games through the radio in a window.
His roots to Nebraska basketball go back to the mid-1960s, and Pavelka standing on the sidelines, watching Stu Lantz and Nate Branch take on JoJo White. He remembers that 1965-66 team that went 20-5 overall and 12-2 in the Big Eight, finishing second to Kansas and not being invited to the 16-team NCAA tourney. Talk about a tough bubble.
After graduating from NU in 1971, he got a job in radio in Fremont doing Midland College games. Soon he was hired at KFAB as a deejay. Next thing he knew he was hired to do Husker basketball games. And then he was sitting next to Bremser high atop Memorial Stadium.
Pavelka would become known as the voice of Big Red football to a generation, but Husker hoops was just as big a deal to him. Joe Cipriano. Moe Iba. Danny Nee.
He remembers that NU would have won that 1986 NCAA game against Western Kentucky had star Dave Hoppen not been hurt. He remembers a lot.
Right after the 1996 NIT title, Pavelka went away, "banished," he called it, after a dispute with Husker Network chief Paul Aaron. He came back 10 years later, thanks to then-Athletic Director Steve Pederson insisting he come back to do basketball.
"I am maybe the only person in Nebraska who has nice things to say about Steve," Pavelka says.
As he started anew, going through Barry Collier to Doc Sadler to Tim Miles, the quest of Nebraska basketball became clearer to Pavelka. The deeper it fell, the more he embraced it.
"You get teased," Pavelka said. "You get a Danny Nee era, then you put up with a Barry Collier era, then when Doc comes you say, 'Well, maybe this guy will do it.'
"The thing about Nebraska basketball is the realization and understanding that we're not as good as the best guys. But we've always been able to suck it up and compete and beat them once in a while. You get hope from that."
A few years ago, Pavelka and I got into a social media debate. It started when I wrote that Miles' program had no identity. My point was, in terms of scheme or style of play.
Pavelka contended that NU had a perfectly clear identity: the hunger of a fan base that was starving for success. And the new facilities and arena showed how bad the school wanted it.
I get what he was saying now, and I asked him if those facilities meant the attitude now should be, "Why not now?"
"Yes, I think that's what is going on right now," Pavelka said. "This season has been about, 'You know what? We've got big-time players on this team. There's no reason why this can't be the team.' "
But being a Nebraska fan means keeping a lookout for a shoe to drop right smack on top of all the fun. Like that loss at Illinois? Pavelka admitted that he thought: Here they go again.
"I've said on the air, 'The Curse of Nebraska Basketball' is like, you're never going to get there,'" Pavelka said.
"I've said it cynically, some people define hell as being in a place where you do the same thing for eternity and you don't realize it. I could be doing Nebraska basketball for eternity and don't realize it. I must have committed some heinous crime in the 1300s or something. I'll be here a thousand years from now having this conversation with somebody."
He laughs again. But in his eyes there's pain. A man can only push a boulder up a hill so long before he eventually gives way and it crushes him.
"I think it will happen," Pavelka says of the quest. "I don't know if I'll be around. But it will happen."