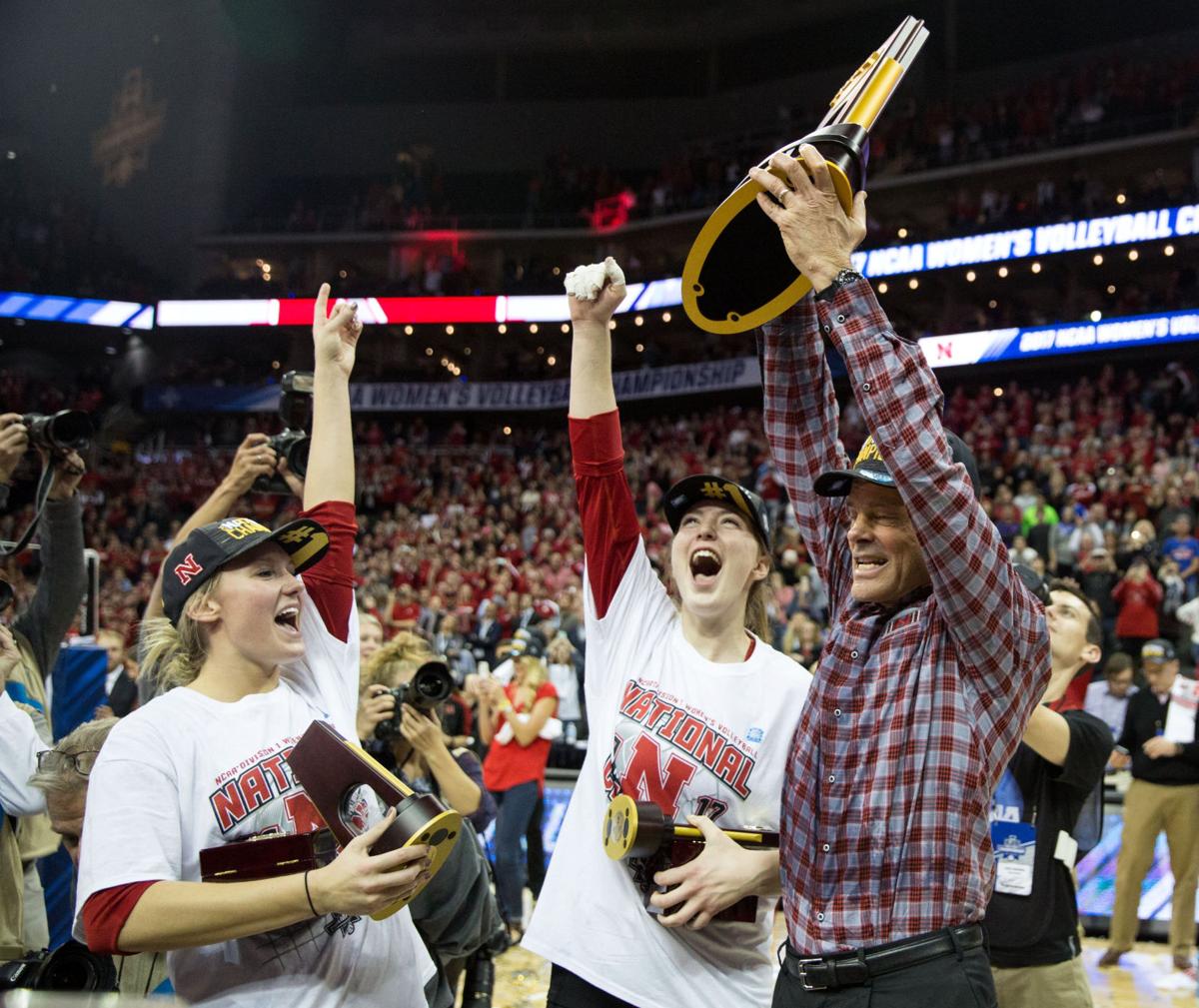 KANSAS CITY, Mo. — More than 12,000 dressed in red took to their feet, seemingly most raising cellphones to record the moment.
Seconds later, Mikaela Foecke's 20th kill of the night found the floor, and there was a dogpile of Huskers in the middle of the court. As gold confetti rained down and cheers bounced off the roof of the Sprint Center, a jubilant team of Huskers raised the NCAA volleyball championship trophy — the fifth in school history.
There's at least one sport where the University of Nebraska's Cornhuskers remain a true national powerhouse.
In front of an electric, record-setting crowd of 18,516 that was at least three-quarters NU fans, the Huskers dispatched Florida's Gators 25-22, 25-17, 18-25, 25-16 to win their second national title in three years.
"There's no place like Nebraska," coach John Cook said afterward in tribute to the nation's most passionate volleyball fans.
By winning their fifth NCAA title, the Huskers (32-4) equaled the number of national championship trophies won by the school's recently downtrodden football team. It's certainly not lost on Husker fans that this historic season came this fall as the school endured a historically awful football season — the worst in more than half a century.
Nebraskans who long for a return to gridiron glory days would see a lot in Cook's team and program that they would recognize.
A well-coached, well-prepared team that's consistently among the nation's very best.
Driven, home-grown talent.
Toughness, unity of purpose and resiliency.
A fan base that travels with its team in droves.
All those things were certainly on display this weekend in Kansas City as the Huskers rallied from down 2-1 to knock off No. 1 Penn State on Thursday before ending their season on top Saturday night.
"Our volleyball program serves as the poster child for what we want to do across the board," said Bill Moos, the Huskers' new athletic director. "There's consistency and stability, the feeling among those that are playing today to uphold what was accomplished before them."
The weekend also once again proved that when it comes to volleyball, there is no fan base quite like Nebraska's.
The crowds both nights were overwhelmingly decked out in red. Husker fans chanted "Roof, roof roof" after NU blocks and sent "Go Big Red" and "Husker Power" chants echoing through the arena. For one weekend, this was no longer the Sprint Center. It was Devaney Center South.
"It's a home game," said Matt Bennett, a University of Nebraska-Lincoln student from Papillion. He certainly wasn't the only one to notice.
"Husker nation is amazing," said Annika Albrecht, a senior who transitioned this year from defensive role player to an All-American attacker. "Everyone was wearing red."
The hordes of Husker fans who took the easy drive down I-29 were the reason the sell-out crowds in Kansas City this weekend became the two largest ever to watch an NCAA volleyball match. The previous record had been set in Omaha two years ago, when the Huskers claimed the 2015 national title in their home state.
In fact, after this weekend, the top five college volleyball crowds of all time — and nine of the top 11— all have come with the Cornhuskers on the court.
"You don't get that anywhere else," said Kelly Hunter, the setter from Papillion who quarterbacked the Huskers on the floor.
The red-clad volleyball fans threw a block party in downtown Kansas City this weekend, rallying in the Power and Light entertainment district outside the arena. "Just walking around, in the restaurants, you see a lot of red," said Kathy Nelson, CEO of the Kansas City Sports Commission.
Indeed, as ecstatic as those NU fans were to be here, the only people happier may have been the proprietors of local restaurants, bars and hotels.
As with the past final fours in Omaha — which may have created America's first-ever scalping market for volleyball tickets — there was big demand, with $37 tickets fetching $150 to $200 outside the arena. Online asking prices were as high as $500.
Underlying the fan's passion is a lot of pride. Former Husker coach Terry Pettit built the program's foundation, creating a state that truly loves and understands the game. They aren't just Husker fans. Many are true Husker volleyball fans.
"The girls are just so incredible," said Sue Carson of Omaha, a longtime volleyball season ticket-holder. "It's like ballet with power."
"The volleyball just sweeps you away," said Patty Lyster of Lincoln, a 20-year season ticket-holder.
Fans take particular pride that many Husker players are Nebraska natives, girls who grew up dreaming of one day taking to the court in Lincoln. Those dreams are powerful. Nebraska produces more major college volleyball players for its size than every state but Hawaii.
This year's roster included four Nebraskans, including Hunter, a first-team All-American. Hunter said that when her family bought last-minute, nose-bleed seats to watch the Huskers win a national championship in Omaha in 2006, she was instantly hooked.
"I said then, 'I want to be a Husker,' " she said. "Being a little girl in Nebraska, that was always the dream."
Thousands of NU fans bought their final four tickets as soon as they became available almost a year ago, betting that the Huskers were going to Kansas City.
It was a bit of a leap of faith. At the start of the season, few were predicting a Husker team that lost three senior All-Americans from a year ago would qualify for its third straight final four.
But the 2017 Huskers proved a gritty and cohesive bunch, one that rallied around a motto the players themselves came up with in preseason: With each other, for each other.
"I'm so impressed with their talent, hard work and personality," said Cherie Teichmeier of Kearney afterward. "I'm proud of these girls and proud to be a Nebraskan."
And in the end, these Huskers only added to Nebraska's remarkable record of consistent success. Its fifth national title, the third-most of any school. Its 14th final four, second-most all-time. And while college basketball teams dream of making the Sweet 16, the Huskers have been among the final 16 teams standing a ridiculous 23 times in the last 24 years.
"They're always good," Megan Eckert of Battle Creek said during a pregame rally on a plaza outside the Sprint Center. Her husband, Justin, gave the reasons why.
"Solid, hard work and fundamentals," he said.
It's not lost on the Eckerts or many Husker fans that those are things the school's once-proud football team was always known for, too.
Many are now pinning hopes on new coach Scott Frost, the quarterback of the school's last national championship football team two decades ago, to restore such principles and return the Huskers to college football's elite.
Carson thinks it will happen. Before heading to Kansas City, she bought a T-shirt that celebrated both the hiring of Frost and the Huskers' latest final four trip under coach Cook. "It's Frost-y in Nebraska, but we're Cook'n in here," it read.
"We'll be back," Carson said. "We're coming back."