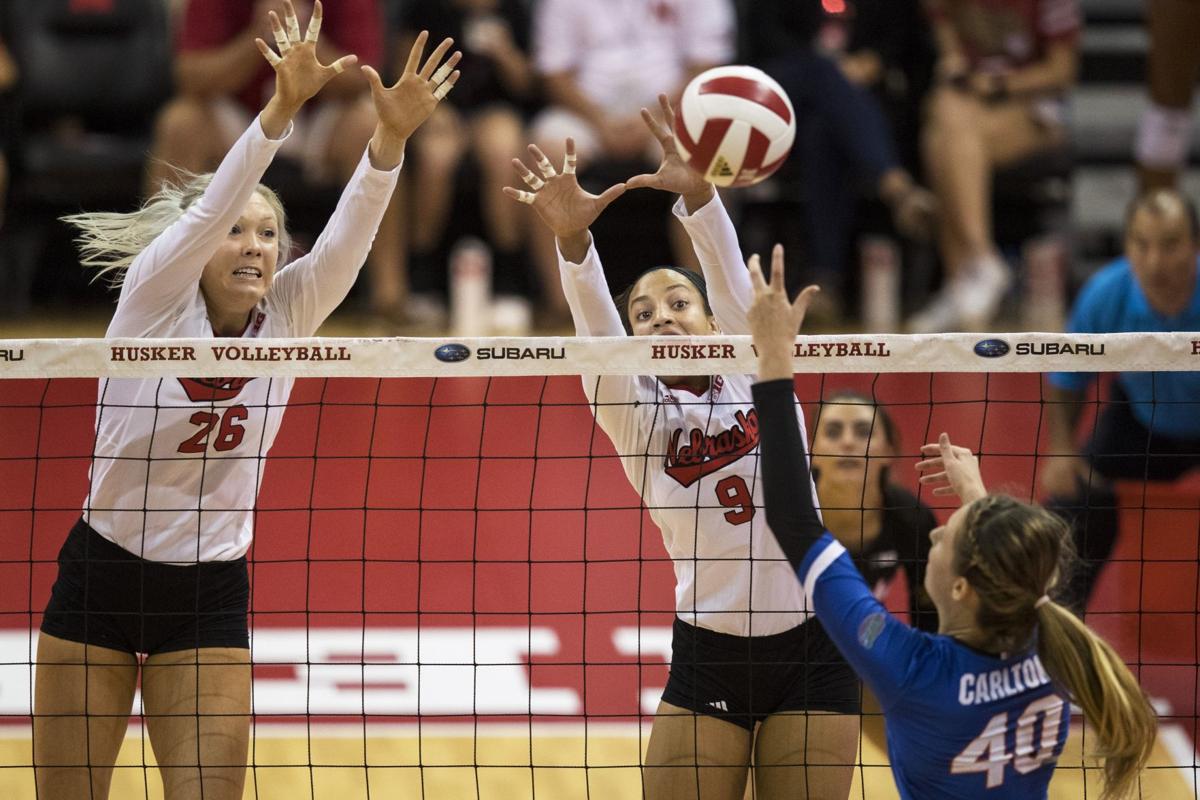 LINCOLN — Nebraska sophomore outside hitter Capri Davis is taking an indefinite medical leave from the team, the school announced Wednesday.
Coach John Cook didn't elaborate on the reason, but said he wanted to put out a statement because Davis isn't going to travel for upcoming matches.
"She's out so it's next girl up," Cook said. "She's going to be out for a while and we'll talk about her when she comes back."
Cook said he didn't know if Davis, who attended practice Wednesday, would play again this season.
After a breakout scrimmage followed by solid performances in the opening weekend, Davis missed five matches the next two weeks because of an abdominal muscle strain. She also missed the Rutgers match Oct. 2 because of an illness.
Davis mainly played in the front row for freshman Madi Kubik but didn't play in either match last week. The Mansfield, Texas, native is averaging 1.4 kills per set and hitting .174.
With Davis out, Cook said freshman Riley Zuhn will train exclusively at outside hitter. Zuhn has appeared in nine matches at opposite hitter and middle blocker.
"I have total confidence in Riley," Cook said. "I've been looking for opportunities to get Riley in games. I was really trying to get her in during the second half (of the season) and so this will give her more opportunity to do that."
Hames under the weather
Sophomore setter Nicklin Hames didn't practice this week because of an illness. She sat on the sideline Wednesday wearing a red hoodie pulled over her head.
Cook said he hopes Hames will be recovered enough to play at Indiana on Friday. Hames dealt with a virus early in the season and picked up another bug this week.
"I've never seen a year where so many people are sick on our team, in the athletic department and other sports," Cook said. "We're giving vitamins, turmeric, cherry juice, all that."
Back in the swing
With fall break falling between two sets of weekend matches, Cook gave the team a rare day off Monday.
The coach said the players came back to practice strong and breezed through their challenge drills Tuesday to end practice. Three of the players recorded personal bests in the vertical leap to end the session.
"That's Husker Power, that's taking a couple of days off and showing that they are recovered and they are strong," Cook said.
Freshman libero Kenzie Knuckles said she appreciated the day off, which she spent carving pumpkins, sleeping and watching Netflix.
"It felt good and when we got back Tuesday, we were on it," she said.