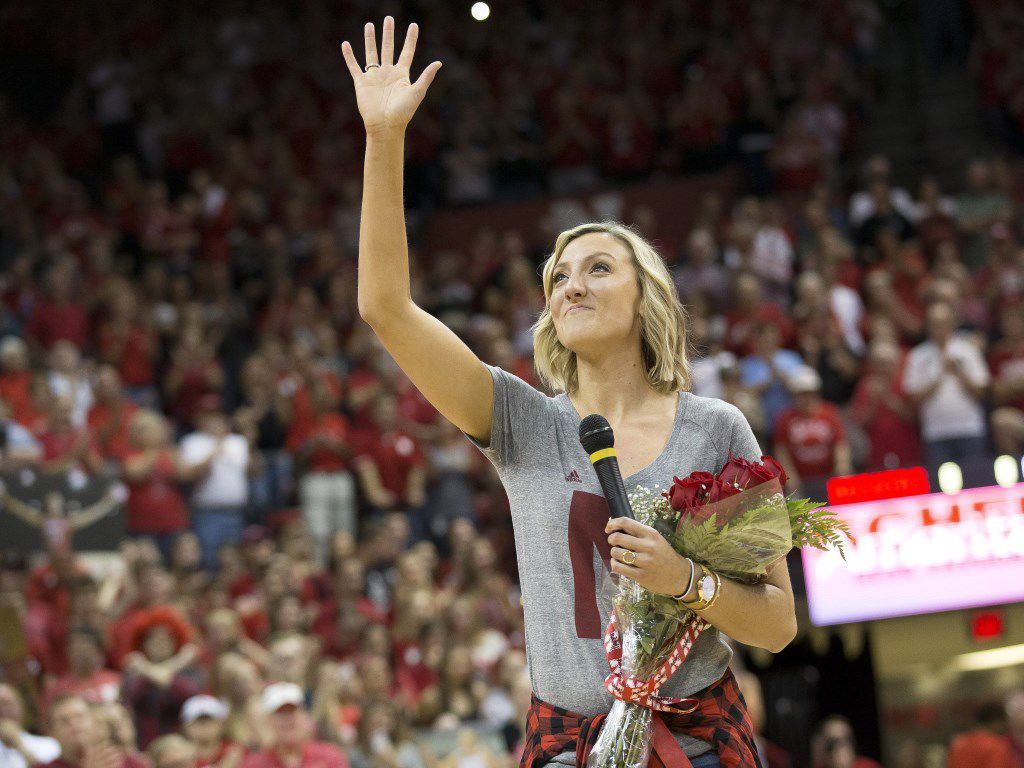 She spoke about working out during the pandemic, her upcoming induction into the Nebraska Athletic Hall of Fame and the postponement of the 2020 Olympics. She also mentioned a special tattoo she has on the inside of her left wrist.
A native of Hooper, Larson was a standout on some of the Huskers' greatest teams from 2005 to 2008. NU went 127-8 during her career, winning four Big 12 Conference titles and the 2006 national championship.
She finished her Husker career with 1,600 kills before going on to compete for Team USA. She's a two-time Olympic medalist, helping the American squad earn silver in 2012 and bronze in 2016.
The 30-minute session was hosted by former Husker and retired NFL football player Jeremiah Sirles.
The 33-year-old Larson has been a longtime supporter of Team Jack, a Nebraska-based foundation focused on raising funds for pediatric brain cancer research.
Q: Where are you at right now?
A: "I'm in Malibu, California. We train as a national team in Anaheim but that kind of came to a halt so I've been working out in my garage and trying to make do.''
Q: How has the coronavirus affected your training?
A: "It's definitely been a bit of a change but it's kind of been nice for my mind and body just to kind of disconnect a little bit. It's definitely not the norm but maybe it will prolong my career.''
Q: How do you stay motivated?
A: "Initially it was really hard. I try to wake up at the same time every day and go through my workout routines and then golf on the other days. I also have two weekly Zoom calls with my strength coach.''
A: "When you say it, I still get chills. It's been a whirlwind but a huge honor. I did not see it coming, which made it even more cool.''
A: "The founder approached some of us athletes and it sounded unique. It will be six weeks long and you'll get drafted to a new team each week. It's an interesting concept and will give us something to do.''
Q: Talk about growing up in a small town and going on to achieve what you have.
A: "Never in a million years would I have believed it. I played a lot of sports growing up — soccer, softball, basketball, track — and started playing on a club team when I was 12. That's when I fell in love with volleyball.''
Q: Do you still have family in Hooper?
A: "My dad still farms there and my grandpa just turned 96. I try to make it back when I can.''
Q: Any advice for young players?
A: "Try to limit social media hours and become a multi-sport athlete. You never know where your passion might lie.''
Q: Special moments in your career?
A: "In high school, I think I served almost an entire match by myself. Winning the national championship in 2006 and almost beating (eventual champion) Penn State in the Final Four in 2008. Also competing in the Olympics in 2012 and 2016.''
A: "I don't think it hit me as hard as others at first and I just told myself to keep grinding. Then two days later I was like, 'What just happened?' Then I realized we're all in the same boat and I think we'll come out stronger because of it.''
Q: Talk about your leadership on the Olympic team.
A: "I'm the oldest on the team but I remember being a young puppy. I try to stay true to who I am and offer suggestions when needed.''
Q: What about your nickname, "The Governor"?
A: "I got it from a teammate. We were playing in Thailand and I saw a guy at the end of the court wearing a Husker shirt. He said that he knew my dad. She said, 'You're known everywhere. You're like the governor.'''
A: I hope to stay involved. I'll be releasing a website and hope to do some player consulting. I'm the only person who can talk volleyball all the time.''
Q: What about that tattoo on your wrist?
A: "When I was a junior in high school my mom (Kae) was diagnosed with breast cancer. She fought it really hard and went into remission but then after five years it came back. She passed away the year after I graduated from college. The tattoo is a breast cancer loop with my mom's initial K. I look down at it and think of her.''
Q: Anything else you'd like to add?
A: "Stay safe and healthy. I hope to be back in Nebraska soon.''
Be the first to know
Get local news delivered to your inbox!